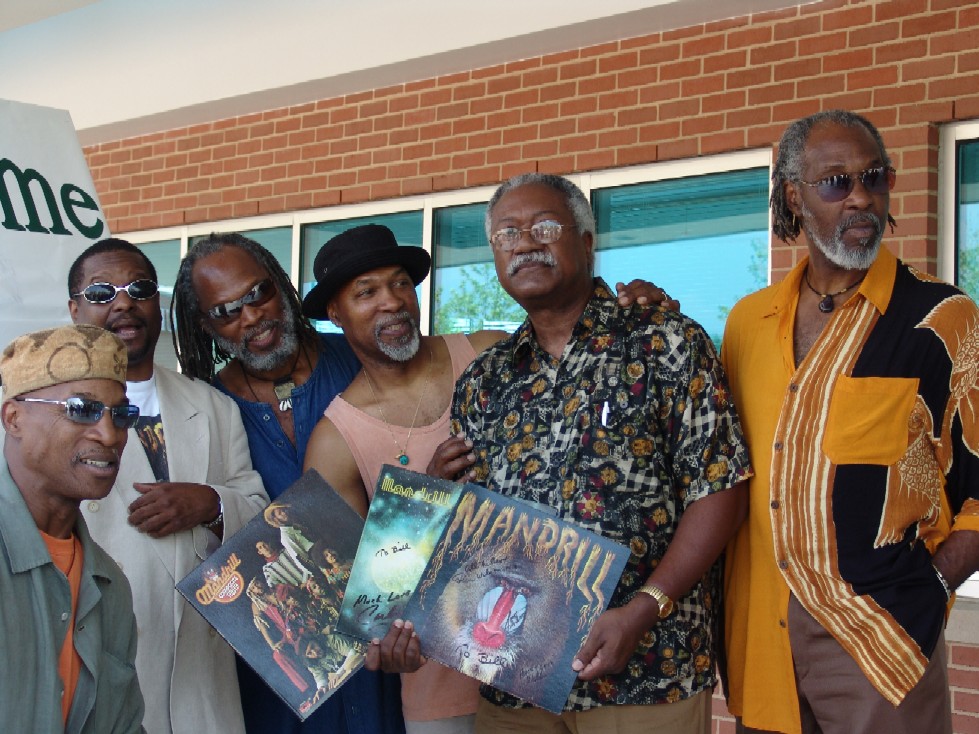 Drum side Chat w/Dr Ric Wilson
Listen and watch this Incredible….amazing commentary/analysis (Connecting the dots between Motown/Marvin Gaye/Funk/Brooklyn Doo Wop & More) from the incomparable DR. Ric Wilson of MANDRILL as he provides us with a history lesson, you won't get anywhere else…
Part 1 – Up Close and Personal with Mandrill (8/26/2007)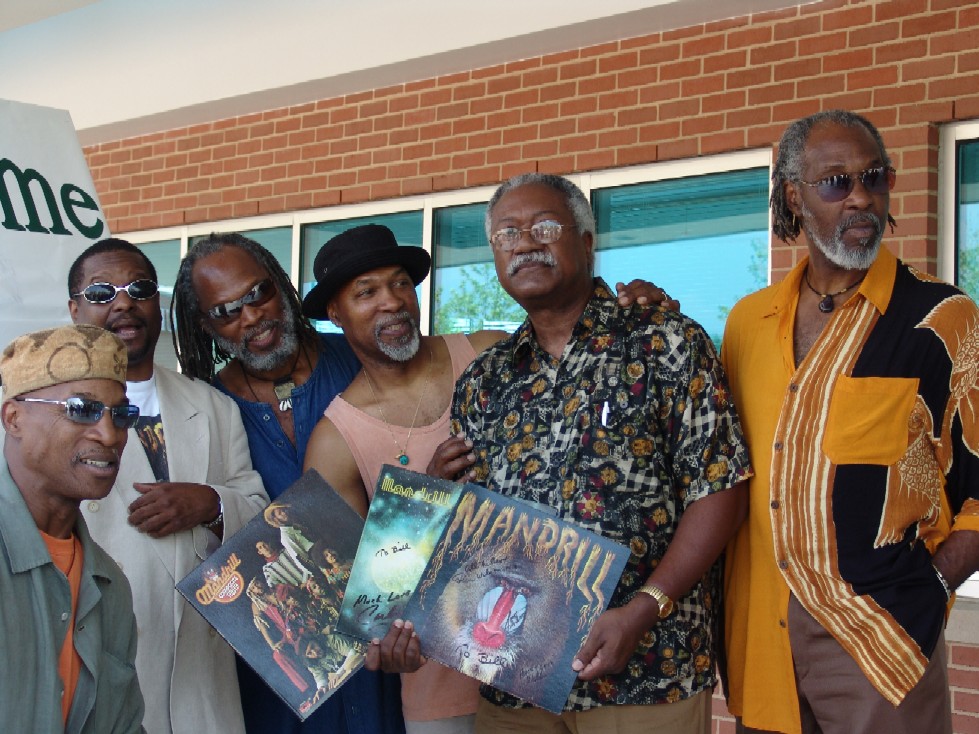 When it comes to Mandrill I am no longer in a position to be un biased.
Not in any way shape or form.

In fact I'm not sure that I am even capable any longer of writing an objective concert review or album review of any of their shows. It's been quite a while since I have even tried. The last few times that I have attended a Mandrill show, I have always made sure that someone else from Soul-Patrol.com has been available to actually write the review.
You see I have truly been adopted as a full fledged member of the "Mandrill Family" over the years and have quite literally become a part of the group. As someone who strives to be an objective journalist, it is in many ways the worst possible position to be placed in. However as a person, I couldn't be happier to be included as a part of the "core team" of such a collection of individuals. If you ever got to meet these folks, you would want that for yourself as well. It is a collective of musicians, family members, friends and more that is a "throwback" to something from the past, while at the same time represents and ideal for the future of Black music & culture.
It's a unique combination of things like:
– Afrocentric philosophy & spirituality

– Family values

– Extended family structure

– Good old fashioned Brooklyn neighborhood "on the corner" stuff

– A reverence for history in a "back to the future" kind of way



Being a part of all of this is something that anyone who went thru the 1970's and survived to tell the story would want very much to be a part of.
Does this mean that they are "perfect?" (Absolutely not)
Does this mean that I agree with everything that they do? (Absolutely not)
Does that mean that I always get to have a voice in major decisions? (Absolutely yes)
What it does mean is that for me it is truly an honor to be a contributor to something that is much larger than me, that at the same time will always change direction as needed to focus its efforts & energy, to focus on me and my needs as required.
I suppose that is a complicated way of saying that I am a full fledged member of the "Mandrill Family."
Therefore any pretense of "journalistic integrity" goes right out of the window.
There is precedence for this in the history of popular music.
John Landau was a reporter for Rolling Stone magazine in the 1970's that was assigned to cover Bruce Springsteen. He eventually became so close with the artist that he eventually left Rolling Stone and became Bruce Springsteen's manager.
– I don't have an "official title" within the "Mandrill Family". However they don't make any major moves without consulting with me.
– Mandrill doesn't have an "official title" within the structure of Soul-Patrol.com. However I don't make any major moves without consulting them either.
For me this is all deeply personal, because clearly without Mandrill's support and confidence, Soul-Patrol.com wouldn't even exist…
This past Saturday evening, Mandrill played a concert in Philadelphia at the magnificent Mann Music Center to a crowd of about 10,000 people this past Saturday night. The legendary funk band WAR was the opening act. It was a great evening of funk music, nostalgia & more.
And as always hanging in the air was the whole question of what did all of that great music, culture & philosophy of the 1970's really all mean in the end. As we all try to figure out just how to proceed in a post 9-11 world filled with financial, ecological, political, technological and sociological uncertainties. Whether you are trying to figure out how to solve the problems of the world or you are just trying to figure out how to insure that you are able to get thru next week, we live in a day & age where we don't have all of the answers. Even worse, sometimes we aren't even sure that we are asking the right questions. For the people of my generation we spend quite a bit of time lamenting all of this, because we know that it all could have been very different, had we not dropped the ball. Absolute clarity is a luxury and we find ourselves having to make decisions and moving forward without sometimes even understanding the context of the situation.
I had the pleasure of attending the show with my wife "Mrs. Earthjuice", ace reporter David Brooks ("Dr. Brookenstien") and longtime Soul-Patroller Ashley Scott.
The Wilson Family:
We all got backstage without any problem whatsoever and when we did I sought out Dr. Ricardo Wilson of Mandrill. He greeted me as always with a hug and whispered into my ear a thank you for coming. He then hugged "Mrs Earhjuice" and thanked her for coming.
Then Dr. Ricardo Wilson turned to me and said "Where is Mike?" I said: "he couldn't make it down from NY". This is important to me, because it drives directly to the heart of our relationship with Mandrill. My wife and my brother are at the core of the existence of Soul-Patrol, and although they are largely unseen by the readers of Soul-Patrol, Ric Wilson knows how important they are to everything that I do. The Wilson Brothers and their extended family are at the core of Mandrill. One of the key elements in the relationship between Mandrill & Soul-Patrol is the fact that family relationships are at the core and always supercede business decisions. That's because in the end, family unity is ultimately more important than business. It's an African philosophy that is sometimes hard to live by. However choosing to live by it ultimately makes your family stronger, helps your children learn how to treat other people an ultimately makes you a better person. The relationship is really between the Davis Brothers and the Wilson Brothers and their extended families holds true to this form. And it may or may not have anything to do with music, but it has everything to do with insuring that both survive & prosper.
Next Dr. Ricardo Wilson says to me: "Lou is in the room" & points to the door. I know what that means. Ric is telling me that his brother Lou (Mandrill's co-lead singer) is inside and expecting me.
Each one of the Wilson's brings something different to the table…
Dr. Ric Wilson – Is the quiet, philosophical one with an almost "guru" type of presence. Onstage he is off to the side playing saxophone, percussion, occasionally chiming in with some background vocals and to the entire world appearing to be no more than "just a sideman." Backstage this Harvard educated man from the streets of Brooklyn by way of Panama, is the face of the group, dealing with the media, local dignitaries, etc.
Lou Wilson – Is the polar opposite of Ric. He's loud, boisterous and flamboyant in a way that would make you think of someone like Cab Calloway. Every third sentence out of his mouth is s joke. Onstage he is the emcee, sings lead, and plays the trombone & flute like he's a member of a big band. Lou also plays the timbales & congas and if you aren't looking at the stage you might just think that Tito Puente is onstage. Offstage, Lou holds court in the dressing room with Mandrill's extended family. He is the oldest of the Wilson Brothers and is the "patriarch."
Wilfredo "Wolf" Wilson – Is a master percussionist on stage. Offstage he takes it all in, absorbs what is going on and offers quiet wisdom.
Carlos Wilson – Onstage he is the "musical genius" of the group. He plays every instrument sitting on the stage during the course of the show. He is also the co-lead singer along with Lou and has the vocal chops of a lead singer of a classic group like the Temptations, Dells, O'jays, etc. In other words seeing Carlos Wilson onstage would bring to mind an artist like Prince. Offstage he is quiet, humble and mischievous. He also didn't make this trip to Philadelphia and his absence was missed by me.
Rais Wilson (One Sun Lion Ra) – He is the son of Lou Wilson and over the years I have watched his role in the group become more clarified over the course of the past 10 years. He is a vocally gifted rapper/spoken word artist who writes lyrics of family, virtue and respect. At first his presence on stage with Mandrill seemed like an "add on". Today his music is fully integrated within the context of a Mandrill show.
After greeting Lou Wilson in the dressing room, I went out to the adjacent green room. There were about 50 people in the greenroom including friends, family and others. There was an "after party" at Club Damali at the Harambe Institute in Philly (a local Afrocentric educational facility), which I was unable to attend. Prior to leaving I tell Ric Wilson, "I'll see you tomorrow; I want to bring you and Lou up to speed on the latest and greatest with Soul-Patrol.com." Ric says, ok, we hug and I leave. On the way out "Mrs. Earthjuice" says to me: "That was nice, the concert and everything with them." I say: "It always feels like home with them, doesn't it…"
To be continued…
Mandrill – Live in NYC @ The Blender


Well, I wasn't planning on trying to "review" the Mandrill show, instead just soaking up their powerful, funky vibe. Sure, call it lazy. I assumed list-meister Davis would be up to task but since he was clearly too busy getting his impassioned air-guitar swerve on throughout the night (impressively, too) he asked me, for what it's worth, to chime in. I wasn't taking notes (on Bob's air-guitar, yes; the show, no) so I apologize for my lack of details, including on the cast supporting the mighty Wilson Brothers.
The first thought that comes to mind when witnessing Mandrill live is why are they not performing at the major US music festivals that permeate the summer across this country? Shows like Bonnaroo, Lollapalooza, Coachella, Mountain Jam, Vegoose etc., many of which that revolve around what used to be a grass roots "jam band" scene and have mushroomed into serious hosts of musical culture, showcasing a multitude of acts across many a musical genre. Mandrill would certainly get over at any of these festivals. I ask this, for if there is any band that is the ultimate "jam band" it's Mandrill. The Grateful Dead may've been credited with embodying the term, but Mandrill wears the crown. Any Mandrill fan knows that the band can do it all, and a Mandrill concert is literally a history lesson in the scope of 20th century Black music. Blues, gospel, jazz, doo wop, rock (n' roll, psychedelic, hard), classical, calypso, mambo, soul, funk, are all on display, not just throughout the set but often within the same song. Now this could sound like a disjointed nightmare in the hands of lesser musicians but Mandrill fluidly pulls it off with force, touch and power. Many of the hits they performed during their 90-minute set are classic examples of this and never cease to amaze me.
And these hits did not disappoint the several hundred (mostly Black) Mandrillites that congregated Sunday night for the show at the Blender Theater on 23rd St in Manhattan. It's a relatively newly renovated space (I believe it used to be a movie theater) with excellent sightlines. The two disappointments of the night was the lack of turnout (compared to the 25,000 folk that apparently checked Mandrill out in Philly the night before this must've seemed stark) and the sound system. A 600-capacity (I believe) room, a few hundred more folk could have squeezed in there, which in turn would've helped with the sound. Though it got better throughout the show, the room was quite "boomy", heavy on the low-end that made it difficult often to hear all the instruments on stage, particularly the keyboards and vibes, which was a pity as there was plenty of instrumentation going on amongst the 10-piece band which, due to the four Wilson brothers'-Lou, Ric, Carlos, Wolf–ability to shine on a multitude of instruments (particularly Carlos'), often sounded much bigger. In addition, their strong vocal harmonies managed to overcome the sporadic distortion of some of the vocal microphones. But nothing could hold back those Mandrill horns coming at you like a freight train, strong and thick as if they were birthed from the Big Easy's belly itself.

Mandrill's diverse and dynamic set was comprised entirely of original work and included many of their hits:
SETLIST (more or less)
MANDRILL

ROLLIN' ON

COHELO

CHILDREN OF THE SUN

BLACK WOMAN

HANG LOOSE

SYMPHONIC REVOLUTION/I REFUSE TO SMILE

HOUSE OF WOOD

LOVE ONE ANOTHER

MANGO MEAT

POSITIVE THING

FENCEWALK

GIT IT ALL

APE IS HIGH
Another of the many highlights was seeing longtime Mandrill drummer Neftali Santiago substitute behind the kit for a blistering rendition of "Hang Loose." Another was Lou Wilson's son, the One Sun Lion Ra rapping and singing his song "Black Woman" backed by a phenomenal twelve year-old drummer. Also, legendary pianist Randy Weston was spotted in the house. The band spent much time after the show meeting and greeting their fans. Rumor also has it Mandrill will be embarking on a much larger tour next year.
In short, a Mandrill show is nothing if not high energy, which they brought again and again. It's a shame there weren't more folk there to absorb it.
–Matt Rogers
CONCERT REVIEW: MANDRILL @ CARTER BARON IN WASHINGTON DC…
Dr. G and Mandrill drummer, Neftali Santiago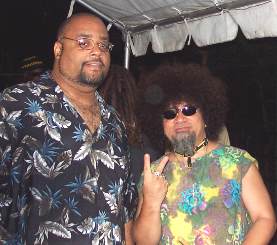 Funky Music fans, I guess I am now "the cat". Last night I met the cat who knows the cat which of course makes me "the cat"! I've been talking on the phone and in email to Soul-Patrol founder Bob Davis for several years. Last night at the Mandrill show at Carter Barron Amphi-Theater in DC I finally met the cat. We had a sho-nuff funky good time in DC last night! And when I say he knows the cat, this is no joke. Bob knows everybody and everybody loves Bob (even more than Raymond). When it comes to Mandrill, Bob is like the "5th Beatle". Mandrill was the first Soul-Patrol sponsor and hanging backstage with Bob I was able to to meet and greet the entire Mandrill family.
I go way back (like a car seat) with Mandrill. I first saw them at a show at the University of MD around 1972. this classic show featured Mandrill along with EWF, the Persuasions and Stevie Wonder. They don't make 'em like that no more. I also saw them at the original DUFF festival in DC in 1973 along with Funkadelc, Jimmy Castor and Rare Earth. Last year at DUFF III they were again in DC with Rare Earth and this time Original P. I waxed about all of those shows last night with Sweet Lou Wilson, Carlos Wilson and Wolf Wilson. 3 of the 4 Mandrill Wilson Brothers, I also met Dr Ricardo Wilson but didn't get a chance to really "talk smack" with him. The funny thing about meeting Lou was that he had read my review of the DUFF III show in the Soul-Patrol Digest and was looking forward to meeting me. He admires my writing style and was a little surprised about how I went on and on about the sound and acoustics at DUFF III.
The atmosphere backstage was incredible. I have been going to Carter Barron since my bpy JJEllison3 was an usher back in the 70's. I saw Betty Davis, James Brown and EWF at Carter Barron but this was the first time I made it backstage. It's like another world back there. A whole nother thang. The Mandrill family are so down to earth. It was truly like talking to family.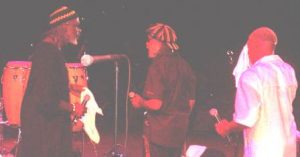 Sweet Lou's son is a rapper. He opened the show around 7:30. His strength is spoken word but this was a funk crowd and he didn't get a whole lot of respect. He will do much better at college campuses such as Howard University's Cramton Auditorium. All the way from Annapolis MD, the Clones of Funk came on next. George Clinton sanctions them and they play 99% Pfunk classics. Everything from Up For the Downstroke to the best version of Cosmic Slop I have heard in years (including Pfunk)! The band is very tight and the crowd went crazy.
Mandrill came on next and performed a similar show to last years DUFF III show at Constitution Hall. Hits like Fencewalk and Get it All sent the crowd into a madd frenzy. They also performed a new song called "Who Got Da Funk". This should be a hit. Very tight and very funky, I will make sure it gets played in DC clubs (and radio) but we all need to make sure it gets the attention it deserves on a national level.
But it was the encore tune "Ape is High" that sent me off and caused one audience member to fall out. Negroes lost their minds! They didn't do Ape is High in DC and it's not on the new DVD "Live in Montreux" but I asked them to play it before the show and Wolf looked over at me (best seat in the house on the stage) and smiled when they came back on with this classic from the "Mandrill Is" LP.
–Dr G
Mandrill Live at the Dell East in Philly July 18, 2000