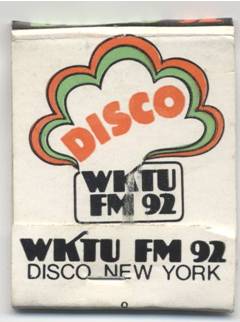 WKTU! I remember that they were REAL hot back in 1978. They went hard on Disco & I mean HARD!
They were playing the Disco that you didn't hear everywhere & not that Boogiemotion, Eurodisco crap that I hated.
I remember them playing stuff like In The Bush, hell, the whole Musique LP. They played stuff like Weekend by Phreek, one of my favorites of 1978/79.
And who could ever forget Paco saying, "You're listening to 92, W-K-T-juuu", sounding like Count Chocula with a Spanish accent? We still love WBLS, who had stolen the thunder from WWRL, with that gorgeous stereo signal. But 92WKTU sure gave them a run for their money during those fresh days of Disco, when James had lost his way & Disco sounded so fresh & exciting.
Truth be told, a lot of it was great, but honestly, a lot of it hasn't aged very well & quite a bit of it was downright insipid. But for a few short years before the corporations & Madison Avenue co-opted it, mass produced it, then destroyed it by putting strings, sappy, sickening backing vocals & a "4 on the floor" beat to all kinds of crap from Pat Boone to Ethel Merman (believing that ANYTHING would sell), Disco was the thing & there was nothing & I mean NOTHING like partying in the Disco era.
The main thing that I hate about Disco is the constant nonsense which would have the unknowing believed that Disco was comprised of the Garage, Studio 54 & other places, when the truth is that they make up a relatively small amount of the people who were actually out there partying. Oh yeah, and not one feather or asscheek out of some holey jean was saw at ANY club that most of us spun at, nor hung at.
I hate the lack of truth about the Disco era because it wasn't all about gays & drugs. Were people smoking weed & snorting? To be sure, but not to the degree that you hear about in all of these one-sided documentaries told with a decidedly one-sided agenda.
SEX? Hell yeah & lots of it, it was great to be young & a DJ following those "You've come a long way baby" days of the late 60s & early 70s.
But the "glamorous" narrative was false for about 90% of the people who hung out at clubs. I was there, lived through it along with a whole lot of my friends, relatives & neighbors. Don't believe ALL of the hype
The glory days for them really was around 1978/79. By the time of this list, Disco had died a nasty & unnecessary death.