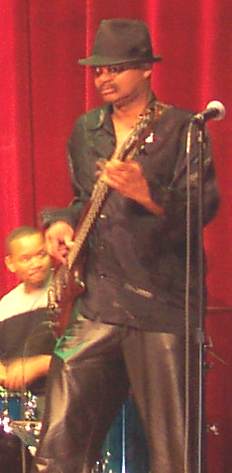 A few personal thoughts…
When Mtume passed, I said that for me it was like Willie Mays passed.
Yesterday, when I heard this news about Michael Henderson, for me was like Roberto Clemente passing. Like Mtume, he has been a big part of the journey of Soul-Patrol. And also much like Mtume, Michael Henderson has been a big part of the journey of Bob Davis. As you might expect, I have dozens of pictures of Michael Henderson.
I'm not posting any for the moment. Not only don't I feel like looking thru them to figure out which ones I should post. I just plain don't want to really even look at them at all. I'm thinking; "maybe if I don't see a picture of him, then maybe he didn't really die?"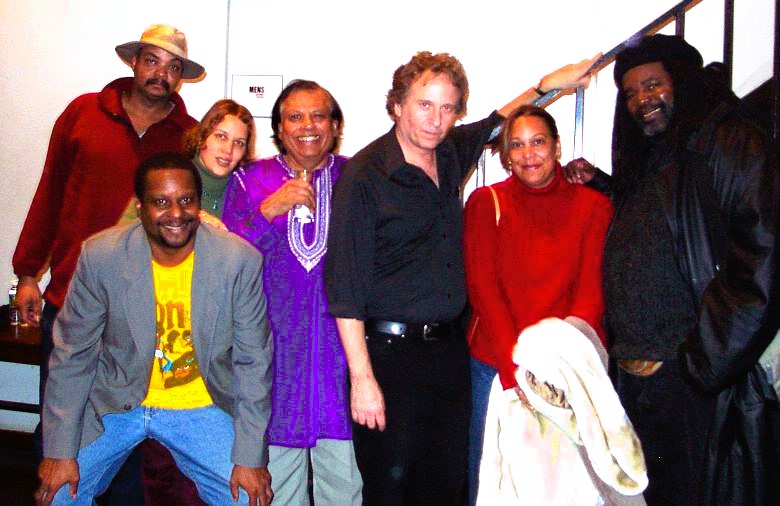 The picture above was taken backstage at the famed NYC club called "Joe's Pub." It was taken not long after I had that first telephone conversation with Michael Henderson. I brought my wife with me to that show. She wasn't then or now with me at many of these shows. However, she had been listening to me go on and on about Michael Henderson, since 1974, so she wanted to be there. Years later Michael Henderson called me on a Saturday afternoon to ask me to come to one of his shows in Randallstown, MD. A middle-income Black community outside of Baltimore (bout a 2 hr drive.) When I told my wife, she said yes. So we packed up the car (including my 13-year-old daughter,) and made the drive. The show was at the local High School and featured Lonnie Liston Smith & Bobbi Humphries, backed by the HS jazz band. Not only was the show was off the chain, but the folks on the school board were glowing not only about the sucess of the concert (proceeds went to the school district jazz program,) but also about the fact that Michael Henderson had spent the previous couple of days working with the members of the HS band. After the concert we were invited back to one of the school board members homes, where they had prepared a fresh crabcake feast, that is still to this day the best crabcakes I have ever eaten. The other day when I told my now 29-year-old daughter that Michael Henderson had passed away, she shed a tear.
The last time I saw Michael Henderson do a live show, it was in Atlantic City. He started the set out by playing some Sun Ra covers. Then he played some Miles Davis covers. Then he played his R&B hits (he brought Jean Carne up on stage for those.): He then ended his set with a blistering 20 min FUNK tribute to Rick James. The question is not only "Who else COULD do that?" But perhaps more importantly "Who else WOULD do that?"
Michael Henderson was an extremely astute businessperson, in addition to being one of the best artists I ever heard. In fact the whole time I knew him, he was an honest to god "indie artist." This meant that he did EVERYTHING from personally booking his gigs to securing musicians, arranging for interviews, publicity, advertising, etc. before the show, paying the musicians after the show and of course always seeing to provide educational opportunities for the community. He didn't believe in wasting time and money creating new recordings, that he said, "nobody is going to buy anyhow." Much like Mtume, he was a renaissance man who wanted to change the world, except he preferred to make that change one person at a time. There were some weeks I was on the phone with him every day as he was going thru his process, serving as a sounding board, for his ideas.
He even performed for us at the 2007 Soul-Patrol Convention, turned it out and just as he completed his performance, the heavens opened up and it rained like "cats & dogs," as if on command by Michael Henderson. It was a performance I will never forget.
I will miss him far more than I could express on this web page…..
Read the two following articles. The first one I wrote not long after that first telephone call that I had with Michael Henderson. The second is written by our friend Carlton J. Smith, after hanging out Michael Henderson at a gig at Philly's "North by Northwest."
Michael Henderson: The Ultimate Funkateer?
by Bob Davis
Q&A QUESTION: I have a question for the SP musicologists,
> is the Michael Henderson that plays bass on Miles Davis "Tribute To Jack Johnson" the same M.H. that > sings "You are my Starship"? and "Be my Girl"?
Q&A ANSWER:
> Yes
Did you ever hear Michael Henderson while he was a part of the Miles Davis band. He was ultrafunky…..especially on the album "On The Corner". However, he never got much due as a bass player due to his later success as a "balladeer", including MONSTER DUETS with the likes of Phyllis Hyman and Jean Carne!
Michael Henderson provided the thumpin bass sounds as a part of Miles Davis early to mid 70's band. Check him out on the albums "Big Fun", "Agartha", "Dark Magus", "On The Corner" and more. Of course, none of us realized at that time that he was also a fine singer as he proved later in the decade with several hit records such a "You Are My Starship" with (Norman Connors) and solo with songs like "Be My Girl", "Wide Receiver"
SO WHATEVER HAPPENED TO MICHAEL HENDERSON?
In the six years I have been doing this web site this is probably the MOST frequently asked question that I have gotten via email.
Till now I have been unable to answer it. Right now I am totally charged up.
What would you say about an artist who has worked with…
Miles Davis, Dr. John, Spinners, Adina Howard, Temptations, Cherelle, MC 8, Guru, 4 Tops, P-Funk, Buddy Miles, Fantastic Four, Norman Connors, LL Cool J, Martha Reeves and the Vandellas, Snoop Doggy Dogg, Stevie Wonder, Marvin Gaye, Aretha Franklin, Pete Cosey, Herbie Hancock, Detroit Emeralds, Phyllis Hyman, Jean Carne, Louis Satterfield, Teddy Pendegrass, Delfonics, Ray Parker Jr, Hamilton Bohanon, Mobb Deep, Reggie Lucas, Dells, Mtume, Patti LaBelle, Gary Bartz, Carl Thomas, Johnny Taylor, Mick Jaggar, Herbie Hancock, Chi-Lites, Angela Bofil, the Dramatics, Sugar Ray, Lonnie Liston Smith, the Originals, Roberta Flack, Compton's Most Wanted, Ashford and Simpson, Jackson Five and more.
He has played on some of the most influential albums in the history of Jazz-Funk.
He has had singles that have scored top 10 on BOTH the Pop and R&B charts.
What would you say about an artist who is BOTH one of the top Jazz artists who ever lived AND is one of the top LOVE BALLAD singers of all time?
It's someone whose voice has been playing in the background for some "3 A.M. KOZMIC FUNK"…

MANY TIMES, MANY TIMES, MANY TIMES, MANY TIMES, MANY TIMES, MANY TIMES, MANY TIMES, MANY TIMES, MANY TIMES, MANY TIMES, MANY TIMES, MANY TIMES
This is an artist with whom I have shared a kindred and spiritual friendship with for about 30 years (although we had never met before this evening)
Much like Shuggie Otis, this is an artist whose music has had a rather large personal impact on me.
I have listened to his music over and over again, in many different and diverse settings, thinking about it, analyzing it and just plain enjoying it for many years
Michael Henderson has been checking out the Soul Patrol site for a while now, liked what he saw written on the web site about him and his music at the following pages:
http://www.soul-patrol.com/jazz/magus.htm
http://www.soul-patrol.com/jazz/miles.htm
And last night he wrote to me and I asked for his number, he gave it to me and I was just on the phone with him for the past hour.
It was like talking with an old friend 🙂
Michael Henderson wants you all to know the following.
He lives in Las Vegas now
He has been raising his family for the past 15 or so years
That's why he stopped touring and recording
He has been "home schooling" his kids along with his wife Adelia
He has been working behind the scene, producing many different rappers and other artists
Now that his children are of age, he is making a comeback…

(ya gotta admire a brotha who puts aside a MEGA recording and touring career to raise his family, and to do so the right way!!!!)
now get this…
He is in the process of putting back together….
"The Miles Davis Band", "The Miles Davis Band", "The Miles Davis Band", "The Miles Davis Band", "The Miles Davis Band", "The Miles Davis Band", "The Miles Davis Band", "The Miles Davis Band", "The Miles Davis Band", "The Miles Davis Band", "The Miles Davis Band"
:::::::::::::whew:::::::::::::
He's got Pete Cosey, Gary Bartz, and others from the original band
He already has a deal with a major label, and they start recording in August
and… there will be more than a few surprises
They are gonna play that REAL FIERCE "On the Corner"/"Dark Magus" stuff.
You know, that STANK NASTY VOODOO FUNK that will turn you completely inside out & thinking about the Ghetto & Africa at the same time!……& remind you of James Brown on an "acid trip"….. or …..Sly Stone "flipped over" …………or Sun Ra "making sense" …….or Jimi Hendrix "with a REAL band" or………
Well you get the picture……
Plus there is more…
He is also going to be coming out with new Pop material as well
(so he's gonna have some new stuff for the ladies also)
I told him…
"Between you AND Shuggie Otis re-appearing from the dead, yall are gonna give me a heart attack"
He laughed
He proceeded to tell me a whole bunch of stories about different artists, places and faces from the past present and future
He said that he decided to contact me after reading what I had written about him on the site
He told me waaaay more than I could possibly write down.
For example…
The guy was playing bass at places like the Appllo, 20 Grand in Detroit, etc. in the House band in 1962 when he was 13 years old
He said that he was going to leave the Miles Davis band to play with Jimi
He played over the phone for me a new instrumental version of "You are My Starship" that he composed

it freaked me out

It was BAAADDDDDDDDDDD
Michael Henderson is a pretty cool brotha
at one point he asked me…
"you had enough yet?………is this too much information for you?"…"Should I stop?"
(I was speechless…..and then he started laughing 🙂
Sometimes, dreams really do come true…
(more to come……..)
NP: Dark Magus
–Bob Davis
A  HISTORIC & CATACLYSMIC EVENT IN THE HISTORY OF FUNK MUSIC!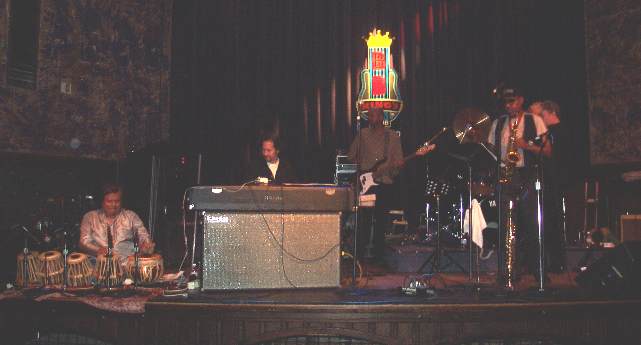 Featuring a reunion of the 1970's MILES DAVIS BAND, Michael Henderson, Ndugu Chancelor, Barry Finnerty, Sonny Fortune, Badal Roy, Michael Wolff. SONGS: Black Satin, New York Girl, Philly Bb Funk
WHO IS THE ONLY MEMBER OF WHAT IS ARGUABLY THE GREATEST FUNK BAND OF ALL TIME TO PLAY ON EVERY CUT OF WHAT MIGHT BE IT'T GREATEST MOMENT?
ON THE CORNER (CBS/Sony 32DP 716; TT = 54:54)
(a) On the Corner – New York Girl – Thinkin' One Thing and Doin' Another – Vote for Miles (M. Davis) 6/1/72 20:00
(c) Black Satin (M. Davis) 7/7/72 5:21
(b) One And One (M. Davis) 6/6/72 6:10
(b) Helen Butte – Mr. Freedom X (M. Davis) 6/6/72 23:21
Miles Davis trumpet
Dave Liebman soprano saxophone (a)
Teo Macero tenor saxophone (a)
Carlos Garnett alto & tenor saxophone (b)
Chick Corea electric piano, synthesizer (a)
Herbie Hancock electric piano, synthesizer (a & b)
Harold I. Williams, Jr. electric piano, synthesizer (a & b)
Cedric Lawson organ (c)
John McLaughlin guitar (a)
David Creamer guitar (b)
Reggie Lucas guitar (c)
Collin Walcott electric sitar (a & b)
Khalil Balakrishna electric sitar (c)

Michael Henderson Fender bass

Jack DeJohnette drums (a & b)
Billy Hart drums, percussion, bongos (a & b)
Al Foster drums (c)
Don Alias congas (a)
James Mtume congas (b & c)
"REPETITIVE MESS"?
Some Internet "Jazz Critic" (blowhard) comments about "On The Corner"
Originally released in 1972, this record has been hailed by some as a precursor to hip-hop, trance, jungle, and a host of other currently fashionable musical styles. To these ears, it's a repetitive mess that never gets off the ground. Davis' trumpet is buried in the mix, and there's no real melody to speak of either.
My Reply…
The "repetition" that you dislike so much on the album is precisely what draws me back to it time & time again.
This is the "Africa meets the Ghetto" aspect that I love….clearly Miles is being influenced by both James (same beat) Brown and Sly (sex machine) Stone thorough "On The Corner".
I guess the merits of this album will continue to be …… ….debated by MF's forever !!!
This was the one which completely alienated Miles from the Jazz establishment at the time.
They thought he had lost his mind…….
Me and a whole bunch of my friends thought that Miles had come to his senses…
MESSENGERS FROM THE ANCIENT TO THE FUTURE…
Back in the late 1960's when Miles Davis went "electric", he did so because he wanted to reach out to younger Black people (such as myself) because he felt that Jazz had gotten too far away from the people.
So he created something that I refer to as "jazz-funk" by fusing his own music with the music of Jimi Hendrix, Sly Stone and James Brown. He did this using young musicians such as James Mtume, Reggie Lucas, Michael Henderson and others to do this. In the wake of what Miles had done, other jazz Musicians soon followed such as Tony Williams and Herbie Hancock from Miles old band in the 60's, and new groups like the Mahavishnu Orchestra, Weather Report, Return To Forever, etc were formed by sidemen who had played with Miles on the album "Bitches Brew".
I was a BIG FAN of this particular "fusion" of musical styles and all of these artists sure as hell reached me in a big way 🙂
Jazz purists HATED this music.
But there was a problem with it to be sure, even though this music was fantastic, it was almost all instrumental and still pretty damn deep, especially with some pretty overt African/Spiritual influences as well.
Therefore it never really found an audience among the masses of people that it was intended to reach (R&B Radio audience).
I guess my point is that some of the younger musicians from this period, namely James Mtume, Michael Henderson and Narada Micheal Waldon were able to carry the intent of this music to it's logical conclusion during the 1980's and actually reach the massive R&B audience that Miles himself was unable to reach, and they were able to do so without "selling out".
–Bob Davis
"I don't play music for people who hang out Music Conservatories or Lincoln Center, I play music for people who hang out at the Rib Shack on Saturday Nights in Harlem…"
–Miles Davis
WELCOME BACK MIKE!!!!!!!!
More to come.
I am a Michael Henderson Fiend
by: Carlton J. Smith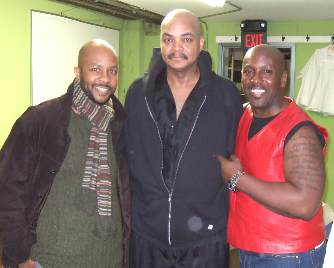 If this is too much for SP could you please make sure Brother Henderson sees it?
Thank you. — Carlton
First things first. I am a Michael Henderson FIEND. I can't believe you actually got to talk to the man, Brother Bob. I got some Michael Henderson trivia for my fellow SPers. Y'all ready? Which former member of a 70's funk super group produced a cut on one of Michael Henderson's last LP?
Michael does a little two-second scat in the closing vamp on the chorus that's worth the price of admission alone. This founding member of said 70's funk super group also recorded this same song on his one and only solo LP on Motown. In a non-related piece of insignificant trivia, this same group member also produced a couple of cuts on Jayne Kennedy (Mrs. Leon Isaac Kennedy) for an exercise LP she did. (Something I'm sure he tries to live down.)
Now back to Brother Michael, if you're reading this Michael, when I was 18, I used to work in the mailroom at Arista Records, the parent company for Buddah, your label at the time. You were scheduled to perform at the Apollo Theatre with The Dramatics (God in Heaven knows I was so looking forward to an on stage "Be My Girl" collaboration) and Phillipe Wynne. I happened to be backstage when you stepped out of the limo with the tallest, prettiest, red-headed, red bone Soul Sister with the tightest white jeans stretched across the most magnanimous Soul Train booty I've ever seen. (Clearly this had a major effect on me….lol.) You went into the theatre and wound up getting into a heated discussion/argument with somebody and you left.
You didn't do the gig. I went to work Monday and while making my rounds with the mail, you were seated in Barbara Shelly's office and she was giving you fever about not showing up for the gig. Just then you looked up, saw me and said, "Ask him!! He'll tell you I was there!! Ask him!!" Of course, I happily replied that yes you were indeed there so on and so forth.
So Mike, as a good-looking out gesture for having had your back that day…why don't you give me that Soul Sister's phone number? Yes, it is 22 years after the fact, but I don't care!!! I remember thinking she resembled Rena Scott.
All jokes aside, I have a Michael Henderson tape I made that I am religious about. Here's a rundown of some of it's contents:
1. For the Funkateers: "Playing On The Real Thing" (Do It All LP). The bass runs on this thing are ridiculous. Get on down, Mike. The mother of the young lady I was dating at the time insisted I get her a copy of the LP so she could have someone make her a scarf just like the one Michael had on on the back cover!
2. "We Are Here To Geek You Up" (Slingshot LP). Wouldn't be out of place on a P-Funk LP. I used to think the woman on the back cover resembled Phyllis Hyman.
3. "Happy" (In The Night Time LP). Reminded me of "Too Hot To Trot" by The Commodores from "The Than God it's Friday" soundtrack.
4. "Prove It" (Wide Receiver LP). Little bit of autobiographical Rock Funk, eh Mike?
5. "Sling Shot" (Sling Shot LP). Michael we can understand another attempt at the "Wide Receiver" vibe. You had to see if there was anything there Mike. Was this a viable road to start going down, this pseudo Bootsy-P Funkateer thing or do we go back to being Marvin Gaye's crooning heir apparent? Glad you went back Mike.
6. "You Haven't Made It To The Top". Funkin' like he was at Stevie's house.
7. "You're My Choice" (Wide Receiver LP). Just the song to dedicated to a young lady "…unlike all the rest, you're still the best for me."
8. "Won't You Be Mine" (Goin' Places LP). Smooth as goose grease. In the 2nd half of the 2nd verse, Michael does a falsetto yell with the strings that makes me wanna holler and throw up…oh well.
9. "In The Night Time" (In The Night Time LP). Cool A** Bass Line, Cool A** Song, 2nd Verse Michael ad-libs alongside his lead vocal in his best Marvin Gaye falsetto. Michael's falsetto, along with so many other things about the brother was highly under-rated and under-appreciated. The boy could chirp.
10. "Everybody Wants To Know Why" (Do It All LP). Great song to dedicate to any young lady whether you mean it or not. Great chorus and more Marvin Gaye falsetto adlibs. Great vocal performance.
11. "I Don't Need Nobody Else" (In The Night Time LP). Another great song to dedicate to your lady. The musicianship/arrangements as on most of Michael's stuff is simply fantastic. "…and they refuse to understand that I'm gonna be only one woman's man."
12. "Whisper In My Ear" (In The Night Time LP). "…I'm one of those kind of people, silly people who believes in love." At the risk of sounding redundant again, a superb arrangement, vocally and musically, folks just ain't putting 'em together with this kind of foresight/insight anymore.
13. "Take Me I'm Yours" (In The Night Time LP). Rena had a lovely LP called "Love Zone" – very sexy record.
14. "Goin' Places" (Goin' Places). The definitive Michael "Love Man" Henderson cut. Maxwell, R. Kelly, and D.Angelo could be dipped butt first in motor oil and they'll never be this slick!! Michael's vocals are excellent as usual and his falsetto riffs at the end are other worldly. Ted Mills, Ron Banks, Eddie Kendricks(R.I.P.), Johnny Carter, Russell Thompkins, Eugene Record, Smokey, etc. I'm sorry. Michael was in y'alls a** on this one.
15. "Stay With Me This Summer" (Be My Girl LP). Candlelight, incense, that special someone or by your damn self, thinking of that special someone. Sheer beauty somber but it crawls all over you and you don't want to come out of it.
16. "Just Ask The Lonely" (Do It All LP). Most of us mere mortals couldn't come behind Levi Stubbs and do anything. I don't care if it's not standing at a urinal! Once Levi has been there (vocally), it's best you leave it alone or your health could suffer greatly. But on this cut Michael steps up to the plate and acquits himself admirably. Job well done Mike!
17. "To Be Loved" (Do It All LP). Most of us mere mortals couldn't come behind Jackie Wilson and do anything…. (see above.)
18. "In It For the Goodies" Some fun funk – Nice squiggly bass.
19. "Riding" (Do It All LP). Not to get too caught up in metaphors but this thing literally cruises along, makes you want to get in your short (there's a back in the day back expression for you!) and just well…..rrriiiiidddde.
20. "Do It All" (Do It All LP). The funk of Philly Int'l used to ride alone like this (Melvin Blue Notes – "Tell The World How I Feel About Cha"; Jerry Butler – "Cooling Me Out"). Mike's bass propels this thing forward.
21. "Never Gonna Give You Up" (Sling Shot LP) "Make It Easy On Yourself" — Mike tackles The Ice Man with apparent ease. First Levi Stubbs, then Jackie Wilson now Jerry Butler, Mike Wasn't scared of nobody!!!
22. "Take Care" (Sling Shot LP) / "Am I Special" (In The Night Time) / "I'll Be Understanding" (Goin' Places) / "Let Me Love You" (Goin' Places). These are the ones that will convince that young lady that you absolutely have to have it!! Good God!!
23. "Thin Walls" (Fickle LP). Wouldn't have been out of place on the "Do It All" LP smooth cut also produced by that certain someone from a certain 70's funk group. PS. Why was the cut "Whip It" (Going Places LP) same version, same mix, also same version on this LP?
24. "Tin Soldier" (Bedtime Stories LP). You know I got nothing but mad love for you Mike, but the less said about the "Bedtime Stories" LP the better, but this cut is a return a glory. Last song on the second side. A beautiful way to go out, I anxiously await your return.
Fellow SPers, do yourself a favor, pick up some Michael Henderson vinyl. I don't know if there's a compilation CD, but it won't do you justice because each LP had at least 4-5 cuts that were killers. So unless it's a Michael Henderson box set (which I would love to compile) a 15-song CD won't even begin to scratch the surface.
Peace & Blessings,
Carlton J. Smith