Music Evolution – Buckshot LeFonque (1997 FUNK Album Of the Year)
History Lesson – What happens when you're the #1 Jazz artist in the USA and you decide to quit your job & make a hip hop album, that ends up being the best FUNK ALBUM of 1997?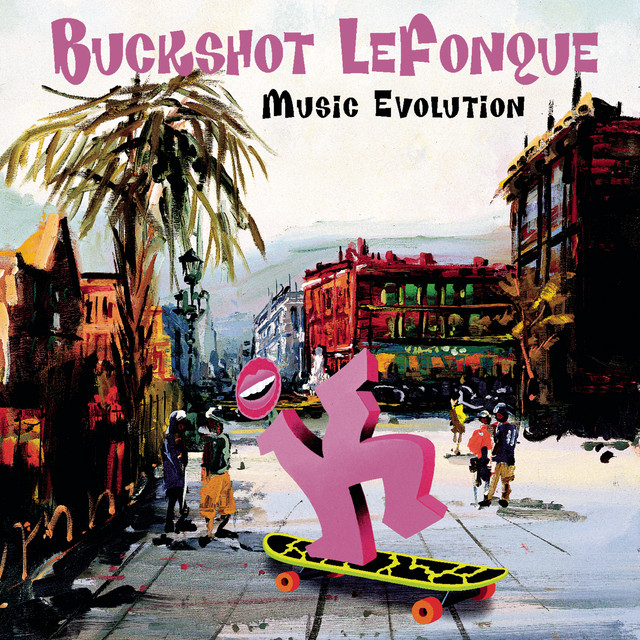 Music Evolution Overview
A history lesson for both younger and older music fans. In reality the title says it all (shooting the FUNK everywhere) as Branford Marsalis takes us all to school with this masterpiece.
One comment I hear over and over again about this album is that it is "uneven". I think that what they are really trying to say is that "Music Evolution" doesn't really fit nicely into any one genre & since I consider myself to be a fan of a particular genre, I can't really groove with about ½ of the album" What this is saying to me is that Branford has not only reached and touched his intended target but that he also understands the true meaning of what FUNK is.!!

This album didn't sell very well, it's almost impossible to slot it into any radio format that I am aware currently. However, if we had such a thing as "Funk Radio", that's where it would fit.
He understands where we are today is a product of where we have come from and that "there really is NOTHING new"
His use of the moniker "LeFouque" is no mistake either.
He knows that "funk" is a blend of soul + jazz + rock n' roll + blues with some gospel, latin & reggae thrown in for some spice……with a message attached to it….:)
….& that's just what this album is !!
NOTE: GO AND LISTEN TO THESE SONGS ON YOUTUBE, AT THE END OF THE TRACK-BY-TRACK REVIEW BELOW, AND LET ME KNOW WHAT YOU THINK?
Track by Track Review
Here We Go Again – jazz/hip hop – "the second installment" where cool meets the hot & blows up the spot.
Music Evolution – jazz/hip hop "because it is an ill format". This song is radical enough to refer to Cab Calloway as a "dope emcee". How's that for a perspective? Elvis, Louis Armstrong, and the KKK all in same song?
Wasineveritis – intro to the next song
James Brown Part's 1 & 2 – soul/jazz "retro" indeed nice tribute to the "originator" & it sounds like 1972 all over again.
Another Day – "smooth jazz/today's r&b, nice vocals in a "stevie wonderish " sorta way. A whole album of this type of material would be a big hit with the "smooth jazz" crowd. (Features modern day Neo Soul Super Star Frank McComb)
Try These On – soul/jazz/hip hop, bouncy in a 1970's "CTI ish" kinda way. Sounds like something that could easily have appeared on a Grover Washington or Brecker Brothers LP back in the day. I guess today they might call this one "acid jazz"?
A Buckshot Rebuttal – Branford talking about the "mainstream community's" refusal to understand the "hip hop" grooves of "Buckshot" and the "hip hop" community's refusal to understand the jazz grooves of the first Buckshot" album.
My Way (Doin It) – jazz/rock n' roll/hip hop, slamin rock tune done in a "Mandrillish" kinda way. They even manage to give some props to Frank Sinatra…. LOL……"Buckshot for president……"
Better Than I Am – soul/jazz, this song could easily appear on an album by Teddy Pendegrass, Luther Vandross or Will Downing. Nice love song
Paris Is Burning – spoken word intro to "Jungle Groove."
Jungle Groove – Latin/jazz, now this acoustic cut with a latin tinge really burns……. the mood is that of a really HOT jazz club that you might see in a 1950's movie or TV show where the "hero" walks in and is looking for the "suspect". This is straight up acoustic jazz, but it's being played so fast & furious, that it sounds like FUNK. I love this one!! ….."fasten your seat belt kid…"
Weary With Toil – synth/jazz/ I don't really care what category to put this song is in, all I know is that it is :"ultra/super /erotic/nasty/funky!!
Black Monday – jazz/hip hop/gospel, this is perhaps the most interesting cut on the album (it's also what you are hearing a sample of right now if you have Win 95/NT !!). The song is about the Million Man March and the message is one of unity….. "not knowledge of wealth ……but knowledge of self"
Phoenix – gospel/jazz/soul
Samba Hop – hip hop/latin/jazz/everythang, great song …..PERIOD I cannot describe this song!!!!!!!!!!!!
…And We Out – talk about a song with a "false ending", this song has a false beginning….LOL
I wonder how many people with the album have never even heard it???
It's straight no chaser jazz.
NOTE: GO AND LISTEN TO THESE SONGS ON YOUTUBE AND LET ME KNOW WHAT YOU THINK?
A Few Words About Branford…

I have never met this man, and I don't really know much about his life except that he has got this "really famous brother".
However, to me, the career of Branford Marsalis stands above the crowd as an example of just what a Black man who happens to be an entertainer is supposed to be all about!!
I mean just think about it……he was a member of his brothers' band, which at that time was supposed to be the "model" for the "anti-Miles/Fusion/Funk" of the 70's and was going to return jazz to its "roots". So what does Branford do ??……. He first goes into acting (School Daze) and then not only leaves his "really famous brother's" band, to hook up with the British rocker Sting, but also takes along people like Kenny Kirkland and Darryl Jones and stars in a movie about the whole experience, where he teaches Sting all about FUNK!!
Later he goes on to make history by becoming the bandleader of the NBC Orchestra on the "Tonight Show". On the show his role is far more than just a Bandleader, he emerges as something of a "co-host" of the show with his opinions and his personality.
Then seemingly abuptly……Branford quits the Tonight Show, which is probably the best/secure gig that any jazz musician could have !!
I remember when he was asked why he was leaving the show, Branford stated that he was leaving to "pursue music in a way that would allow him to connect with the younger generation".
In other words, he left the best gig a jazzman could have and put his career on the line to become "Buckshot LeFonque" !!
All because he wanted to give something back and maybe teach a few people a little bit about the history of Black Music and in doing so, perhaps bridge the terrible generation gap which now exists within the Black community. With this album he is literally following in the footsteps of Miles Davis, who reached out to younger Black people in much the same way during the 1970's.
In other words, Branford shows us all that he has both the heart spirit and mind of a true Funkateer & for that he gets all the props in the world from me!!!
Personally, I think that they gave the "wrong" Marsalis the Pulitzer Prize.
— Bob Davis