MUSIC, MUSIC, MUSIC – What is Soul?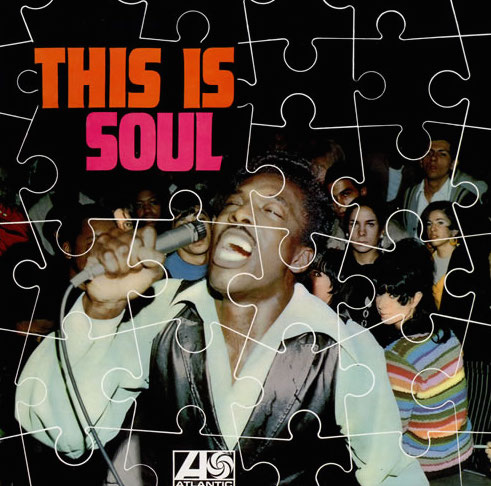 "Now I lay me down to sleep, I pray the Lord my soul to keep;
If I should die before I awake, take me to heaven because I need a break."
—"On the Run" Jungle Brothers
"…And if you don't know, now you know."
—"Juicy" The Notorious B.I.G (Biggie Smalls)
You don't have to be criminal, to get in trouble with the law. Sometimes…like Easter eggs…you just have to have right coloring on the outside. In a word, it's called, "Subjected." But in this case, "Suppression spawns creativity."
"There is no "Art for Art Sake." All art or music is either social, political, or economical. And if you're Black—and you are an artist or musician living in a Western country or Western Civilization—you know exactly what I'm taking about.
Sure, there's various degrees of separation, but you don't need a pair of bifocals or binoculars to get what I mean. Like the "haves and have nots" in this country, Western societies are divided into the people who developed these conventions—and everybody or everyone else.
There's the pecking order to this madness—one in which nobody wants to be on the bottom of—or affiliated with anything associated with it. Like Chuck D of Public Enemy says, "These are pain-driven lyrics!" Pretty soon—you might find yourself singing a Creedence Clearwater Revival tune called, "It Ain't Me!"
And Black music is no exception to this rule. Black music—just like any form of civilization or subculture—reflects social, political and economical themes: Our music has political organization, a moral or social code, economics; people in the know (or pursuing knowledge) and variants in artistic expressions (style of clothes, vernacular, foods, etc). In essence, Black music is a cultural icon.
The surrounding social elements and cultural conditions created and stimulated by mainstream politics, provides the medium for the entire country—and the "product" or musical inventions created can be viewed as a "cultural creation."
For example, mainstream society in this country has had its' period of segregation lasting from 1849 to 1950 which spilled over to the early 1960s. During this time, there was very little interaction between Blacks and Whites in mainstream society, period.
Within this era, the stock market crashed in 1929; leading to the country's Great Depression (from 1929 to 1939), in which Black people found themselves even less ways to make a livelihood than their White counterparts.
And because of the "two-tier" system (inherent within this society), history books only document the full detail of the Great Depression's effect on mainstream society. You'd be hard-pressed to find any information concerning the effects of the Segregation Era or the Depression on Black people or their music. Even to this day, the effects Segregation Era is hardly mentioned by any elder Whites or Blacks who lived through it for that matter—albeit for entirely different reasons. . .
Anyway, Segregation and Depression did have an enormous impact on Black Music (called "Race Music" and "Race Records" in that time) from 1940 until the 1960s. It was during this time, Black artists began to invent new styles of music that not only reflected our current experiences as Black people, but effected mainstream American and European music as well—despite having separate audiences in America.
Mainly viewed as one homogeneous music by Blacks and Whites alike, Black musicians who played instruments for waltzes and classical music within the Race music genre for society, eventually morphed-off into what would later be called, "Jazz" (although this phenomena occurred in Segregation before the Depression).
Although Race music all originated from sub-elements we now call "Blues" or "Spirituals," most of its' musicians were technically well-acquainted with other aspects and styles of Race music as well, as a matter of viability, employment and survival within the entertainment trade.
What I loved about that time in American history was influential or not, Black people banned together through segregation, adversity, and oppression; whereas in these days, despite larger fortunes and bigger influence, we've not been able to duplicate the same type of success.
Jazz within this period replaced Classical orchestration in mainstream society as well as ushered in Big Band Era with its accompaniment of singers—and subsequent, sextet, quintet, quartet and trios—as alternatives to the classical ballroom and American entertainment.
Doo Wop and Bebop styles emerged with its' vocalese or jive slang and jive dance from Race music in the 1940s. Dizzy Gillespie and Chano Pozo gave birth to the Afro-Cuban craze in America with his Afro-Cuban Suite, that eventually lured Arturo Sandoval and Desi Arnaz (of I Love Lucy and Desilu Productions) to further Dizzy's moment, after he Charlie Parker and others produced Bebop.
Doo Wop took over the urban streets in the '40s, diversifying Race music styles, as Little Richard, Chuck Berry, Bo Diddley, and Fats Domino transitioned the Blues-Boogie element of Race music into Rock & Roll during the 1950s.
So now we know already of Doo Wop links to Rock and Rhythm & Blues. . . So what about this thing called Soul?
First of all, it isn't that new series on Don Cornelius and Soul Train. Soul singers often dramatically reenact their songs from the heart—until James Brown, the focus wasn't as much on the dance. Like the name, "De la Soul," soul singers sing, "from the Soul." Soul singers show their audiences how it feels to be involved.
Strongly consisting of ballads and such lyrical poetry, Soul music slightly departs from the classical say-and-repeat lines evident in a lot of Blues songs—but like the "flatted-fifth" or "BluesNote" in Jazz music—Soul keeps tethered to its' Race/Blues/Spiritual roots by declaring a sacred love between man and woman; the tragedy, devotion and betrayal: The flip-side of the love of the divine, which John Coltrane wrote about in his suite, "A Love Supreme."
Soul's danceable elements—like Little Richard's efforts—once again, sets the Blues-Boogie element on its' head with another variant to the style during the 1950s. And like James Brown, Johnny Guitar Watson, Nat King Cole, Cab Calloway, Louis Jordan, the Duke and Count demonstrates, there is a placidity and flexibility between all these musical styles of Race Music.
Soul mixes with Blues—Blues runs into R&B; R&B mixes Rock; that morphs into Funk, and Funk swings into Jazz. Black music is Black music, but who would have thought it would have changed the world the way it did?
Since the Vaudeville acts in the early South, Soul music music follows the tradition of Race music through the Great Migration of Southern Blacks up North [from 1916-1970] diversifying its range to other the country. Each Black performer does so for his audiences by mix-matching various styles in their musical repertoire by the use of swing. . . Even Michael Jackson did it in his top R&B and Rock tunes, like James Brown covers Jazz and Funk in his Soul repertoire!
That being said, Soul music is the heart and soul of Black music; expressionistic and dramatic in it's complexion. Soul music shows the world how Black people really feel about its' subject matter; something that gets lost from time to time in the Rhythm and Blues expression of our music. Sometimes, R&B can get caught up in appearance and glamor; but Soul's expression is raw and full of power. Even Soul's danceable, up-tempo music is gutsy and grinding; far more gritty then other expressions of the Blues besides Funk. At least, it was in the past. . .
Neo-Soul, or "New Soul," as it is designated; often moves away from the Soul/Blues structure and wears far less of "its heart on its sleeve." Caught up in the glamour of the Rhythm & Blues structure; Neo-Soul seems more pretentious—than the "honesty" of Soul; and much more stylized like its R&B "cousin."
Besides artist like Anthony Hamilton and India Arie, many Neo-Soul artist seem, less concerned than its facial communication of the swelling of energy and emotions building up inside the body of a Soul artist; it is simply not expressionistic enough of the way one feels inside about such lyrics.
Gospel owes much of its theatrics and dramatic expression to its' interpretation of Soul; than it does to its Spiritual roots. Spiritual music, like Soul, is expressionistic to its' feelings and charged up energy…but over time, Soul has added some "over-the-top" dramatics to its elements, to solicit raw responses from its' audiences. This, at some point, gives birth to Funk from Soul music; but Gospel borrows this element, while devoting this found expression, to project the Godly inspiration that comes from its Spiritual roots. But Soul music is how Black people feel about ourselves in song and performance expression.