NADIR – DISTORTED SOUL 2.0 – BEST FUNK CD of 2005, Bam Cafe, Slave the Remix Tape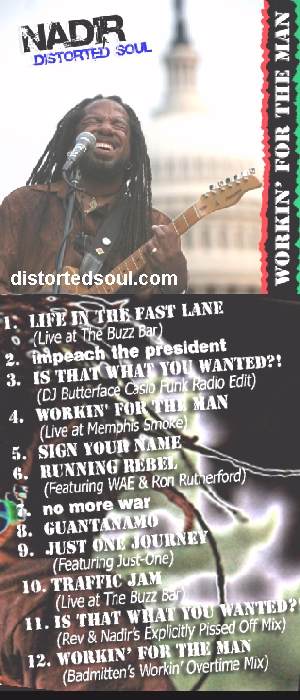 I'm NOW ready To Cast My Vote For……..(Most Relevant Album of 2008)
Nadir – "Workin' for the Man" (The Phuture of Phunk)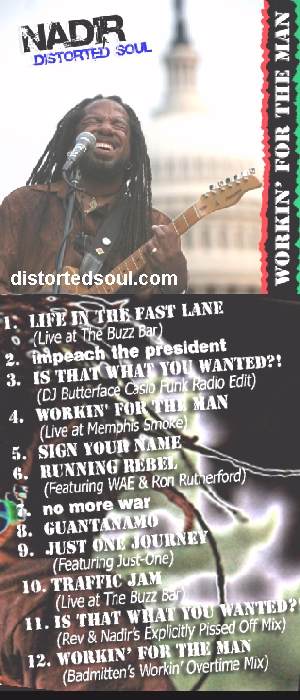 Album Review – Nadir – "Workin' for the Man" (The Phuture of Phunk)
Available only at: http://www.distortedsoul.com
At this point I haven't written an album review in about 3 months. It might not seem that way to you, but I haven't. The reason I haven't isn't because I haven't heard any good music. it's because I simply haven't felt like it. With everything that has been going on in my personal life combined with everything that has been going on in the world at large, spending even 5 minutes writing an album review has been pretty low on my list of priorities. Although I have been listening to a whole lotta good music during the "summer of my discontent", none of it has been:
C-O-M-P-E-L-I-N-G
(till now)
Last night Nadir sent me his new album via email. For those of you who have been following the story, I have previously described Nadir as "Malcolm X With a Guitar." He was named as Soul-Patrol.com's BEST FUNK ARTIST OF 2005. At the date of this writing, Nadir is headed to the most unlikely location of St. Paul Mn. to cover the 2008 Republikkkan National Convention for his "side gig" @ MTV News. He is an artist for whom there is truly no musical genre that applies, except for FUNK. I have also described his music as "out of touch with the reality of today." That's because his music combines:
SERIOUS RAW FUNK + A CALL TO SOCIETAL & PERSONAL RESPONSIBILITY
I am a fan of Nadir's music because it is un-yielding, un-compromising in it's "groove" and it's "politics." The listener is forced to confront their own personal comfort zone and simply put, you are….
FORCED TO SHAKE YOUR AZZ
AND
THINK ABOUT WEIGHTY ISSUES OF THE WORLD
(at the same time)
T-H-A-T-S C-O-M-P-E-L-I-N-G

Right now we are at a special point in Amerikkkan history.
It's the morning of August 30, 2008…
–The Democratic Convention has just ended on a note of hopefulness and optimism about the possibilities of an Amerikkka (without the "kkk's")
–The presumptive Republikkkan presidential nominee has just announced that his selection for a vice presidential running mate is a gun toting, moose meat eating, anti abortion housewife from Alaska
–A killer hurricane is headed for New Orleans on the anniversary of Katrina

(did I just hear someone out there utter the words "historical convergence?")
And as I sit here at this desk I am listening to an album of mp3's by Nadir called "Workin' for the Man."
And yes Virginia, I find myself: C-O-M-P-E-L-L-E-D
(to write an album review of an album that is right on time)
Imagine if you could listen to an album that sounded like it was James Brown + Gil Scott-Heron + Public Enemy? You might just think that you had entered a time machine and were now living in a different century? However you would be wrong. (o so wrong)
The political implication of an album with song titles like; "Guantanamo", "impeach the president", "no more war", "Running Rebel", "Workin' for the Man" and more are obvious. This is an album that could just as easily be titles "Black To The Future", it's fun to listen to and it also makes you THINK at the same time. The rap songs remind me of Public Enemy, the Funk joints remind me of the JB's, the political songs sound like the speeches of a political rally.
1. Life In the Fast Lane (Live at The Buzz Bar)
2. impeach the president
3. Is That What You Wanted?! (DJ Butterface Casio Funk Radio Edit)
4. Workin' for the Man (Live at Memphis Smoke)
5. Sign Your Name
6. Running Rebel (Featuring WAE & Ron Rutherford)
7. no more war
8. Guantanamo
9. Just One Journey (Featuring Just-One)
10. Traffic Jam (Live at The Buzz Bar)
11. Is That What You Wanted?! (Rev & Nadir s Explicitly Pissed Off Mix)
12. Workin For The Man (Badmitten s Workin Overtime Mix)
– Nadir is a revolutionary artist
– Nadir has a revolutionary agenda
– Nadir thinks that it is ok to HAVE FUN and THINK
– Nadir's new album "Workin' for the Man" makes you do both
I give it my strongest recommendation possible, as we close in on the end of "my summer of discontent." This is clearly one of the best new releases of 2008 and something that is truly worthy of your attention at this time.
And it's available online only at: http://www.distortedsoul.com
That is unless you will be attending the 2008 Republikkkan National Convention. If you are then you can buy an autographed hard copy Compact Disk from Nadir himself. He should be easy to spot in the crowd…
–Bob Davis
Concert Review: Nadir @ BAM Café (2/9/2008)
(Great Black Music From the Ancient To The Future)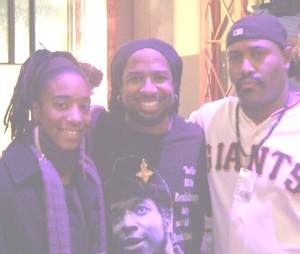 "If the bump ain't crunk,
if the funk ain't pumpin'
with the thump in the trunk,
then the bump ain't bumpin'!
You just gotta Leave It Alone, Leave It Alone!"
As a few of you know, I have been really, really busy of late. In fact I have been so busy that I haven't been able to get out and see many shows in 2008. This may well be the only show that I see in 2008. (sike….I'll be seeing Ryan Shaw this week in NYC).
I haven't been able to even find the time till now, to write this review of Nadir's show.
But hear it is and let me start out by saying that if this were going to be the only live show that I saw in 2008, I would be alright with that. Nadir put on an outstanding show, but more importantly he proved to me that he has a rare quality in a modern artist, in that he is able to also overcome "adversity."
I am an unabashed fan of Nadir's music and have been since I first heard his award winning 2005 album entitled "Distorted Soul 2.0." Not only is "Distorted Soul 2.0." one of the FUNKIEST albums of the decade (and therefore the century), it is a "throwback." This album is a "throwback" because unlike most albums produced in "post 9-11 amerikkka" it actually has something to say about the past, present and future of our society. Therefore it's no surprise that Nadir is also the Michigan State representative for MTV's Street Team 08, where he serves as one of MTV's 2008 Presidential Election reporters. (hell yeah, this ia a brotha we need to be proud of!!!!)
I strongly advise you to go to Nadir's site: http://www.distortedsoul.com and check out what he's got to offer. It's music +" and as badd as Nadir's music is, it's the "+" that is indeed the key…
I arrived at the BAM Café (http://www.bam.org) early because I had told Nadir that I would be there for the sound check and sure enough he was in the lobby accompanied by his backup musicians for the evening. As I greeted Nadir, I also greeted the members of the local NYC based Funk/Rock band called Rhythm Republik. I know Rhythm Republik and their music quite well, they are an "average" band and this was the first level of adversity for Nadir to overcome.
Soon we were greeted by "Clark Kent" (aka Darrell McNeill) who was in his alter ego as the "curator" of the BAM Café and he took us up to the BAM Café, for the sound check. As I watched the sound check, clearly Nadir was the man in charge, as he took Rhythm Republik thru snippets of the songs in the set in an organized and methodical fashion, to insure that they knew the songs. You could see that Nadir was going to make Rhythm Republik rise to the occasion and they did.
Soon the crowd started to fill up the empty space and several hundred people came in, most of whom were white (more adversity for Nadir to overcome).
Soon the show started and I was joined at my table by PJ from Brown Eyez Magazine (http://www.browneyezmag.com) and one of her associates. PJ like me had also seen Nadir perform at the 2007 Soul-Patrol Convention in Philadelphia and wanted to see him do a full set in New York.
Once the show started, I could see that indeed Rhythm Republik wasn't going to be an issue. And in my opinion, Rhythm Republik did a good job. You see, I know Nadir's songs like perhaps nobody else does (see I'm a real fan…..lol). I know the words and the beats by heart, that's because he is an artist in the truest sense of that word, with topical lyrics that are right on time for 2008.
Don't belive me, check the set list for the show…
Good To Your Earhole
Tighten Up
Daddy's Cane
The Low Road
Life In The Fast Lane
Slave
Guantanamo
Is That What You Wanted?
Queen of Sheba
Workin 4 Tha Man'
Leave It Alone
As you can see from the titles, some of these songs have lyrics that are intensely political (actually incendiary is a better word…..lol) and are designed to raise the consciousness of the listener and in fact challenge the listener to "do better." And given the nature of the crowd I was a bit concerned, that perhaps they might not be into it.
I couldn't have been more wrong, because I was about to get the surprise of the night…
::::THE SHOWMANSHIP OF NADIR::::::
He had the 96 percent white crowd eating out of his hands, using "1960's Apollo Stage Banter" and easily winning the crowd over during the middle portion of the show…
Starting with the rock 'power ballad" called the LOW ROAD (which also appears on the Soul-Patrol Digital/Virtual Album), it was if Nadir grabbed the crowd by their chairs and brought them closer to him, as if to say "it's ok to have fun". Next up, he made them feel even more comfortable with a FUNKED UP version of the Eagles 1970's classic "LIFE IN THE FAST LANE". This set the stage for the gut wrenching "SLAVE" (which actually transports us back to slavery times) and the SUPER HELLIFIED & EROTIC song called "SANCTIFIED" (during which Nadir almost caused a white woman in the audience to nearly faint…lol). I took a deep breath and smiled, because Rhythm Republik was actually doing a decent job of keeping up with all of this. Then Nadir slowed things down with "GUANTANAMO", a song about the US military instillation in Cuba, currently being used as a prison (torture) camp by the United States government.
Nadir ended his set (after a few stage management issues) in a most entertaining manner with the ULTRA PHUNKY JOINT called "LEAVE IT ALONE". He cleverly demonstrated his showmanship by challenging the audience to recite the lyrics (which are listed at the top of this review and are quite a tongue twister if you try to say them 3 times fast…..lol). This of course left the crowd smiling and well primed to absorb the MONSTER FUNK of the song itself. The show ended to a thunderous applause and I have little doubt that if there had been voting machines placed in the BAM Café, that Nadir could have been elected President, right on the spot!!!
The show ended and I would say that Nadir is primed for a return engagement to bring his very special brand of "EDutainment" back to the Big Apple. http://www.distortedsoul.com
I mean, Nadir is soooo completely out of step with the times…
– He plays FUNK music (and ain't ashamed of it)
– He writes passionate songs about the human condition
– He educates as he entertains
– He's a TV star
– He uses showmanship from the chitlin circuit days to capture and captivate a live audience
– Is talented enough to make up for any issues that might occur during a live show
– He actually knows how to use the internet
– He's got an "interracial" audience
Perhaps the "times" are about to catch up to Nadir…
"If the bump ain't crunk,
if the funk ain't pumpin'
with the thump in the trunk,
then the bump ain't bumpin'!
You just gotta Leave It Alone, Leave It Alone!"
Album Review: Nadir – "Slave the Remix Tape"
(Funk/Rap/Reggae/Rock/Dance/Soul/Metal/Grunge)
This is a very unusual album from one of the most innovative, creative and passionate artists on today's music scene. In fact it's not even really an album. It's really a single. Remember the movie "Do The Right Thing" by Spike Lee? Remember the "soundtrack"? It only consisted of one song; Public Enemy – "Fight the Power". One song, true indeed but it was a powerful song, containing a powerful message fully embodied the message that Spike Lee wanted the viewer to take away from the movie. On "Slave the Remix Tape" takes an equally powerful song called "Slave" from his award winning album called "Distorted Soul 2.0" and remixes it in every imaginable musical style except for country and classical just to make certain that no matter what type of music fan you are, or what demographic sector you are in, that you feel comfortable listening to the message of "Slave". It's a song with a message that everyone needs to hear. Make sure that you take the time to listen to it in whatever musical style suits you best and then be sure to pass it along to someone else in the musical style that suits them best.
http://www.distortedsoul.com
NADIR/DISTORTED SOUL – DISTORTED SOUL 2.0



Listen To Soul-Patrol's BEST FUNK CD of 2005 NADIR/DISTORTED SOUL – Distorted Soul 2.0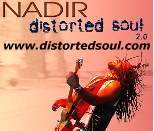 CD Review: Nadir – Distorted Soul 2.0
(Funk/Rock/Brain Food For the Neo/Organic Soul Generation)
Distorted Soul 2.0 is coming from a point of view that is totally and out of step with what is happening today in the world of music.
Distorted Soul 2.0 puts it in your face, right from the start, the first voice that you hear on the CD is that of Fannie Lou Hammer, followed more spoken word from word from the Civil Rights era in a song called "Prelude To Revolution". Then it rips into a mind blowing FUNK/ROCK groove that would have Lenny Kravitz peeing in his pants if he were to ever hear it, entitled "Slave" with the opening lyric that goes like this "I don't want to feel the pain anymore, and I don't wanna feel the whip across my spine"…
Song #3 called "Daddy's Cane" is a great song in tribute to Black fathers and how hard they work. When is the last time we heard a song with that theme? Especially done to a serious Funk/Rock groove, with stellar vocals to boot, which even quotes "Cosmic Slop" in it's lyrics??
And that's how it starts…
So who does Nadir remind me of????
LivingColour?, Lenny Kravitz with talent?, Prince on steroids?, George Clinton (back when he used to care?), Led Zepplin with a melanin injection (after a beating from the police?), The Last Poets (backed up by the Band of Gypsy's?), Bo Diddley freed of his shackles?, The Miles Davis Band (with Oscar Brown Jr. as their lead singer?), Malcolm X with a guitar?
I dunno, I just know this CD is badd…
Oh but I don't want to take you down a you down a certain path……This album isn't wholly on a "political/social" tip. Song #4 is a badd azz slow jam; Song #5 is a hypnotic stank azz funk groove called "Sanctified". And so on and so fourth…Hell this CD even gets into a jazz groove before it's all over
I could write about this album all night long if I had enough space…I have been listening to it for most of the year and now that I have started to finally write about it, I damn near can't stop…. lol
Distorted Soul 2.0 is the type of album That P-Funk used to make. This is the type of album that Sly Stone used to make. It DEMANDS that you pay attention. This is the type of album that made us dig Living Colour in the first place. Hell this is the kind of album the Temptations used to make. This is the type of album that some of these Neo/Organic Soul people need listen to actually provide them with some REAL SOUL. It's the kind of album that makes you think that Black music, culture and people truly have a future…
It's got everything that Funkateers/Black Hippies need plus the Wheaties and milk to go with it….
It's totally out of step with today's music scene…
…It's STONE COLD FUNK, it makes you DANCE, it ROCKS your world, it's got GREAT LYRICS, it's got POWERHOUSE SOUL SINGING, it's got GREAT MUSCIANSHIP, it makes you THINK about the world and it makes you SMILE. This isn't a CD in search of a market; it's a CD that demands the marketplace find it. We need Distorted Soul 2.0; we need it REAL bad…
EVERY SONG ON THIS CD IS GREAT (Hell, even white people would like it if they heard it)
So what is it in a word??? (It's a modern day iteration of the album "STAND")
Ok, I'll stop now. Just go and buy it. Save Your Soul before it's too late….
http://www.distortedsoul.com
–Bob Davis
earthjuice@prodigy.net


Listen To Soul-Patrol's BEST FUNK CD of 2005 NADIR/DISTORTED SOUL – Distorted Soul 2.0

---
---
The intent ofSoul Patrol, is to be a celebration of Great Black Music From The Ancient To The Future. It's all aboutSoulJazz, Blues,RockFunk, and theculturethey evolved from.


Click here to enter your suggestions and feedback