Nicole Henry
A GIANT THANK YOU to #radio for playing my latest single "Midnight at the Oasis" from my new album "Time to Love Again." A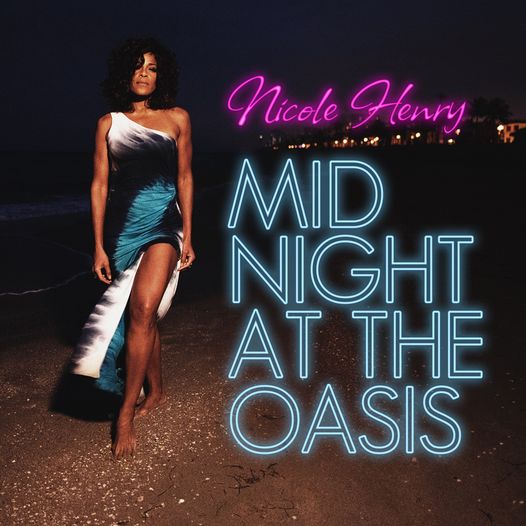 Nicole Henry – Midnight at the Oasis
July 19 at 6:55 PM ·
A GIANT THANK YOU to #radio for playing my latest single "Midnight at the Oasis" from my new album "Time to Love Again." And another GIANT THANK YOU to everyone who is listening/streaming/buying the CD. Lastly, a GIANT THANK YOU to SiriusXM Watercolors and @SmoothJazzNetwork!
Concert Review: Nicole Henry – Annual Winter Concert (I Sing Because I'm Happy)
A "virtual concert," featuring top notch sound, camera work and production!
Was the kind of Holiday show that you might take the family to? She had a great band (a' la George Benson/Chick Corea), backed by a full orchestra (courtesy of the Miami Music Project) on several songs and emceed by local Miami newscaster Laurie Jennings. Covering well know tunes from John Coltrane, Nany Wilson, Aretha Franklin, Frank Sinatra & Carrie Underwood plus some very tasty and lavish jazz/funk versions of Christmas songs. It was held at a first-class performance venue, great production, staging, set design, etc with no audience. Of course, Nicole Henry turned in a mind-blowing vocal performance! This show was a benefit for the Miami Music Project.
Great interviews and background during the "preshow," w/Nicole and the band before the start of the concert. Emceed by S. Florida TV personality Laurie Jennings
1. A Few of My Favorite Things – Nicole Henry is stunning in a floral print dress. Guitar player is kicking it Wes Montgomery/George Benson Style on the John Coltrane Classic. Nicole provides strong complementary vocals.
2. Happy Talk – Great cover of the Rodgers and Hammerstein song from musical South Pacific. Well, I guess it's really a cover of Nancy Wilson's version. Nicole is fabulous!
3. Nicole Henry sings two Gospel songs (as a "heathen" please excuse me for not knowing the titles….lol)– A little inspirational music for the season. Nicole sounds like the lead singer of a church choir.
4. Joy To The World – The familiar Christmas classic done up in an upbeat Jazzy/Funky groove. I was snapping my fingers as Nicole Henry makes it all groove!
5. (You Don't Know) How Glad I Am – Nicole Henry talks about performing for Nancy Wilson's 80th Birthday Party and her next album with will be an album of Nancy Wilson Covers! Then she does a slammin cover of (You Don't Know) How Glad I Am
6. Feelin Good – Fabulous cover of the Nina Simone classic. Nicole Henry tears it up, while the band kicks it "latin style"
7. Mary, Did You Know? – Nicole Henry brings up a student from the Miami Music Project. A Cellist whose name Starina. They then proceed to cover the "Christian Pop" song Mary, Did You Know? In a Chick Corea type of vibe! After the song, Nicole Henry gives an update on the program
8. Little Drummer Boy – Now Nicole Henry brings out what appears to be an entire orchestra of kids from the @MiaMusicProject to supplement her band. The music is great and of course Nicole Henry kills on the lyrics
9. Suddenly It's Spring – Sax player (Tom McCormick) goes off on a Coltranesqe solo, as Nicole Henry is now covering @Frank Sinatra 😊
10. Spirit In the Dark – Well now Nicole Henry is covering the Queen of Soul. Cool keyboards (organ?), GREAT percussion VERY FUNKY INDEED
Check out more from Nicole at her site: Award Winning Vocalist | Nicole Henry
Concert Review: NYC Nicole Henry Live @ Dizzy's Coca Cola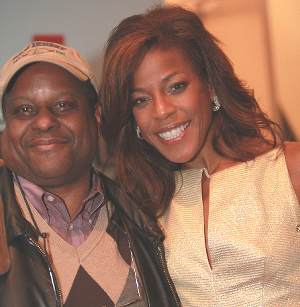 So why should you check out a concert with Nicole Henry?
Well I have FIRST HAND EXPRIENCE…..
As you can see from the picture, I got to spend the evening with Nicole Henry 🙂
Her music is AWESOME, just go to her website and take a listen!
This was a night of nostalgia for me, but not quite the kind of nostalgia you might expect…
When I was a kid, circa late 60's/early 70's one of my favorite things to on a Friday night was to stay up late and watch the Tonight show. Of course the reason my mother would let me stay up late to watch it was because I had no school the next day. Anyhow…..the Tonight Show was a whole lot different back then than it is in 2013 or even than it was in the later years of Johnnie Carson hosting.
Back in the late 60's/early 70's the show was 90 minutes and it was broadcast live from NYC. And one of the things they used to have were a whole lot more live musical performances than they have today. One of the things that was a highlight for me of watching the Tonight Show back then were the appearances of any Black artists of any kind. And of course all of the major Black artists of a certain level were on. Bill Cosby, Richard Pryor, Aretha Franklin, Sammy Davis Jr., Motown artists, Jimi Hendrix, Duke Ellington, Pearl Bailey, Cab Calloway, Ella Fitzgerald, and more.
However there was this one other category of Black artists that would be on. A category that is not quite so obvious. And it is the artists of this category that watching Nicole Henry perform live brought to mind.
Who does she remind me of? Dianne Carroll, Barbara McNair, etc. 1960's
Back at that time there were a slew of gorgeous Black females who were primarily known for their acting, but they could also sing. These were women who spoke with perfect diction, the diction of an English teacher. But most importantly they were capable of taking any material whatsoever, from any musical genre, from rock n' roll to Broadway show and convert that tune into the kind of white hot jazz/pop performance that can simply be described as out of this world.
Sitting at the bar of Dizzy's Jazz Coca Cola last night, watching the beautiful NYC skyline out of one eye and watching the gorgeous Ms. Nicole Henry (check that picture of her & I) do her thing was to me like watching an uninterrupted stream of those kind of late 60's/early 70's Tonight Show performances.
The other thing I thought about as I watched Nichole Henry was the following quote I remembered from Jessie Jackson's 1984 Presidential Campaign; "We are Going From the outhouse to the White House…"
My thought was, '"we are now at the white house, so what's next?"
Well honestly, from a musical perspective that question can and no doubt will be answered in many ways. However I think that we would be doing ourselves a serious injustice, if Nichole Henry's way, wasn't one of those ways.
All of the songs could have been taken from the playlist of WABC – 770 AM circa mid 1970's.
Nostalgic show, but not one based on an oldies radio or soundtrack of your life formula. If there is a "formula" at all at work here, it is the classic formula of the smoky jazz club with a beautiful singer, in magnificent voice, backed by some crack jazz musicians.
Here was the set list….
-Stuck in the Middle With You
-So Good, So Right
-Neither One Of Us
-Big Yellow Taxi
-Waiting in Vain
-???
-Use Me
-Fire and Rain
-Home
-Spirit in the Dark
(encore) Fleetwood Mac's 'Landslide
Kevin Hays- piano, Rob Jost- bass, Dave Chiverton – drums, Dave Stryker- guitar
So what's the big surprise?
In an era where we have people called "great singers" (who actually can't sing), we have "superstars' who lyp synch at Super Bowls & Inaugurations. We have artists who sell millions of recordings, who are unable to put together two coherent words of thanks to their audiences; we are actually quite blessed to have an artist like Nicole Henry.
What I witnessed that night at Dizzy's was nothing short of pure Americana. Sure the songs were "old." But she made them sound fresh and incredibly she made them sound "fresh," by making them sound 10 years older than they were. And as a result she added an additional layer of class to those songs. They were all done in a timeless fashion. On top of that she actually talks to the audience between songs, just like they are human beings (with perfect diction of course.) Very classy and very elegant.
So that's the big surprise. The surprise is that we are blessed to have such an artist with us here in 2013, who can take us "back to the future in such a magnificent fashion.
And I quite pleased to have experienced her artistry and I am even happier to be able to write about her impact on me, during Black History Month/2013.
–Bob Davis