P-FUNK REVIEW MANDRILL PAGE – Mandrill Live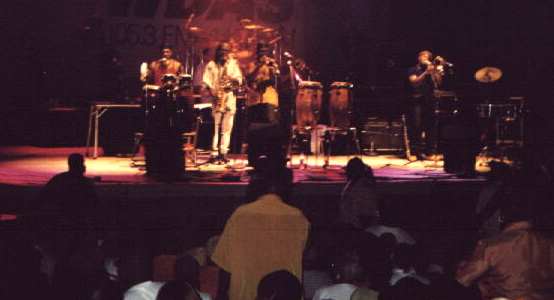 THE MUSIC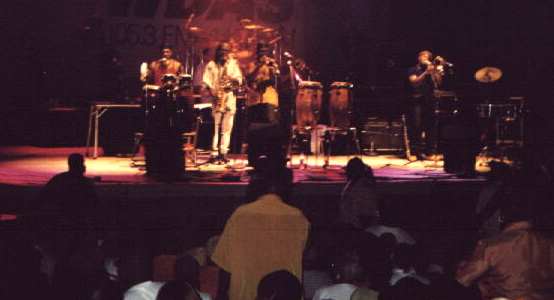 1. FUNKY MONKEY –
this surprised me since
Mandrill
usually opens up their shows with the song "Mandrill", which always seemed most appropriate to me since it starts out with some rather simple African drumming and then the song evolves to tell the story of the journey of the history of Black music using elements of Jazz, Blues, Rock n' Roll, Latin/Caribbean and finally Funk as the result of the fusion of these styles. The song "Mandrill" not only lays that entire history out for us in an instrumental way, but it also defines what we can expect the sound of band called
Mandrill
be. Anyhow, they opened with "Funky Monkey" which isn't quite as "deep" as "Mandrill", but I think that it was perfect for this crowd. It got people up and dancing immediately!
2. KEEP ON ROLLIN – This song has got it ALL, and much like the song "Mandrill" takes us thru various styles of music from Jazz to Latin to Gospel.
3. COHELO – Lou Wilson chose this moment in time, during this STANK LATIN GROOVE THAT JUST WON'T QUIT to introduce the band, who were all wearing festive Afro-Caribbean outfits. This is signifigant of course because Mandrill was "Afrocentric" LONG before that word ever came into our vocabulary. Anyhow, the multidimensional Wilson Brothers Rick, Lou, Carlos and Wilfredo were right out front as usual, playing a DAZZELING array of instruments from the Congas, Drums, Flute, Sax, Bass, Percussion and on vocals. The supporting cast, led by our friend (& long time Soul Patroller) Neftali Santiago on Drums were: Mark Ray – Guitar, Michial Magid – Organ/Keyboards, Danny Weinstein – Trombone/Violin and Alex Ray – Vocals
4. MANGO MEAT – You all know how it starts out…. TRUMPET/TROMBONE BLARING…..and then that STANK BASS ROARS in to start of this Latin/Funk EXPLOSION. After sitting thru the 10 minutes of Latin groove, audience banter, etc provided during COHELO, MANGO MEAT is nothing short of a SHOCK to your system. The audience rose to it's feet as soon as the bass line kicked in and stayed on their feet as the band made a seamless transition to….
5. HANG LOOSE –(…THE BOMB CONTINUES) Please don't tell anyone this, but "Hang Loose' is my very favorite of the Mandrill "party songs". Needless to say, the "rump" that I had started shaking during MANGO MEAT was now moving twice as fast J
6. CAN YOU GET IT (SUZIE CEASAR) – Since moving to the Philadelphia area about 10 years ago, the popularity of this song has never ceased to amaze me. Back in New York, I'm not even sure if this song made any noise at all, back in the day. But if you put this song on at a club or a party in Philly, WATCH OUT!!!! People jump up out of their chairs like it's Judgment day and everyone has made it into heaven (more on this song later)
7. FENCEWALK – Of course this is Mandrill most famous song (and our friend Neftali's showcase). The crowd had already been up for the past 25 min or so, all they had to do was continue shaking their BOOTIES
8. GIT IT ON – People write to me often about something called "Black Rock". This song is one of the highlights of that "oxymoron" of a term. Funny thing about it is that Black people aren't supposed to like Rock n' Roll and here we have what is quite possibly the MOST "Afrocentric" band of ALL time playing it and FIFTEEN THOUSAND Black people on a perfect summer night in the City of Brotherly Love SHAKIN THEIR ASSES to some HARD ROCK. (NOTE: Please DO NOT tell the people at Rolling Stone, eMpTyV or your local "Negro radio station" about this amazing phenomena…..they might just have a stroke….lol)
9. APE IS HIGH – This was the encore and at this point the dancing had turned into people just simply jumping up and down in unison with the band. It was a MIND BLOWING EXPERIENCE!!!!!!
…..and an hour and a half after it started, it got quiet 🙁