P*FUNK Review: Funk Music, Gil Scott-Heron, Raphael Saadiq, Rolling Stones, Sonnyboy, Living Colour, Gary Shider, P-Funk, Victor Wooten, Dawn Silva, Mandrill, Sharon Jones and Dap Kings, Charles Wright, Meters, Chuck D, Obama, Nadir, Maceo Parker, Rose Stone, Sly Stone, Lenny Kravitz, Buddy Miles, Prince, James Brown, King Curtis, Norman kelsey, WAR, Angela Johnson, Soulive, Ray Parker, Paradise Freejahlove Supreme, Don Byron, HIL ST. SOUL, Unified Tribe, Ledisi, Billy Preston, Family Stone, Tower of Power, James Brown, Nadir, Distorted Soul, Johnny Guitar Watson, P-Funk, Marlon Saunders, Lyn Collins, Bo Diddley, Rick James, Miles Davis, George Clinton, Jimmy Castor, Victor Wooten, Dexter Wansel, Will Wheaton, Dean Francis, OHIO PLAYERS, Conya Doss, Fertile Ground, ALGEBRA, GOVERNOR, Paul Samuels, Soundoctrine, The AfiNur Project, Slapbak, Paul Jackson Jr, Defunkt, Adriana Evans, Oktbrwrld, AfroFunk Experience, Stozo Da Clown, Patrice Rushen, Slave, Black Rock Coalition, Commodores, Larry Graham, Isaac Hayes, Jimi Hendrix

P*FUNK Review: Funk Music, Gil Scott-Heron, Raphael Saadiq, Rolling Stones, Sonnyboy, Living Colour, Gary Shider, P-Funk, Victor Wooten, Dawn Silva, Mandrill, Sharon Jones and Dap Kings, Charles Wright, Meters, Chuck D, Obama, Nadir, Maceo Parker, Rose Stone, Sly Stone, Lenny Kravitz, Buddy Miles, Prince, James Brown, King Curtis, Norman kelsey, WAR, Angela Johnson, Soulive, Ray Parker, Paradise Freejahlove Supreme, Don Byron, HIL ST. SOUL, Unified Tribe, Ledisi, Billy Preston, Family Stone, Tower of Power, James Brown, Nadir, Distorted Soul, Johnny Guitar Watson, P-Funk, Marlon Saunders, Lyn Collins, Bo Diddley, Rick James, Miles Davis, George Clinton, Jimmy Castor, Victor Wooten, Dexter Wansel, Will Wheaton, Dean Francis, OHIO PLAYERS, Conya Doss, Fertile Ground, ALGEBRA, GOVERNOR, Paul Samuels, Soundoctrine, The AfiNur Project, Slapbak, Paul Jackson Jr, Defunkt, Adriana Evans, Oktbrwrld, AfroFunk Experience, Stozo Da Clown, Patrice Rushen, Slave, Black Rock Coalition, Commodores, Larry Graham, Isaac Hayes, Jimi Hendrix

RIP: Vince Montana
I did want to let you all know that the GREAT Philly vibe man Vince Montana has passed away. That blurry pictre of him along with our own "Giant" Gene Arnold was taked at the Soul-Patrol Convention. I suppose I have have some better pictures of Vince, but I wanted to use this one, since Gene is in it also, because Gene introduced me to Vince.
As a teenager in the 1970's I grooved to Vince's music both as a member of MFSB and as the leader of the SalSoul Orchestra (which actually included most of the members of MFSB using fake names….LOL)
Later I got to not only meet Vince and his family. I got to be their friends.
They became big supporters of the Soul-Patrol.com website and attended all of conventions religiously, back in the late 1990's and early 2000's, till Vince became too sick to attend anymore.
Vince was a key part of the Philadelphia music scene for over 50 years and if you don't know the name, you know his music. You hear him on vibes on just about every song that you have ever heard that was recorded in Philadelphia during the 60's, 70's, & 80's.
That means you hear him on every song recorded by artists like the O'Jays, Teddy P, Wilson Pickett, Jerry Butler, Patti Labelle, Stylistics, Delfonics, Billy Paul, Hall & Oates, the Jacksons, and many others during this period!
One of the FUNKIEST musicians I have ever known…
(and an even better person!)
RIP Vince Montana
How many here remember the song: "Sad Girl" -Intruders?
Do you remember how the song starts?
First there are the horns….duh duh duh duh duh…
Then Lil Sonny (I think?) comes in and sings…
Saaadd Giiiirllll
Then there is a short vibe solo
(that's VINCE MONTANA)
Then Lil Sonny comes back and sings….
"Did he break your heart…"
Then there is another short vibe solo
(that's VINCE MONTANA)
Hell I didn't know that till I met Vince….LOL
Right now my head is spinning around thinking of all those little vibe solos.
In songs from the O'Jays to Archie Bell & the Drells to the Delfonics and on and on and on.
I can remember Billy Paul coming up to me at one of the SP Conventions and saying to me…
Billy: "Nice to see that you have Vince here Bob"
Bob: "Yeah I like Vince, do you know him?"
Billy: "Hell Bob, Vince is playing on everything I recorded at Philly International"
(I had no clue…..I just thought Vince was a super funky disco
man…..LOL)
Vince was a badd mf
–Bob Davis
609-351-0154
earthjuice@prodigy.net
Co-Founder www.soul-patrol.com
RIP: Cordell "Boogie" Mosson
NOTE: There will a Wake (public viewing) Friday between 5 & 9pm at Calvary Baptist Church, W 4th & Monroe Ave, Plainfield NJ 07063.
This is the same church both Ray Davis & Garry Shider's services were held.
Boogie's funeral will Saturday April 27th 9am from Ruth Fellowship on South 2nd St near Grant Ave, Plainfield NJ.
I am planning to be in attendance…
BTW….the picture is of Boggie, along with guitarist Michael Hampton (Kidd Funkadelic) and our good friend Daryl Moon of theFunkstore.com FUNLON IT UP TILL THE END!!!
–Bob Davis
No good discussion of P-Funk is complete without a mention of the some of the baddest funk bassists in history.
Unfortunately, the conversation almost always turns to either Bootsy Collins, an obvious architect of the P-Funk flavor of the late 70s or founding Funkadelic Billy Bass Nelson. Now that is not all bad in itself. These are some badd boys. However there is another somewhat lesser known bassman that was just as, arguably if not more important in the development of the band's obscure early Funkadelia into the platinum-drenched Parliament chart-toppers & lavish road shows towards the latter part of the decade. His name, the legendary Cordell "Boogie" Mosson.
Just as comfortable behind the drum kit (check Parliament's "Dr. Funkenstein") or rhythm guitar (his role in the current touring invasion force), Boogie's unique, propulsive approach to bass playing single-handedly offered up the foundation that by the end of the decade had launched the P-Funk into the outer regions of the Chocolate Milky Way. Oft referred affectionately to and dubbed the world's only "Black Leprechaun" by celebrated artist Pedro Bell, Boogie, in his 35th year with the group lays claim as one of it's true senior members.
First appearing on the sprawling Funkadelic double LP set of 1972, "America Eats its Young" it became quickly evident that no one on this earth handled the bass duties quite like Boogie. The way he seamlessly stretches the notes in a pocket without ever losing the power and bottom stroke of the downbeat on the one is just insane. You simply cannot duplicate it. For a brief intro into this Plainfield NJ style of thump, check the oozing, lather-like grooves of these preposterous P-Funk classics; "Loose Booty", "Sexy Ways", "You Cant Miss What You Can't Measure" and "Nappy Dugout", the latter of which he takes a simple lick of 3 or 4 notes and just turns it into a clinic on playing in front of and behind the beat.
That style made him the ideal candidate when George Clinton got set to blast Parliament off into a stratosphere of platinum dreams with "Mothership Connection" in 1976 with the P-Funk Earth Tour. Between Jerome Brailey's bigfoot on bass drum, Bernie Worrell's genius rhythm and synth arrangement and Boogie's 'intricate simplicity' (check "Undisco Kidd" from the "Parliament Live" set)on the instrument, the band would build this immense tidal wave of groove night after night that simply Tore the Roof Off The Sucker!
As the band reached for its zenith the next year Boogie remained one of its brightest stars, moving and grooving audiences worldwide on the FlashLight Tour. In 1979, he appeared on-stage as "Rumpofsteelskin" as Parliament took the funk underwater for the Aqua Boogie Tour. After years of several side studio projects (including a brief stint with Brailey's Mutiny) Boogie returned to the fold in the mid-80s as part of the P-Funk All-Stars Atomic Dog touring unit and has been with the band on and off ever since. Give the man his Heartbeat Props.
Essay By
"Bustin" Bob Mitchell.. ….
Funk Journalist & Atlanta-GA-USA Radio Personality
Funk Journalist & www.TheFunkStore.com Head Writer
–Bob Davis
609-351-0154
earthjuice@prodigy.net
Co-Founder www.soul-patrol.com
This has been one heck of a week (if you are a F-U-N-K-A-T-E-E-R)
There has certainly been a whole lot going on in my world and the world around me over the past week that has absolutely nothing to do with music. I won't bore you all with the details, but I will tell you that it has all been quite good.
All of that good stuff is somewhat tempered by all of the bad stuff that has been happening in the neighborhood of the world that Soul-Patrol lives in.
This has been one of the worst weeks that I can recall.
(and the week is not yet even 1/2 over yet)
We lost 3 soldiers this week.
FUNK soldiers that is:
–Donald "Duck" Dunn of Booker T & the MG's.
I'm all but certain that at this very second, there is some white radio station in the United States of Amerika that is playing the music of Booker T & the MG's. However I am just as certain that at this very second that there are NO Black (knee-gro) Radio stations in the United States playing the music of Booker T. & the MG's.
–Belita Woods of Funkadelic.
Hers is the sweet voice of estrogen that we heard at all of those acid drenched concerts for so many years, that neutralized the testosterone of the P.
Chuck Brown of the Soul Searchers.
They called it "gogo," but I don't really even know what that is supposed to mean. Whenever I heard Chuck Brown I heard the RAW FUNK, straight outta deepest darkest Washington DC, by way of Timbuktu. First it was hit singles in the early 70's like "We The People" and "Blow Your Whistle." Then in the mid 70's it was just the Stone Cold Funk of albums like "Salt of the Earth" (which contains the immortal "Ashley's Roachclip," a song so STANK that it has it's very own Wikipedia
entry!!!) Then in 1979 the monster hit song that is today a BBQ classic in the Black community, "Bustin Loose." Check out the album "Any Other Way to Go?" from the 1980's, which is one of the top 5 FUNK albums I have ever heard, the damn drummer NEVER STOPS for the whole album!!! ITS RAW MONSTER BURNING GONORRHEA FUNK WITH THE SCAB RIPPED OFF
This has NOT been a good week to be a F-U-N-K-A-T-E-E-R 🙁
(and the week is only 1/2 over)
–Bob Davis
609-351-0154
earthjuice@prodigy.net
Co-Founder www.soul-patrol.com
Spotify + Funk Church + Connecting with the People (Guest Commentary From Bill Curtis of the Fatback Band)
Here is our friend Bill Curtis of the Fatback Band once again with a slammin commentary. Just for you folks out there who love Spotify so much and for you artists out there who think that somehow "you are above it all."
Also here is a free download from Bill/Fatback of their new single: "CAN YOU FEEL THE RHYTHM?"
http://www.bandletter.com/fatback/music/can_you_feel_the_rhythm.mp3
————
"Summertime is girl-watching time. I'm gonna watch 'em, baby. I haven't lost my eyes for them big-butt girls. I like the girls, y'all." A little tune we did back in the days is still a great dance song. Go to acerecords.co.uk, that is where you will find all of our albums, if anyone is interested.
Hey I want to remind you not to add Spotify play Buttons to your Facebook page, Twitter, tumbir blog, etc. I 'm not a lover of Spotify, because it doesn't pay the artist that much money. If you are an artist it takes 200 streams equal one iTunes download and one to three years to get paid. To me, Spotify is just another great way to get rich off of the artist and songwriters. I have nothing against people making as much money as they can, but not at the expense of others. But, they keep telling you it's better than piracy, you're getting something, 0.04cent per stream. Well, you are right, but you can't make a livelihood off that. My question is why everyone gets paid decent money except the creator and the artist. Tech-slavery is what I call it.
But one good thing, you don't have to do it if you don't want too. Putting Spotify play buttons on your page is giving free advertisement to Spotify and Facebook. Once you get a fan to your page, you have a potential sale. Someone might just buy your stuff. If you want to send them somewhere else, send them where they pay more. To your download
site: iTunes, Tunecore, Amazon. Spotify pays a fraction of a penny. I could see if they were paying you to put their button on or giving you something for pointing a potential customer their way. We have got to get smart and stop falling for that Bull s—. You know how they feel about us.
I haven't heard of any major yet stepping up to the plate to bat for the artist or express any concern that they feel our rates are to low. On their end, they are getting paid big time and keeping it on the down-low. Hey, I'm not saying you don't need Facebook page, apps, Twitter accounts and blogs. However, you do not need to point your fans to places only paying a fractions of a penny. Your own site is very valuable property where you sell and do business. You have your fans in your store who dig your music and want to know about you. Okay they say Spotify is better than piracy, well it might be so, I'm gonna tell you this. Piracy is one of the best free advertisements you can get in the world, one thing they don't piracy junk.
I hear and read about the state of Black music culture or Black Music, whatever. Maybe they are talking about the commercial side. Yes, I do think Black music(funk), is on the decline on the so call "pop or commercial music. The funk it is alive and well in the Churches. If you want to hear good funk go to church or listen to gospel radio, its there. That's where our music culture started. Black music has always been an experience, just like the church. When we go to concerts that's what we looking for that one time experience. Something we can talk about the next few days. tell your friends what they missed that's what made the early Black Entertainer connect so well. They took their church experiences to the stage and build on that. I often tell people there was a very thin line between James Brown and a country preacher.
Some of our new and upcoming Entertainers need to go and check out that experience that I'm talking about( got to find the right church). I guarantee you will be talking about it to your friends the next day. This is what today's audiences are looking for, that experience. They want to be involved. Back in the days in my Hometown when I was growing up I knew most of the acts that came to town I had met them before and they knew me, (they act like they did). They stayed in the hood, ate in the local café and you could walk up and talk to them. And when they took a break, they were out in the audience, (maybe because there were no dressing rooms), talking and going on. As a Entertainer you got to get back to that kind of thing. The people want to know about you. YOU want them to, so they can go and tell others. Everyone wants to be involved they want to have that one time experience.
Ok, if you don't believe me go to Church and get your groove on, come back and tell me about your experience.
Hey, if you want to lose some of those pounds you are carrying around and stay healthy at the same time and make money take a look at billcurtis011.bodybyvi.com. We are doing it over here, it works. If you want know more email me Bill.c32@hotmail.com
Bill
Also here is a free download from Bill/Fatback of their new single: "CAN YOU FEEL THE RHYTHM?"
http://www.bandletter.com/fatback/music/can_you_feel_the_rhythm.mp3
–Bill Curtis
http://www.fatbackband.com
–Bob Davis
609-351-0154
earthjuice@prodigy.net
Co-Founder www.soul-patrol.com
GUEST EDITORIAL: Chuck D – Never have so many been pimped by so few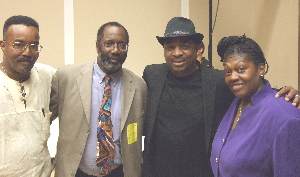 As most of yall know, Soul-Patrol has stood front and center not only against mediocrity in Black music, but also against those who claim that we should be accepting of it. We think that OUR CULTURE is far too important to the future of OUR CHILDREN to be willing to "accept less than the best." Plain & simple, "that ain't how we were raised."
The following essay comes from someone who was raised with me. All of you know that Chuck D is not only a member of Soul-Patrol (He is pictured with Soul-Patrollers Kevin Amos, Tee Watts and He is pictured with Soul-Patrollers Kevin Amos, Tee Watts and Divinah Payne-Shantefeire) and the two of us grew up right around the corner from each other in New York. So the following commentary should come as no surprise to you…
I don't have much to add to this, except to say; read it and pass it along. Especially to someone who is younger than you. And ask them to pass it along to someone even younger…
–Bob Davis
——
[Note: Chuck D wrote this essay as a letter to Chuck "Jigsaw" Creekmur (AllHipHop.com) and Davey D (DaveyD.com). With permission, the message by the Public Enemy leader, has been edited slightly into a scathing editorial about the media, Hip-Hop and the how the culture has been pimped by a mere few.]
Chuck D:
I really don't know what constitutes for "relevant" coverage in HIP-HOP news in America these days, but I really want to give you all a heads up. As you know I've been through three passports, 76 countries on the regular in the name of Hip-Hop since 1987 and in 2010, although I've never stopped traveling the earth this year, I've seen, heard and felt some new things.
As far as RAP and HIP-HOP, it's like USA Olympic basketball, the world has parity now and have surpassed the USA in ALL of the basic fundamentals of HIP-HOP – TURNTABLISM, BREAKING, GRAFFITI, and now EMCEEING with succinct mission , meaning and skill. Skill-wise rappers spitting three languages, have created super rappers to move the crowd with intensity and passion. The "arrogant" American comes in blackface, but if there was a HIP-HOP or Rap Olympics, I really don't think the United States would get Gold, Silver or Brass or even ass for that sake.
The 20th year anniversary of FEAR OF A BLACK PLANET has become into a year and a half celebration of eights legs and five continents. All the while, looking at a HIP-HOP Planet across 25 countries while still somewhat supportive of American rap, the rest of the world has surpassed the U.S. in skill, in fundamentals and commitment to their communities. Public Enemy's mission is to set the path, pave the road for cats to do their thing for a long time as long as they do it right.
Because of the lack of support from local radio, television and community in the United States, the ability for "local" acts to thrive in their own radius has killed the ability to connect and grow into a proper development as a performer, entertainer and artist. Rappers trying to get put on to a national contract hustle from a NEW YORK or LOS ANGELES corporation has caused the art-form to atrophy from the bottom, while never getting signed to a top echelon that really doesn't exist, but to a very few.
HIP-HOP NEWS spreads like any other mainstream NEWS in America. The garbage that's unfit to print has now floated on websites and blogs like sh*t. For example a rapper working in the community gets obscured while if that same rapper robbed a gas station he'd get top coverage and be label a "rapper" while getting his upcoming or current music somewhat put on blast, regardless of its quality which of course is subjective like any other art. RAP sites and blogs are mimicking the New York POST.
This is not mere complaint , this is truth and its coming down on Americans like rain without a raincoat with cats screaming how they ain't wet. This is real. The other night upon finishing groundbreaking concert performances in Johannesburg we followed a special free concert in Soweto. To make a point that our agenda was to "show? and encourage the Hip-Hop community to be comfortable in its mind and skin without chasing valueless Amerikkkan values.
Never have so many been pimped by so few.
Read the rest of this essay here….
—————–
Bob Davis
earthjuice@prodigy.net
609-351-0154
——————
Co-Founder www.soul-patrol.com
Blues, Hip Hop and Soul Music Director www.radioio.com
——————-
Gil Scott-Heron – "Peace Go With You Brotha"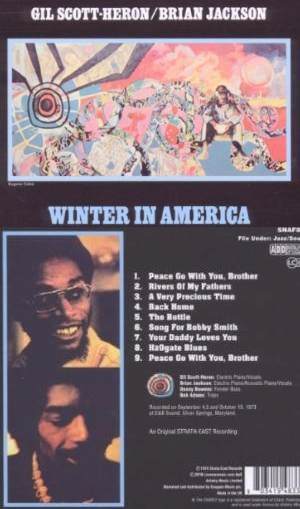 That is what I wish for brotha Gil. It's much more than simply the opening and closing track on my very favorite Gil Scott Heron album called "Winter in America."
I'm certain that by now you have heard of the passing of brotha Gil. The mainstream press has been reporting it like crazy. The very same mainstream press that literally hated every single word that brotha Gil ever said.
Talk about someone whose work was a huge impact on my own attitude/sensibilities and obviously on this web site….To anyone who knows me or knows this website, which is painfully obvious. Yet at the same time there is a whole lotta pain associated with this particular topic that may be uncomfortable for some to discuss. For now I will purposely avoid the painful stuff so I can focus on the takeaways or bottom line so to speak.
Gil Scott-Heron was kinda like Malcolm X put to music for me as well as the entire generation of young Blacks who came of age during the early 1970's.
Musically he was jazz, blues, soul, gospel, spoken word and pain disguised as humor. Thus he literally not only taught us what Black music was supposed to be, (don't be a slave to the radio, etc.) There was also a different message, almost subliminal at work here….
I remember the many nights as a young college student in my the University of Pittsburgh dorm room, sitting around till 3am each night, smoking funny cigarettes, drinking cheap wine with other young Black men and women.
We were having an ongoing "meta-conversation" with each other, night after night till 3am. The soundtrack to that conversation was ALL of the legendary Black music of that time. It was Funkadelic, Earth, Wind & Fire, Donald Byrd, Miles Davis, Minnie Riperton, Brass Construction, Blue Magic, Roy Ayers, Led Zepplin, Chi-Lites, Ohio Players, Miracles, Passport, Moments, Return to Forever and more.
However there were two artists who actually drove BOTH the content and the attitude of the conversation; JAMES BROWN and GIL SCOTT-HERON.
Their music provided the not only the topics for that never ending conversation. Their music also provided the attitude for that conversation, night after night.
In fact it's a conversation that has never ended….it was then and is still today…."my REAL college education"
Back in 1996 I wanted to bring that conversation to the internet. That's when my brother and I created the daily Soul-Patrol Mailing listserv.
Imagine how honored I was to have brotha Gil Scott-Heron as a member of that listserv, back in those early days as a member of an ongoing "meta-conversation" here online that in my mind, he had actually started, 20+ years earlier at the University of Pittsburgh?
This year we celebrate the 15th Anniversary of Soul-Patrol.com at the 2011 Soul-Patrol Convention in Philadelphia on July 23. Among other things (such as presenting many once in a lifetime live musical performances, featuring 30+ artists) we will also be presenting 7 different "town hall style" panel discussions, on a variety of topics, in effect bringing that very same ongoing "meta-conversation" to life on stage in Philadelphia, on Saturday July 23. ( <<a href="http://www.soul-patrol.com/convention" target="frame2″>http://www.soul-patrol.com/convention>
http://www.soul-patrol.com/convention)
How ironic that brotha Gil passes just a few months before that event?
Obviously I could write a whole lot more about Brotha Gil, his music, his poetry, his politics, his humor, his influence on me, his influence on others, his influence on multiple generations.
Obviously anything that I would write about this topic would be at odds with much of what will be said about him in the coming days and weeks by a mainstream press (both Black & White) for whom the very existence of someone or something like "Gil Scott-Heron" is/was a direct threat to their very existence.
So for now I will just say…
"Peace Go With You Brotha"
(and leave it at that…)
More Gill Scott Heron Commentary…
–Bob Davis
609-351-0154
earthjuice@prodigy.net
Co-Founder www.soul-patrol.com
Blues, Hip Hop and Soul Music Director www.radioio.com

SONNYBOY/BARFLY THEORY RELEASE PARTY REVIEW: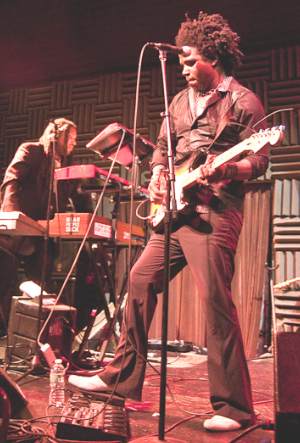 I must say that last night's event w/Sonnyboy was extraordinary for me on multiple levels.
1. The music was great… Sonnyboy did a fantastic job of introducing his new album to the NYC audience. Joe's Pub appeared to be nearly full both with longtime Sonnyboy fans and some new converts. I was honored that Shel asked me to be the host for the evening, thus giving me a chance to dedicate the show to the late Mallia Franklin, an artist who was/is a key influence on both Shel Riser and myself.
2. For me Soul-Patrol has always been of course mostly about the music, but there is also an intangible human factor that permeates it that I can never quite place my finger on, but I always recognize it when it happens. Last night was one of those times, and it has much more to do with the simple act of SHOWING UP, than anything to do with anything tangible that the music industry might care about.
3. For me this is a tumultuous and uncertain time in my life, it felt really good that Mike was there (and took some GREAT pictures), "Mrs. Earthjuce" was there and a special surprise guest from my past Kamau Kokayi, M.D of WBAI Radio. Kamau Kokayi is not only one of the most respected doctors in NYC, but he is also one of my "ace boon coons" and running buddy from waaaaay back in tha day!! It was great to see him, I hadn't seen him since he spoke at my fathers funeral a few years ago. Also it was great to see Tom (from TnT) and Lee (who came straight over from his own gig earlier that evening at the Bitter End,) also in the house in support of their fellow indie artist.
4. And of course there was Shel Riser, who today is one of my best friends. I was most pleased to be able to introduce him to the great UK soul artist James Hunter who was also in the house
5. So it was quite a nice thing for me to wake up this morning and see a very nice review of the show from "Dr. Brookenstien" (see below)
6. There is nothing like attending a live show in NYC and then getting home @ 3am…..YA JUST GOTTA SHOW UP!!!!!!!!!!
–Bob Davis
It was nice to be back in New York City to check out a show by the one and only (DRUM ROLL, PLEASE………………) SONNYBOY!!!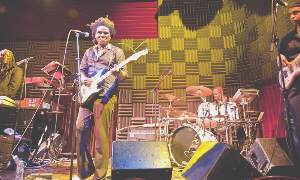 I haven't seen SonnyBoy in a good while and I was dying to hear what he has created since the last CD "Psycho-delic-ghetto-vibe". I also got a chance to hang out with SOUL-PATROL.COM's Bob Davis and his lovely wife, Harriet. I only wish that I could have gotten some better snapshots but FLASH photography wasn't allowed….but it's okay.
At 9:30pm, the fun started an introduction to the funk by SOUL-PATROL's own BOB DAVIS (APPLAUSE!!!!!), followed by the start of the SonnyBoy performance. A looped sound sample started off the "BarFly Theory", which led into "Satisfy U"….this was some NASTY FUNK STUFF that will straighten out your curls! Super-funky with some great rhythm guitar funkiness by one and only Sheldon Riser aka SonnyBoy. The fun continued into the reggae-funk extravaganza called "I'm Soul Music"…TOO HOT! SonnyBoy had the fans singing along with some chant….of course, we need some help getting the chant right! "Who's Been Lovin' U" was funky, featuring some meaty bass lines by Mark Bass! "Special Friend" was the one slow ballad featured in the set. After the slow pace, it was on to some SUPER-HEAVYWEIGHT FONK with The Isley Brothers's "Fight The Power"….talk about some SERIOUSLY NASTY FUNK-ROCK MADNESS!! YOU COULD TRY TO CUT THE FUNK WITH A KNIFE…..AND STILL WOULDN'T GET THE KNIFE ALL THE WAY THRU!!!!
"Josephine Brown" (a blast from the past) was perfect with the nice piano riffing by Eric "The Pearl" Wilson and a soaring lead guitar line by SonnyBoy himself. I loved how the band sped up the tempo towards the end and Ron Fleming was ON FIRE on the drums! "She Like Rock 'n' Roll" featured spacey keys by The Pearl, including a spacey synthesizer solo. SonnyBoy even threw in a little bit of "Devil's Got You High", complete with a smokin' lead guitar solo!! "Reverend Jones" was good, but even better was the soulful remake of The Culture Club's "Time (Clock of the Heart)".
The SonnyBoy set was over at 10:40pm.
–David "Dr. Brookenstien" Brooks

–Bob Davis
609-351-0154
earthjuice@prodigy.net
Concert Review: REST IN P – A TRIBUTE TO GARY SHIDER (RIP) – NY/NJ: July 11, 2010:Funkraiser for P-Funk's Garry "Starchild" Shider
This event delivered as promised. This was essentially a great "oldies show." An "oldies show" performed in tribute to a man (Gary Shider) who was perhaps the most significant stage persona of a group that was at their height when most of the performers on stage at BB Kings in NYC last night were either toddlers or not even born yet.
The key here of course is that this was a great "oldies show," and for me the best barometer of that wasn't my reaction or that of the many musical experts gathered in the room. For me the ultimate barometer was the reaction before, during & after the show from "Mrs. Earthjuice."
Initially, "Mrs. Earthjuice" wasn't interested in attending this show. When I told her who the performers were going to be, she balked and said; "why can't they have the actual members of P-Funk doing the tribute." My response; "that wouldn't be as much fun…"
"Mrs. Earthjuice" likes going to BB Kings. I can't stand it. To me BB Kings is the very definition of what a "clip joint" is, and I hate the thought of putting one additional dime into their pockets. However to "Mrs. Earthjuice" BB Kings actually represents what a NYC nightclub is supposed to be like (Disney version.) She immediately stakes out a nice table and pulls out the menu. I immediately knowing that there is a minimum amount of money that one must spend to even sit at a table inside of BB Kings ("clip joint") announce; "Oh I have business to take care of back stage off & on for most of the night, just make yourself comfortable and I'll pop back over here from time to time and check in on you." She said, "you're just being a cheapskate, you don't want to waste money on the over priced drinks they have here. I have to have a place to sit, I'm not like you, I can't just be walking around and be on my feet the whole time…"
Guess what happened????
("Mrs. Earthjuice" was on her feet for most of the 4.5 hours of this
show)
And she was for good reason…..(THE POWER OF THA FUNK)
You see, for better or for worse, I get to listen to this music almost every day. Hell, I just saw P-Funk live a few months ago and I'll be seeing them again this Saturday night in Philly. I suppose that one could suggest that I have become jaded, complacent and take the music for granted.
However that was far from the case for "Mrs. Earthjuice." There was something almost magical about these 35 – 40 year old songs when they were first released back in the 1970's and as anyone who was a part of the generation of Black folks who were influenced by this music back then will attest to.
So as a result the predictable happened. "Mrs. Earthjuice" spent most of the 4.5 hour show on her feet movin and groovin to an entire evening of songs from the extensive catalog of P-Funk. 35 years ago the fundamental organic power of these songs had been successfully implanted into the DNA of "Mrs. Earthjuice." All that was needed to release that DNA was to hear the songs like "BOP GUN," ONE NATION UNDER A GROOVE," "SUPER STUPID," RED HOT MAMMA," "COSMIC SLOP," "MOTHERSHIP CONNECTION," etc. being performed live once again "in living color."
The young musicians (Funk-Kin, 24-7 Spyz, Living Colour & the BRC
Orchestra) perfumed the songs from the catalog with a passion that made me proud. I paid careful attention to the expressions on their faces as they made the difficult look easy. Mixing in the required amounts of "technical virtuosity" with just the right amount "stank sloppiness," required to play P-Funk's music just right, is no small task. It made me wonder if 200 years from now, there would be similar configurations of young musicians attempting to pay tribute to the music of P-Funk, in the same manner that young musicians today will play the music of Bach? The thought of that makes me smile. How about that for taking the concept of "great black music into the future?"
After being on her feet for most of the previous 4.5 hours, I expected that "Mrs. Earthjuice" would be asleep for the vast majority of our 2 hour combination train ride/car ride back home in the middle of the night. Instead she went on and on about what a good time she had, how great the music was and how happy she was that she had come out.
As I am typing this, 24 hours after the show was over, she is still raving about the show…
And at the end of the day, this was something like a metaphor for what this is all about. At first "Mrs Earthjuice" balked at even attending, because there weren't going to be any "big names/celebrities" in attendance. Instead she found herself swept away by the sheer quality/quantity of the music itself. Something that she had forgotten was to vital, today feels empowering.
(she remembered what she thought that she had forgot)
This show wasn't about "reality show fame," "chart position," "tabloid headlines," "american idol victories," "fake award shows," etc.
IT WAS ABOUT SOME STANK AZZ MUSIC
(in "living color")
After reading this, I know that a few of you will be waiting for the YouTube video's to appear online. I for one hope that this show never appears on YouTube. That's because if you see it on YouTube, your perception of what it is/was will be distorted.
Sorry folks, for this one…..YOU HAD TO BE THERE and shame on you if you are a music fan, could have been there and YOU WEREN'T THERE
Shout outs to the BRC, Sweet Relief, and all of you who gave up a comfortable Sunday evening in front of the idiot box, and chose instead to get FUNKED UP.
BIG UP'S To our friend Darrell McNeil for overseeing the proceedings and doing the lions share of the work behind the scenes.
For those of you who stayed home (doing your nails) or weren't able to attend for some other reason, you can still make a donation here online to assist the family of Rock n' Roll Hall of Famer, P-Funk Guitarist Gary "Doowop/Diaperman/Starchild" Shider at the following link: http://www.garryshidermedicalfund.com
& for you artists out there….GET YOURSELVES A DAMN INSURANCE POLICY, so your family doesn't have to do this for YOUR BLACK AZZ)
ALL PROCEEDS FROM THESE EVENTS WILL GO DIRECTLY TO THE SHIDER FAMILY!
http://www.garryshidermedicalfund.com or http://www.sweetrelief.org
–Bob Davis
609-351-0154
earthjuice@prodigy.net
More on Mick Jagger @ the Grammy's
I wrote this in response to some negative comments I got regarding Mick Jagger's appearance at the 2011 Grammy Awards. Just sharing…
——–
Well…I thought that Mick Jagger did a fantastic job of covering Solomon Burke @ the Grammy's.
http://www.youtube.com/watch?v=dngAmH0bi1U
My point is that…He accomplished two things:
1. He paid a great tribute to an artist (Solomon Burke) who had significant influence on his music.
2. He used his own fame/power to introduce the world to an artist (Raphael Saadiq,) who has probably been the very best American Soul artist of the past 5-10 years, and has been ignored by the mainstream press
What Jagger did @ the Grammy's was nothing new. He's been doing it his whole career. And he deserves props for remaining true to his own roots as an artist and NOT being a sellout…
However, not unexpectedly, I got a ton of email from people today who disagreed with my opinion about Mick Jagger's performance at the Grammy's. So of course that just caused me to go deeper. Naturally I have spent the day listening to all of the Rolling Stones music that I have today. Including their real early singles (especially all of their Chuck Berry, Willie Dixon, Irma Thomas & Temptations covers)
And it's been a pleasure 🙂 Cuz I haven't really checked out the Stones in a while.
And all of the listening I did today merely reinforced my feelings about Mick's performance at the Grammy's. He is one of the best "cover" artists of all time. And he proved it again at the 2011 Grammy's.
Perhaps more importantly, Mick Jagger has been and continues to be perhaps the very best "ambassador" that Black music has. Remember the Stones "inclusion" of Duke Ellington's "Take The A Train" at the very beginning of the "Still Life" album?
One of the things that he did at the Grammy's that I forgot to mention is that he continued the Rolling Stones tradition of introducing the best current artist from the world of Black music to the "mainstream music world."
-He did it with Tina Turner
-He did it with Stevie Wonder
-He did it with Prince
-He did it with Living Colour
And on Sunday nite @ the Grammy's he did it with Raphael Saadiq.
Mick could have had any band he wanted to behind him. But he chose to have Raphael Saadiq & his band. To me that says a whole lot. And it perhaps says even more about the future of the music, then it says about the past!!!
Anyhow…
One of the songs I listened to today continuously was the Rolling Stones version of "Going To A Go Go." There are about 20 different live versions of the Rolling Stones version of "Going To A Go Go" on YouTube From cities like Paris, Rotterdam, Kansas City, Hampton Va, etc. and they are all KILLER. So of course that means that I had to pull out my review of their version of the song…
——–
Quickie Review – "Going To A Go Go" – Rolling Stones
From the live album "Still Life" (1981)
http://www.youtube.com/watch?v=fNlni8ysHD8
Now first of all I need to mention that Smokey Robinson & the Miracles original version of "Going To a Go Go" doesn't get it's props either.
But in my humble opinion the Stones version absolutely kills the Miracles version.
The song kicks off with Mick Jagger announcing the song, followed by Charlie Watts monster backbeat, which remains steady as she goes and anchors the entire song, you can't help but start tapping your toes, clicking your heels and snapping your fingers and then suddenly like a sonic blast…
….Keith Richards rips a series of distorted, stank nasty, heavy metal/funk guitar chords and you realize it's no longer Motown/1965 (just to let you know that this whole thing was probably his idea?).
Then Jagger shouts…"GOING TO A GO GO…..EVERYBODY…"
And the rest of the Stones join in, stank nasty/sloppy lead, rhythm and bass guitars, following Charlie Watts drumming to a tee. The groove is wicked and sloppy at the same time, kinda ultra phunky & cool as Jagger rolls along with the familiar lyrics…
"THERES A BRAND NEW PLACE I FOUND, WHERE PEOPLE ARE COMMIN FROM MILES AROUND, THEY COME FROM EVERYWHERE AND IF YOU DROP IN THERE YOU SEE EVERYONE IN TOWN…."
But then he sings…
"IT DOESN'T MATTER IF YOU'RE BLACK, IT DOESN'T MATTER IF YOUR WHITE, YOU TAKE A DOLLAR FIFTY, A SIX PACK OF BEER AND PICK UP DAMES ALL NIGHT…"
You say to yourself: "hey those words are different from the original…."
And suddenly you realize that the "Go Go" that Smokey Robinson was hanging out at was probably an all black joint. You never thought about that before, but Jagger's new lyrics, make you realize that the difference between 1965 and 1981 was huge.
Then out of no place an ultra phunky sax solo appears and now along with just the ferocious backbeat provided by Charlie Watts, now the song sounds like Africa-New-Orleans-Harlem combined.
The solo ends and Jagger sings more new lyrics:
"IT DOESN'T MATTER IF YOU COME IN DRAG, IT DOESN'T MATTER IF YOU COME IN STAG…"
And you begin to realize that he's not just talking about a club that's racially integrated, but also across "sexual preferences." He's probably talking about a disco era Studio 54 type club and your mind flashes back to all of those hundreds of times that you saw Mick Jagger both solo and with Bianca Jagger hanging tough at Studio 54. He's actually turned a smokin dance track into a song with a strong social message, cuz we are all "equal" on the dance floor?
All of this causes you to smile because now at this point this song has reached an animalistic level of phunkiness that you simply hope never ends. I mean the groove is so strong that it has completely made you forget that Jagger can't sing (to be fair he probably doesn't sing any worse than the overrated Hall & Oates) and you wish that they could just simply play that instrumental groove for another 20 minutes. But this isn't "funk" as in Ohio Players or P-Funk style "funk". This is like "Jr Walker & the All Stars type funk", and it's absolutely KILLER.
The song just ended (I've just hit replay at least six times……lol) and now I'm thinking about the first time I heard the Stones version of this song.
It was in 1981, on eMpTVy as a music video that I remember was shot at the now long gone JFK Stadium in Philadelphia. Mick Jagger was wearing a Philadelphia Eagles jersey and I remember thinking at the time how cool it was for the Stones to cover "Going To A Go Go." Now I know it was simply a GREAT LIVE PERFORMANCE and the Stones covered "Going To A Go Go" as only they could have.
(If I ever get a chance to talk with Smokey Robinson, one of the first questions I will ask him is what he thinks of the Stones version of "Going To A Go Go"???)
Got's ta give them their props!!!!
And with this accomplishment, I think that the Rolling Stones actually set the tone for pop music in the 1980's and opened the door for British artists to mount an assault on American Soul/Funk music that a number of artists picked up on during the 1980's. That led to the phenomena of us all being treated to the best American Soul/Funk music coming out of the UK for most of the 1980's and that combined with the emergence of rap music at the same time led to what Nelson George called "The Death of R&B".
(but that's another story for another day…)
–Bob Davis
609-351-0154
earthjuice@prodigy.net
Co-Founder www.soul-patrol.com
Blues, Hip Hop and Soul Music Director www.radioio.com

RIP: DAVID MILLS
(Funk)
Yesterday Emmy Award-winning writer David Mills passed away. When I first heard the news I thought that it might be an April Fools joke. However this is too serious of a loss to be any type of joke at all.
You may not know his name, but if you have ever watched shows like NYPD Blue, The Corner, Homicide, The Wire, and the upcoming HBO seies Treme, then you know his work. You may even know him from his outstanding blog called "UNDERCOVER BROTHER."
However I knew him best as one of a group of hardcore funkateers, way back when the internet was young and there were no pictures, video or audio. There were no blogs, social networks and in fact there were very few websites at all. There were few Black people even on the internet at all. I'm talking about the early 1990's and the primary way of communicating online was via text. There was a wonderful place called the "Funky Music Mailing List," run by yet anotha "undacova brotha," named Charles Isabel/Homeboy From Hell (truly a pioneer of the Black Internet and a huge influence on my online activities.) On the long defunct "Funky Music Mailing List" folks gathered daily to discuss the most serious and silly issues related to Funk Music, quite literally in the dark. David Mills was one of those daily contributors, along with some of the most knowledgeable folks around, whose only purpose seemed to be to document the history of Funk music, during those dark days of the pre-video/pre-audio internet.
Yesterday when I learned of the passing of David Mills, I instinctively contacted author Rickey Vincent (anotha brotha from the tribe) to alert him of the news. Neither Rickey or I knew quite what to say to each other, and today a day later I still don't know what to say…
http://undercoverblackman.blogspot.com
–Bob Davis
–Bob Davis
609-351-0154
earthjuice@prodigy.net
Marva Wright (1948-2010)
(Soul)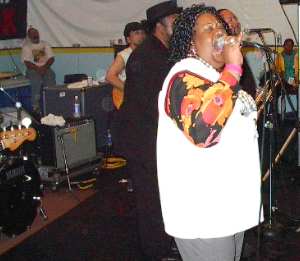 When I heard earlier today that Marva Wright had passed away, my thoughts went back to a ceratin Memorial Day weekend back in 2001, in Philadelphia @ the RiverJam Festival. That is when I met Marva Wright.
She was a member of Soul-Patrol and she treated us all like family right from the git go. And it was a good thing too, because it was one of the first major festival that we covered here on Soul-Patrol. On top of that I had my family with me. To add to the flava, it was an outdoor festival it rained cats & dogs. Therefore all of the performances took place inside of a large tent, instead of the great outdoors.
Despite the elements, Marva put on a great performance that day. However the performance wasn't what impressed me about Marva. What Impressed me about Marva was the fact that she wanted to make sure that my family, especially my daughter Rachel, under terrible weather conditions.
I invite you to take a listen to the interview conducted that day with Marva Wright at the following link:
http://www.soul-patrol.net/riverjam.ram
Interviews With New Orleans Soul/Funk Star Ivan Neville, Soul Music Diva Marva Wright, Buckwheat Zydeco, Zachary S. Williams and Texas Blues legend Marcia Ball. Interviews by Soul-Patrol.Net's very own "AAdamsRib" and "Funkoverlord".
Read the reviews from the 2001 RiverJam at the following link:
http://www.soul-patrol.com/soul/riverjam.htm
Marva Wright (1948-2010)
–Bob Davis
609-351-0154
earthjuice@prodigy.net
RIP Ron Banks (of the Dramatics)
Ronald Dean Banks, born May 10, 1951
"It's not a good day Iris, as a matter of fact it is a terrible day… It's always terrible when someone dies, but it's even more so when it's your brother, your friend…"
–"L.J. Reynolds" Co-lead vocalist of The Dramatics speaking on the untimely death of founder and co- lead vocalist Ron Banks"
Ron Banks, husband, father, son, brother and friend died Thursday March 4, 2010 from a massive heart attack in his home of Detroit Michigan. I won't go into a bio, suffice to say that Ron not only an original member of The Dramatics, but also he was the founder of the group. He began singing at a very young age in family groups, grew up in a musical home, his mother sang in white supper clubs; his dad was a big band musician. He formed the Dramatics in 1962, and the rest as they say, "is history"
I was blessed to have become close to Ron, traveling with him and the Dramatics, taking photos for the Dramatics fan club, myspace, during these times I had many in-depth conversations with Ron. He worked with local inner city school districts, hoping to get computer training to inner city youth. Never one to shy away from fans, Ron would engage in deep conversations with fans after shows, pose for photos, and sign autographs. He was the ultimate performer, giving his all with each performance. I have many fond memories of Ron, having been a fan for over 40 years; my most favorite memory was very recent, 2008. We were in Atlanta, leaving the hotel heading to the venue, when I asked Ron about one of my favorite songs, which of course he sings leads… "You're Best Thing in My Life" I ask him why it wasn't a part of the show, he smiled and said, "um, I don't know" I said, "that's my favorite" he looked at me and right in the middle of the hotel lobby, begin singing, he say "Best thing in My Life' in its entirety, I was grinning from ear to ear, people stopped in their tracks to listen as he sang. When he was done, he asked me "How was that?" I was crying, he laughed, and we walked out of the hotel. Now I'm sure there are many more fans who can tell these kind of memorable stories about Ron, I'm also sure that there are many, many people who never had a chance to hear or see him perform. Our music legends are leaving us at such a fast rate, Levi Stubbs (Four Tops), Johnny Carter (The Dells), Robert (Squirrel) Lester (Chi-Lites), Malia Franklin (Queen of Funk) just to name a few…
With each passing of one of our musical legends, we hear plenty of "Oh My Gods, how sad, and most of all, I never had a chance to see them" I say to all who will read this, "GO SEE THEM NOW!" time is "NOT" on our side, drag your children, grandchildren, any youth and take them to see, hear and experience true music, true artistry, real show stoppers! Do this before it's too late, before we have none…
To the family of Ron Banks, The Dramatics, his friends, know that Ron was loved and his passing is heart wrenching, but we will keep him alive, whenever we "go outside in the rain" he gave us The Dramatics, which to me was "The Best thing in My Life"
Iris Smith
Soul-Patrol – Cleveland, Ohio
http://www.myspace.com/therealdramatics
CONCERT REVIEW – LONG BEACH FUNK FESTIVAL: Mandrill, Dawn Silva, Charles Wright & the Watts 103rd Street Rhythm Band, The Meters Experience w/Leo Nocentelli, Breakestra, Delta Nove, Danny Bedrosian & Secret Army, Slapbak, BabyStone, Fun JA LA (Emcee – Rickey Vincent )
West Coast funk is alive! This first Long Beach Funk Festival was the brainchild of Bobby Easton, guitarist for funk band Delta Nove. Here's what they did – they put up huge stages/bandstands on each end of Pine Avenue in downtown Long Beach – creating a musical streetscene for all the funk soldiers to enjoy…….and it was all free! There was never more than a 5 minute gap in music – while one band was playing – the next stage was being set up for the next group. IT WAS GENIUS!!! And then, who do you get to MC and keep the joint rolling, but none other than funk aficionado Professor Rickey Vincent from the Bay Area……one of the foremost funkoligists on planet earth!
To keep everyone funked for 12 straight hours (12pm to 12am.), you gotta come strong with the line-up. Up first was a good friend of Foxy Sally Foxen (of course she was there – spreading her joy and funky knowledge as always…..gotta luv the ooooooothatgirl….):
Fun JA LA – featuring Victor Orlando (Gap Band.) Sally had introduced me to Victor at a recent Mandrill Concert, and his band really got the party started with "Dance to the Music." Fun JA LA was indeed funk-for-all…..and it was ON.
Rickey Vincent – "head to the other stage" (this goes on after each performance.)
BabyStone – Sly's daughter, Novena Carmel, and her group hit the stage smoking! Those Sly genes were evident throughout her fast paced show, and of course she included papa Sly's "Sing a Simple Song." We got a chance to meet (and snap a pic) with Novena – and she said to pass a "keep the funk alive" note to all the SoulPatrollers.
Slapbak – I know from talking to Bob, the Soul-Patrol.com nation is aware of Jara Harris and his tight-nit crew called Slapbak. They are SoCal/Long Beach faves, and brought the funk as usual. They had everybody moving during James B's "PayBack."
Danny Bedrosian & Secret Army – Here is why you have to go out and listen to live music. I must admit I hadn't heard of Danny Bedrosian, but when I saw that Blackbyrd McKnight of P-Funk/Herbie Hancock fame was playing guitar with him – I knew the funk couldn't be faked. This Armenian dude tore that keyboard up. Danny often tours and plays with George Clinton and the rest of P-Funk,
Delta Nove- I had seen Delta Nove before in Long Beach, so I knew what they could do. Bobby Easton said "you can't have a funk festival without playing a George Clinton/Funkadelic song" – they then launched into "If You Don't Like the Effects, Don't Produce the Cause." Nuff said!
Breakestra – Of all the new groups and new music I heard at the festival – this group totally blew me away. They are a SoCal group headed by bassist/ guitarist/ keyboardist/cellist/singer Miles Tackett with a lot of the soul singing/shouting coming from Mixmaster Wolf. This band- just think of a melding of Otis Redding/James Brown/Fishbone/Red Hot Chi Peppers……all taught at the feet of Sun Ra? These guys don't stop playing throughout their set – one funk song morphs into the next funk riff…add a black female soul singer in Afrodyte. I can't describe how good these guys are!
The Meters Experience with Leo Nocentelli – No funk festival would be complete without some Louisiana gumbo. Leo was the gumbo, playing the Meter's "Cissy Strut," "Fire on the Bayou" and "Hey Pocky-Way" – the crowd doing its own SoCal-line throughout the set. What a great guitarist…he was up there working hard!
Charles Wright & the Watts 103rd Street Rhythm Band – As dusk settled and it finally began to cool down – here comes Charles and his band, in matching white suits, marching on the stage to push the heat rite back up again. Charles was having a good time with "Till You Get Enuff" "Loveland" and closed with his anthem of "Express Yourself" – everybody singing all the lyrics.
Dawn Silva – IT WON'T STOP….FUNK HAS A LIFE OF IT'S OWN!! Dawn jumps on stage, and who is in her band? The aforementioned Blackbyrd McKnight on one guitar; Gail Muldrow (from Graham Central Station fame) on another; Cynthia Robinson and Jerry Martini (Sly and the Family Stone) sitting on horns. They tore it up with P-Funk, Bride of Funkenstein, Little Sister jams. They closed with "Sing a Simple Song" and "Wanna Take You Higher" and we woke up all of Long Beach with "HIGHER" and peace signs in the air!
Mandrill – Nobody is ready to go until they've squeezed the last bit of soul from their souls and we've heard "Ape is High" and "Hang Loose." Mandrill controlled and owned that stage and the crowd- and although drained – we funked out that last bit of movement that hadn't been used. Nearing midnight – it was like we finally CLIMAXED AS ONE.
Damn that was a lot of funk. The musicians from the various bands knew
this was something special – before and even after their respective sets, they were right there in the crowd enjoying the music. I got a chance to holler at Rickey Vincent, Blackbyrd McKnight, Gail Muldrow, Miles Tackett…I talked to Jerry Martini about Sly and Larry Graham….I told Bobby Easton thank you for bringing this to the people…………. All for free. Bobby Easton – major props!!!
You can't stop the funk – you can only hope to contain it!
–Duane lance Filer
SoCali
–Bob Davis
609-351-0154
earthjuice@prodigy.net
Concert Review: Mother Finest, Derek McKeith & Alyson Williams @ Fort Dupont Park, Washington DC August 15th
One thing I will say about DC is that it really is "Chocolate City." I don't know of another place that so fully embraces BLACK MUSIC/CULTURE in it's entirety. All 360 degrees of it!!! (sorry NYC & Philly……LOL)
And I am really glad that we apparently had so many folks from Soul-Patrol who felt compelled to submit a written review of the show. What does that say?
Just try & tell the thousands of people who were out this past Saturday night in Ft Dupont Park, that "Rock n' Roll isn't BLACK MUSIC?"
This review comes from our friend Skip Kelley….
———-
On a clear and comfortable evening last Saturday night in the nation's capital, a memorable concert took place for those, including your very own Bob Davis, who have been part of the Black rock movement.
The concert was headlined by Mother's Finest, carrying the Black rock torch for over 30 years, and also featuring Derek McKeith, the new Black rock talent. It was held at Fort Dupont Park, an outdoor summer concert area in a working class Black community in Southeast DC. The park draws huge festival style crowds for free concerts, where thousands of Black folks party like back in the day with whistles, tambourines and glowing lights everywhere. Earlier concerts this summer have featured such popular acts as the Original P, Blue Magic and Rose Royce. On a mid-August evening with unusually mild weather, the crowd seemed to be about ten thousand strong. If you wanted to find out whether Black folks can really get into some rock music, this was ground zero.
Alyson Williams opened at sundown with a short set and then introduced Derek, causing a stir in the crowd when she compared him to Prince. After that hype, Derek came out crankin' his guitar on "Loving Love" and then kept rockin' with "Only You." The crowd was intrigued by this young brother playing some serious rock 'n soul, and I heard people asking "What's his name again?" He then lauched into his BETJ hit "Can't Get Enough", which he mixed with covers of the Rolling Stones' "Satisfaction" and Taste of Honey's "Boogie Oogie Oogie", just to emphasize his musical versatility. The crowd loved it and proceeded to get down and boogie just like the song says. He followed with "Teacher, Teacher", an ode to teenage lust for a hot teacher. He ended his set with a rockin' cover of the Jackson's "Heartbreak Hotel", using his vocal range and energetic dance moves to get the crowd moving and singing a full throated refrain of "Hearrrrrrtbreak Hotel!!!" Derek got much love as he exited the stage.
The crowd was now warmed up for Mother's Finest and erupted when they hit the stage. Joyce Kennedy got a big ovation when she came out wearing a tight black leather outfit and her hair died blond and pulled up. When she sang her first note, you knew her powerhouse voice was in fine form. The band was as good as ever, performing their repertoire of funk rock and straight up rock 'n roll. Excitement built during an extended, kick ass version of "Don't Wanna Come Back", with Joyce leading a strong vocal hook. It continued with a "Give You All The Love (Inside of Me)", which allowed the band to stretch out instrumentally. Joyce got a tremendous reception when she slowed things down with the much covered slow jam classic "Love Changes", a major radio hit on the "Quiet Storm" back in the day. Lead male vocalist Glen Murdock then took over with an inspired "Mickey's Monkey", combining Smokey Robinson vocals with a serious rock 'n roll workout. This was followed by a solo from the original funk rock anthem "Who Knows" by Jimi Hendrix and the Band of Gypsys. Lead guitarist Gary Moore showed off his outstanding licks, much to the delight of the many Hendrix fans in the crowd. The show reached its peak with a strong performance of the funk rock classic "Baby Love." Joyce let it all hang out and the band cut loose with some powerful riffs, as thousands sang and danced as one to every note. The show closed with "Piece of the Rock", a straight up rock 'n roll jam that climaxed with band members jumping up and down to the beat. When it was over, everybody cheered heartily for Mother's Finest.
Backstage after the concert, I saw many friends that I only see at really special concerts. We were buzzing about the tremendous rock show that we had just witnessed. I got a chance to meet Joyce, who came out of the trailer to greet fans like the true rock star that she is, but also down to earth at the same time. I also met actress Sheila Frazier, Derek's mom, who is still looking good by the way. I talked to Derek about how great it would be if he could tour as the opening act for Mother's Finest, because their audiences would certainly appreciate him. We also talked about how both of their audiences have been mostly white, and that this night was such a revelation because a large crowd of Black folks was really into their music. Maybe DC is unique because we've always been big fans of funk rock, showing mad love for Funkadelic and Mandrill mixing rock guitar with their funk.
As I stated, this was a truly a memorable evening for Black rock. Let it be known that on this night, thousands of regular Black folks in the heart of Chocolate City were jammin' at a rock show, that they really got down to some rock music. And Mother's Finest and Derek McKeith were proud to wave their freak flags high, proclaiming that they were here to
rock!
–Bob Davis
609-351-0154
earthjuice@prodigy.net
Commentary: 100 Days/100 Nights – The Future of Tha Funk (Barrack Obama & Sharon Jones)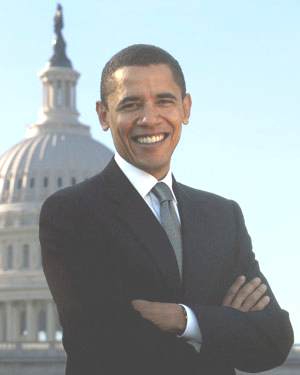 Barrack Obama has now been the POTUS for "100 Days/100 Nights" and there are all types of assessments of his administration going on thought the media. I certainly don't want to presume that I have anything whatsoever to add to any of those assessments; however I would like to use this occasion to talk about the convergence of something that both Barrack Obama & Sharon Jones have in common that can be seen as a metaphor for some of what we might see in our musical futures.
100 Days/100 Nights is of course the name of the award winning 2008 release by Sharon Jones & the Dap Kings. This album was probably the FUNKIEST album to be accepted by the "mainstream" in a generation. One of the reasons for it's acceptance was clearly the presence of the Dap Kings on the multiple Grammy award winning 2007 album by Amy Winehouse called "Back to Black."
So therefore 2008 represented the "coming out" year for BOTH Sharon Jones and for Barrack Obama and as far as I am concerned, the "face of funk" is now changed forever.
Sharon Jones has been compared favorably with Lyn Collins and the Dap Kings have been compared favorably to the JB's. The idea that Sharon Jones is Black & the Dap Kings are white is a fact that hasn't been lost on the mass media who have covered the band over the past few years. Nor has it been lost on some of the Black critics who have said some less than kind things about this reality.
As a funkateer, I have also had a dilemma with this reality and asked myself the question; "could it be that the funkiest band in the land are culture bandits?"
I think that when discussing this topic, it becomes useful to view things thru the lens that Barrack Obama is providing for us in 2009 as opposed to the 1974 lens that I might be inclined to fall back on. That's where the "100 Days/100 Nights" idea comes in, simply because we have to understand that the "change we can believe in" and that change is something that we should be happy to embrace as fans of funk music as well.
Commercial Funk music in the late 1960's thru about 1980 was a musical style, whose development (and ultimate extinction) that parallels the fate of the American Civil Rights Movement. When Ronald Reagan was elected President in 1980, one of his unspoken campaign promises was that he would put an end to the American Civil Rights Movement. Reagan kept his "unspoken promise" to the American people and the Civil Rights Movement effectively ended in the United States during the 1980's. Not surprisingly the era of commercially successful Funk music also came to an end at the same time. Of course Ronald Reagan's whole premise was that we didn't need a separate Civil Rights Movement anymore, since everyone was legally "equal." And in music, it was decided that we no longer needed a separate category called "Funk music" anymore, since "Funk music" (really the essence of Black music) was really a contained in most musical styles, and didn't need to be separate.
And so it has remained, till now.
As we look back on these past "100 Days/100 Nights", we have a "funky president" who appeared literally from nowhere, whose physical being is quite literally the definition of integration. And appearing almost as suddenly "the funkiest band in the land", who also physically looks like the very picture of what an integrated society should be.
I think that back during the 2008 Democratic Convention in Denver, America took a good hard look at what they saw on TV and it liked what it saw. America patted itself on the back as it looked at the possibilities of becoming the society that it always knew that it could be. And it also looked at the multitude of problems & issues that it was facing and said to itself; "well we may not be able to fix everything, but isn't it about time that we honestly tried to fix this?"
Of course Black folks are always both "first to the party and last to the party" (at the same time) said; "even though we aren't even sure that this guy is really Black, we will also jump on this train." And so what Ronald Reagan said in 1980, actually came true in 2008 and going forward, we now know that everything is going to be quite a bit different because of what has occurred in the past "100 Days/100 Nights."
At the same time that all of this was occurring, during 2008 Sharon Jones & the Dap Kings became "the funkiest band in all the land."
Hell ALL of the "hip young white kids", knew all about them. There were TV appearances, magazine articles, singles that were played on Pop, jazz, blues radio stations around the country. Sellout performances around the country & around the world. I mean this was the band who played on the album that won 5 Grammy awards. They played serious/hard core FUNK music that could make you dance and they were fronted by a woman who could make you cry with the power of her voice.
And as usual, Black folks are the last one's to the party with respect to Sharon Jones & the Dap Kings, much as they were with now President Obama and I think that I understand the reason why…
Commentary continued here: http://www.soul-patrol.com/newsletter/2009/news2/sharonjones_dapkings.html
–Bob Davis
609-351-0154
earthjuice@prodigy.net
–Bob Davis
609-351-0154
earthjuice@prodigy.net
LISTEN TO – CLASSIC HIP HOP @ RadioIO.com
TAKE A LISTEN FOR 1/2 HOUR, IT WILL MAKE YOU SMILE AND YOU WILL BE HOOKED
————————————
Classic HipHop @ RadioIO.com: http://www.radioio.com/channels/classic-hip-hop
||GREAT BLACK MUSIC ||
||WALL-2-WALL-FUNK ||
||70's, 80's, 90's HIP HOP||
||ALWAYS SLAMMIN, ||
||ALL THE TIME ||
Classic HipHop @ RadioIO.com: http://www.radioio.com/channels/classic-hip-hop
—————————————-
It's often said that "hindsight is 20/20" in the history of OUR music there is no clearer example of this in my mind than the era of Classic Hip Hop (roughly late 70's – early 90's). As I recall, many of us complained and asked the question; "WHAT HAPPENED TO THA FUNK?"
In retrospect, instead of complaining all we really had to do was open our eyes (& ears) and look/listen to what was right in front of us. We were being presented with nothing short of "WALL-2-WALL- FUNK." This is something that is abundantly clear to my ears. It was however presented in a creative & unique manner, and that is what the objection was.
We complained and asked, "where is the band?", we said things like "why don't those kids learn how to play instruments", or perhaps you said; "these aren't real musicians."
We criticized these artists (unfairly) for doing exactly what we accused them of not doing. These artists studied the history of Black music in a way that few of us dare to and they came to the conclusion that they couldn't improve upon what was indeed the best music that had ever been created. They were smart enough to know that their job wasn't to reinvent what was the highest level of Black culture that had been achieved to that point. These artists didn't think that they could possibly create "better music" than James Brown, Jimi Hendrix, Miles Davis, Grover Washington, P-Funk, etc. They knew that their mission was to do what the best jazz artists had always done and take what existed and improvise in order to preserve and extend that culture into the future.
These artists were archaeologists of the best that Black culture had achieved. They are preservationists of the highest magnitude. They documented their findings on wax, instead of inside of a book, because they knew that would be the best way to influence the future.
Fast forward to the year 2008, going into 2009 and as we set about our mission to preserve & extend the historical legacy of Black music & culture into what seems to be an uncertain future. Guess what generation of people seems to be most interested in being truly proactive in making certain that whatever that future may hold, is connected to the past in a most meaningful manner? Guess what generation our new President, who graduated for High School in 1980 belongs to?
And if you can answer those questions correctly, now you know the reason why Chuck D has me on his radio show every month…
Hey Love – King Sun D-Moet
Queen Latifah – Wrath of my Madness
Eric B. & Rakim – I Know you Got Soul
Stetsasonic – A.F.R.I.C.A. [Norman Cook Remix][*]
Lauryn Hill/Refrugee Camp all-Stars – The Sweetest Thing [Mahogany Mix]
Jungle Brothers – Because I Got It Like That
Public Enemy – Fight the Power
MC Hammer – Turn This Mutha Out
Heavy D & the Boyz – We Got Our Own Thang
Whodini – I'm a Ho Digital Underground – Rhymin' on the Funk
Ll Cool J – The Boomin' System
Doug E Fresh – La Di Da Di
Kurtis Blow – If I Ruled the World
Big Daddy Kane – Set it Off
U.T.F.O. – Bits and Pieces
Fat Boys – Fat Boys
Beastie Boys – Intergalactic
Gil Scott-Heron – H2o Gate Blues
Grandmaster Flash And Melle Mel – White Lines (Don't Don't Do it)
Fearless Four – It's Magic
Force M.D.'s – Itchin' For a Scratch
Kool Moe Dee – How Ya Like Me Now
The Real Roxanne – Romeo, Pt. 2
D-Nice – Call Me D-Nice
Dr. Dre – Nuthin' But a G Thang
De La Soul – Brain Washed Follower
Fat Boys feat. the Beach Boys – Wipe Out
Harlem World Crew – Let's Rock
Gangstarr – Check the Technique
Craig Mack – Flava in ya Ear
Disco Dave – High Power Rap
A Tribe Called Quest – Electric Relaxation
Intelligent Hoodlum Black & Proud
Grandmaster Flash And The Furious Five – The Message
Brand Nubian – Love Me Or Leave Me Alone
Boogie Down Productions – Criminal Minded [Album Version]
Cold Crush Brothers – Freestyling
Kris Kross – Jump
Donald Byrd/Guru – Loungin'
Naughty By Nature – Hip Hop Hooray
Easy Mo Bee – Blow
Newcleus – Jam on it
Crash Crew – On The Radio
Ice Cube – It Was a Good Day
Ice-T – High Rollers
Onyx – Slam
MC Lyte – Cha Cha Cha
Eric B. & Rakim – I Ain't No Joke
D.J. Jazzy Jeff & the Fresh Prince – Summertime
Treacherous Three – Feel the Heart Beat
Doug Lazy – Let it Roll
Public Enemy – 911 is a Joke
Run-D.M.C. – Run's House
Queen Latifah – Just Another Day
Run Dmc – It's Like That
Lord Finesse – Funky Technician
Heavy D & the Boyz – The Overweight Lovers in the House
Dana Dane – Cinderfella Dana Dane
Ll Cool J – I'm Bad
Doug E Fresh – The Original Human Beatbox
MC Hammer – U Can't Touch this
Epmd – Gold Digger
Kurtis Blow – The Breaks
Roxanne Shante – Roxanne's Revenge
Spoonie Gee – Spoonin' Rap
Fat Boys – Human Beat Box
A Tribe Called Quest/Busta Rhymes – Oh my God [Remix]
Salt-N-Pepa – Let's Talk About Sex
Eric B & Rakim – Paid in Full
Tag Team – Whoomp! (There It Is) : Club Mix
Fearless Four – Fearless Freestyle
De La Soul – Ghetto Thang (Ghetto Ximer)
Tone Loc – Wild Thing
Grandmaster Flash & the Furious Five – Superappin
Young MC – Bust A Move
Boogie Boys – A Fly Girl
Craig G/Marley Marl – Droppin' Science
A Tribe Called Quest- Hot Sex
Salt-N-Pepa Featuring En Vogue – Whatta Man (Video Remix)
Blahzay Blahzay – Danger
Sir Mix-A-Lot – Baby Got Back
Doug E. Fresh – Just Havin' Fun
Skee-Lo – I Wish
Poor Righteous Teachers – Rock Dis Funky Joint
Too Short – Gettin' it
Cold Crush Brothers – Yvette [Live]
Whodini – Freaks Come Out at Night
————————————
Classic HipHop @ RadioIO.com:http://www.radioio.com/channels/classic-hip-hop

TAKE A LISTEN FOR 1/2 HOUR, IT WILL MAKE YOU SMILE AND YOU WILL BE HOOKED
–Bob Davis
609-351-0154
earthjuice@prodigy.net
Album Review – Nikka Costa: Pebble To A Pearl
This is exactly the type of new music I enjoy getting. It's a total surprise that made my smile from the first moment I opened it. Ear to ear and end to end.
What does it sound like???
—It sounds like an imaginary session recorded all in one night, with Betty Davis on vocals, w/Stevie Wonder producing (circa 1969/1970) at the HI Records studio & Shuggie Otis playing all of the instruments (with lots of empty vodka bottles & "zig zag" packages on the floor)
–More serious "vacuum tube music" for the "micro chip generation"….
–It sounds like the album that Lenny Kravitz or Lauren Hill should make (but probably never will)
–Seriously "dated" (no hip hop, no drum machines, real horns, real soul singing, nothing fake whatsoever)
–It sounds like one of those late 1960's albums that nobody has ever heard of, and was never played on the radio that somebody like me will tell you that is the album that all of the cool people played at 2am in their "incense filled" dorm rooms back in the early 1970's.
You will note in the press release they describe it as: "GENRE: R&B, BLUES, SOUL & STAX"
(I wonder why they can't just use the term "FUNK"????????)
–It may not get played on Black radio stations at all in 2008
–All of the "classic soul/funk" fans will say, "don't bother me with this, cuz I never heard of this artist before"
–All of the cool "neo soul headz" will probably buy the album (but not admit they own a copy)
–All of the "cool white kids" will have it on their iPod playlists
I'll review it later (or maybe I just did?), in the meanwhile I have to figure out how I'm going to get away with playing all 13 songs from the album on Nu Soul @ RadioIO http://www.radioio.com/channels/nusoul
(I am VERY happy that the STAX label is putting this one out)
–Bob Davis
For more info, check it out here: NEW RELEASE – Nikka Costa: Pebble To A Pearl
NEW RELEASE – Maysa: Metamorphosis
Maysa – "Metamorphosis"
(Black American Standard Music) http://www.soul-patrol.net/maysa.ram
Random House Unabridged Dictionary:
met-uh-mawr-fuh-sis; a profound change in form from one stage to the next in the life history of an organism
It's a thing that I like to do every so many years (whether I need it or not). And I fully realize that I am not alone. Especially this year. The results of the recent US Presidential Election has caused not only the United States to "hit the reset button", but also many people that I know to tell me that they have decided to recommit themselves in not only their own personal search for excellence, but to also helping those around them to achieve their own personal journey's.
In the liner notes of the album, Maysa says; "I am changing, re-arranging, my mind, body and soul, growing better, feeling stronger…..slowly, but surely, my metamorphosis has begun."
Maysa has been for quite sometime, one of the best artists around……PERIOD. Everybody and their grandmother knows that for sure, however she never really seems to get the props that she deserves. Although she is perhaps known best as the once (and perhaps future?) lead singer of jazz/funk legends Incognito. for the past few years she has spent the past few years totally de-constructing & then re-constructing the now "underground" genre known as "classic soul" with a series of albums on the Shanchie label and also as a member of the musical collective known as "Soul Summit" touring the United States & the world dropping seeds of "classic soul" and watching them grow. The past few years have been filled with new releases by many different artists comprised of "classic r&b covers." These albums were coming so fast & furious at one point I just had to shut my mind off to them. Some of these albums have been great, some of them have outright sucked. However the albums by Maysa were far and away the best and in fact her versions of some of the songs rival & surpass some of the originals. I suppose that the easiest thing in the world for Maysa to do would have been to either return to Incognito or to perhaps do another album of "r&b covers?"
Are you a person who is trying to hit your own personal "reset button" and perhaps needs a bit of encouragement, or maybe just a friendly & empathetic voice to lean on as you wrestle with the individual tasks involved in going down that road? Then Maysa's voice on the album "Metamorphosis" is exactly what you need to have playing inside of your head at this time in your life. Of course the music itself on the album "Metamorphosis" is incredible; it's a perfect blend of jazz, soul, funk, world, etc. It's like a great CTI album that you can play interrupted from start to finish and then want to play it for all of your friends who say they don't like jazz. It's the kind of album that you can play for "the jazz police" and even they would like it. Maysa seems to take her experience with both Incognito, her solo "classic r&b albums", combine them together, and then challenge herself to raise the anty to create something that is far greater than the sum of it's parts.
I can understand just why she calls this album "Metamorphosis", it makes me smile in much the same way I smiled the very first time I heard Chaka Khan singing on a jazz album. It's almost as if Maysa rolled the dice and has created a brand new artist. A brand new artist who has made a descion to "go for the gold." Maysa incorporates all Black music styles on the album "Metamorphosis" that might seem to be daring on one hand, but on the other not only challenges herself, but also challenges us as listeners to finally give this lady the props she deserves.
Go ahead & challenge yourselves and tell me what you think? http://www.soul-patrol.net/maysa.ram
And if you are trying to figure out just how to hit your own personal "reset button" in this environment of "change" we find ourselves in, you might discover just the inspiration to do so, from a lady who just successfully hit her own personal "reset button…"
–Bob Davis
For more info, check it out here: Maysa: Metamorphosis
Celebrating the Birthday of Jimi Hendrix and the 10th Anniversary of the Jimi Hendrix BLACK Experience Web Page
Most people are preparing to celebrate Thanksgiving over the next few days.
However if you are a Jimi Hendrix fan (like I am), the four day Thanksgiving Day weekend is also a time each year to celebrate the birthday of the man who changed both our music & culture.
I'll also be celebrating the 10th Anniversary of the launch of the world famous;
Jimi Hendrix BLACK Experience website: http://www.soul-patrol.com/funk/jh.htm
(the authoritative online source for all things Hendrix, from a Black American perspective)
Seems crazy now, but the very existence of this web page generated thousands of emails to me, with about 1/2 of them praising me and the other half being "kkk style" hate mail condemning me to burn in hell. Many of these emails and their ensuing discussion played out in a public "flame war" that went on for about six months on a huge email listserv called "The Hey Joe Mailing List." I replied to every single public & private email that was sent to me. Many people wanted me to remove the webpage.
–Some people thought that I shouldn't be writing anything at all about Jimi Hendrix, only white people were allowed to do that.
–Some people thought that it was racist for me to even imply that Jimi Hendrix had anything whatsoever to do with Funk music or Black people.
–Some people thought that my analysis of the Crash Landing album was racist.
–And of course playing the ultra phunky/chitlin circuit era .wav file of "Drivin South" by Jimi Hendrix (w/Curtis Knight & the Squires), was "proof" that my analysis just might be right. One person who emailed said that "n**gers like you shouldn't be allowed on the internet."
(it was a pretty big deal to play a .wav file on a web page back in those days.
Anyhow, that's what caused all of the controversy to erupt. And the contoversey inspired me to write more about Jimi Hendrix.
And more, And more, And more…Till I ended up with 23 web pages about Jimi Hendrix, his music, his cultural impact, and more…..LOL
And just to show you how much things have changed since 1998 here on the internet, here is a recent email that I got relative to ther content on the Jimi Hendrix BLACK Experience website:Greetings,
I've been going over Soul-Patrol's analysis of Jimi's work, and I'm really liking the ideas you're putting forth. It even inspired me to seek out the Alan Douglas albums. The idea of Hendrix morphing from rock star to funkateer is pretty neat. Not only that it also makes his latter-day recordings make more sense. They go from merely being "earthy R&B" (as some have called it) into something much more dynamic. Great stuff.
I'm just sending this e-mail to let you know that some of the tracks on the 2000 box set really bolster your claims. Its alternate versions of "Izabella," "Room Full of Mirrors," "Earth Blues" and "Message to Love" are funk, as far as I'm concerned. Excellent backing vocals, exciting new rhythms, jagged but danceable guitar lines… truly great. Not only does the material show us a new facet of Jimi, but it also shows us how funky the man was.
Keep up the great work!
So in 2008, do I feel vindicated? Somewhat, but I am more excited about the fact that America has changed over the past 10 years quite a bit. Not only has it changed enough for a Black man to be elected President, but it has even changed enough to allow a Black man to actually write about Jimi Hendrix and be taken seriously. Today I can walk into most any gathering of Hendrix fans. Black or white. They all know me. They have all visited "The Jimi Hendrix BLACK Experience" website. And I am happy to report, that I am always welcome to participate…
H*A*P*P*Y B*I*R*T*H*D*A*Y
J*I*M*I H*E*N*D*R*I*X

–Bob Davis
609-351-0154
earthjuice@prodigy.net
CONCERT REVIEWS: SOUL-PATROL LIVE @ KESWICK THEATRE W/PHILADELPHIA FUNK/BLUES/JAZZ EXPLOSION:
8/19 – SMV: Stanley Clarke/Marcus Miller/Victor Wooten Show, LIVE @ 8pm
8/20 – Keb Mo/Robert Cray Show, LIVE @ 8pm
8/21 – Rick Braun/Richard Elliot Show, LIVE @ 8pm
This 3 day Black Music Extravaganza in Philadelphia @ beautiful/historic Keswick Theatre was a SMASHING SUCESS!!!
Both the FUNK show (featuring SMV: STANLEY CLARKE/MARCUS MILLER/VICTOR WOOTEN ), and the BLUES show (featuring KEB MO/ROBERT CRAY) were S-E-L-L-O-U-T-S. And the JAZZ show (featuring R&R: RICK BRAUN/RICHARD ELLIOT) was close.
I was in the house and along with David Brooks (Dr. Brookenstien) and Kevin Amos (The Funkoverlord), been manning the Soul-Patrol Booth, where we distributed information about Soul-Patrol.com, RadioIO.com, signing folks up to the Soul-Patrol Newsletter, distributing FREE copies of our (out of print) award winning compilation album "The Soul-Patrol Digital/Virtual Album 1.0" and most importantly engaging folks in a conversation about music/culture.
It's always fun for me to meet some of the people who have been reading my commentaries for years in person and a lot of folks that have come up to the booth have told me how much they have enjoyed reading the Soul-Patrol Newsletter over the years. It has been a pleasure for me to meet these people and their families.
One of the things that has made me smile over the past couple of days at the Keswick is that these crowds have been INTEGRATED (although I would like to see a few more of "mah people" at the Blues show.) And certainly that has been one aspect of the conversations that we have been having with folks. Certainly we will do more events like this at the Keswick and around the United States so stay tuned….
Thanks to the staff & management of the Keswick Theatre for allowing Soul-Patrol to be a part of their family.
Click here to read the reviews of all 3 shows by our own Funkoverlord, Mr. Kevin Amos…
–Bob Davis
609-351-0154
earthjuice@prodigy.net
LISTEN TO: SOUL-PATROL/NU SOUL/CAMPAIGN 2008 (Featuring the following Artists: Barack Obama, Chuck D, Gerald Alston, Chip Shelton, Nadir, Rose Stone)
(Nu Soul)
http://www.soul-patrol.net/sp_2008campaign1.ram
When is the last time you heard a Presidential contender quote Mr. Sylvester Stewart?
Soul-Patrol doesn't endorse candidates, however last night I became inspired when I heard Senator Barack Obama actually quoting Sly and the Faimily Stone, during the speech that he made right after his stunning win in the 2008 North Carolina Democratic primary. Although Soul-Patrol doesn't endorse candidates, it does provide commentary on what's going on in the culture and this was certainly a historic moment. And if Senator McCain would like "equal time" all he need do is contact me and I will give it to him… http://www.soul-patrol.net/sp_2008campaign1.ram
The use of classic Sly & the Family Stone lyrics during the speech by Senator Obama inspired me to create a broadcast of some NEW releases that we are featuring both here on Soul-Patrol and on Nu Soul @ RadioIO.com (www.radioio.com), that fit with the overall mood of the cultural phenomena surrounding the campaign of Senator Barrack Obama.
http://www.soul-patrol.net/sp_2008campaign1.ram
At the same time I want to provide an introduction (for some of you) of what the idea is behind the concept of NU SOUL. It's BRAND NEW BLACK MUSIC, produced for today's audiences that is steeped in the tradition of Black Music of the past (soul, funk, rap, blues, jazz, rock, etc), presented by the artist in a modern day context. In short it's what's missing from the so called Black music that is being rammed down out throats by the mass media. Here are the songs from the broadcast, performed by some of Soul-Patrol.com's core artists!
FUNKY PRESIDENT
Chuck D feat. Kyle Jason & the baNNed- Introducing the SLAMjamz Artist Revue (Tribb to JB) http://www.slamjamz.com or http://www.publicenemy.com
A CHANGE IS GONNA COME
Gerald Alston
(Gerald Alston Sings Sam Cooke)
http://www.gerald-alston.com
MLK
Chip Shelton/Peacetime
(Imbued With Memories)
http://www.chipshelton.com
SLAVE
Nadir/Distorted Soul
(Distorted Soul 2.0)
http://www.distortedsoul.com
CAN YOU MAKE IT
Rose Stone
(Already Motivated)
http://www.rosestoneuniverse.com
LISTEN TO: SOUL-PATROL/NU SOUL/CAMPAIGN 2008
Featuring the following Artists: Barack Obama, Chuck D, Gerald Alston, Chip Shelton, Nadir, Rose Stone
http://www.soul-patrol.net/sp_2008campaign1.ram
And let me know what cha think????
–Bob Davis
I'm NOW ready To Cast My Vote For……..(Most Relevant Album of 2008)
Nadir – "Workin' for the Man" (The Phuture of Phunk)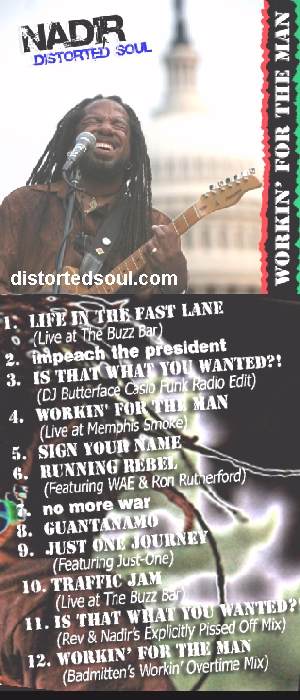 Album Review – Nadir – "Workin' for the Man" (The Phuture of Phunk)
At this point I haven't written an album review in about 3 months. It might not seem that way to you, but I haven't. The reason I haven't isn't because I haven't heard any good music. it's because I simply haven't felt like it. With everything that has been going on in my personal life combined with everything that has been going on in the world at large, spending even 5 minutes writing an album review has been pretty low on my list of priorities. Although I have been listening to a whole lotta good music during the "summer of my discontent", none of it has been:
C-O-M-P-E-L-I-N-G
(till now)
Last night Nadir sent me his new album via email. For those of you who have been following the story, I have previously described Nadir as "Malcolm X With a Guitar." He was named as Soul-Patrol.com's BEST FUNK ARTIST OF 2005. At the date of this writing, Nadir is headed to the most unlikely location of St. Paul Mn. to cover the 2008 Republikkkan National Convention for his "side gig" @ MTV News. He is an artist for whom there is truly no musical genre that applies, except for FUNK. I have also described his music as "out of touch with the reality of today." That's because his music combines:
SERIOUS RAW FUNK + A CALL TO SOCIETAL & PERSONAL RESPONSIBILITY
I am a fan of Nadir's music because it is un-yielding, un-compromising in it's "groove" and it's "politics." The listener is forced to confront their own personal comfort zone and simply put, you are….
FORCED TO SHAKE YOUR AZZ
AND
THINK ABOUT WEIGHTY ISSUES OF THE WORLD
(at the same time)
T-H-A-T-S C-O-M-P-E-L-I-N-G

Right now we are at a special point in Amerikkkan history.
It's the morning of August 30, 2008…(article continued here
H*A*P*P*Y F*A*T*H*E*R*S D*A*Y – NEW RELEASE – Munkeez Strikin Matchiz – Wreck It (Bo Diddley, Chuck D, Bernie Worrell, Scott Free)
I love this song. I think that we will make this the
OFFICIAL FATHERS DAY SONG OF SOUL-PATROL.COM:
Munkeez Strikin Matchiz – "Wreck It"
(Bo Diddley, Chuck D, Bernie Worrell, Scott Free)
http://www.soul-patrol.net/wreckit.ram
Check it out, it's one stone cold, sho nuff:
GREAT BLACK MUSIC FROM THE ANCIENT TO THE FUTURE:
http://www.soul-patrol.net/wreckit.ram
H*A*P*P*Y F*A*T*H*E*R*S D*A*Y
Soon to be released on: www.slamjamz.com
–Bob Davis
Album Review: Norman Kelsey – A Talent For Lovers
(Funk/Rock/Soul)
Norman Kelsey's album is what I would expect the "first Lenny Kravitz album" (see below) to sound like. It's full of better than average rock, soul, funk, pop songs. Simple 3 minute songs with hooks, that you can bop down the boardwalk to while you snap your finger. It's also got a few GREAT songs, that would be automatic hit records if they could be heard by the masses. And it shows a hell of a lot of potential for the artist himself to become a "universal fusion artist." It's the kind of an album that you can put on, leave on and think that you are listening to a Top 40 radio station from back in the day, playing a diverse set of music that somehow all "works together." The album as a whole reminds me of hanging out at the beach all summer and hearing great summer songs coming out of tiny transistor radios, from Memorial Day to Labor Day, that get played on BOTH the Black stations and the white stations. Buy this album now, it gets better and better with each listen, but wait till the summertime to play it for your friends, so that they can become hooked on this album, and not even realize why.
Look for these songs playing as as "buzz cuts" on Nu Soul @ RadioIO.com
–Bob Davis
Album Review: Lenny Kravitz – It's Time For a Love Revolution
(Boring Azz Pseudo Beatles/Soft Rock/Elevator Music)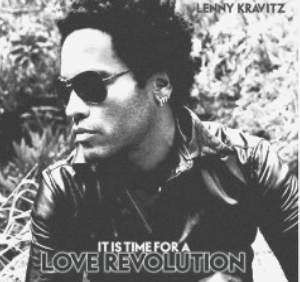 If I told you that there are two songs out of fourteen tracks on an album that have any musical value whatsoever, would you pay $18.99 just to get those two songs during the great Amerikkkan recession of 2008? I would truly like to be able to start this review off by telling you that this album is the bomb, especially since my opinion has long been that Lenny Kravitz is the guy who is supposed to save Black music from itself. However I can't do that with any sense of responsibility for your pocketbook in these times of economic uncertainty.
We all have at least one member of our family that is like Lenny Kravitz's music. We love them dearly, but they just won't do right. They lead their lives by "skating." They never actually end up on welfare, homeless or addicted to crack. They usually have a job, but not always. They usually take care of their children, but not always. Their phone is usually shut on, but not always. Every once in a blue moon, they do something great and they make us smile, because for a brief moment it looks like they are about to fully embrace the potential that we all knew that they would ever since we knew them as kids. And then just as quickly they turn around and revert to their by now predictable behavior. You know that they can do better, they just don't, and very possibly never will. The worst part is that YOU KNOW, that THEY KNOW, that THEY CAN DO BETTER, but choose not to for reasons that aren't clear. The easiest thing to do is to say nothing and let that family member continue to "skate", but you also know that if you say nothing it really isn't in anyone's best interest.
Lenny Kravitz on paper is the perfect artist for this time in history. Musically he should represent quite literally the same type of "universal fusion" as Barack Obama represents politically. Unfortunately for Lenny he doesn't seem to be capable of creating a good album precisely at the moment in time that history demands that he does. As a music fan I am disappointed that Lenny has turned in a terrible album. However as a cultural commentator, I am even more disappointed that Lenny missed out on his chance to unify all of the people who potentially he can, thru his music. This was certainly his moment to do so. Perhaps this moment in time will come again? (but I doubt it)…..(continued here
Check out Lenny Kravitz – It's Time For a Love Revolution at: Lenny Kravitz – It's Time For a Love Revolution
Look for one of these songs to appear as "buzz cuts" on Nu Soul @ RadioIO.com
–Bob Davis
Album Review: Maceo Parker – Roots and Grooves
(Jazz/Funk/Soul)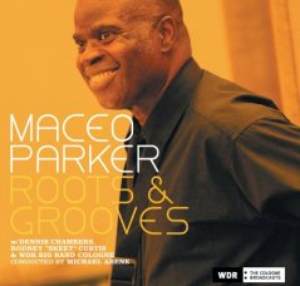 Do you like live albums? (I do). That's because I like going to concerts and this album is kinda like listening to a "dream concert." This album consists of a 2 CD set and it's really like two separate albums in one package. The first disc is a live set featuring Maceo leading a big band doing a super hellified, largely instrumental tribute to Ray Charles. The second disc is a live set featuring Maceo leading a big band doing a real greasy funk concert, that ends with a 17 minute long live version of "Pass The peas". I have no clue as to who could possibly not like this album. If you are a person reading this review it means that you are already pre-disposed to really digging this album. I can't imagine that you wouldn't like it. There aren't any surprises here, just like the title says, it's "roots and grooves", nothing more and nothing less. If you have any hint of a "glide to your stride", "bounce to your ounce", no matter how small you are going to be immediately transported to a place called "planet groove" as soon as you put this album into your CD player. And if you need more than TWO HOURS OF LIVE STANK AZZ GREAZY ROOTS & GROOVES in one sitting, then come and see me, because that means you are a funkateer in desperate need of medical attention. However if you are a country music fan, you might not want to listen to this album unless you want your hair to turn nappy.
Check out Maceo Parker – Roots and Groove at: Maceo Parker – Roots and Groove
Look for these songs playing as as "buzz cuts" on Nu Soul @ RadioIO.com
–Bob Davis
Album Review: Rose Stone – "Already Motivated"
(Soul/Funk)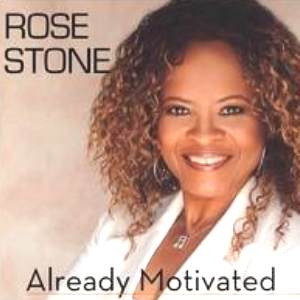 For those of you, who were disappointed by the recent debacle at BB Kings in NYC last fall, can now understand just why Rose Stone declined to participate. That's cuz she had this gem of an album waiting for us. Rose Stone for those of you who may have forgotten or are too young to remember is in possession of one of the most glorious voices in the history of Black music. On songs like "Everybody is a Star", "Hot Fun in the Summertime", and others from the Sly & the Family Stone catalog, it was the voice of Rose Stone that carried the day. Fast forward to 2008, that voice is still there as is the message. In some ways this album is a perfect bookend to her brother Freddie Stone's 2002 solo album called "Everywhere You Are." Containing strong messages about personal behavior and it's impact on top of funky guitars, horns, drums and keyboards, along with a couple of nod's to the past of Sly & the Family Stone. This is a very tasty album of contemporary soul/funk.
My favorite song on the album is called "Sooner or Later (Family Stone)", with Rose & Freddie Stone on lead vocals, backed up by Cynthia Robinson & Jerry Martini on horns, Rusty Allen on bass, Greg Enrico on drums plus Rose & Freddie on keyboard & guitar respectively. As you can see from that line up, this song just might be the closest we get to a real (unlike the fall/winter BB Kings debacle) Sly & the Family Stone reunion….(continued here
Look for these songs playing as as "buzz cuts" on Nu Soul @ RadioIO.com
–Bob Davis
PHILADELPHIA SOUL-PATROL EVENT: An Evening With VICTOR WOOTEN @ the Keswick Theater, April 1, 2008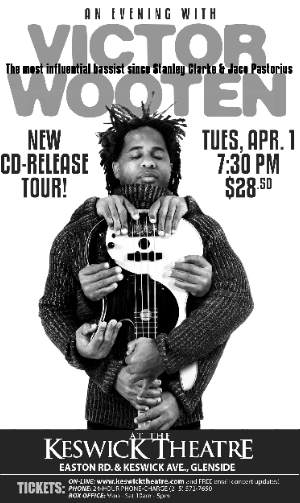 I did not write this review, but I was at the concert.
This was written by Soul-Patrol's Philly coordinator David Brooks (Dr. Brookenstien).
One of the things about most concert reviews that I don't like is that very rarely is….
:::THE TRUTH EVER TOLD:::
(that's because there are always "some people" who DON'T WANT YOU TO KNOW THE TRUTH)
And that is a shame, cuz if there is anyplace where THE TRUTH IS OBVIOUS FOR ALL TO SEE, it is AT A CONCERT
Well I was there @ the Keswick and let me tell you something…
DR. BROOKENSTIEN IS TELLIN YALL THE TRUTH ABOUT VICTA
:::::and I am glad that I was there to bear witness to it:::::
(and I am STILL in "recovery mode" myself, two days after the concert is over)
–Bob Davis
—————————————————
Review of VICTOR WOOTEN
At The Keswick Theatre – Glenside, PA (4-1-08)
********************************************************
Okay, funk fans…here it goes…..a review from the Victor Wooten show at the Keswick Theatre in Glenside,
PA (4/1/08)….please bear me as I may have momentary lapses of unconsciousness during this review….
UNDERSTAND THAT ABOUT 26 HOURS OR SO AGO, I WAS SUBJECTED TO THE MOST POTENT, POTENTIALLY LETHAL DRUG EVER KNOWN TO MAN…..NO, NOT HEROIN….NO, NOT PCP….NO, NOT CRACK……I'M TALKING ABOUT VICTOR WOOTEN AND HIS BAND OF VIRTUOSOS!!!!
UNDERSTAND THAT I JUST WOKE UP ABOUT A HOUR AGO!! I'M TALKING ABOUT SOME BRAIN DAMAGE GOIN' ON HERE!!
And as the Prince song (1999) goes, "I was dreamin' when I wrote this, forgive me if it goes astray!"
At 7:45pm, the nearly sold-out theatre was exposed to musicians playing a terrifying blend of funk, jazz and world music, under the guidance of possibly the best bass virtuoso on this side of the galaxy, MR. VICTOR WOOTEN!! "Cambo" was the first song (a nasty funk-jazz tune) featuring violin riffs and chant vocals by Ali……the basswork of Victor was fast and in-your-face nasty-funky!!…..(click here for the rest of the review
Buddy Miles Passes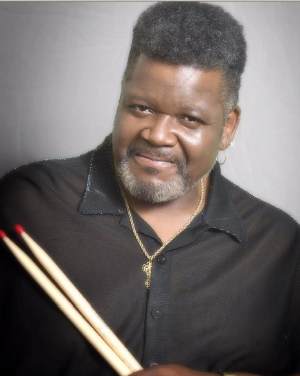 I just spoke with his wife Sherelee. He passed at 10pm last night. Sherelee wanted everyone to know that she was holding his hand when he passed.
Buddy Miles career spans over 49 years including 70 albums, 6 World tours, Television specials, Charity events, TV commercials and Music Videos. Buddy has performed with the biggest names in music Stevie Wonder, Muddy Waters, Barry White, David Bowie, George Clinton and Bootsy Collins.
Buddy Miles started in music at age 12 performing with his fathers band " The Bebops" and played for the jazz-influenced combo for several years before moving on to play for The Delfonics, The Ink Spots and Wilson Pickett.
Buddy is a Co-founding father of fusion rock with the band Electric Flag. He also Co-founded the legendary Band of Gypsys, with Jimi Hendrix and Billy Cox.
Buddy recorded the California Raisins commercial featuring claymation dancing raisins. It's the most successful commercial in television history! Buddy recorded and produced and performed in 3 more California Rasins albums. Buddy produced and performed in a series of commercials for Caribbean Kiss, Cadillac and Harley Davidson just to name a few.
My Funk Flag is flying at half mast on this day…:(
Listen to our two hour Buddy Miles Interview
In Honor of Marlon Saunders for his Performance at the 2008 Academy Awards
Listen To A Soul-Patrol.Net Exclusive, A Marlon Saunders Album Double Play. Featuring "A Groove So Deep (the live sessions)" + "Enter My Mind". That's right BOTH albums from this emerging soul music superstar in their entirety!!!
Concert Review – Sly & the Family Stone(?) @ BB Kings in NYC (11/20/2007)
"At $100 for a ticket, I felt ripped off. A shame."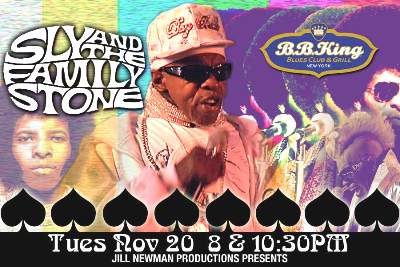 This review of last night's Sly & the Family Stone(?) show @ BB Kings in NYC comes from our friend Randall Grass. Read it and weep…
Hey, Bob,
Just got back from the Sly & The Family Stone "show" and thought I'd file you a report while my memory was still fresh….
BB King's was packed to the gills (no surprise); the opening act, Ayo, performed gamely, just singing and playing acoustic guitar on her Corinne-Bailey-Rae-meets-Tracy-Chapman songs; 70% of the people ignored her and were talking…it really wasn't a fair showcase for her and truly she needed some backing musicians to deliver the nuances of her album
After a moderate delay, Sly Stone began addressing the crowd via a remote microphone from offstage, not altogether audibly…and after a couple minutes walked onstage complete with Mohawk and white jump suit and wrap-around shades. He wasn't talking too directly into his mic and was at times kinda of mumbling…..but he spent the next few minutes bringing out the band members individually introducing them, including Jerry Martini and Rose's daughter Lisa ("remember Rose?") Sly said (crowd roars approval), "well, she's not here but her daughter is.). After several minutes of this with three or four band members yet to be introduced Sly said "well, we got two shows to do tonight so the rest of the band should just come out"–which they did, including Cynthia Robinson. Sly didn't even introduce her!
……..(click here to read the rest of the review…
Up Close and Personal With Original P-Funk (In Baltimore 8/18/2007)
"I met Jesus once, I saw him walking down the street in Baltimore, eating a tunafish sandwich.."
–Richard Pryor )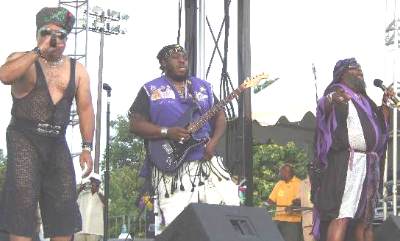 I had a wonderful day yesterday just plain hanging out in Baltimore with one of Soul-Patrol's oldest friends. Original P-Funk was one of the very first major artists to lend their support to Soul-Patrol back in the early days of the site.
Of course for them much has changed over the course of the past 7 years.
– Calvin Simon has left the group to become a solo artist in Gospel music.
– Ray Davis has passed away
So the "Original P" is now down to 2 members.
– Grady Thomas
– Fuzzy Haskins
(and of course George Clinton now performs with a different set of band mates)
For those of you who don't recall, the whole idea behind "Original P" was to form an aggregation composed of the ORIGINAL Rock n' Roll Hall of Fame vocalists from "1950's – 1970's Parliaments" (Grady, Fuzzy, Ray & Calvin) minus George and combine them with a new version of "Funkadelic", anchored by their kids (Geno Thomas – guitar & Derrick Davis – bass) plus other former members of "Funkadelic" from the past.
continued…click here to read the entire story…
TEAR THE ROOF OFF THE MOTHASUCKA
(indeed)
–Bob Davis
earthjuice@prodigy.net
Concert Review: Howard Hewett/Teena Marie @ the Dell East. Philly (6/17)
Teena Marie Live Onstage@ the Dell East. Philly (6/17)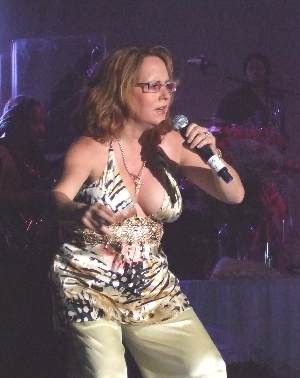 Going to a concert at the Dell East in Philly is always an uplifting experience for me. For me it's an activity that is somewhat akin to drinking "mother's milk" and rejuvenating my own spirit so that I can soar and become a better person.
Some of the best concerts we have covered here on Soul-Patrol.com have taken place at the Dell East. One example on the site that I can point you towards is at the following link:
http://www.soul-patrol.com/funk/man_con1.htm
On this night instead of the almost biblical looking Mandrill the main attraction was going to be a small white woman named Teena Marie, who on the surface is the antithesis of of the Wilson Brothers.
Teena Marie over the years has managed to become a "cult artist" within the Black community ever since she first burst on the scene in 1979 with the double sided hit: "I'm a Sucker For Your Love" & "Deja Vu (I've Been Here Before"). And in today's environment where on a daily basis we see new young white singers being artificially promoted as being "soul music artists", the accomplishment of Teena Marie and her astounding connection to Black America stands as the overwhelming example that these "wannabe soul artists" (ex: Joss Stone, Amy Winehouse, Justin Timberlake, etc.) should aspire to.
Click here to read the rest of the review and learn what is truly….
…."behind the groove."
–Bob Davis
earthjuice@prodigy.net
Concert Review: Kyle Jason @ City Hall Park NYC (6/17/2007)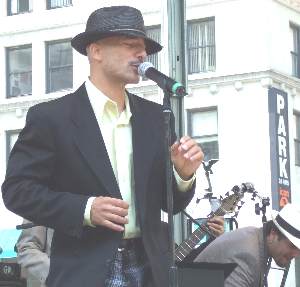 Returning to the scene of the crime….Both for myself and for Kyle Jason…
A few of you might recall that I reviewed Kyle Jason's latest release entitled "Revolution Of The Cool". As a part of that review I said: "Kyle Jason is a throwback to the future of soul." I also said that "You see a long time ago the powers that be removed the designation called FUNK from the formats of radio stations and the bins of record stores. This was done in order to remove the concept of FUNK from our minds in order to restrict and control our thinking. It is however a "format" that fits in quite nicely here on Soul-Patrol so I think that you may hear some of this music here…"
But if you had been just outside of the park this past Saturday afternoon, simply listening to the music and not inside watching, you would have sworn that James Brown, AWB & Tower of Power were inside of City Hall Park jamming. And for me that groove makes me think of the 1970's. However on this day it isn't 1977, it's 2007 and the cast of characters is far different. Probably 40 percent of the people inside of the park that day weren't even alive in 1977.
We need Kyle Jason's version of THE REAL THING far more than he even knows…..
Currently the world of independent soul music is plagued by mediocrity and a lack of truly compelling music. The best analogy I can give you is that much of Indy Soul in 2007 is like driving a 6 cylinder Oldsmobile, that needs a tune up. Already "underpowered" to begin with and even when you "floor the accelerator", it feels more like a "lawnmower engine".
Kyle Jason's music feels like you are driving an 8 cylinder 440 cubic centimeter "duce & a quarter" (Buick Electra 225 for the uninitiated). If you "floor the accelerator", on a "duce & a quarter", you had better damn well know what you are doing because it is not a toy….
Click here to read the rest of the review…..
–Bob Davis
earthjuice@prodigy.net
CD Review: King Curtis – "Live At Fillmore West (Deluxe Edition)"
(Soul/Jazz/Funk/Gospel)
If you don't already own the album King Curtis – "Live At Fillmore West" in its original form, then pick it up. It's one of the "essential" albums that you should own if you are a Soul music fan. Now here is the kicker, I guess I never realized that one of the members of the King Curtis band for those concerts was the late Billy Preston and on one of the previously unreleased bonus tracks, Billy Preston GOES OFF and totally ASSASSINATES George Harrison's Top 40 hit making version of "My Sweet Lord". During the summer/06 if you were a person who happened to come to my house or happened to be trapped inside of a car with me, then you got to hear this song at least 3-4 times 🙂 and you know what I'm talking about. Take my word for it, Billy Preston now OWNS this song. Forget about George Harrison's version. If this album was "essential" in it's original form, imagine what it must be now with the inclusion of Billy Preston's "My Sweet Lord"? You can also hear this song on Soul-Patrol.Net Radio's latest FUNK broadcast at the following link: http://www.soul-patrol.net/nt_funk4.ram
If you don't already own this album, it's really a "no brainer". If you already own it in it's original form then you will want to get this new release so that you will have the bonus cuts
"Are you hungry??? Go ahead and get yourself a plate of "Grandmas' cooking…."
–Bob Davis
Concert Review: Jimi Hendrix Tribute (NYC 11/27/2006) – Jose Feliciano, Buddy Miles, Ghetto Fighters, Dave Honeyboy Edwards, Curtis Knights Squires, King Curtis Kingpins, Johnny Winter, Cornell Dupree, Chuck Rainey, George Bragg, Harry Jensen, Commander Cody, Larry Coryell, Lenny White, and Victor Bailey, David Kramer, Leon Hendrix, Burr Johnson Band, Ducks Chn Groove
I didn't forget the 64th Birthday of Jimi Hendrix. In fact I celebrated it in GRAND STYLE on 11/27 in NYC at a local Times Square "tourist trap", filled to capacity @ the Jimi Hendrix Birthday Tribute Show.
I keep telling myself that with all I have writen about Jimi Hendrix and his impact on my life, that I couldn't possibly have anything else to say. Yet here I find myself with more to say about the music of James Marshall Hendrix, an artist who only had one song that cracked the US Top 20 Pop Music Charts. And I know that before I even get started with this review, that I can't possibly do this event justice. It was indeed a mind blowing experience for me, musically, culturally and spiritually.
I'm pleased to report that this show was a MONSTER wall to wall FIVE HOUR FUNK/ROCK/BLUES MUSIC SPECTACULAR…..(Click here to read the rest…
Concert Review: Reinventing Laura Nyro (NYC 12/9/06)
The performance space of the "University of the Streets" is located in on the second floor of a tenement style walk up on E. 7th street in NYC's Lower East Side. The space features stadium style bench seating, creaky 50 year old hardwood floors, high ceilings, exposed pipes and no heat. I arrived late, right before the stat of the very first song, where I was warmly greeted by Soul-Patroller Rob Darnell. I walked inside I quickly found a seat next to our own Baron Keels. As I smiled and looked around, I half expected Lenny Bruce, Jack Keuroac, Alan Ginzburg and Manaryd G. Krebbs to walk in the door….lol
Inside of a space holding about 80 people, with every seat occupied ready and raring to hear the beautiful music of the "Ultimate FunkyWhitegirl" Ms. Laura Nyro, as performed by The Poetic Notion Chorus Band and Soloists directed by Rob Darnell….(Click here to read the rest…
CD Review: Paradise Freejahlove Supreme – "Jazz-Funk-Hip-HoPoetry"
(Jazz/Funk/Spiritually Elevating Spoken Word/Like It Was Supposed To Be)
In some ways there isn't much to write about this new release called Jazz-Funk-Hip-HoPoetry by west coast artist Paradise Freejahlove Supreme, In most every way the title of this album speaks for itself. However I'm not going to stop there, because I belive that this album will ultimatly be of historic importance, so therefore it's important to connect a few dots from the past as we look towards the future. It is indeed one of the most compelling pieces of music that I have heard in the year 2006. You owe it to yourselves and your children to have a copy of it in your home.
Those of you who are above a certain age will recall an album from the early 1970's entitled "Hustlers Convention" by spoken word artist "Lightning Rod" (of the Last Poets). "Hustlers Convention" the 1959 cautionary tale ("one" dies and "the other" does a 10 year stretch) of two hustlers named "Sport" and Spoon" which features jazz/funk background music from the pre disco Kool & the Gang, is one of the most effective and creative pieces of artistry that I have ever heard laid down on wax. "Hustlers Convention" is the very definition of what KRS-One called "edutainment", and is truly a soundtrack begging for a movie. As such "Hustlers Convention" the model for what hip hop should have become, but never attained.
Fast Forward to 2006, Paradise Freejahlove Supreme, surely must have been exposed to "Hustlers Convention" because the album Jazz-Funk-Hip-HoPoetry contains many of the same elements. It's got a STANK NASTY Jazz/Funk (much like Kool & the Gang) "blackround" that will have you tapping your toes & bobbing your head the entire time you are listening. Now here is where it differs from "Hustlers Convention". Instead of telling us a fictional spoken word tale, Paradise Freejahlove Supreme delivers instead a series of essays, using the poetic form in a powerful way that compels you as a listener to pay attention. He manages to be "hardcore" without uttering a single profanity in delivering what is essentially a state of the union address on the world that we live in today. Paradise Freejahlove Supreme not only outlines the problems facing us, but also suggests positive action that can be taken on both an individual and collective basis to make life better. And because the music is so damn good, Paradise Freejahlove Supreme ends up taking you to school and you might not even realize it till he's done. If "Hustlers Convention" belongs in the movies, than "Jazz-Funk-Hip-HoPoetry" belongs on CNN.
The coolest past about owning a copy of this album is that I can listen to it with my 13 year old daughter or any other younger person. It's got a "hard core" edge that sucks you into focusing on its positive and progressive message, not unlike a Trojan Horse. If any of this sounds like it might be of interest to you, I strongly urge you to get your copy as soon as possible. I doubt that the US Government is going to allow anything that entertains and educates younger people this much to remain available for very long…
A king wears his bling on the inside!
–Bob Davis

Listen To Soul-Patrol's BEST FUNK CD of 2005 NADIR/DISTORTED SOUL – Distorted Soul 2.0

The 2005 Funk Artist of the Year: Nadir – Distorted Soul 2.0 (Funk/Rock/Brain Food For the Neo/Organic Soul Generation)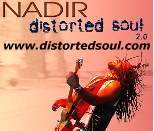 Distorted Soul 2.0 is coming from a point of view that is totally and out of step with what is happening today in the world of music.
Distorted Soul 2.0 puts it in your face, right from the start, the first voice that you hear on the CD is that of Fannie Lou Hammer, followed more spoken word from word from the Civil Rights era in a song called "Prelude To Revolution". Then it rips into a mind blowing FUNK/ROCK groove that would have Lenny Kravitz peeing in his pants if he were to ever hear it, entitled "Slave" with the opening lyric that goes like this "I don't want to feel the pain anymore, and I don't wanna feel the whip across my spine"…
Song #3 called "Daddy's Cane" is a great song in tribute to Black fathers and how hard they work. When is the last time we heard a song with that theme? Especially done to a serious Funk/Rock groove, with stellar vocals to boot, which even quotes "Cosmic Slop" in it's lyrics??
And that's how it starts…
So who does Nadir remind me of????
LivingColour?, Lenny Kravitz with talent?, Prince on steroids?, George Clinton (back when he used to care?), Led Zepplin with a melanin injection (after a beating from the police?), The Last Poets (backed up by the Band of Gypsy's?), Bo Diddley freed of his shackles?, The Miles Davis Band (with Oscar Brown Jr. as their lead singer?), Malcolm X with a guitar?
Click here and find out more about the BEST FUNK CD RELEASE OF 2005…
CD Review: The Best of James Brown, Vol. 3 James Brown & Friends (Stone Cold Funk)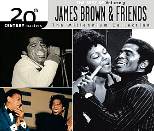 The 1970's James Brown Organization at their peak, featuring prime cuts from James Brown, Marva Whitney, Lyn Collins, Bobby Byrd, and the JB's. Simply stated, this CD is an instant party in a box. Put it on for a room full of people, roll back the rug, move anything breakable out of the way and let the party begin…
Now this is a good example of a MUST HAVE compilation that you won't have to pay an arm and a leg for. As I recall every single one of these songs were hits on the radio stations that used to exist down on the far right hand side of the dial. These are classic songs of the FUNK movement, which should have your booty shakin within seconds of when each song starts……Click here to read the rest of the review….
–Bob Davis
360 DEGREES OF FUNK – Brand New Funk: Dexter Wansel, Will Wheaton, Dean Francis, Sir Joe Quarterman/Free Soul, Cassius White,Slapbak, Paul Jackson Jr, Victor Wooten, Defunkt, Adriana Evans, Oktbrwrld, AfroFunk Experience, Stozo Da Clown, Bee Note (PatriceRushen/Slave)
P*Funk Review Features/Departments





---
---
The intent ofSoul Patrol, is to be a celebration of Great Black Music From The Ancient To The Future. It's all aboutSoulJazz, Blues,RockFunk, and theculturethey evolved from.


Click here to enter your suggestions and feedback