Philly Gumbo: Wilson's Restaurant & Live Music, 709 Warwick Road, Hi-Nella, NJ (7pm 11/17)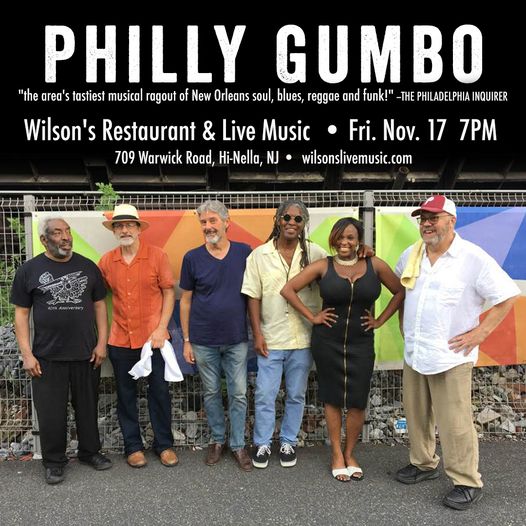 Hot Gumbo coming from Philly to New Jersey (which needs it lol!)…Greetings, All!
Philly Gumbo has not played a club gig in New Jersey in a long time….mainly we've just played festivals over there, like the Atlantic City Summer Music Festival. But on Friday November 17th we're going over the bridge from Philly to play Wilson's Restaurant and Live Music in Hi-Nella, NJ which is just off Route 30 (White Horse Pike) about 20 minutes from the Walt Whitman Bridge.
And all you Jersey/NYC peeps can just cruise down the turnpike to Exit #4 or #3! It is a really nice club, with great Southern cuisine, very spacious with room to dance–and there is a definite party vibe. People often get up to dance to a dj between sets (though with Philly Gumbo we expect people will be dancing DURING our sets lol!). It's really worth the trek.
However, it is crucial to make reservations as early as possible; every reservation guaranteed a seat!
The info is: Wilson's Restaurant and Live Music, 709 Warwick Road, Hi-Nella, NJ www.wilsonslivemusic.com
we will be doing two sets beginning at 7PM sharp! so it's an early show…they have plenty of free parking.