Rahsaan Patterson
They don't do it in order to become a star. They do it because they know that if they don't commit themselves to try, they can never have a restful sleep again in their lives.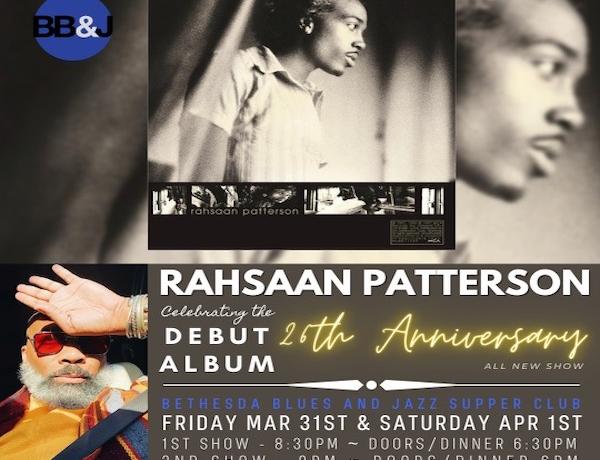 Editor's note: Because I get asked all of the time "what do you mean by the term KOZMICFUNK?" I thought this might be a good time for me to repost this review. I also noticed that Rahsaan Patterson (Rahsaan Patterson Music) is doing a whole bunch of gigs and in case any of you might have forgotten just how AWESOME he is, I figured a few of you might just need a reminder, in case you were thinking about going to his live show
Album Review: Rahsaan Patterson – Wines & Spirits
(genre – kozmicfunk)
I don't know Rahsaan Patterson. I have never met Rahsaan Patterson. And it's probably best if I never do. I'm sure that he's probably a nice enough fellow and that we would get along just fine. However, I don't want any of my current illusions to be destroyed. If you were like me than you might have considered to be just another one of the dozens of soundalike/stale neo soul stevie/marvin/donnie imitators (why do they always chose to imitate the most boring aspects of these artists?).
But I want to let you all in on a big secret (he's beyond all of that now). Take a listen to this album and you will know why, but whatever you do, please don't tell all of his neo soul fans because they won't understand why he is a better artist this way. After listening to this album my guess is that Rahsaan Patterson has been doing his homework and after doing so, he has decided that he wants to achieve greatness instead of being locked into the box where he previously was. It's obvious to me that he's been listening to some deep music in the course of doing his homework. This album shows me that he's been listening to Shuggie Otis or Miles Davis or Frank Zappa or Sun Ra or some other higher level of artistic purity, because this album is a mind blower. You should check out this album, listen to it and absorb the fact that Rahsaan Patterson is now at a different level. He wants to achieve greatness, it's obvious to me after listening.
Of course, he may not get there in a commercial sense, current day market conditions may not allow for that. I'm just glad that he did this album, and I am glad that I have the chance to document my opinions on it. Ten years from now white kids in Iowa are going to discover this album and they will anoint Rahsaan Patterson as an unheralded genius. And once that happens one of them is going to come upon this review. They will print it out and show it to their friends and say, "I told you so."
In fact, I don't even want you to buy the album (not just yet). I want you to find someplace on the internet where you can listen to it for free, hell I may even put it up myself just so that you can do that. I do not want economics to interfere with your decsion making process. I want you to experience the whole thing at least one time.
You need to do that, and you need to do it now, because I want to conduct a test. I want to see how many people can still recognize that critical point in time in the career of an artist when they decide to leave their personal comfort zone of predictability and attempt to be the "baddest MF on the planet." They do this with the full knowledge that they may fail to convince anyone else of this besides themselves.
They don't do it in order to become a star. They do it because they know that if they don't commit themselves to try, they can never have a restful sleep again in their lives. How can I possibly say something like this with such certainty about a person that I have never met and probably never will meet? I Dunno how to answer that question except to say that on the album "Wines & Spirits", Rahsaan Patterson allowed me to take a glimpse into his soul and I appreciate what I was allowed to see.
Rahsaan Patterson may not convince anyone else, but he has convinced me of just what he is trying to do. And I can respect that, just as I can respect anyone else, regardless of their chosen field who chooses to try to be the best. Most of the time when people try to do this, they fail. However, in giving the effort they make the world a better place, because they inspire others to try and become the best that they can be. If when you listen to "Wine & Spirits", you don't "get it", don't worry about it. Most people won't, so that will put you in good stead with the majority. But if you are the type of person who does indeed "get it", please contact me because I want to shake your hand. Rahsaan Patterson has clearly separated himself from the rest of the pack and this is something that not only can I clearly see, but I am genuinely excited for him. He has placed himself in a position to potentially inspire others. He may or may not inspire you, how you seek out your own personal inspiration is totally a matter of individual choice and what you permit yourself to be open to. He has inspired me with his musical vision on the album "Wine & Spirits", and right now that is all I care about…