Ray Charles
Ray Charles sat down for an interview with NBC's Bob Costas and gave a scathing critique of Elvis Presley. "To say that Elvis was so great and so outstanding, like he's the king…the king of what?" Charles said.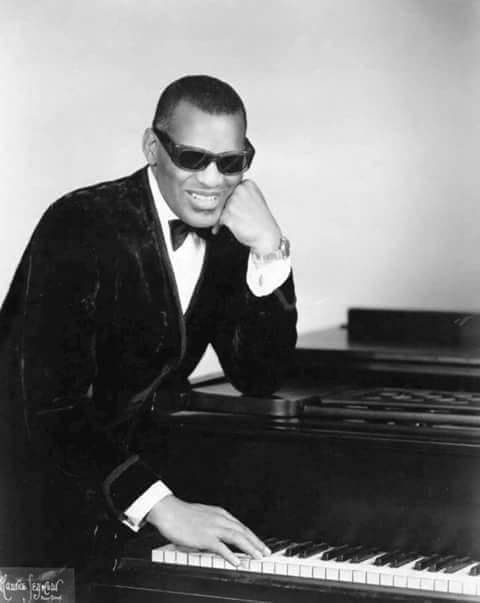 By Dianne Washington
Ray Charles, an African American singer, composer, and arranger, was born on this date in 1930.
Born in Albany, GA, Ray Charles Robinson was raised in Greenville, FL. It was in Florida that he became friends of a piano-playing neighbor. As a youngster, Charles studied with him at his small store-cum-juke joint and absorbed and digested the blues, boogie-woogie, and big-band swing records on his jukebox. At age six, Charles contracted glaucoma, which eventually left him blind. As a result, in 1936 he began a nine year stay at the St. Augustine School for the Deaf and the Blind. He was still at the school, at 15, when his mother died (followed two years later by his father).
At St. Augustine School, Charles studied composition and mastered a variety of instruments including piano and saxophone. From there he played in a number of bands around Florida. Charles eventually led a jazz-blues trio that worked the West Coast in the style of Nat "King" Cole and Charles Brown. After releasing singles for labels such as Downbeat and Swingtime, Charles wound up on Atlantic Records in 1952. It turned out to be an ideal match between artist and label, as both were just beginning to find their true identity.
With artistic control at Atlantic after demonstrating his skills as an arranger, he released "Things That I Used to Do," the biggest R&B hit of 1954. Charles responded with a string of recordings in which he truly found his voice. This extended his streak, which carried him through the end of the decade, and included such R&B greats as "I Got a Woman," "Hallelujah I Love Her So," "Drown in My Own Tears," and the feverish call-and-response classic "What'd I Say." All were sung in Charles' gruff, soulful voice and accompanied by his piano and a horn section. While recording for Atlantic Records during the 1950s, the innovative singer, pianist, and band leader broke down the barriers between sacred and secular music.
The gospel sound he'd heard growing up in the church found its way into the music he made as an adult. In his own words, he fostered "a crossover between gospel music and the rhythm patterns of the blues." After his Atlantic years, Charles moved to ABC/Paramount, where he claimed greatness with his own "Modern Sounds in Country and Western Music," an album that topped the Billboard chart for 14 weeks in 1962. Over the decades, elements of country and western and big-band jazz have infused his music as well. He was as complete and well-rounded a musical talent as this century has produced.
In the 1980s, Charles was often in the public eye on television and in the movies. He had a number of albums and performed duets with many well-known musicians including Willie Nelson, Chaka Khan, and the Blues Brothers. His appearance on the 1985 release of "We Are the World," brought a renewed interest in much of his work. He was inducted into the Rock & Roll Hall of Fame in 1986.
During the 1990s he continued to write and perform, and in 1992 President Bill Clinton awarded him the National Medal of Arts. Charles was one of the most important influences on popular music. His passionate singing and intelligent melding of different genres remains the ideal by which many musicians continue to gauge their work.
Charles displayed his genius by combining elements of gospel and blues into a fervid, exuberant style that came to be known as Soul Music. Just what is soul, according to Ray Charles? As he told Time magazine in 1968, "It's a force that can light a room. The force radiates from a sense of selfhood, a sense of knowing where you've been and what it means. Soul is a way of life, but it's always the hard way." Many musicians and artist possess elements of genius, but Charles truly and completely embodied the term bestowed upon him as a nickname.
In 2003, Charles performed "Georgia On My Mind" and "America the Beautiful" at a televised annual electronic media journalist banquet held in Washington, D.C. Ray Charles' final public appearance came on April 30, 2004, at the dedication of his music studio as a historic landmark in Los Angeles.
As executive director of The African American Registry, my favorite song performed by him is "Old Man River." Ray Charles died of liver disease at his home in Beverly Hills, CA., on June 10th 2004.
Ray Charles Passes
These interviews/articles contributed by Soul-Patroller Bill Carpenter..

FORMER RAELET MABLE JOHN REMEMBERS HER FORMER BOSS & FRIEND THE LATE RAY CHARLES

Mable John, who was the leader of the Raelets from 1968 to 1977, recalls her friend Ray Charles today. She says that Charles didn't only teach her about friendship and music; he also taught her how to hear.
"He loved my voice. He thought it was unique," John says of music legend Ray Charles who died today. "He taught me how to listen. He taught me to hear things I never heard before musically. He said most people hear with their eyes but he taught me to see with my ears. He'd tell me to close my eyes and try to feel hear the note that way. He said that his hearing was so keen that he could hear a rat piss on cotton. Because of him, I can be sitting in front of an orchestra and hear only one instrument. He taught me how to find that note."
Charles had been a fan of Mable John long before they ever met. When her brother Little Willie John died in 1968, Ray Charles called John and coaxed her out of her depression by telling her jokes and taking her mind off of her loss. Charles put John in charge of the Raelets and trusted her with the road money. Under her watch, the Raelets appeared on "The Carol Burnett Show" and toured the Orient without Charles. They also recorded hits such as "Bad Water" and "I'll Do Everything For You" on Charles' Tangerine Records label in the early 1970s. Of course, they also performed with Charles all over the world. "He took me places I would have never imagined going as a blues singer and as an African-American woman," John says.
Even after John left the Raelets to go into the ministry in 1977, she and Charles continued to talk and collaborate on songs. They wrote over fifty songs together and last performed together at the Chicago Blues Festival in 2003. Just five weeks ago, they talked of going into the recording studio one more time. He promised he'd be well enough. "That's the only promise he ever broke in almost 40 years of friendship<" john says. "If he could have made good on it, he would have because that was sin his heart. He wanted to perform right until the end."
Mable John was the first female artist signed to Motown records in 1959. Universal Records recently issued John's long out-of-print blues singles on the CD "My Name is Mable." In 1966 she moved on to Stax Records where she enjoyed a million-seller with smash Top Ten R&B single "Your Good Thing (Is About To End)." She now runs the Joy in Jesus Ministries in Los Angeles.
SOUL LEGEND CANDI STATON REFLECTS ON THE PASSING OF SOUL MUSIC ICON RAY CHARLES

"I'm broken hearted," veteran soul singer Candi Staton says of the loss of her friend Ray Charles today at the age of 73. "I'm just shocked. He was my favorite singer of all time. I used to listen to him when I was a teenager and it was a dream come true, to share a stage with him when I became an artist myself. I knew he was sick but I had no idea it would be this soon. His soul is my prayers."
Staton last saw Charles in person when they both appeared on David Gest's "Miracle on 24th Street" concert at Madison Square Garden in December 2002. I'm so thankful that David Gets brought us back together again," Staton says. "David booked us both on that concert and I went up and knocked on Ray's dressing room door and told him who it was. He told me to come in and we had a great time catching up. He asked me to walk him to the stage and I did. He held on to me really tight and wouldn't let me go. I'm so thankful I got to see him again before he passed."
Staton first performed with Charles in 1976 when she opened for him at the Aladdin Hotel in Las Vegas. " My heart is just breaking," she continues. "The world has lost a one of a kind singer and a one of a kind man. Nobody can replace Ray Charles. His absence leaves a huge hole in the music business."
Staton's recent Astralwerks/Honest Jons/EMI cd "Candi Staton", a reissue of her 1969-1973 Muscle Shoals southern soul recordings, has brought her name back to pop music prominence after a decade in the gospel music field. Staton is best-known for her 1976 million-seller "Young Hearts Run Free" and the multi-platinum single "You Got the Love" that was featured in the finale episode of HBO's "Sex and the City."
Bill Carpenter

http://www.capitalentertainment.com