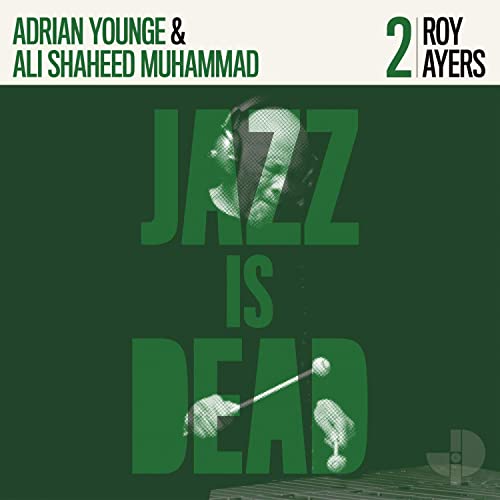 Adrian Younge and Ali Shaheed Muhammad – Roy Ayers JID 002
There is nothing like a Roy Ayers vibe. Did I say that?? I mean folks, the ageless vibraphonist is STILL going strong with his mellow, mellow sounds. At age 79 he can jump around better than me and his music is timeless. A new label called Jazz Is Dead is putting out some pretty incredible music.
A new album with Adrian Younge, Ali Shaheed Muhammad and the godfather of neo-soul Roy Ayers: Roy Ayers JID 002 is now available for all to explore
In February 2018, Roy Ayers performed four sold-out shows in Los Angeles as part of the Jazz Is Dead Black History Month series. It wasn't until 2020 that fans of Ayers discovered that in addition to those shows, the legendary vibraphone player had also recorded an entire album of material with Adrian Younge and Ali Shaheed Muhammad. This new vibe (There I go again!!) sounds like an extension of the sounds many of us witnessed in the 70's and 80's.
As I just said, the resulting album sounds both like the old school as well as something startling, new, and unexpected. Joining Ayers, Younge & Shaheed Muhammad on this musical journey are drummer Greg Paul, vocalists Loren Oden, Joy Gilliam, Saudia Yasmein, Elgin Clark & Anitra Castleberry, as well as Phil Ranelin & Wendell Harrison of the legendary Spiritual Jazz label Tribe Records.
Here my sisters and brothers are the track listings:
1. Adrian Younge, Ali Shaheed Muhammad & Roy Ayers – Synchronize Vibration 03:32
2. Adrian Younge, Ali Shaheed Muhammad & Roy Ayers – Hey Lover 02:22
3. Adrian Younge, Ali Shaheed Muhammad & Roy Ayers – Soulful & Unique 03:01
4. Adrian Younge, Ali Shaheed Muhammad & Roy Ayers – Shadows of the East 03:40
5. Adrian Younge, Ali Shaheed Muhammad & Roy Ayers – Sunflowers 03:02
6. Adrian Younge, Ali Shaheed Muhammad & Roy Ayers – Gravity 03:27
7. Adrian Younge, Ali Shaheed Muhammad & Roy Ayers – Solace 03:53
8. Adrian Younge, Ali Shaheed Muhammad & Roy Ayers – African Sounds 03:09
And don't forget…We ALL love the sunshine and we definitely love Mr. Roy Ayers