Review – John Mellencamp @ Miller Theatre/ Kimmel Cultural Campus (Philly)
"Gov DeSantis says Florida is where WOKE goes to DIE, however a John Melencamp show is where WOKE goes to THRIVE…"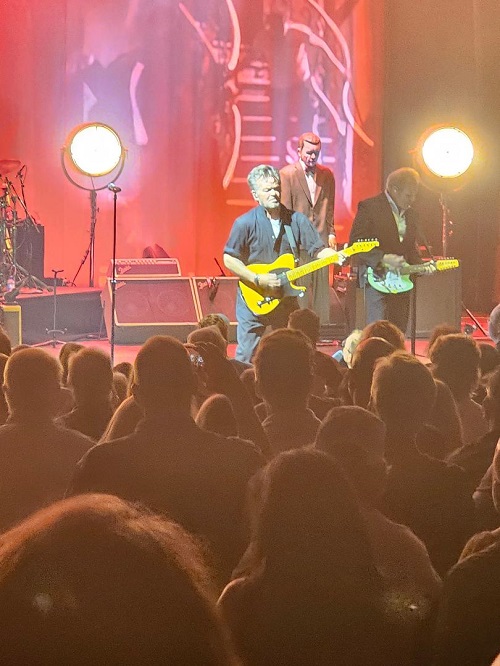 I had a blast at this show. I spent most of it singing and dancing along with the rest of the sold out (1,800 seat) crowd. When the show ended, I did a quick survey of the crowd and quickly made the following mental note; "I think my wife & I may be the ONLY Black people in the audience." But as you will see later in this review, in this case, I think that is actually a positive thing, for a perfectly logical reason.
Some backround…
The last time I saw John Mellencamp, was during the 2000 Rock n' Roll Hall of Fame Induction Rehearsals.
That year both Eric Clapton and Paul McCartney were being inducted as solo artists and Mellencamp was one of the people who was playing in the "all-star band," that year. I was there as some of you may recall as a part of Harvey Fuqua's "team," supporting the Moonglows, where were also being inducted.
Anyhow….
During one of the breaks, I saw John Mellencamp out in the hallway of the Waldorf-Astoria (where the rehearsal hall was located.) He was leaning up against the wall, smoking a cigarette. Seeing this, it caused me to raise my eyebrows for two reasons:
There are NO SMOKING signs plasered all over the Waldorf-Astoria.
I remember seeing an interview on eMpTVy with John Mellencamp and his wife, talking about his recovery from a heart attack, during which his wife made a big deal about letting the audience know "that as a part of his recovery, John has quit smoking."
I walked over to him and said…
Bob: "I'm surprised to see you here smoking, after your heart attack."
John: "Im a grown man, and I'll do any f*cking thing I want to, whenever I want to."
Bob: "I think that the hotel has some pretty strict regulations regarding smoking."
John: "…….wherever I want to."
Then we both smiled and started laughing. We talked for a few minutes and during the conversation I told him how much I really appreciated his songs and his music video's over the years. He said, "Im trying to do nothing short of taking rock and roll back to it's own roots and also change the world at the same time."
Last night's John Melencamp show opened with a short documentary shown, narrated by John Mellencamp connecting his own "heartland" upbringing with the heartland of America, as depicted in movies such as "Grapes of Wrath," "Hud," "Giant," "On the Waterfront," "The Last Picture Show," "Streetcar Named Desire," etc.
He said in the narration; "these films didn't teach us what kind of country we are, but instead taught us what kind of a country we could become, and it didn't matter is we came from big cities or small farming communities or what the color of our skin was or if we are homeless or if you are a senior citizen or our religion or our sexual preference."
The documentary ended, the red lights started flashing, the movie screen went up and the band started playing. Mellencamp strutted out on stage, smoking a cigarette that was almost down to his fingertips. The first thing he did was extinguish it and then quickly light up a new one (He did this continuously during the show.) And he said; "The other thing those movies taught us how to do was SMOKE."
The stage was now filled with the muscians from his band, but also the backdrop was from the movie "Streetcar Named Desire," and there were maniquins on stage depicting the the charecters from the movie (Blanche, Stanley, Mitch, Stella.)
This was the set list.
The beauty of these songs is that they all deal with the topics/issues that John talked about in the documentary: Race, homelessness, aging, sexism, poverty, economic inequity, sexual preference, etc. Mellencamp sang these songs with a passion that is obviously fueled by nearly 1/2 century of performing them around the world!
If you were a fan of his during the 80's you will remember many of these (& the music videos that went along with them.)
I remembered back to that long ago conversation that I had with Mellencamp, when he said; "I'm trying to do nothing short of taking rock and roll back to it's own roots and also change the world at the same time."
Most of the songs that you will remember, were also HUGE MEGA HITS
I would say that he has accomplished that vision, and has done so on multiple levels
FIRST LEVEL THE SONGS/HITS
"John Cocker/Hey God"
"The Eyes of Portland"
"Minutes to Memories"
"Small Town"
"Human Wheels"
"Don't Need This Body"
"We Are the People"
"Jackie Brown"
"Check It Out"
"Sometimes There's God"
"Longest Days"
"Jack & Diane"
"I Always Lie to Strangers"
"Joanne Woodward/Real Life"
"Rain on the Scarecrow"
"Paper in Fire"
"Crumblin' Down"
"Pink Houses"
"Chasing Rainbows"
"Cherry Bomb"
NOTE: there was also a special reading by the actress Joanne Woodward (on tape) accompanied by the guitartist & violinist, which was awesome!
SECOND LEVEL – THE BAND
Mike Wanchic – guitars, backing vocals (1976–present)
Andy York – guitars, backing vocals (1994–present)
Lisa Germano – violin (1985–1993, 2022–present)
Dane Clark – drums, backing vocals (1996–present)
John Gunnell – bass (1999–present)
Troye Kinnett – keyboards, accordion, backing vocals (2006–present)
NOTE: Much like Sly & the Family Stone, the band consists of "Blacks & Whites and Men & Women."
THIRD LEVEL – CHANGE THE WORLD
His work on Farm Aid is legendary, he has raised over 60 million dollars for them over the years. But there is more (much more): Nordoff-Robbins Silver Clef Special Music Industry Humanitarian Award (1991), John Steinbeck Award, Woody Guthrie Prize, Harry Chapin Humanitarian Award, etc. But changing the world is about a whole lot more than just "awards." Back in the 1980's the music video's were just as influential as the songs themselves. Perhaps even more so. All of those music video's were "integrated," which was unusual for its time. The one that stands out most in my mind was the video for "Cherry Bomb," featuring a Black man and white woman doing an extremely sensuous "slow dance" or GRIND (as we called it back in the hood…..lol.) Those videos are burned into my brain and as I listened to the songs during the show, I could visualize them in my mind's eye.
FOURTH LEVEL – THE ENVIRONMENT
At one point John said to the audience; "this isn't a concert, it it a parformance that is designed to insure that by the time it ends, we have created a one of a kind music community here tonight.
When we first arrived at the venue, I thought it was like a breath of fresh air. My wife and I haven't been to a concert together in quite a few years. I said to her:
"Gov DeSantis says Florida is where WOKE goes to die, however a John Melencamp show is where WOKE goes to thrive…"
I'm not sure if John Melencamp had this in mind, when he says music community, but I can say with certainty, that if Gov DeSantis had somehow appeared on that stage last night, he would have certainly been booed right out of Philadelphia.
If you are white, it's one thing to say that you are "pro integration."
It's quite another to say that you are "anti-racism."
The crowd at the Miller Theatre was defiantly, an "anti-racism crowd."
It is often said; "Black people can't end racism, they didn't create it, white people created it and only they can end it." This is the crowd that is going to end racism!
It was just as John had said, a true one of a kind "multimedia experience" for a music community, that is ultimately going to change the world.
bonus veren siteler I was quite happy indeed to have had the chance to finally attend one of his shows, as I have dug his music for the past several decades and dug him as a person after meeting him, back in 2000.
And although, it may not have been his original intent, it was perfect for BLACK MUSIC MONTH!
NOTE: Below is a recent Mellencamp show, posted on YouTube, it is similar to what I saw at the Kimmel Cultural Campus/Miller Theater.