Review: Peabo Bryson/Oleta Adams @ The Keswick Theater 09-25-22
It was almost a full house of the kind of crowd that also would attend a Smooth Jazz concert. It's funny how Pop-ish R&B/Soul music attracts such a diverse audience.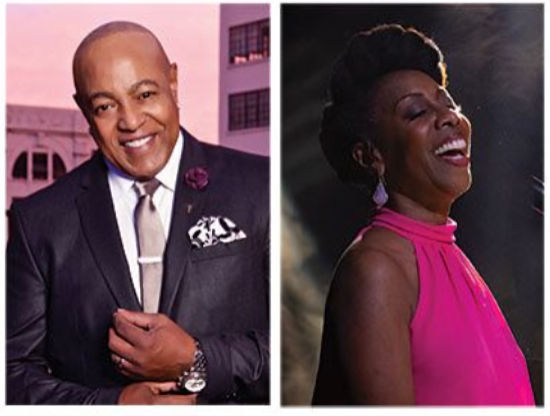 Intro

The Peabo Bryson/Oleta Adams Show The Keswick Theater 09-25-22 On a crisp, autumn night still reveling in our Eagles victory over the hapless Commanders, I ventured out to see and hear some nice Classic Soul and R&B at The Keswick Theater. The artists' (Peabo Bryson and Oleta Adams) bios were featured in last week's http://soul patrol.com/?na=view&id=797 newsletter.
Hopefully you were able to find sufficient background info which gives you an idea of the nature and origins of these two artists. Shows such as this which feature the original artist or group, still in fine voice and able to perform are getting harder and harder to come by. So, when they come to town try and check em out. It's certainly worth your time and money.
Oleta Adams

Oleta Adams opened the show with no fanfare promptly at about 7:05 pm. It's almost strange to see an artist introduced and they take the stage so inconspicuously. Ms. Adams greeted the crowd as warmly as she was received. It seemed the audience was unfazed as they seem to be real fans of not only Ms. Adams but Peabo Bryson as well. This was definitely a senior citizen crowd along the '60 is the new 40' line of thinking. It was almost a full house of the kind of crowd that also would attend a Smooth Jazz concert. It's funny how Pop-ish R&B/Soul music attracts such a diverse audience. The audience was somewhat integrated as well.
Ms. Adams casual 'Sista-friend' vibe permeated the atmosphere, putting all attending in a relaxed mood. I'm not familiar with her catalogue but all her tunes had a spoken monologue/intro of sorts. The highlights of her a little over 45-minute set included; – I Hope You Dance – the tune from the Tyler Perry flick The Family That Preys. – Not The One For Me – Another soul stirring anthem of resilience and strength Something Inside So Strong – Labi Siffre's song of hope for the victims of apartheid in South Africa during the 60's and 70's Ms. Adams persona and overall show if you haven't noticed, is straight out of the Oprah Winfrey/Maya Angelou fierce feminine playbook. She sings very well while her band, basically a rhythm section handles her accompaniment with aplomb. What was a bit of a twist for me was how she had sequenced background vocals. This means the background vocals are programmed into her keyboard and it's either triggered on its own or she triggers when the vocals come in. Usually, artists bring their background vocalists. She Closed out with first The Circle Of Life which was the title cut from the Get Here album. I'm not certain if this is the same tune from The Lion King but it's very reminiscent of it with its AfroPop feel. And then her final tune was her biggest hit to date Get Here. All in all a very nice showing from Ms. Adams
Peabo Bryson
Unlike Ms Adams Peabo opened with a flourish, guiding the band into a groovy cover of Show And Tell. Mr. Bryson had no problem singing covers as a bit of tribute to his comrades in arms both deceased and still here. He seemed mildly pitchy if not stiff at the onset but after awhile he settled in nicely and the hits began to flow. In fact, they flowed so copiously at one point he actually said: "it's nice to have a catalogue" as if musing out loud the many tunes he can choose from for his set.
Mr. Bryson has 3 keyboard players, guitar, bass (musical director), drums and sax. All but the drummer and 2 of the keyboardists sing and they sing very well One of the 3 keyboardists is a female who handled the duet duties with Peabo for the night.
…and the hits kept comin.
If Ever You're In My Arms Again Crosswinds Reachin For The Sky Can You Stop The Rain King Of Sorrows (featuring Peabo on hollow body guitar accompanying himself on a solo Benson style) Somewhere in the middle of the above he kicked into a better gear vocally. He got stronger and stronger as the night wore on. He then took a pause from his stuff to tribute those Classic R&B and Soul Artists who've passed on. He did James Ingram's Baby Come To Me and Find 100 Ways He did Bill Withers' Lovely Day and Just The Two of Us And then – even though she hasn't transitioned – Mr. Bryson mentioned that Roberta Flack was having some medical challenges at this time and if we could keep her in our prayers. He then sang Where Is The Love. He closed this portion of his show with We're In This Love Forever for Al Jarreau. Then the Pop Classics came. Tonight I Celebrate My Love What You Wont Do For Love I'm So Into You – the smash which he appropriately KILLED as if the tune just came out yesterday. The band put a nice little syncopated intro on it to make it interesting. He Closed with Feel The Fire which even after I'm So Into You was even more of a showstopper. I was mildly surprised he didn't do Back Together Again which was his duet with Roberta Flack or Here We Go Again which he sang with Minnie Riperton. Nonetheless it was a great night of nice easy Classic Soul, Pop and R&B