RIP Donald Byrd (From a Black Hippie and a Black Catholic Perspective)
Analysis of Donald Byrd (From a Black Hippie and a Black Catholic Perspective)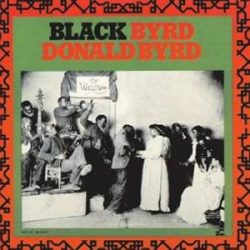 RIP Donald Byrd – The Black Hippie Perspective:
I'll just say a few things….
1. I am listening to a CD called "The Best of Donald Byrd." It's a decent compilation and it is somewhat comforting to me right now. It has to be, simply because it is the only Donald Byrd that I have at this time.
2. But what I would really be much rather doing at this moment is listening to Donald Byrd – "Black Byrd," and smokin a nice bowl of hash, in a dark room lit only by a black light bulb. Unfortunately I no longer own a copy of Donald Byrd – "Black Byrd," I gave up smokin pot/hash back in 1981 (but I do have a black light bulb around here somewhere.)
3. Donald Byrd – "Black Byrd," with it's "red, black & green" album cover is the album that truly served as my introduction to Jazz as a freshman at the University of Pittsburgh in 1973. I suspect that is a true statement for many others who were between the ages of 16 – 25 in 1973. It was one of the first "fusion" albums that successfully penetrated the minds of young Black people at that time and became a huge commercial success for a Jazz album. If someone were to put a gun to my head and demand that I give them a list of "the 10 most important albums of Bob Davis…" Donald Byrd – "Black Byrd," would be one of the albums on that list.
4. Of course Donald Byrd did a lotta great music both before and after "Black Byrd," including the stuff on this compilation that I am listening to right now (most of which sounds like it comes the albums "Street Lady" and "Places & Spaces.) I saw Donald Byrd perform live many times when I was a college student, with & without the "Blackbyrds." The shows were decent, but (much like the Ohio Players) they never reached the majesty of the recordings. The last time I saw Donald Byrd live, was in the early 90's in Newark, NJ. By that time he was teamed up with the rapper Guru. This was some very cool hip hop and a direction that I wished that hip hop could have sustained. Speaking of hip hop, I can remember hip hop DJ's spinning Donald Byrd records in the mid 1970's in the parks & projects of NYC (how cool is that?)
5. Anyhow, my hope is that someone at the Blue Note record company will send me a copy of Donald Byrd – "Black Byrd," I would gladly do a review. According to Amazon.com, Donald Byrd appears on 119 albums. I can't possibly do his career justice. But I could sure as hell tell ya about "Black Byrd." 🙂
Uh oh….. Flight Time just came on (and I'm having a flashback….)
–Bob Davis
RIP Donald Byrd – The Black Catholic Perspective: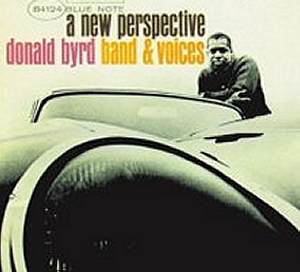 It was 1963. That was a helluva year in retrospect.
JFK was assassinated at exactly the same time we at Our Lady of The Rosary Catholic School @ 63rd n Callowhill in West Philly were rehearsing for receiving the sacrament of The Holy Eucharist. They called it our First Holy Communion. Upon learning of the president's death practice was aborted and we were sent home. To Catholics, JFK was like a saint.
In the midst of all of this solemnity the Gregorian Chant so associated with The Catholic Church played mournfully in the background of my life. Ironically it was also at this time that another music of equal solemnity joined what was already playing in my head. The tune was Cristo Redentor (Christ The Redeemer). The album was A New Perspective and the featured artist was a trumpet player named Donald Byrd.
Remember it was also at this time that the storied Civil Rights Movement began to reach its first peak. That album as well as the song became the soundtrack for the movement. Later Sam Cooke's A Change Is Gonna Come joined Cristo Redentor as the tunes most associated with this time period in the 60's. Byrd's album though was chock full of spiritual if not religious undertones. Titles including Elijah, Chant, Black Disciple and more galvanized many because they were not only uplifting but inspirational. What remained most interesting to me was that the musical vehicle was Jazz. An almost sacred gospel-tinged version but Jazz nonetheless. In fact as I grew up beginning to play music myself I noticed that the more serious music and musicians played this kind of Jazz.
Don't get me wrong. Rock n Roll/R&B; had its place but as all of the Black Arts Festivals and Black Power conferences convened the music being played was either this kind of thing or Miles or Horace Silver or John Coltrane. And of course large amounts of fiery poetry from the likes of Giovanni, Baracka, The Last Poets, Baldwin, Angelou and Grosvenor.
As I recall it behind the scenes and right AFTER one heard the fading strains of We Shall Overcome the next sound heard was Cristo Redentor.
So Donald Byrd makes my head swirl.
Each and every time I hear that tune I pause, if only for a second. It's as if I'm pouring musical libation for all of the martyred souls active in the various movements of change for black people. That album and particularly that tune was my real introduction to Jazz. Interestingly enough then this connotation is solemn, sacred and inspirational. By then I'd heard Jimmy Smith, Gloria Lynne, Ray Charles, Count Basie and Frank Sinatra. I'd even seen some of those artist when I attended my very first live show at The Uptown Theater.
None of em meant 1/2 as much to me as this New Perspective album. It wasn't like I was playing Donald Byrd w/my Temptations or Little Stevie Wonder. First of all it didn't belong to me and as such I was technically forbidden to even 'touch' it. Gladly it was on my parents and eldest brothers' playlist so I got to hear it often. Strangely as crazy as I am about the stuff to come some 10 yrs later INCLUDING Black Byrd it all pales in comparison. Interesting sidebar here is the fact that many of the musicians on these 70's Donald Byrd sessions (including the magnificent Mizell brothers) formed the famed Corporation. The Corporation was the crack group of musicians and producers that basically made you love The J5.
That's them on every one of those Motown albums by the Jacksons. Imagine what that sound would be free of the limitations of pop and the constraints of Berry Gordy. Combine them with this earth moving Jazz trumpeter and the likes of Merry Clayton on vocals. Now, you're Stepping Into Tomorrow or you're going to Think Twice. An already dark gloomy day has been made moreso.
Black hole? Sh*t this is beginning to be a gaping chasm of never ending darkness.
Think Twice. An already dark gloomy day has been made moreso.
–ELP