ROBERT CRAY BAND/ KESWICK THEATRE/ 9-9/ 8PM
Robert Cray Band/ Keswick Theatre/ 9-9/ 8pm
(Blues for People Who Say They Don't Like Blues)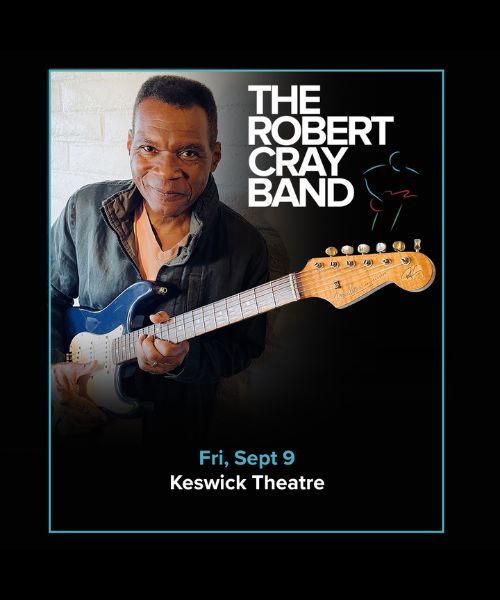 ROBERT CRAY BAND/ KESWICK THEATRE/ 9-9/ 8PM
(Blues for People Who Say They Don't Like Blues)
ROBERT CRAY (5 time Grammy Award Winning Artist)
– DATE: FRI, SEPTEMBER 9, 2022
– TIME: 8:00 PM
– DOORS:7:00 PM
– TICKET PRICES: $39.00 – $59.00
– DAY OF SHOW: $44.00-$64.00
– AGES: All Ages (under 16 with adult)
I know that there are some folks out there that as soon as I mention a certain "4 letter word" (BLUES,) that immediately construct a certain picture in their mind. Today I would like you to ignore that picture and give you a totally different perspective. I first saw Robert Cray live, back in the 1980's, in New Jersey of all places. Of course a few of you out there may also remember Robert Cray from the 1980's. At that time (believe it or not,) his music video's were all over the eMpTVy cable TV music channel. Both he and Stevie Ray Vaughn, were being promoted as the "future of the blues." Pretty cool thing at that time to have two such powerhouse young "blues' artists both crossing over into the mainstream media, via music television.
It was a fantastic time, and the "hype" wasn't far from the reality.
– Stevie Ray had a sound that was largely derived not just from "blues," but also from 1950's rock n' roll + Jimi Hendrix + George Benson/Wes Montgomery.
– Robert Cray on the other hand, had a sound that felt like it was derived from STAX + Al Green + Sam Cooke, yet with just enough "blues" that when I saw him in New Jersey, he opened for John Lee Hooker.
It also didn't hurt that Robert Cray had done some duets with Tina Turner and of course had appeared in every Saturday Night Live's favorite movie "Animal House."
It was a glorious time for Blues music, with one being Black (Cray) and one being White (Vaughn,) it was almost as if Blues music had its own version of the Magic Johnson/Larry Bird narrative, during the same timeframe. This all seemed to not only be a good thing for the music, but also a good thing for America.
Much like I was with Magic & Bird, I was a big fan of both Cray & Vaughn. I had all their albums and went to go see them perform live, whenever I could.
Unfortunately when Stevie Ray Vaughn passed away in a tragic helicopter crash, the narrative came to an end and Blues music has yet to recover from the loss.
However, Robert Cray is still here, cranking out his Southern Soul inspired take on America's most influential music. He's still releasing new music, still putting out DVD's and still winning Grammy Awards. Needless to say, I highly recommend that you go and see him. If you have never seen him perform live do yourself a favor and treat yourself. Better yet, take someone to this show who says "I don't like Blues." The expression on their face, after the show will be worth the cost of the ticket and I promise you that whoever that person is will become your best friend in life, for having turned them on to some damn good music and changed that picture of what they may have had in their mind about what a "Blues Artist" was supposed to nook & sound like. (Bob Davis)
ROBERT CRAY (5 time Grammy Award Winning Artist)
– DATE: FRI, SEPTEMBER 9, 2022
– TIME: 8:00 PM
– DOORS:7:00 PM
– TICKET PRICES: $39.00 – $59.00
– DAY OF SHOW: $44.00-$64.00
– AGES: All Ages (under 16 with adult)
Let me know what cha think?
Thanks, and be safe
Bob Davis
earthjuice@prodigy.net
609-351-0154