Remembering Rolling Stones/Charlie Watts
"Every time we perform, be it in the studio or onstage, we are trying to sound like the Temptations. It may not come out that way, but that is what we are trying to do…."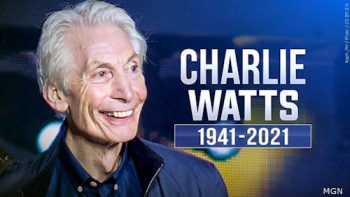 A few years ago a Soul-Patrol Newsletter reader sent in the following question: Bob you have made it clear that you are a fan of the Rolling Stones, how would you classify them.
I would classify them as "Classic Soul and so would Mick Jagger
Jagger once said….
"Every time we perform, be it in the studio or onstage, we are trying to sound like the Temptations. It may not come out that way, but that is what we are trying to do…."
Charlie Watts passed away today at the age of 80. I immediately thought about this piece that I wrote a while back on the Rolling Stones and their lifelong commitment to Black Music.
Quick story; I have been fortunate enough to have been at in the presence of Jagger & Richards twice. Both times were at the RRHOF Inductions.
The first time was when the Flamingos were inducted. I was sitting at their table, and all of the sudden out of the blue, Jagger & Richards simply walked over and introduced themselves. Nice guys, regular guys….(I didn't say anything to them)
Fast forward a few years when the Mighty Dells were inducted. I was sitting at their table, looked up and there were Jagger & Richards laughing it up with everyone at the table. This time I spoke up. I introduced myself to Jagger & Richards. Of course you could have knocked me over with a feather when they told me that they had read Soul-Patrol. Then I said; "Im kinda surprised to see you over here hanging out with the Dells…" Jagger then says; "I love the Dells, and when I found out they were being inducted this year, I wanted to make it my business to make sure that I met them and told them face to face that I have been a big fan of their music since the 1950's. After all the Temptations come from the Dells and that's what we are trying to be…."
Always remember, although the Rolling Stones are called "The Worlds Greatest Rock n Roll Band, never forget that it is Charlie Watts, with his tremendous "back beat" which is the foundation for everything that they do
–Bob Davis
RIP Charlie Watts
Somehow, we're all expected to muddle through and figure it out and keep it moving…
Whether death comes suddenly and unexpectedly or is long, tortuous and drawn out, either way, all we're left with is the loss and the void…
And we have to deal with it…
And what makes it so hard are all the selfish reasons. What so and so meant to ME and how MY life is impacted and how will I carry on… We insert ourselves into the narrative of death partly because of its impact on the way each of us live and our fear of how we're each going to die…
And in the end, life goes on heedlessly—mercilessly—and, out of necessity, we're all expected to muddle through and figure it out and keep it moving…
And all we have to work with is what we know…
Here's what I know: Charles Robert Watts is the drummer for one of the longest running (and one of the most influential) rock bands from rock music's third (or fourth) wave–the days of the British Invasion and the beginnings of rock music's racial paradigm shift. His band damn near killed themselves trying to get Americans (White mostly, but Black as well, where possible) hip to the Black roots of rock and roll music–to little or no avail. He was the heart and soul of a band which, at turns, gave us elevated moments of both the sublime and the repulsive, but were always in the forefront of the conversation about rock music. And he commanded the ultimate respect of his peers inside and outside of the band…
His passing signals the end of many things, most of which are either too big or too trivial to dwell on so soon after his departure. Egos will rush to the front to sloppily read nonexistent tea leaves and make declarations as to "what this all means"…
Most of these declarations will be loud and wrong, and, out of respect, we should only consider what we know to be true…
Charlie is yet another hero gone, another seismic influence gone, another champion gone, another connection to the roots gone…
That is what I know to be true…
I have no time for declarations. I'm still muddling through and figuring it out…
I won't be moving for a while, though…
R.I.P., Mr. Watts… And thank you…(Darrell McNeil)
More on Mick Jagger @ the Grammy's
My point is that…He accomplished two things:
He paid a great tribute to an artist (Solomon Burke) who had significant influence on his music.
He used his own fame/power to introduce the world to an artist (Raphael Saadiq,) who has probably been the very best American Soul artist of the past 5-10 years, and has been ignored by the mainstream press
What Jagger did @ the Grammy's was nothing new. He's been doing it his whole career. And he deserves props for remaining true to his own roots as an artist and NOT being a sellout…
However, not unexpectedly, I got a ton of email from people today who disagreed with my opinion about Mick Jagger's performance at the Grammy's. So of course that just caused me to go deeper. Naturally I have spent the day listening to all of the Rolling Stones music that I have today. Including their real early singles (especially all of their Chuck Berry, Willie Dixon, Irma Thomas & Temptations covers)
And it's been a pleasure 🙂 Cuz I haven't really checked out the Stones in a while.
And all of the listening I did today merely reinforced my feelings about Mick's performance at the Grammy's. He is one of the best "cover" artists of all time. And he proved it again at the 2011 Grammy's.
Perhaps more importantly, Mick Jagger has been and continues to be perhaps the very best "ambassador" that Black music has. Remember the Stones "inclusion" of Duke Ellington's "Take The A Train" at the very beginning of the "Still Life" album?
One of the things that he did at the Grammy's that I forgot to mention is that he continued the Rolling Stones tradition of introducing the best current artist from the world of Black music to the "mainstream music world."
–He did it with Tina Turner
-He did it with Stevie Wonder
-He did it with Prince
-He did it with Living Colour
And on Sunday nite @ the Grammy's he did it with Raphael Saadiq.
Mick could have had any band he wanted to behind him. But he chose to have Raphael Saadiq & his band. To me that says a whole lot. And it perhaps says even more about the future of the music, then it says about the past!!!
Anyhow…
Going To A Go Go – Rolling Stones One of the songs I listened to today continuously was the Rolling Stones version of "Going To A Go Go." There are about 20 different live versions of the Rolling Stones version of "Going To A Go Go" on YouTube From cities like Paris, Rotterdam, Kansas City, Hampton Va, etc. and they are all KILLER. So of course that means that I had to pull out my review of their version of the song…
–Bob Davis
——–
Quickie Review – "Going To A Go Go" – Rolling Stones, From the live album "Still Life" (1981)

Now first of all I need to mention that Smokey Robinson & the Miracles original version of "Going To a Go Go" doesn't get it's props either.
But in my humble opinion the Stones version absolutely kills the Miracles version.
The song kicks off with Mick Jagger announcing the song, followed by Charlie Watts monster backbeat, which remains steady as she goes and anchors the entire song, you can't help but start tapping your toes, clicking your heels and snapping your fingers and then suddenly like a sonic blast…
….Keith Richards rips a series of distorted, stank nasty, heavy metal/funk guitar chords and you realize it's no longer Motown/1965 (just to let you know that this whole thing was probably his idea?).
Then Jagger shouts…"GOING TO A GO GO…..EVERYBODY…"
And the rest of the Stones join in, stank nasty/sloppy lead, rhythm and bass guitars, following Charlie Watts drumming to a tee. The groove is wicked and sloppy at the same time, kinda ultra phunky & cool as Jagger rolls along with the familiar lyrics…
"THERES A BRAND NEW PLACE I FOUND, WHERE PEOPLE ARE COMMIN FROM MILES AROUND, THEY COME FROM EVERYWHERE AND IF YOU DROP IN THERE YOU SEE EVERYONE IN TOWN…."
But then he sings…
"IT DOESN'T MATTER IF YOU'RE BLACK, IT DOESN'T MATTER IF YOUR WHITE, YOU TAKE A DOLLAR FIFTY, A SIX PACK OF BEER AND PICK UP DAMES ALL NIGHT…"
You say to yourself: "hey those words are different from the original…."
And suddenly you realize that the "Go Go" that Smokey Robinson was hanging out at was probably an all black joint. You never thought about that before, but Jagger's new lyrics, make you realize that the difference between 1965 and 1981 was huge.
Then out of no place an ultra phunky sax solo appears and now along with just the ferocious backbeat provided by Charlie Watts, now the song sounds like Africa-New-Orleans-Harlem combined.
The solo ends and Jagger sings more new lyrics:
"IT DOESN'T MATTER IF YOU COME IN DRAG, IT DOESN'T MATTER IF YOU COME IN STAG…"
And you begin to realize that he's not just talking about a club that's racially integrated, but also across "sexual preferences." He's probably talking about a disco era Studio 54 type club and your mind flashes back to all of those hundreds of times that you saw Mick Jagger both solo and with Bianca Jagger hanging tough at Studio 54. He's actually turned a smokin dance track into a song with a strong social message, cuz we are all "equal" on the dance floor?
All of this causes you to smile because now at this point this song has reached an animalistic level of phunkiness that you simply hope never ends. I mean the groove is so strong that it has completely made you forget that Jagger can't sing (to be fair he probably doesn't sing any worse than the overrated Hall & Oates) and you wish that they could just simply play that instrumental groove for another 20 minutes. But this isn't "funk" as in Ohio Players or P-Funk style "funk". This is like "Jr Walker & the All Stars type funk", and it's absolutely KILLER.
The song just ended (I've just hit replay at least six times……lol) and now I'm thinking about the first time I heard the Stones version of this song.
It was in 1981, on eMpTVy as a music video that I remember was shot at the now long gone JFK Stadium in Philadelphia. Mick Jagger was wearing a Philadelphia Eagles jersey and I remember thinking at the time how cool it was for the Stones to cover "Going To A Go Go." Now I know it was simply a GREAT LIVE PERFORMANCE and the Stones covered "Going To A Go Go" as only they could have.
(If I ever get a chance to talk with Smokey Robinson, one of the first questions I will ask him is what he thinks of the Stones version of "Going To A Go Go"???)
Got's ta give them their props!!!!
And with this accomplishment, I think that the Rolling Stones actually set the tone for pop music in the 1980's and opened the door for British artists to mount an assault on American Soul/Funk music that a number of artists picked up on during the 1980's. That led to the phenomena of us all being treated to the best American Soul/Funk music coming out of the UK for most of the 1980's and that combined with the emergence of rap music at the same time led to what Nelson George called "The Death of R&B".
(but that's another story for another day…)
–Bob Davis
609-351-0154