Soul-Patrol at the Philadelphia River Jam 2001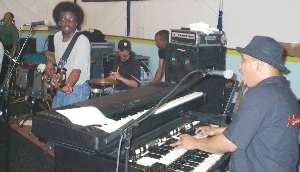 They normally draw about 10,000 people for each day of the event This had the potential to be a disaster and a promoters worst nightmare…
It didn't just rain, it RAINED in buckets so as a result neither one of the two large stages were used. Only the tent stage was used for performances. However most of the performers chose to play and thus the crowd that was there (bout 2,000) got treated to one of the best concerts that I have seen in Philadelphia in quite some time!
Once again an apology in advance to Rickey Vincent for the format of this review…
THE MUSIC:
Fathead – very entertaining combination of Jazz-Funk (Return to Forever, Weather Report, Mahavishnu Orchestra type stuff) and also (believe it or not) rap music. Spoke with them after their performance backstage and these guys have a great perspective on the history of the music and boundless enthusiasm
Ivan Neville – What can I say, a truly mind blowing exibition of NAWINS style FUNK. This guy has it all going on, including a bass player who looks, sounds and prances around onstage like Bootsy Collins!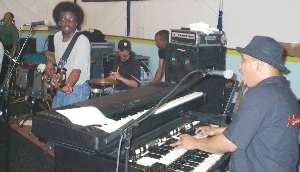 We have more on brotha Ivan (yup, we made a new friend yesterday), including an interview done by the "Funkoverlord" right after Ivan's performance which appears on Soul-Patrol.Net Radio
Maceo Parker – Pass the Peas 🙂 Maceo put on his typical JB's inspired Jazz-Funk type of show. He had the crowd jumping up and down as expected
Marva Wright – Great band with a strong horn section also featuring a guitar player with "Hendrix type moves". She opened up her set with a cover of "Wang Dang Doodle". Now I have seen Koko Taylor many times in concert and of course "Wang Dang Doodle" is her signature song. For my money, Marva Wright now owns that song….:)
We have more on Marva Wright, including an interview done by the "AAdamsRib" just prior to Marva's performance which appears on Soul-Patrol.Net Radio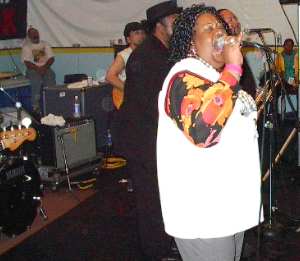 Philadelphia Mummers – were also on hand and performed in between acts. Thier version of "Tequila" ROCKED the house and had me dancing 🙂
Dave Mason & Cheap Trick chose not to perform due to the weather (more on them later…)
THE PEOPLE:
The crowd was a mixture of hard core soul/blues/rock fans.
Many people were disappointed by the fact that Cheap Trick and Dave Mason chose not to perform.
As I have stated before, I have been attending this event for the past 15 years.
It is EASILY the BEST Soul music festival on the east coast.
The best way that I can describe the "River Jam" is that it's a combination of the New Orleans Jazz and Heritage Festival and Woodstock. Except that there are no drugs, no naked people, no mud (although there was plenty of rain yesterday) and it's pretty much a "family affair" with GREAT African American oriented music, African American oriented food and comrade are shared by all who attend.
This year it was no different. In fact the camaraderie was even more evident because of the adversity of the weather
THE "ONE":
Big props go out to the staff at Penn's Landing.
Because of the weather, I'm sure that they had their hands full dealing with various problems.
Soul Patrol was treated with respect & courtesy. That doesn't always happen 🙂
Bronx cheers go out to Dave Mason & Cheap Trick who didn't perform.
I think they made a huge mistake in not performing (Cheap Trick already had their trucks unloaded) because I have always believed that when artists seem more concerned with petty stuff as opposed to providing a good time for their "hard core fans", that's when their reputations suffer and they begin to lose their core audience.
Last night, Marva Wright, Ivan Neville and Maceo Parker made some friends among 2,000 or so hard core Philadelphia music fans who were there and Dave Mason & Cheap Trick lost about 2,000 fans…
In fact, Ivan Neville's performance is was the kind that becomes legendary over time as more and more people (than the 2,000) who were there talk about him saying things like "I don't give a damn about the set list or the rain, why don't we just play till we can't play no more", after he had already been on stage for 45 min!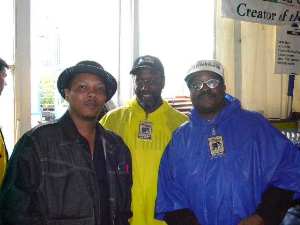 I don't think that was a smart move on the part of Dave Mason & Cheap Trick.
The crowd which, was about 90% white and a small smattering of Blacks and Hispanics, were very much in tune with each other and people were very much in tune with the groove of the music!
Hopefully there will be a higher percentage of Blacks at the show.
Yesterday's weather obviously prevented people from showing up. It was the kind of event that ONLY "hard core music fans" would have come out for due to the weather.
Incidentally, the show was HEAVILY promoted this year in the local "negro media" (so DON'T be blaming white folks this year if you didn't go to the show), and today's lineup features JAMES BROWN…
So BLACK FOLKS, YOU DON'T HAVE ANY EXCUSE.
Cuz if the GODFATHA is willing to come out and potentially expose his hair to the rain, so should YOU 🙂
Come out and support some LIVE MUSIC & bring your kids with you!
Anyhow, the weather is clear for the moment, and I am headed back down today.
Philly River Jam – Day #2
(AFRICAN SPIRITS SMILE UPON US)
After Saturday's "washout", I went home and watched the weather format with great anticipation and anxiety. It would truly be a shame if we had more bad weather, especially on the day when James Brown was to appear. Black folks don't need anymore excuses as to why they can't be bothered to support LIVE Soul Music at a bargain price
Once again an apology in advance to Rickey Vincent for the format of this review…
THE MUSIC:
Zachary S. Williams & Hype Prayze– Traditionally the second day of the River Jam Festival, on Sunday the festivities starts out with a Gospel show. This year was no different, as we walked into the Festival Pier and heard the SLAMMIN sounds of what at first appeared to be some STONE COLD "DC GOGO" (which it was), accompanied by the inspirational words of the Philadelphia based Zachary S. Williams & Hype Prayze. The words and music were truly uplifting, something that that found to comforting as I was still concerned about the weather. You can check out some of the sounds of Zachary S. Williams & Hype Prayze for your self at their website
We will have more on this amazing group, led by a dynamic young man out of Philadelphia named Zachary S. Williams on Soul-Patrol.Net Radio where he is interviewed by the "Funkoverlord"
K-Floor – this band is obviously modeled after Jimi Hendrix Band of Gypsy's and Stevie Ray Vaughn's "Double Trouble". Although the keyboard player and the lead guitarist had some nice moments, overall the performance was lackluster and failed to move the packed crowd. At the beginning of their set, the emcee stated that "K-Floor was voted the best blues band in Philadelphia". I wondered who did the voting?
Buckwheat Zydeco – I was primed and prepped for the performance of Buckwheat Zydeco. I have written on the Internet for many years about my experiences with Zydeco music/culture during my days of hanging out in Houston, and the Texas "Golden Triangle" (Beaumont, Port Arthur and Lafayette La). As it happened there was a couple from Philadelphia, sitting behind me who were unfamiliar with the music of Buckwheat Zydeco. I explained to them that Zydeco music and culture is something from Texas/Louisiana that folks up north need to become more familiar with.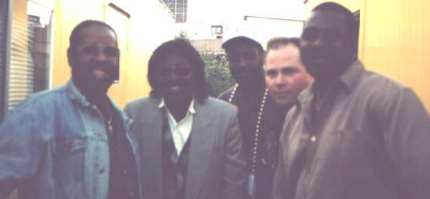 It's a form of Soul Music that's difficult to explain, but that when you hear it, it's will have you JUMPING out of your seats. That is EXACTLY what happened during the performance! Everyone there was up jumping and dancing. However at one point during the performance it started raining. In fact it started raining so hard, that I was forced to put my poncho on. The rain didn't stop people from dancing and the band seemed to get even more intense. The rain suddenly stoped after about 15 min, just as quickly as it had started. It was as if the power of Buckwheat's music had called upon the African spirits to prevail upon the weather 🙂 Near the end of his 1 hour set, Buckwheat Zydeco announced, "I hope everyone here enjoyed today's show, but we are just the warm up act for the MASTER" I turned around to look out on the crowd and there were a sea of people there. Blacks and whites. The crowd now appeared to be about a 50/50 mix. I smiled and thought silently to myself, that not only have the African spirits stopped the rain, but they also prevailed upon the Black people of Philadelphia co come out and witness the magical artistry of THE GODFATHA in person. Check out Buckwheat Zydeco's official website at the following url:
We will have more on Buckwheat Zydeco, including an interview done by the "Funkoverlord" right after "Buck's" performance which appears on Soul-Patrol.Net Radio
– James Brown The GODFATHA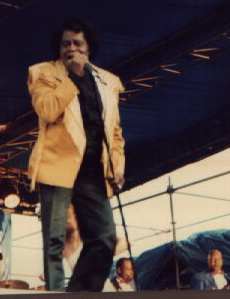 Here is the set list, you already know most of these songs.
* Make It Funky
* Get Up Offa That Thang
* Cold Sweat
* I Can't Stand Myself (when You Touch Me)
* Good Foot
* Prisoner of Love
* I'll Go Crazy
* Candy
* (some kinds weird Spanish rap song)
* It's a Man's World
* Killing Is Out, School Is In
which you can listen to by clicking here
* Wind Beneth My Wings
* Pappa Don't Take No Mess
* Please, Please, Please (Including Mr Ray's famous cape routine)
* Sex Machine
His band (the SOUL GENERALS) were as TIGHT as ANY funk band that I have ever seen…
Let me just say this, I have seen James Brown perform many times. Sure he's a little older, has a gut around the middle, but he hasn't lost a thing. He is STILL the HARDEST WORKING MAN IN SHOW BUSINESS, works the crowd like a true master and STILL sings and dances up a storm. DO NOT MISS A CHANCE TO SEE HIM.
Click here for more info about the GODFATHA
THE PEOPLE:
The crowd was a truly a cross section of the city of Philadelphia. There was about a 50/50 mix of Blacks/Whites. This was truly a wonderful thing to see for the first time in the 15 years that I have been attending the "River Jam".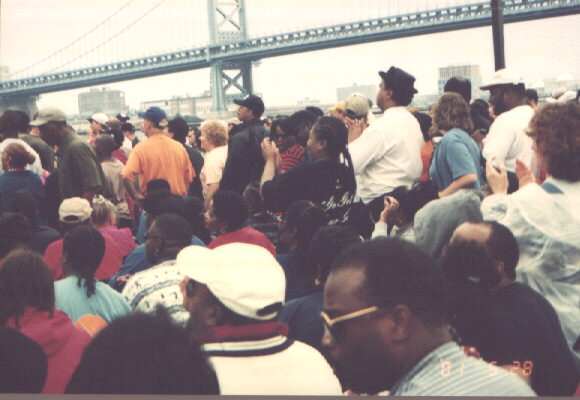 – Maybe it was because of James Brown's presence?
– Maybe it was because of the heavy advertising that the festival promoters had done in the local negro media in the weeks leading up to the show?
– Maybe it was the work of spirits from the motherland?
(maybe it was a combination of all of the above?)
I don't know, but I was sure glad to see my people come out and FOR ONCE support a live music event. Many people brought their children and of course they were also dancing at the feet of the GODFATHA (so there was also an educational process involved). Everyone who was there was not only grooving to the music and to the vibe of each other!
Please, whatever you do.
– PLEASE DON'T tell the Blues Music Association that, despite their "demographic studies" conducted along with their "co conspirator" (the RIAA) that it's quite possible to have INTEGRATED MUSIC FESTIVALS and CONCERTS, that are located in places that are NOT wealthy resort areas, far away from the inner city.
– PLEASE DON'T TELL THE BLUES MUSIC ASSOCIATION (BMA) that it's possible to have INTEGRATED MUSIC FESTIVALS and CONCERTS.
– PLEASE DON'T TELL the BMA that if you actually spend money and ADVERTISE in "negro media outlets", that you will reach Black folks and they will attend your shows
– AND, PLEASE certainly DON'T TELL the BMA that if you have a mixed crowd, that white women won't get raped, that purses and wallets won't get stolen and that "it" won't "RUB OFF"
Please DO NOT COMMUNICATE ANY OF THIS INFORMATION to the BMA. Those of us who were in Philadelphia yesterday wouldn't want either them or the RIAA to become CONFUSED WITH THE FACTS!!!
(maybe we should keep it a secret that the "City of Brotherly Love", goes out of it's way to make certain that the music scene is an integrated one?)
THE "ONE":
Big props go out to the staff at Penn's Landing once again for providing us with what we needed in terms of access and more during the show. The staff there was once again very courteous to us in general. We got some good shots of the action and some great interviews
I will mention before I leave that two Soul Patrol members were also on stage during the show, Billy Paul and Robert "Mousey" Thompson the lead drummer from the Soul Generals
Listen To Soul-Patrol's Exclusive Interviews
From The Philly "River Jam" Festival
Click Here To Listen To Soul-Patrol's Exclusive Interviews From The "River Jam" Festival
On this program you are going to hear exclusive interviews with New Orleans Soul/Funk Star Ivan Neville of the world famous Neville Family, Soul Music Diva Marva Wright, the legendary Buckwheat Zydeco, Zachary S. Williams (leader of the Philadelphia based Funk/Gospel Group Hype Prayze) and Texas Blues legend Marcia Ball.
These interviews were all conducted live from the scene in Philadelphia at the River Jam" Festival that I have been reporting on this past weekend, by Soul-Patrol.Net's very own "AAdamsRib" and "Funkoverlord".
I think they both did a wonderful job.
Take a listen and see for yourself in beautiful (mono) RealAudio…:-)
Click Here To Listen To Soul-Patrol's Exclusive Interviews From The "River Jam" Festival
–Bob Davis