Soul-Patrol Newsletter – Reviews: Sam Cooke, Stax Museum, Spinners, Vernon Reid, Janis Siegel, Gwen McCrae, Jazz Vocalists, Frank McComb, SounDoctrine, Wendell B, Chip Shelton, Shanachie Records, Arthur Lee, Acappella Street Corner Vocal Groups, Your Last 5 Albums , Rob/Soul Brother, Christian Scott, Eugene IV, , Eric Person, Lenny Welch, Gary Davis Band, Billy Jones, grosskopf
BLACK ROCK COALITION RADIO @ SOUL-PATROL.NET #17 (HOSTED BY EARL DOUGLAS) Grace Jones, Mothers Finest, Tina Turner, Aretha Franklin, Ben Harper, Mandrill, Santana, Jimmy Castor Bunch, Wilson Pickett
Soul-Patrol Newsletter Headlines

* TIDBITS: Welcome Aboard To The Following Soul-Patrol Newsletter Sponsors: SounDoctrine, Wendell B, Chip Shelton, Shanachie Records Stax Museum of American Soul. Win FREE Tickets To See The Spinners. Arthur Lee. Question: What Were the Last 5 Albums That You Purchased?
* CD Reviews: Rob and the Soul Brother, Christian Scott, Eugene IV, Janis Siegel, Gwen McCrae, Jazz Vocalists, Eric Person, Lenny Welch, Gary Davis Band, Vernon Reid and Masque, Frank McComb, Billy Jones, grosskopf
* Book Review: Acappella Street Corner Vocal Groups
* Book Review: Our Uncle Sam
Welcome To The Soul-Patrol Newsletter

Just a few tidbits before we get rolling…
Welcome Aboard To The Following Soul-Patrol Newsletter Sponsors
My apologies for not formally introducing our newest sponsors, but things have been happening so fast and furious for us in the past few months that I haven't been able to officially welcome these folks aboard. It's vital that you support the Sponsors of the Soul-Patrol Newsletter by clicking on their links, wherever you see them. Without their support, we would have to cease publication. What's even more important is that you support these folks, because they are all about extending "Great Black Music" into the future. You can bet your bottom dollar that I wouldn't allow them here, if they weren't…
SounDoctrine – The badd azz Jazz-Funk group out of Youngstown, Ohio. A few of yall may remember that SounDoctrine was named as one of Soul-Patrol's Best New Artists of 2003. Well they are back and badd as they wanna be with a new CD called "ENDURANCE" Look for more here in the SP Newsletter on SounDoctrine and if you are going to the 2006 Capital Jazz Festival in Washington DC next month, look for them there and around the country as they tour in support of their new CD!!
Wendell B. – Do you like "smooth R&B"? Well here is what Wendell B. says on his website: "Comparisons to his idols, Freddie Jackson, Luther Vandross, Berry White, and Will Downing don't bother this laid-back entertainer". That's a tall order, go over to his site and see for yourself if Wendell B. can fill that order.
Chip Shelton – Jazz flute/sax player Chip Shelton has been a member of Soul-Patrol for a long time. And now with the release of his brand New CD called PEACETIME we are now able to feature Chip and his music here in the SP Newsletter. A few weeks ago I had the privilege of hosting the CD release party at Trumpet's Jazz Club in Northern NJ and our plan is to follow Chip around the country as he tours in support of the new album.
Shanachie Records – Remember the days when "indy labels" like Motown, Stax, Philly International, TK Records and others were producing great Soul Music in what seemed like a "David and Goliath" inspired battle against the "majors"? Well fast forward to 2006 and you will observe that Shanachie is doing the same thing. We are currently featuring 3 Shanachie albums (Hil St. Soul, Maysa and Phil Perry) of BRAND NEW SOUL MUSIC here on the Soul-Patrol Newsletter. We like all three of them and se strongly encourage you to check them out.
Stax Museum of American Soul – Speaking of the legendary Stax Record Company, The Stax Museum of American Soul Music is a 17,000-square-foot museum with more than 2,000 exhibits, artifacts and memorabilia celebrating the legacy of American soul music. And because it is the only soul music museum in the world, you'll also find programs, special events, concerts, exhibits and memorabilia dedicated to other soul music artists and labels, including that of Muscle Shoals, Motown, Atlantic, and Hi Records. Go to their site, sign up for their free mailing list and become a supporter of the museum.
Win FREE Tickets To See The Spinners @ the Bergen Performing Arts Center (bergenPAC) on Sun., May. 14
We have 4 tickets to the The Spinners @ the Bergen Performing ArtsCenter (bergenPAC) on Sun., May. 14 (MOTHERS DAY)- 7:00 PM concert. The first 2 people to answer these two trivia questions correctly (and can attend the show) will get 2 tickets each. Email crussell@hlhz.com with your answer.
The questions are:
1) What Sam Cooke song did the Spinners remake?
2) Name one producer The Spinners used after Thom Bell?
Arthur Lee in fight against leukemia
Arthur Lee is apparently suffering from acute lymphoblastic leukemia. A post to said effect appeared on Love and Lee fan site LoveWithArthurLee.com .
According to reports elsewhere, Lee has already undergone three weeks of treatment, and it's looking likely that he'll face a bone marrow transplant operation in the coming weeks. Friends of the singer are arranging a benefit concert, to be held in Los Angeles, as Lee is uninsured. His medical bills are said to run to over $100,000. Venues including the Avalon and El Rey Theatre are under consideration, with Calexico among the acts approached to appear. "We are looking for artists to perform a few of Arthur's songs that capture the spirit and magic of Arthur Lee and Love," said organiser Liz Garo.
Question: What Were the Last 5 Albums That You Purchased?
Just for fun….We would like to know what the last 5 albums that you purchased. It doesn't matter if you brought them online or not, it doesn't matter what "genre" just tell us the last 5 artist/albums that you brought.
Click here and tell us what were the last 5 artist/albums you purchased were
–Bob Davis
earthjuice@prodigy.net
CD Reviews: Rob and the Soul Brother, Christian Scott, Eugene IV, Janis Siegel, Gwen McCrae, Jazz Vocalists, Eric Person, Lenny Welch, Gary Davis Band, Vernon Reid and Masque, Frank McComb, Billy Jones, grosskopf

I realize that I have fallen behind in posting reviews of new music. So here are a few CD reviews for ya. I've got some more coming, but in the meantime here are a few new albums that I think that you would enjoy checking out….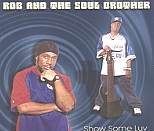 Rob and the Soul Brother – "Show Some Luv"
(Jazz-Funk-Slow Jams)
This two CD set contains what is probably the best Jazz CD I have heard so far this year. The only problem is that it's hidden away and you have to dig it out. On their website it says "Rob & Tha Soul Brother is ON A MISSION. That mission is to bring back REAL MUSIC, in a modern form for people to enjoy and to bring back the fun that goes along with it-the party sounding music, the slow-jams-in-the-basement vibe, the block party sound, concerts!" And they aren't kidding either. Disc 1 of the two CD set sounds like an "old school house party in a box". Complete with foundation shaking funk jams in the mode of Slave/P-Funk/Brick/Graham Central Station, etc. and basement sweatbox style slow jams in the mode of the Miracles, just roll out Disc #1 and you have an instant party. Disc #2 is an exercise in the construction and deconstruction of jazz designed for the people (not critics). For example Disc #2 contains tributes to BOTH Victor Wooten "Loose Strings" and Jaco Pastorius "JP". And dammit if Sandy Anderson (The Soul Brother") doesn't sound EXACTLY LIKE VICTOR WOOTEN AND JACO PASTORIUS!!!!! It's also got a few mellow cuts a' la George Benson. Disc 2 also includes some stank funky cuts worthy of a "CTI fast song collection" (if such a thing ever were to exist). Take the song "Cosmic Soul" for example, it sounds like a SUPER HOTT JAZZ BAND playing FUNK at a house party in Harlem at midnight with the windows open and the cops kept at bay? In effect Disc #1 of "Show Some Luv" is "WWRL" and Disc #2 is "WRVR" (sorry for the NYC references….lol). So what's the problem with this album? You can't tell what it is when you look at it. When you look at the title and the album cover the first thing that comes to mind is hip hop. But perhaps in the end that will be more of an opportunity than a problem? Because maybe the way to get younger people to check out music that is this good is to put it into a package that they will be attracted to? I dunno, but if there is only one album that you are gonna buy in 2006, MAKE THIS THE ONE YOU BUY (nuff said). Order it online at the following website:
http://www.cdbaby.com/cd/ratsb
and if you don't like the CD, I'll buy it back from you…(sike)
Christian Scott – "Rewind That"
(Jazz-Fusion)
This is an outstanding album. It's a near perfect mixture of straight ahead and fusion. I've been listening to and reviewing a whole bunch of Jazz over the course of the last two months. This album is almost the best jazz album I've heard in 2006. Christian Scott is a great trumpet player who sounds like what Wynton Marsailis might have sounded like, had he not hated Miles Davis so much. You wanna know how badd Christian Scott is? After you get the CD in your hands, go immediately to track #4 and listen to his Funked up version of "So What" and you will hear what I'm talking about. No he's not trying to cover Miles Davis, instead he takes "So What" into a slightly different direction. So in effect he's giving props to the master not by challenging him, but instead trying to build on the foundation that the master gave to him (there is a difference Mr. Marsallis!!). Now that you have that little piece of work out of the way, put the CD player back to the first track and listen all the way through. Listening from the beginning it he reminds one of Weather Report with the title track, a monster jam appropriately called "Rewind That", a groove which continues on the second song called "Say It". Next up is a ballad called "Like This", which segues nicely into "So What". So now you have heard "So What" twice and it's time to open up the liner notes where it says: "he is an innovator of the highest order, one whose innovation comes as a result of understanding the music's past, present and future"." (Does this music sound like it belongs on Soul-Patol or what???). I won't go on to describe each track but fundamentally what Christian Scott does is take us back and forth between the mad science of trumpet ballads and excursions to the ninth period of FunkSchool. And yes, I do believe that "Miles is Smiling".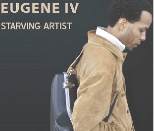 Eugene IV – "Starving Artist"
(Conscious Hip-Hop-Soul)
I wish that the media moguls who control the modern day rap music industry would stop and take a few moments out of their busy day of de-constructing the minds of our children and take a listen to the album "Starving Artist" by Eugene IV. Maybe, just maybe if they would do that they would see the error of their ways and start taking corrective action to make Amerikkka a better place? As unlikely as that scenario is that is the world that you should be prepared to enter when listening to this album. "Starving Artist" is an album that belongs in another time and place. As you can tell from song titles such as: "Declaration", "Bloodshed", "Changes", "Voices", "Mama was a Freedom Rider", "Write On" this album is on a serious tip, far removed from the world of bling, drive by shootings, drug dealing, etc. Eugene doesn't avoid these issues, instead he discusses the need to move beyond them and he does so in an articulate fashion. And unlike many other so called "conscious rappers" manages to not utter a single profanity during the entire 45 min of this album. Should you buy this album? Of course you should. In fact buy two copies and give the second copy to a younger person whose future you care about!
Janis Siegel – "A Thousand Beautiful Things"
(Jazz-Pop-Latin)
This is a very good album from 1/4 of the enormously popular vocal group formerly known as Manhattan Transfer. However I do think that someone was looking closely at Bettye LaVette's CD when selecting the songs. The songs on this album are written by folks like Suzanne Vega, Nellie McKay, Stevie Wonder, Annie Lennox, Paul Simon, Bjork, Lizz Wright/Danilo Perez and Fred Hersch/Norma Winstone. How about that for a "crack songwriting team"? Heck, our good friend Marlon Saunders even shows up on background vocals. This proves to be a winning strategy and it's all good for Janis Siegel, it's good for Jazz and it's certainly good for Telarc Records. In that respect it's kinda like Herbie Hancock's "Possibilities" as well. Yet with all of that being said…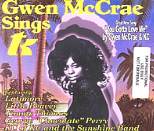 Gwen McCrae – "Gwen McCrae Sings TK"
(Southern Soul-Funk-Disco-Jazz-Slow Jams-Kitchen Sink)
How many of yall out there remember TK Records? That great indy label out of Miami that was a Black music hit making machine during the 1970's and 1980's. If you have fond memories of TK Records or if you were too young and have only heard of the great music from this legendary "indy" label, then I have got something truly special for you.
First things first, let me give you the track listing on this one…
Rockin Chair (w/Latimore)
Rock Your Baby
What You Won't Do For Love
Jazz Freak
Please Don't Go
Let's Straighten It Out
Keep It Comin Love (w/ KC)
Why Can't We Live Together (w/Timmy Thomas)
90% Of Me Is You
Clean Up Woman
Party Down
Misty Blue
Honey Honey (w/David Houston)
You Gotta Love Me, Like I Love Me (w/KC)
Rockin Chair
Now let me tell you what you are getting:
You are getting essentially the greatest hits of the legendary Southern Soul-Funk-Disco-Jazz-Kitchen Sink label called "TK RECORDS" as interpreted by the GREAT vocal stylings of the legendary Gwen McCrae, with equally legendary former TK artists as "special guests" like KC, Timmy Thomas, Latimore, Little Beaver and more. All under the direction of the legendary former owner of the TK label, Mr. Henry Stone. I actually shouldn't have to write anymore about this CD (however you know that I am going to….lol). This CD is a must have for lovers of Classic Soul!! In some ways it's kinda like a "manual version of the Motown Remixed CD" from last year. It's always a risk when you mess around with classic songs, but this is a case where it all works. These remakes by Gwen McCrae are especially tasty, because she is accompanied by the original artists. For example take a listen to "Straighten it Out", Gwen is singing her be-hind off and then suddenly out of nowhere about midway thru the song, LATIMORE'S booming voice joins her and it turns into a duet of cosmic proportions that almost makes you forget about the original. Even you disco haters out there will dig Gwen's remake of KC & the Sunshine Band's "Keep It Comin Love". The song is slowed down just a tad, but with the same basic beat and horns, throw KC's voice in there to lend some respect to the original and you end up with a smoking funk jam. And then the song ends and you hear that super stank nasty haunting organ that instantly signals the beginning of "Why Cant We Live Together", realize that it's actually Timmy Thomas playing and singing along with Gwen. I know everyone remembers and loves Sade's remake of "Why Can't We Live Together", right? Well Gwen McCrae's version makes Sade's version sound like it was sung by a little girl. "Party Down" (which is one of my all time favorite songs) starts off with a spoken word intro by Gwen McCrae and then she gets into it (I'm assuming with Little Beaver himself on Guitar coming in with that fantastic riff that George Benson uses all of the time…..lol). You Gotta Love Me, Like I Love Me is a MONSTER slow jam w/ KC and so on and so forth. So what more can I say, but "TAKE A TRIP, YA BETTA GET HIP…" (and buy this album!!!)
Jazz Vocalists: Hear and Now
(Vocal Jazz)
From a musical perspective, this compilation CD is quite simply a "no brainier" if you like jazz vocals because it features some of the greatest jazz vocalists from the past 50 years. Here is a list of the artists appearing on this CD: Poncho Sanchez, Ray Charles, Shirley Horn, Michael Bublé, Freddy Cole, Diana Krall, Luciana Souza, Cassandra Wilson, Lizz Wright, Cry Me A River, In The Winelight, Jackie Allen, Jamie Cullum, Kitty Margollis, Mary Stallings, Al Jarreau, Karrin Allyson, Joni Mitchell, Madeleine Peyroux, Norah Jones, Dianne Reeves, Jane Monheit, Nnenna Freelon, Vanessa Rubin / Etta James, Dee Dee Bridgewater, Ernie Andrews, Abbey Lincoln, Patricia Barber, Peter Cincotti, Tierney Sutton, Kevin Mahogany Big Band, Carmen Lundy, Carla Cook, Andy Bey, René Marie, Nancy Wilson, Jimmy Scott. Culturally it reaches even higher ground, with the profits from CD sales going to the Jazz Alliance International's education and advocacy programs. So you don't even have to think twice about buying, just feel safe in going ahead and doing so. Take it home and wait till you have some chores to do around the house before playing it for the first time, so that you can sing along with the music and make your work go that much smoother.
Eric Person – "Reflections"
(Jazz)
This album is a collection (which includes 3 previously un-released live tracks) of Eric Person material from 1993 – 200. One of Downbeat Magazine's choices for top ten on Soprano Sax, Eric Person has had over 20 years of international jazz experience playing with entities such as World Saxophone Quartet, John Hicks Big Band, Chico Hamilton, Ronald Shannon Jackson's Decoding Society, Kelvynator, Sources, Dave Holland, Vernon Reid and others. This CD is no joke as Eric Person demonstrates why he is regarded as one of the best in the world. I found this CD to be very relaxing and thought provoking and a perfect "drive time" album!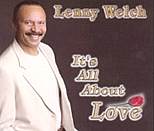 Lenny Welch – It's All About Love
(Romantic Pop)
This is a great CD. You should simply buy it on my say so. It's the type of album that doesn't get made anymore, because there aren't any radio outlets for it anymore. Now let me correct what a few of you might already be thinking and let you know that despite the fact that we are dealing with the legendary singer Mr. Lenny Welch, this ain't no "oldies album" or a "trip down memory lane. "It's All About Love" is an album of brand new pop music that 20 years ago would have been found easily on an "adult contemporary station" or perhaps even on a "quiet storm" radio format. It's not quite jazz, quite R&B thus rendering such labels irrelevant. It is however "grown folks music" and if you happen to be a "grown folk" who just wants to hear some nice romantic ballads, sung by one of the most legendary voices of his generation with some nice instrumental music playing in the background, then this album is your ticket. Don't worry about what station on the radio you are going to hear it on, I'm sure that the "experts" can't figure it out. And somewhere I suspect that Mr. Lenny Welch is grinning from ear to ear, because while the experts are busy trying to figure out what radio format to place this album into, lovers around the corner and around the world won't have a bit of trouble figuring out what to do with "It's All About Love"
Gary Davis Band – "Playing My Dues"
(Jazz-Funk-Soul)
Nice saxophone driven jazz funk from the Gary Davis Band. This is BBQ/Fish
fry type of music, just in time for summer's arrival into my CD player. Check out the songs 'On the Grover Side of Town', 'Keep on Steppin' and 'Rock Steady' (a remake of the Aretha Franklin classic) to get yo' funk on…
Vernon Reid and Masque's "Other True Self"
(Jazz-Funk-Progressive Rock)
A few years ago while reviewing Vernon Reid & Masque's first CD called
"Known Unknown" I said that they reminded me a bit of Chick Corea/Return To
Forever in their basic sound. Well guess what? They still do, however they have expanded a bit to include more "progressive rock" influences, just as Chick Corea/Return To Forever did back in the 1970's. It even includes a few cover songs: The Tony Williams Lifetime's "Wild Life," Depeche Mode's "Enjoy the Silence" and Radiohead's "National Anthem." The album Other True Self is industrial strength jazz/funk/rock and it's not for the meek. Did you like Return to Forever and or Weather Report back in the 1970's? Then treat yourself to a copy of this CD. Are you too young to have been a fan back then? Then check it out to find out what all of the fuss was all about.
Frank McComb – "The 1995 Bootleg"
(Soul-Jazz-Funk)
The first thing that you notice about our friend Frank McComb's – "The 1995 Bootleg" is the album cover. It's stark white, except for Frank's name and a rather large black construction worker's boot. I suppose that there are several messages that could be taken from this sort of imagery, but for the purposes of this review, we will assume that it's refering to the fact that Frank is in fact "bootlegging" himself with this CD. Soul-Patrol has been a big fan of Frank McComb since his days with Buckshot LeFonque. In fact in many ways Frank McComb could rightly be called the "father of Neo Soul", since he was doing it long before that un godly marketing term ever came to our attention. "The 1995 Bootleg" contains music that Frank says was originally recorded for MoJazz and selling on the black market for as much as $50.00 per cd…unmixed, never mastered, no artwork and obviously as a CDR. So armed with that information, he decided to release it on his own. After listening to this CD I really am at a loss to understand why it wasn't released by Motown back in 1995. This CD is slammin. Do you like Donny, Stevie, Herbie, CTI and Blue Note all rolled into one? If so, then you will dig this album. It's pretty much represents the type of first class consistent instrumental/vocal performance we have come to expect from Frank McComb. However there is one real surprise here when you get to track number 8 "Do You Remember Love?". This song sounds like the type of thing that might have resulted had Stevie Wonder and Micheal Jackson hooked up and said: "lets go into the studio and make one slammin/mind blowing funk track & not tell anyone what we are doing".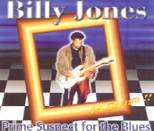 Billy Jones – "Prime Suspect for the Blues"
(Funk-Soul-Blues-Southern Soul)
Billy Jones is one of the "good guys". What I mean is that he refuses to play the "corporate game". He is an artist who is truly interested in advancing/extending "Great Black Music from the Ancient to the Future" and making sure that it is available for future generations. As such he is one of my personal musical heroes, so therefore this review may seem a bit biased (but so be it). On the surface "Prime Suspect for the Blues" is indeed a "blues album" intended for the Hendrix/Stevie Ray Vaughn audience. But upon closer inspection we can see that there is truly a method to the madness of the man who calls his music "BLUEZ". Imagine for a moment that you could take the music of the following artists and somehow blend them all together Ike Turner, Chuck D, Hendrix/Stevie Ray Vaughn, Johnnie Taylor, Clarence Carter and Jimmy Reed. Throw in just a little bit of Richard Pryor/Dolomite and then you begin to understand why the music of Billy Jones is so important. It also begins to explain just why the "corporate entertainment business" wouldn't be interested in an artist like Billy Jones. However, you should be. Billy Jones is the kind of artist that's worth getting excited about. He wants to change the world, one listener at a time and here in the year 2006 it's an awfully exciting thing to be able to be a fan of an artist who believes that music can still be a vehicle for change.
You shouldn't hesitate for one moment to buy this album. This is the type of artist that everyone Soul-Patrollers near and far should be PROUD to own the music of…
grosskopf File Under: G
(Jazz-Funk)
In short sax-player Andreas Grosskopf might as well be the year 2006 version of Klaus Dollinger of Passport (and if you don't know who Klaus Dolinger is, just imagine an electric sax player who is a cross between Maceo Parker and Eddie Harris). That is how badd he is and that's how badd the album "File Under G" is. A few years ago he released an album of powerhouse Jazz-Funk which we reviewed called "Type: G". This time out for "File Under G" the results are similar, however Grosskopf up's the anty by also featuring the beautiful vocals of Charlotte Karlstedt on several cuts. It all works perfectly with the vocal cuts that remind me of the early 70's Flora Purim Return To Forever and the instrumental cuts reminding me of like….well….Passport?
Bob Davis:
earthjuice@prodigy.net
Book Review: Acappella Street Corner Vocal Groups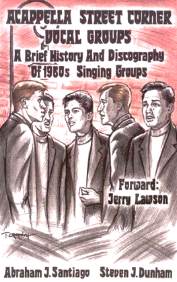 When I first got the review copy of this book in the a few months ago I was appalled…
The front cover of the book has a drawing of four clean cut young white men, standing under a street lamp singing. I thought to myself: "The people who wrote this book have the story completely wrong…".
After reading the book, I learned just how much there is about this topic for me to learn….
It's actually an excellent book that thoroughly documents the period of time between 1960 and the early 1970's when there was an active resurgence of "Acappella Street Corner Vocal Groups" primarily in NYC, NJ and Philadelphia. Based on the title, I had assumed that the book was going to be about the music of 1950's. Instead it deals with the period of time after what I always called "doo wop" had faded from the airways and had been left for dead. It's the story of the hundreds of acappella vocal groups Black, White, Hispanic & Integrated that came and went AFTER the height of 1950's doo wop. Most of these groups as it turned out were white (thus the drawing on the front cover of the book). None of these groups had lasting careers or hit recordings in the music business. In fact many of them never made a recording at all.
So if none of these groups ever "made it", then why should we care about them?
It's because these people were all about continuing and extending the vocal harmony tradition that had been established by the Black artists of the 1950's. You see these folks were preservationists of a great culture that Black people no longer seemed to have any use for. It's the story of the white kids who continued to sing without instruments on urban street corners during the age of Motown, the British Invasion, the age of Aquarius right up until the Disco era hit when these kids stopped singing on street corners and instead became the "Tony Manero's" of the world. Ironically it was at this same time (mid 1970's) when Black Americans invented another form of "street corner vocals" (hip hop), which today reigns supreme
The book tells the story of these groups, the tiny record labels they recorded for and goes into exhausting detail tracing the members, timeframes and discographies of these groups. Interestingly enough, the most famous of these groups is a Black group, the Persuasions and Jerry Lawson of the Persuasions writes the forward to the book.
Because of the exhaustive detail, pictures and discographies of groups that I had for the most part never heard of before, I think that this book is mostly useful as a reference book. However the story that it represents is an important one for people here to keep in mind:
1. Black Americans tend to create great culture and then throw it away.
2. Black Americans get mad when other people take the culture they no longer seem to want and then start making money from it.
3. History always has a way of repeating itself
QUESTION: At what point in time do we run out of great culture to create? Click here to purchase: Acappella Street Corner Vocal Groups
Bob Davis:
earthjuice@prodigy.net
Book Review: Our Uncle Sam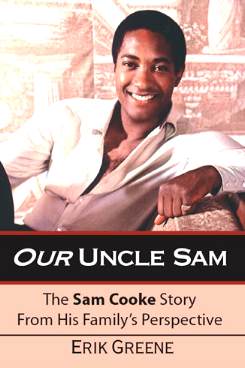 If Sam Cooke were still alive today, he would be 75 years old. It's hard for me to think about Sam Cooke being 75 years old. For me his image is one that is frozen in time. When I see the face of Sam Cooke in my mind's eye I see the same thing that I see in the face of Jimi Hendrix. In fact I see the same thing in their faces that I see for all Black Americans. What I see is the face of youthful exuberance and optimism, while at the same time I see the face of lost potential for the individual and lost potential for Black Americans as a people. This book "Our Uncle Sam" by Erik Greene leaves me feeling the same about Sam Cooke, only magnified by a factor of 10
"Our Uncle Sam" by Erik Greene is an easy read, however it operates on multiple levels. It's a very intense and personal book. It's basically a well written biography of a man that all of us know, but in reality, none of us knew very well.
–It's personal, because Erik Greene is the nephew of Sam Cooke and he is in effect writing a piece of his family history. However, because Erik Greene is too young to have actually known Sam Cooke, the writing of the book is in effect something of a detective story for him to piece together. Because it's also about his own family, he has access to the people who knew Sam Cooke the best and because he didn't know Sam Cooke personally he can be objective, where others who knew him might not be able to be.
–It's intense, because as you read between the lines you can actually feel the pain of the Cook family members (and Erik himself, although his voice operates more like a "narrator") as the recount the good times, the bad times and the horrific ending that you know will come at the end.
As a reader, we are given lots of factual information about Sam Cooke that we didn't know before. All of it is not positive, but it all goes into giving us a more complete understanding of just who and what Sam Cooke was all about. He really was one of the most extraordinary Americans of the 20th Century. Sam Cooke was an extremely bright individual, a visionary if you will. On the other hand he was also a product of his time and his environment. When I put the book down of course I was sad. However I was sad before I even picked up the book, because I knew in advance how it was going to end. However even though I was sad, I also understood what I knew deep within my heart anyhow. And then I got mad, not because my personal belief that Sam Cooke was assassinated was now fully validated.
But then I got even madder because for the first time I had read the details of how the Cook(e) family (including his children) had been totally and thoroughly swindled out of ANY their rightful part of Sam Cooke's vast business interests by Alen Klein and Barbara Cooke.
You see Sam Cooke never really had a chance. He had to die when he did, just as all of the bright young Americans of his generation who were assassinated during the 1960's. People like Martin, Bobby, Malcolm, Jimi and yes Sam Cooke (and others) had actually not only figured out the whole game, but they also had enough of the "game pieces" to actually change the rules. Unfortunately for them the people who controlled the "game" weren't about to allow for any "rule changes".
There have been several other books written about Sam Cooke, all of these books focus exclusively on his career as an artist and a public figure. The authors of these books created a valuable set of documentation about the musical career of Sam Cooke. The book "Our Uncle Sam" by Erik Greene goes well beyond the "liner notes" and actually takes us deep into the "grooves" of just how Sam Cooke lived. It does so via interviews with the people who knew him best and it does so with dozens of pictures of Sam Cooke in casual settings, which have never been published before.
And it is through not only the words of Erik Greene, but also those pictures that finally paint a full and complete Sam Cooke for me. I not only fully understand how he lived, but I also fully understand that because of how he lived, the "official" story of how he died is so implausible.
If you are a fan of the music of Sam Cooke and/or Black Music/Culture then you need to read this book. It will explain for you thoroughly just what was in this man's heart, that made the songs that you love so wonderful.
http://www.ourunclesam.com
Our Uncle Sam by Erik Greene
Bob Davis:
earthjuice@prodigy.net

BLACK ROCK COALITION RADIO @ SOUL-PATROL.NET #17 (HOSTED BY EARL DOUGLAS) Grace Jones, Mothers Finest, Tina Turner, Aretha Franklin, Ben Harper, Mandrill, Santana, Jimmy Castor Bunch, Wilson Pickett
---