SOUL-PATROL SPOTLIGHT BROADCAST (1/5) BEST/FAVORITES IN BLACK MUSIC 2019-2022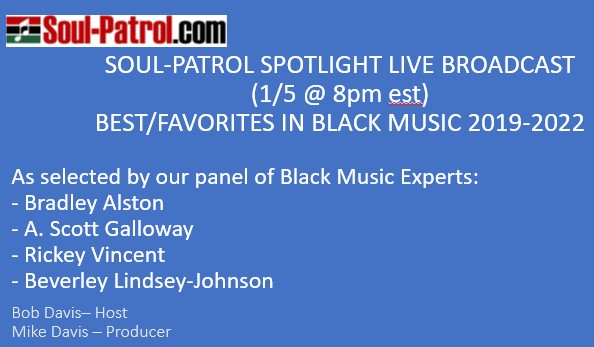 As selected by our panel of Black Music Experts:
– Bradley Alston
– A. Scott Galloway
– Rickey Vincent
– Beverly Lindsay-Johnson
Bob Davis– Host
Mike Davis – Producer
LISTEN TO THE BROADCAST:
(tbd)
THE PROCESS: Bob Davis
Our panel's picks for best/favorite songs they have heard over the past couple of years or so. The only restriction is that it must be "Black Music" and the song has to be available on YouTube. No genre restrictions. Can be blues, jazz, classic soul, rock n roll, funk, neo soul, hip hop, doo wop, etc.
Links will be provided so the audience (on either YouTube and/or Soul-Patrol) so the audience can listen to the songs and judge for themselves after hearing the picks.
Can be a live performance or a cover of a great song from the past.
It's totally "free form," no rank order. (Remember, I hate ordered lists)
Picks to be followed by a lively discussion about trends in Black Music (if we have time)
Bradley Alston's segment is pre-recorded (due to circumstances beyond my control)
Tonight's broadcast is dedicated to health/recovery of my fellow University of Pittsburgh Alum, Damar Hamlin who had cardiac arrest on the field this past Monday night, on the field during the Bills/Bengals game.
THE BLACK MUSIC EXPERT PANEL:
Bradley Alston – Author/Educator/Photographer, Former Director of Community Relations Y of Central Maryland, Board Chair Baltimore Blues Society. Has written for Soul-Patrol.com, Blues Rag Magazine and more
A. Scott Galloway – 30+ years veteran writer and music journalist with experience in print and radio. My specialty niche is liner note essays for over 300 music CD reissues of classic albums and compilations, several of which he produced.
Rickey Vincent – Author, historian, and radio host (KPFA) based in the San Francisco Bay Area. He is the author of Funk: The Music, the People and the Rhythm of The One (St. Martin's Press, 1996), encompassing the history of funk music, and won the ASCAP Foundation Deems Taylor Award for Music Writing in 1997
Beverly Lindsay-Johnson – PBS Documentary Producer/African American Music Association. Award winning documentary's such as; "Dance Party: The Teenarama Story," The Jewels: The Divas of DC Doo-Wop," "John Jackson: A Blues Treasure," "Chuck Brown: The Godfather of Go-Go Music, "Fat Boy" – Billy Stewart and many other TV/Film credits.
THE SELECTIONS:
Bradley Alston – Author/Educator/Photographer
Hubby Jenkins, "When the Train Comes Along" @ The Cock 'n Bull
Jake Blount – Where Did You Sleep Last Night
Christone "Kingfish" Ingram – 662
Selwyn Birchwood-"Revelation"
Southern Avenue – Control
A. Scott Galloway – Author/Broadcaster
Angelo Moore – "Dream Crusher"
Rhonda Clark – "Sick Love"
Charles Stepney – "Look B4U Leap"
Rickey Vincent – Author/Educator/Broadcaster
Neon Romeoz – City Lights
Katdelic – Love Me For Today
Hiatus Kiyaote – Chivalry is Not Dead
Sault – The Lords With Me
Beverly Lindsay-Johnson – Documentary Producer/Director
Silk Sonic w/Bruno Mars – "Love Train"
Kelly Finnigan and the Anointments – "Catch Me, I'm Falling"
Charlie Wilson featuring Smokey Robinson "All of My Love"
Mayer Hawthorne – The Walk (Unreleased Music Video)
Nellie Tiger Travis – "I'm Gonna Slap Your Weave Off"