---


Listen To a Soul-Patrol.Net Radio Exclusive:
James Hunter: 40 min Interview + Music (50 min The Hard Way)Hosted by Bob Davis & Earl Gregory

Welcome To The Soul-Patrol Newsletter
More COMPELLING MUSIC, courtesy of Mr. James Hunter
Just who in the hell is James Hunter and why is Soul-Patrol devoting an entire issue of the Soul-Patrol Newsletter to him?
It's because he is THE REAL DEAL!!!!
(plain and simple)
No hype is needed……JUST LISTEN HERE:
http://www.soul-patrol.net/jameshunter.ram
That really should be all I have to tell you. However I know that you want more, so I'll give you that as well….
Scroll down and read all about my total immersion into the music of James Hunter in Philadelphia both LIVE & via recording and then read a more conventional concert review of James Hunter by Soul-Patrol's Los Angeles Coordinator "ooothatgirl", from the west coast.
And then listen to my 30 min. interview with James Hunter followed by a special presentation of his new album "The Hard Way", presented by Mr Earl Gregory
Check it all out and let us know what cha think?
Let me know if you think that he is "The Real Deal", or not?
Thanks in advance…
–Bob Davis
609-351-0154


Listen To a Soul-Patrol.Net Radio Exclusive:
James Hunter: 40 min Interview + Music (50 min The Hard Way)Hosted by Bob Davis & Earl Gregory
James Hunter – Profile, Album Review & Concert Review (6/2008)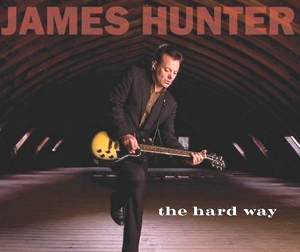 JAMES HUNTER
Yesterday I became immersed in 360 degrees of James Hunter. I listened to his fantastic new album called "THE HARD WAY" for the first time yesterday. This album was so good that I actually listened to it 4 TIMES yesterday, despite the fact that I have dozens of unopened brand new releases stacked up on this desk, awaiting my review. "THE HARD WAY" is a totally compelling masterpiece of artistic vision that is so all consuming, that it is very difficult not to hit the repeat button after hearing it. In fact, "THE HARD WAY" is so revolutionary in concept and brilliant in execution that I was forced to "check myself" and ask others to take a listen to it, simply because I wanted to be absolutely certain that I wasn't missing something important. In fact as tempted as I am at this moment to put it into the CD player, I refuse to do it. That's because I know that if I play it right now, I will be tempted once again not to listen to any other music today, which would be unfair to those dozens of other artists whose albums are sitting on my desk still unopened. The reason why I selected "THE HARD WAY" to listen to in the first place from the stack of dozens of unopened albums sitting on my desk right now is because I was scheduled to interview James Hunter, prior to his performance at the World Café Live in Philadelphia last night.
I conducted a 1/2 hour audio interview yesterday with James Hunter covering a wide range of topics. I have it on tape and plan to broadcast the interview on Soul-Patrol so that everyone who is interested will be able to hear it. Whenever I do such interviews, after they are over with, I try to listen to them to make sure that the audio came out good enough to actually broadcast. I have to do that because sometimes there are technical difficulties in the recording process that renders the interview unlistenable. I haven't yet checked the tape. I'm afraid that once I listen to the interview that it will make me once again compel me to play the album. And right now I don't want to play the album, because I already know that I will not want to listen to any other music today, and that would be unfair to the dozens of other artists whose albums sit here on this desk, unopened. However I will commit to all of you that if for some reason I discover that the audio is unfit for broadcast, I will transcribe the interview and post it as text. Maybe I should do that anyway, even if the audio is of the highest quality known to man. Now you might ask yourself, "as busy as Bob is, why would he possibly even consider doing something as time consuming as typing out an interview that he has on tape?" It's because James Hunter is ultimately going to become an important figure in the history of Black music.
James Hunter is the REAL DEAL, how do I know that? The very first thing that James Hunter said to me after I introduced myself was; "they don't usually send a Black guy to do these kind of interviews."
To which I replied "that's because THEY don't usually know what the f*ck they are doing…"
And then we both smiled at each other. The best and most concise description I can give you of James Hunter is that if you could imagine "Robin Williams chain smoking Camels", then you would begin to have a picture in your mind of what it's like to have a conversation with James Hunter. This is a person that I need to share with you because just as much as Chuck D has the desire to "connect dots", so does James Hunter.
Soon after the interview it's time to get ready for the show itself. I walk around the World Café Live and it's packed for James Hunter. Keep in mind that this is a 600 seat venue and it's a Tuesday night. As I walk around the club, I notice that I am the ONLY Black person inside of the venue, who isn't an employee of the club. This made me think of James Hunter's opening statement to me.
The opening act is an amazing young woman from NYC (by way of North Carolina) named TIFT MERRIT, who looks like Peggy Lipton (from the Mod Squad), sings like Laura Nyro/Bonnie Raitt, and in between songs is as funny/personable as Ellen Degeneress. She's a great "soul singer" (who doesn't know it yet), she is also "THE REAL DEAL."
Now it's time for James Hunter and his band, which includes a horn section and they start playing some of the most fierce & hard core early 1960's R&B instrumental music that I think that I have ever heard. It's Booker T. & the MG's meets the Funk Brothers meets Vee Jay/Chess and it sounds like 1961. And then James Hunter opens his mouth, it sounds like Ray Charles is singing and I am just about ready to think that I have just died and gone to heaven. James and the band go thru song after song, some from the album and some not. All original songs (no covers), none of which seem to be more than 2-3 minutes long and I am loving every second of it. The crowd at World Café live is mesmorized, watching this white man playing and singing Black music, in a way that I haven't observed since observing the crowd at a Stevie Ray Vaughn concert.
As I drive home, I find myself thinking about not only James Hunter, his amazing album, personality and live performance but also I start thinking about the all of the things that are wrong with Black music today, knee-grow radio, etc. and how James Hunter is an important part of the answer to the question that nobody really wants to know the answer for. As I ride home, it's quiet because there is no music playing in the car. I am tempted to put James Hunter's CD into the CD player. But since I know what will happen when I do that, I decide not to and complete the rest of my journey home in silence…
–Bob Davis
earthjuice@prodigy.net


Listen To a Soul-Patrol.Net Radio Exclusive:
James Hunter: 40 min Interview + Music (50 min The Hard Way)Hosted by Bob Davis & Earl Gregory
CONCERT REVIEW: James Hunter @ Lobrero Theater in Santa Barbara, CA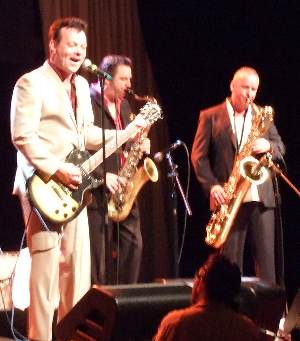 Last month, I was reading the local newspaper's entertainment section and there was a photo of a guy named James Hunter with the caption "The Hard Way". I looked at the picture a bit suspiciously but flipped to the article. There, again, another photo, and an article. I read the article, went to my computer, looked up Soul Patrol's 2008 mid-year album rankings and saw that "The Hard Way" was ranked number three. I figured it HAD to be the same James Hunter so the next morning I went downtown, bought a ticket, and was back at the Lobrero Theater for the 8pm show.
The July 12th show was opened by Sean Hayes, a rather non-descript, rather boring folk-type singer who seemed to fit in well with the crowd. Aside from myself, two others in the crowd, one usher, the paint on the walls, and the carpet, I saw no "color" in the room.
At 9:20pm the band walked on stage followed by a man who looked part Buddy Holly, part Ricky Nelson, and part Dave Clark Five. When I heard the first 10 seconds of the first song, I heard no Ricky Nelson or Dave Clark Five. I heard a bit of Buddy, but also heard some Sam Cooke, a touch of Jackie Wilson, and echoes of Ray Charles.
The first few songs he played were – I assume – from previous albums that the audience was familiar with but I was not. Applause filled the room. He and the band were fabulous! Throughout the evening, people got up and were dancing in the aisles and I felt as if I were in the middle of a PBS "oldies" special.
Although I thoroughly enjoyed the first three songs, it was "Class Act" that truly hooked me. It had a Platters vibe, was a little smoky, and a little funky. James took command of the mic which essentially told us that the song was his. It's one of those songs that you close your eyes, sway your head to, and shoulder-dance as you listen.
While introducing "Baby, Don't Do It", he told us it was originally done by the 5 Royales I was the only who applauded in homage, and he seemed shocked that anybody actually knew who they were. He looked at me (I was in the front row) and asked if I knew them. I nodded and he went on to briefly talk about their history and how influential they were to him. After the song ended, he received a standing ovation and rightly so because he tore that sh*t up and played the hell out of his guitar. Had the show ended there, I would've been satisfied, but thankfully, it didn't.
The next song, "The Very Thought of You" was a nod to Hall of Fame songwriter, Ray Noble. "Jacqueline" (a bit Stray Cat-ish) and "Carina" (slight Calypso feel) were followed by "Down Home Girl" where he sang his li'l funky heart out. The 17 song show ended at 10:30.
I was able to talk with James after the show and we had a great conversation. He's a very humble, unassuming, and crazy guy. He thankfully acknowledged Soul Patrol and its efforts to listen to and promote his music.
I listened to "The Hard Way" CD for the next two weeks straight – it's a definite must-have. If James rolls into your city, you've got to catch his show. He's very refreshing, very throwback but very new. Only one thing left to say about the man…
James Hunter. A true Class Act.
— "ooothatgirl"



Listen To a Soul-Patrol.Net Radio Exclusive:
James Hunter: 40 min Interview + Music (50 min The Hard Way)Hosted by Bob Davis & Earl Gregory
James Hunter: Upcoming US Tour Dates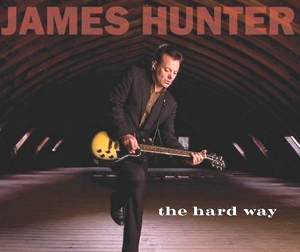 Just in case you are inclined to go and see James Hunter perform live, after reading about him and listening to him here on Soul-Patrol (which I STRONGLY advise), here is a listing of his upcoming shows around the country. And if you do see him, please be sure and tell James Hunter that I said hello and I am looking forward to having another conversation with him…
November 6 – Virginia Beach – Sadler Center
November 7 – Baltimore, MD – Rams Head Live
November 8 – West Hartford, CT – Lincoln Theatre
November 11 – Boston, MA – Berkelee Performance Theatre
November 12 – New York, NY – Fillmore at Irving Plaza
November 14 – Albany, NY – The Egg
November 15 – Pittsburgh, PA – Byham Theater
November 16 – Alexandria, VA – Birchmere
November 18 – Philadelphia, PA – Keswick Theater
November 20 – Chicago, IL – Park West
November 21 – Minneapolis, MN – Pantages
November 22 – Madison, WI – Barrymore Theater
November 24 – Indianapolis, IN – Vogue
November 25 – Louisville, KY – Brown Theater
November 26 – Milwaukee, WI – Northern Lights Theater
http://www.jameshuntermusic.com


Listen To a Soul-Patrol.Net Radio Exclusive:
James Hunter: 40 min Interview + Music (50 min The Hard Way)Hosted by Bob Davis & Earl Gregory
If you have a news item, update, review, commentary, etc that you would like to submit to the Soul-Patrol Newsletter, please send them via email for consideration to:

Hopefully you enjoyed this edition of the Soul-Patrol Newsletter.
We will be back soon with the next edition, with email alerts for local events, Soul-Patrol website updates/chat sessions or breaking news in between, as required.

If you have any comments, questions, etc feel free to drop me an email and let me know what's on your mind.
Bob Davis
earthjuice@prodigy.net
Soul-Patrol Email Blast/Sponsorship Oppurtunities:

If you or your organization is has a need to reach Soul-Patrol Newsletter readers (Soul, Funk, Jazz, Blues, Rock n Roll fans) on a worldwide basis, then you may be interested in talking with us about doing a targeted email blast. They are inexpensive and highly effective for announcing a new CD, concerts, website launches, new products, new or existing businesses, etc.
We also have sponsorship oppurtunities available for Soul-Patrol's Website, Soul-Patrol's Daily Interactive Mailing List and the Soul-Patrol's Newsletter.
Contact us for the current rate schedules via

email.

Bob Davis – Soul-Patrol
798 Woodlane Rd
Suite 10264
Mount Holly, NJ 08060
609-351-0154


Click Here to Subscribe/Unsubscribe For Your Free Bi-Weekly Issue!