SPN: Jazz/Funk – Darren Rahn, Talk of The Town, Bob James, Dave Koz, Wayman Tisdale, Eric Darius, Jeff Lorber, Tim Bowman, Internet Radio Broadcast, Album Reviews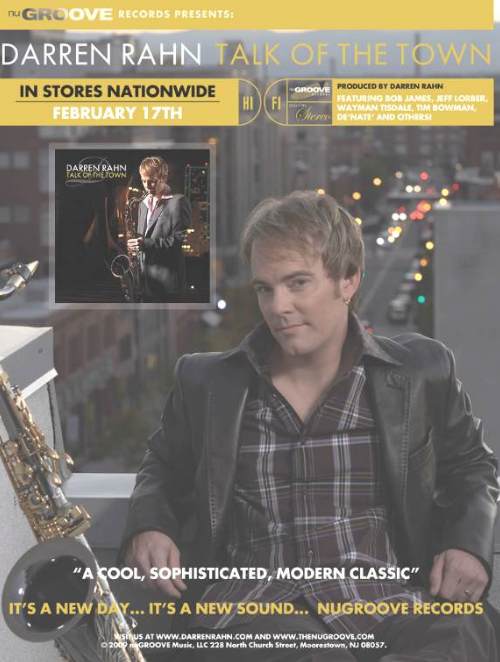 Darren Rahn – Talk of The Town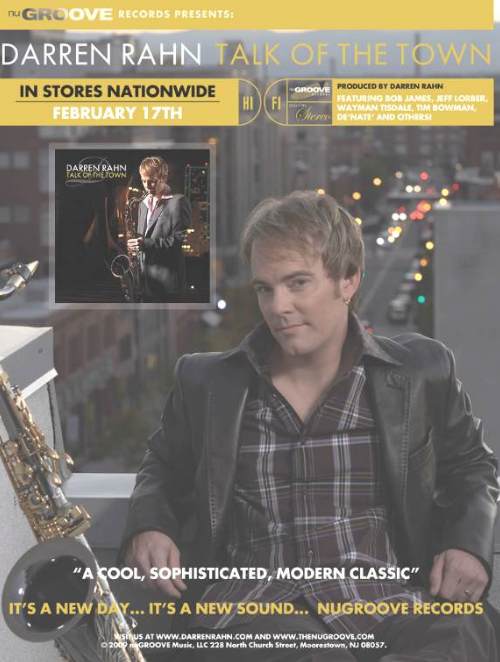 Some smokin Jazz-Funk for ya, from one of the top producers in Contemporary Jazz.
Check it out at the following link:
http://www.myspace.com/darrenrahn


Darren Rahn – Talk of The Town on Soul-Patrol Radio. 1 Talk of the town, 2 I Can Go For That, 3 Easy Does It, 4 Forget Me Nots, 5 Duplicity, 6 Secret Crush…Hosted by THA FUNKOVERLORD (Kevin Amos)
---
Welcome To The Soul-Patrol Newsletter
Back on the Contemporary Jazz Tip….
Quiet as it's kept, some of the best stuff in Black music today is on the Contemporary jazz scene. And Mr. Darren Rahn is emerging as one of it's most important artists, not only as a performer, but also as a producer.
In this issue of the Soul-Patrol Newsletter we have a review of his new album called "Talk of the Town" and we also have a special internet radio broadcast featuring "Talk of the Town", hosted by our own Funkoverlord (Kevin Amos).
Check it all out and let us know what cha think…
Thanks in advance…
–Bob Davis
609-351-0154
earthjuice@prodigy.net


Darren Rahn – Talk of The Town on Soul-Patrol Radio. 1 Talk of the town, 2 I Can Go For That, 3 Easy Does It, 4 Forget Me Nots, 5 Duplicity, 6 Secret Crush…Hosted by THA FUNKOVERLORD (Kevin Amos)
Album Review: Darren Rahn – Talk of The Town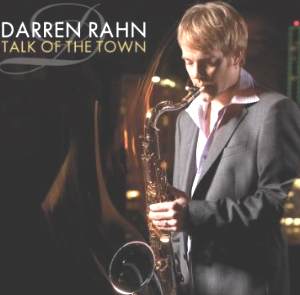 Smooth jazz" has been on my mind quite a bit over the past several weeks….
I'd love to be able to report to you that there is absolutely no future whatsoever for the so called genre of "smooth jazz." However if I were to say that I would be lying to you because I just got thru attending a series of concerts full of contridictions as far as "smooth jazz" was concerned. For example, there was a terrestrial radio station broadcasting live continuiously from the venue for the entire two weeks in a manner that might suggest that "smooth jazz" has a strong future. That was what one might think, until having a conversation with the promotions manager of the station, and having him tell me that theirs was the only remaining "smooth jazz station" remaining on the east coast of the United States. Or perhaps even more telling was that nearly every musician that I spoke with confesssed to me that they hated the music, and then contrasting that to the sheer joy on the faces of the concert patrons as they left events specificly tailored for "smooth jazz" music.
In effect, as I type this so called "smooth jazz" would seem to be at a crossroads with it's audience and as a result with itself.
Enter Mr. Darren Rahn and his new album "Talk of the Town" on the Nu Groove label. One of the nicest things about this album is that Darren Rahn isn't really hedging his bets at all. The album is certainly contemporary, but it isn't smooth. It's funky enough to dance to in places and yet is also melodic/erotic at the same time. It's got some familair cover songs (ex: "Forget Me Nots") and some memorable vocals (provided by our friends De'Nate'). In short, Darren Rahn perhaps understands that with so called "smooth jazz", being at a crossroads, he has got to cover all bases.
And yet despite that simple fact of reality, the album is about as far away from anything contrived as possible, simply because not only can this guy flat out play, but he is actually "going for broke." How many of yall remember the very first time that you heard the album by Candy Dulfer called "Saxuality?" That is what listening to the album "Talk of the Town" was like for me the first time that I heard it. I was fully prepared not to like it at all, that is till I heard it and said to myself; "this thing swings."
Of course Darren Rahn's task is much easier than Candy's was back in 1989. She had to prove that she could hang with Maceo Parker (which she pretty much did…..LOL).
Darren has to prove to us that he is a serious funkmeister and not really a "smooth jazz artist" although he might be disguised as one (I mean he also produced Smooth Jazz charting albums by Dave Koz, Eric Darius, Waymon Tisdale & Tim Bowman in the past few years). He doesn't really have to be "John Coltrane", but if he can show us that he is at least "Candy Dulfer", then he can get my vote.
In fact on "Forget Me Not's" not only does he do justice to the Patrice Rushen original, but I can even smell a bit of "Grover" in his sax playing. In fact speaking of "Grover" I can hear echoes of Grover's "Black Frost" in Darren Rahn's "Tell Me What You Want." As you move from track to track, the album really swings and the guy is playing his azz off.
And that's why I like it so much. Darren Rahn is playing the sax in a manner that suggests that he still wants you to be a fan of his music, even if there is no "smooth jazz" radio stations or charts. In the end it feels like he isn't concerned about that. However it sure as hell sounds like he is a whole lot more interested in perhaps becoming the "funkiest mo fo" on the planet. And if that is indeed his objective, then Darren Rahn has indeed got my endorsement (at least for the primaries…lol). You can expect to see & hear more about him on both Soul-Patrol.com and on Radioio.com
Check his music at the following link:
http://www.myspace.com/darrenrahn
–Bob Davis


Darren Rahn – Talk of The Town on Soul-Patrol Radio. 1 Talk of the town, 2 I Can Go For That, 3 Easy Does It, 4 Forget Me Nots, 5 Duplicity, 6 Secret Crush…Hosted by THA FUNKOVERLORD (Kevin Amos)
BIO: Darren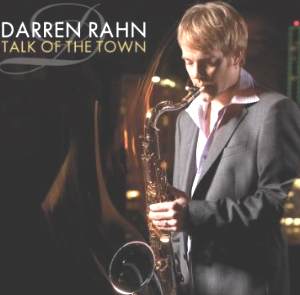 A master's level jazz graduate from the University of Northern Colorado, Canadian born saxophonist Darren Rahn at the age of 37 has already achieved more than most musicians dream possible. As one of the smooth jazz genre's hottest producers, Darren has dominated the Billboard and Radio and Records (R&R) charts over the past few years.
He recently had three consecutive 1 productions on the coveted R&R smooth jazz chart, holding the 1 position with three different artists (Dave Koz, Eric Darius, & Tim Bowman) from September all the way through the end of 2008. That's 14 consecutive weeks at 1! During that time, Darren held the top three chart positions for several weeks and had as many as four songs in the top 10 at the same time. Rahn began working behind the scenes in the mid-90s producing and programming tracks for other artists.
It was his work with Wayman Tisdale in 2004 on the 1 single, "Ain't No Stopping Us Now," that would bring Rahn to the forefront of the music industry. "Until my work with Wayman, I remained pretty much behind the scenes," said Rahn. Rahn continued to work in the studio with Tisdale and an assortment of other smooth jazz heavy hitters. These relationships would prove pivotal in the launching of his solo career and enabled him to quickly move from behind the console to the stage.
By 2006, Rahn co-headlined in Catalina along-side Brian Culbertson and has toured with Tim Bowman, played with leading acts like Wayman Tisdale, Eric Darius, Kim Waters and Greg Karukus. In 2007, Rahn signed with nuGroove Records and released his debut CD, Once in a Lifetime.
Integrating his solo career with his producer side is something Rahn juggles with ease. "I balance it pretty well. When I'm in the studio, I usually let the "producer" take the lead. I'm almost always in producer mode… making sure what is being played serves the song best," said Rahn. However, Rahn is quick to admit that playing the saxophone remains his first love. "I was an artist before I was a producer. The producer thing just kind of happened," said Rahn. "Long before I was doing what I do now, I was playing the saxophone." Indeed, it was his early work on his debut CD, Once in a Lifetime, that caught the attention of Wayman Tisdale in 2004. Later, Eric Darius would take note of this solo work from the CD and hire Rahn as producer as well.
As an artist, Rahn constantly strives to raise the benchmark in his music. "I want to let the music and playing speak for itself. I want my playing to be timeless to stand the test of time," said Rahn. Creating his own sound is equally important. "The people that are successful really have a distinct sound. They have the ability to maintain a sustainable career," he said. Rahn believes that in order to be a successful performer, you must not only be original in your creative process but you must also pay close attention to the connection with the listening audience. "Music is not just for me. If a song was just for me, then I really don't see the point of recording it on an album. The reason for my playing is to reach out and share with people. I want to take what is in my heart and really connect with the audience," said Rahn. "I hope my music brings people happiness and is a positive force. I'm not the kind of guy that wants to sit around and do dark music. I want to do music that touches people and gives them a lift," he said. In an industry that is often more interested in the bottom line than artistic merit, Rahn has managed to remain strong in his desire to carve out his unique sound.
Rahn has shown that it is possible to find a happy medium between commercialism and creativity. "Every time I write or produce, I'm trying to break at least a little bit of new ground," said Rahn. "I know what's worked in the past and what people have enjoyed but I don't want to get stuck there," he said. When writing new music, Rahn stays up-to-date on industry trends but doesn't try to write specifically to fit the radio format. "I'm aware of what's working in the music industry but I don't write my material based on that. I write from my heart. Whatever is moving me at that moment is what dictates the outcome. I let my heart lead the way but I also use what I've gleaned from the industry. The trick is to make sure everything is done to best serve the art," said Rahn. Although he continues to break new ground and redefine the landscape of contemporary jazz, this young lion doesn't consider himself a pioneer. "There are many great pioneers in this genre that have come before me. I've certainly learned from them. I have no doubt guys like Jeff Lorber, Grover Washington, Jr. and David Sanborn have been pioneers," said Rahn. "There are a lot of changes in the industry right now and I'm part of those changes, but I certainly wouldn't consider myself a pioneer. I'm not pretentious or presumptuous about what I've done or am going to do. I'm just happy about doing what I love," he said. In October of 2008, Rahn announced that he joined De'Nate', the nuGroove band created by industry veteran David Chackler with Deborah Connors on vocals and Nate Harasim ..boards. "The chemistry between Rahn, Connors and Harasim is remarkable. In many ways, it reminds me of the magic that happened when Keith Olsen and I introduced Stevie Nicks and Lindsay Buckingham to Mick Fleetwood of Fleetwood Mac. It's an indescribable energy that you can see, feel and hear," said David Chackler, President of nuGroove.
Recently released on NuGroove Records, Darren's new album "Talk of the Town" features the industry's top session players and includes thoughtful collaborations with Bob James, Jeff Lorber, Wayman Tisdale, Tim Bowman and others. Darren proudly plays and endorses P. MAURIAT Saxophones and MARCA Reeds exclusively.
Darren Rahn – Talk of The Town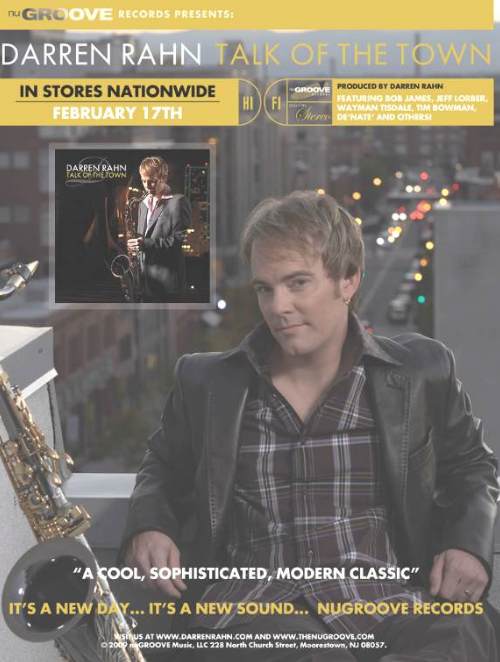 Some smokin Jazz-Funk for ya, from one of the top producers in Contemporary Jazz.
Check it out at the following link:
http://www.myspace.com/darrenrahn


Darren Rahn – Talk of The Town on Soul-Patrol Radio. 1 Talk of the town, 2 I Can Go For That, 3 Easy Does It, 4 Forget Me Nots, 5 Duplicity, 6 Secret Crush…Hosted by THA FUNKOVERLORD (Kevin Amos)
If you have a news item, update, review, commentary, etc that you would like to submit to the Soul-Patrol Newsletter, please send them via email for consideration to:

Hopefully you enjoyed this edition of the Soul-Patrol Newsletter.
We will be back soon with the next edition, with email alerts for local events, Soul-Patrol website updates/chat sessions or breaking news in between, as required.

If you have any comments, questions, etc feel free to drop me an email and let me know what's on your mind.
Bob Davis
earthjuice@prodigy.net
Soul-Patrol Email Blast/Sponsorship Oppurtunities:

If you or your organization is has a need to reach Soul-Patrol Newsletter readers (Soul, Funk, Jazz, Blues, Rock n Roll fans) on a worldwide basis, then you may be interested in talking with us about doing a targeted email blast. They are inexpensive and highly effective for announcing a new CD, concerts, website launches, new products, new or existing businesses, etc.
We also have sponsorship oppurtunities available for Soul-Patrol's Website, Soul-Patrol's Daily Interactive Mailing List and the Soul-Patrol's Newsletter.
Contact us for the current rate schedules via

email.

Bob Davis – Soul-Patrol
798 Woodlane Rd
Suite 10264
Mount Holly, NJ 08060
609-351-0154

Click Here to Subscribe/Unsubscribe For Your Free Bi-Weekly Issue!