St. Petersburg, FL- MOONCHILD @ Floridian Social Club 12/1 – 12/2 (Hosted by Alex Harris)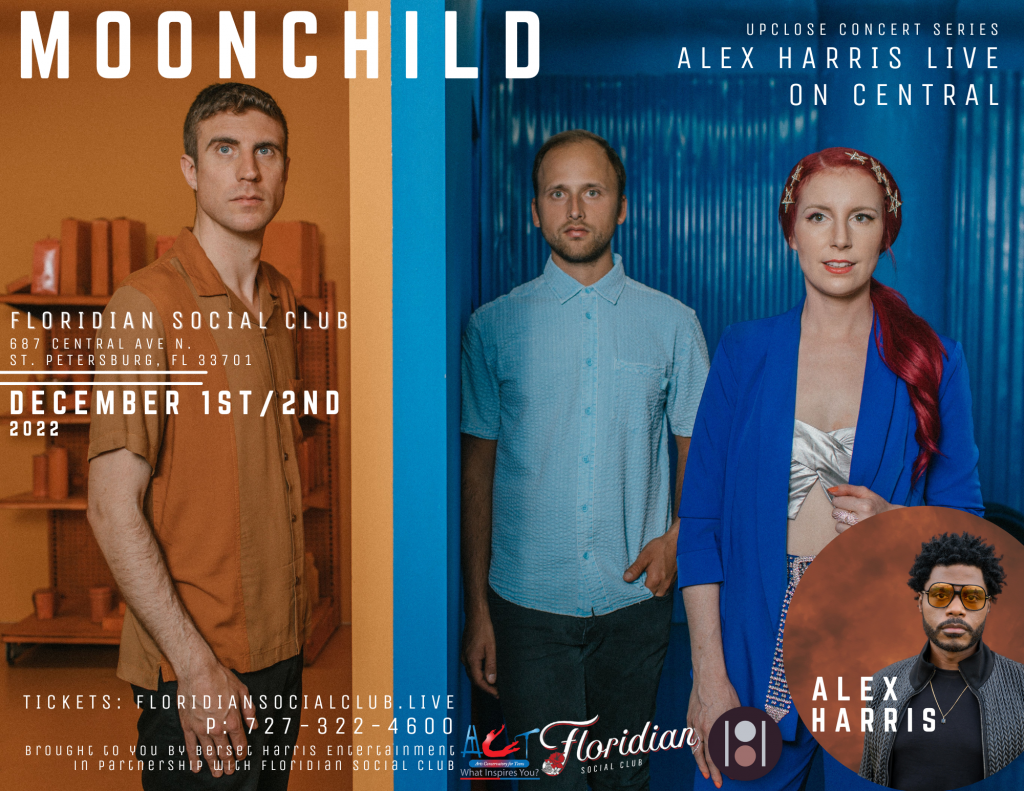 12/1 – 12/2 (2 nights)
Show: 7:30 pm
Doors: 6:00 pm
Floridian Social Club
687 Central Ave N.
St. Petersburg, FL 33701
Press Release
St. Petersburg, Florida – Berset + Harris Entertainment, in partnership with the Floridian Social Club (historic State Theater), is pleased to announce its 4th Artist for the LIVE ON CENTRAL – ST PETE, hosted by Alex Harris, Cross the Line Music/ Orchard – Sony Music Entertainment recording artist. LIVE ON CENTRAL at the Floridian Social Club, 687 Central Avenue, features GRAMMY Award Nominee MOONCHILD for two nights, Thursday, December 1st, and Friday, December 2nd, at 7 PM EST. MOONCHILD performs in sold-out venues around the world. They have achieved international recognition and are coming to our city.
World-renowned and GRAMMY-nominated artist, Moonchild is an American alternative R&B band based in Los Angeles, California. The band consists of Amber Navran, Max Bryk, and Andris Mattson. All three are alumni of USC Thornton School of Music's Jazz Studies program. The band formed in the summer of 2011 after touring the west coast with Navran's previous solo project. The trio bonded in the car over similar music tastes and spent the summer and subsequent fall writing the music for their debut album, Be Free, which would be released the next year. The debut album was well received by critics, garnering praise from many musical greats, including Jill Scott, DJ Jazzy Jeff, and Stevie Wonder. After hearing the group's music in December 2012, Wonder invited the group to open for him at his annual House Full of Toys benefit concert. Since Be Free in 2012, the band has released three more albums through the British record label Tru Thoughts . and toured internationally. They have also collaborated on tracks with Rapsody and Tall Black Guy. Moonchild also performed an NPR Tiny Desk Concert in December 2019 . During the 2019 Little Ghost US Tour, the band used their platform to promote local charities in each city they played in. Also performing is the host, R&B/Soul singer/songwriter, Alex Harris. Harris' Billboard hit single, 'Falling for You,' was recognized in USA Today's Top 40 R&B singles on Billboard in North America.
 For more information about LIVE ON CENTRAL featuring MOONCHILD hosted by Alex Harris, please contact the Floridian Social Club at 727-322-4600.
LIVE ON CENTRAL | MUSIC SERIES "LIVE ON CENTRAL is more than a live music series," says Alex Harris, "it is the beginning of a new era for live music concerts in our eclectic, funky artistic community." LIVE ON CENTRAL intends to amplify a part of our artistic culture in a way it has not been promoted or celebrated – giving St. Petersburg its own live music cultural identity in the global music market. The unique, intimate experience will allow the audience to © 2022 LIVE ON CENTRAL | All Rights Reserved. Berset + Harris Entertainment, LLC // Unlimited Wealth Entertainment LLC experience some of our local 'raw' talents and engage with featured performing artists in an intimate and inspiring environment. The LIVE ON CENTRAL music series will not only celebrate and amplify a unique live music experience for its attendees but also benefit the Arts Conservatory for Teens' Creative Workforce Development programming for pre-professionals in the local community, a local 501(c)3 nonprofit organization. IG @LiveOnCentral, @ACTStPete, @AlexHarrisSoul
12/1 – 12/2 (2 nights)
Show: 7:30 pm
Doors: 6:00 pm
Floridian Social Club
687 Central Ave N.
St. Petersburg, FL 33701