Sugar Pie
I mention all of this to say, that this posting was originally written back a few years ago. But I wanted to bring it back as something of a PRE-EMPTIVE STRIKE.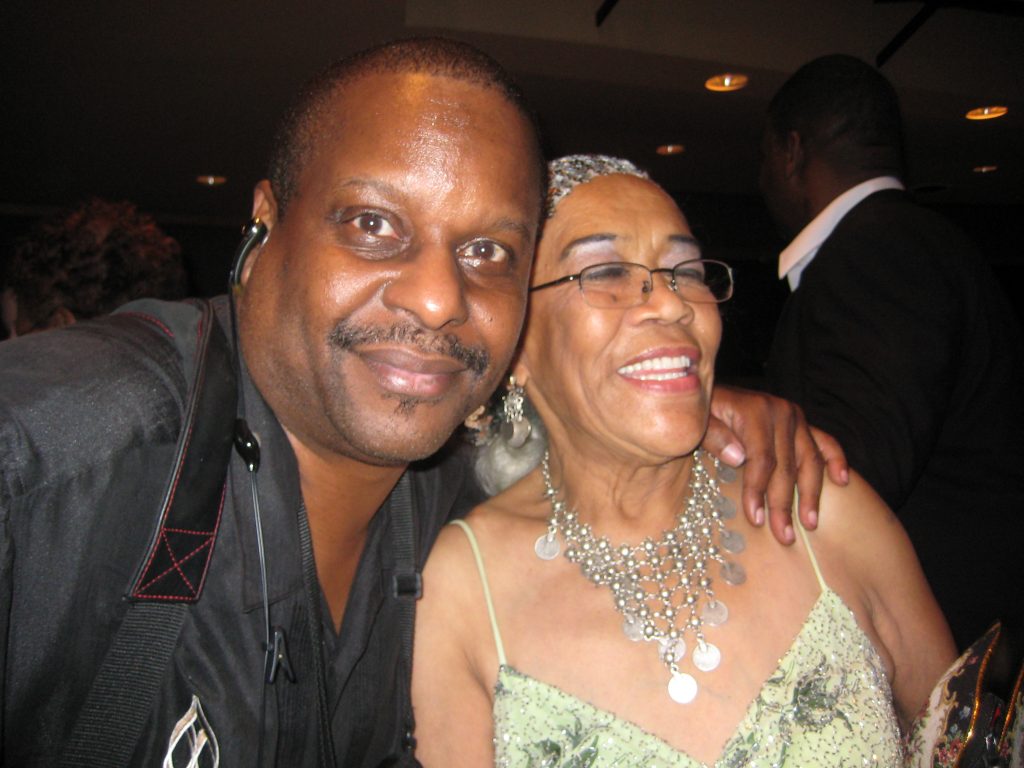 Today is the birthday of the GREAT Sugar Pie DeSanto. As most of you are aware, she has been a great friend of Soul-Patrol for many years. She has not only been an advertiser on the site, but we have been frequent guests at her off the hook, live shows when she comes to the east coast. Hell I even took my wife & daughter to see her live show in Brooklyn for New Years Eve one year (Lee Fields was her opening act that night.)
I mention all of this to say, that this posting was originally written back a few years ago. But I wanted to bring it back as something of a PRE-EMPTIVE STRIKE.
I am well aware that there is a movie being made about the life story of Amy Winehouse. I am certain that movie is going to get worldwide attention. And when it does, I don't want anyone here to forget just where the handlers of Amy Winehouse derived her look and sound from. Plus, I also want you to read the great concert review on Sugar Pie from our friend Tee Watts (Bob Davis)
Amy Winehouse (Where Did You Get Your FUNK From?)
Consider the following (Sugar Pie De Santo vs. Amy Winehouse)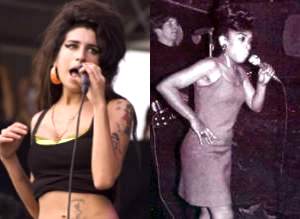 One of the things that I have done today was immerse myself in the music of our friend, the GREAT Sugar Pie DeSanto.
Sugar Pie De Santo was an early and consistent believer in Soul-Patrol.com. And has been for many years. And when someone does that, I don't ever forget about them.
If you have been paying attention, we have been posting her concert dates and other announcements on the Soul-Patrol Times for a number of years. She's a major player on the West Coast Blues scene, doing shows in front of nearly 100 percent white audiences.
(However she's NOT a "blues artist")
– She's got a new album called "Refined Sugar", that we have several cuts playing on Nu Soul @ RadioIO.com:
http://www.radioio.com/channels/nusoul
– You can also listen to her classic material on Classic RnB @
RadioIO.com:
http://www.radioio.com/channels/classic-rnb
Now I am quite certain that there are more than a few of yall who don't immediately recognize the name Sugar Pie DeSanto. However she is one of the greatest vocal talents in the history of Black music.
If you don't already know this, please go to her website at the following link and learn some more about her: http://www.jasmanrecords.com
Sugar Pie De Santo made big news recently, when she was announced as one of the 2008 R&B; Foundation Pioneer Award winners.
But in reality, Sugar Pie De Santo got some even bigger recognition in 2008. That's because she won 5 Grammy Awards last year.
But Amy Winehouse did, while doing a pretty good imitation of Sugar Pie De Santo.
Now I am certain that some of yall think that I should be mad at Amy Winehouse for doing what she did.
However, I'm not….
The people I'm mad at are the younger Black artists out there who could have easily done the same thing that Amy Winehouse did, but chose not to. Younger Black artists seem to think that the style of music that artists like Sugar Pie De Santo mastered in the 1960's is "dated" in 2008.
It's a good thing that the rest of the world doesn't agree with those Black artists, who don't seem to think very much of 1960's R&B.;
Because I would say that right now, the sound of 1960's R&B; is quite possibly "the hippest trip in America." (apologies to Don Cornelius)
It's a sound that's everywhere. I get tons of it in the mail every week. It's a sound that's selling out nightclubs all over the United States in 2008. It's all over the Social Networking sites. It's all over Triple A formatted radio stations. Hell I even hear it blasting out of the speakers of young white kids Jeeps right here in suburban New Jersey.
In fact it's a sound that is everywhere…(except for knee-grow radio stations)
Personally I am glad that Amy Winehouse gave Sugar Pie De Santo some props.
However I am even happier that some Black folks are going to be giving her some props at the 2008 R&B; Foundation Pioneer Awards. I'm excited that Sugar Pie De Santo will be getting an R&B; Foundation Pioneer Award this year. It will give me a chance to finally meet her in person for the first time, shake her hand and give her a big hug.
Sometimes that's really all a person needs, a well meaning and sincere hug. It can mean the world to you, when the rest of the world acts like you don't exist….
Anyhow, we aren't going to wait for the R&B; Foundation Awards to do the right thing by Sugar Pie De Santo, so we are doing this right now, so that you can take the time to do some deep exploration of the legendary SUGAR PIE DESANTO.
Once you listen to Sugar Pie's music, you will very quickly understand, just what the source is of Amy Winehouse's multi-platinum/multi Grammy Award winning music.
Click on that link now, so that you can hear this great music as you scroll down and read Sugar Pie's biography and A report by T.Watts of Sugar Pie's explosive appearence at the June/2008 Chicago Blues Festival, where Sugar Pie De Santo ROCKED the city of Chicago!
These contents are also posted at the following link:
http://www.soul-patrol.com/newsletter/2008/news5/sugarpiedesanto.html
Let us know what cha think?
Thanks in advance…
–Bob Davis
609-351-0154
earthjuice@prodigy.net
Notes on Sugar Pie DeSanto's 2008 Chicago Blues Festival Performance
(Soul/Funk/Blues)

Chicago 6/6/08–
I was blessed to be the Artist liaison for Sugar Pie DeSanto at the recent Chicago Blues Festival.
A little historical footnote is in order for you Soul-Patrolers who have yet to grasp the handle of the huge artistic scope of Sugar Pie DeSanto,nee Umpeylia Marsema Balinton, I suggest you procure yourself a copy of the 1964 Folk American Blues Festival, which has recently been released on DVD. Another words, don't simply take what I'm about to say as truth, you can view it for yourself.
In the afore-mentioned DVD, Ms. DeSanto takes the stage in Europe with a band anchored by the immortal Willie Dixon on bass. She does a mini-set of covers; Baby, What You Want Me To Do and Rock Me Baby for the staid audience. I believe the songs were chosen for their familiarity to the crowd. Sugar Pie certainly could've performed original compositions
equally as well. Originality notwithstanding, she interprets the Jimmy
Reed and B.B. King songs as if they were her own. When she marches off the stage like the original souljah she his, her cadence is to thunderous applause. While the crowd is yet roaring their approval, in the wake of Sugar Pie, Mr. Chester Burnett, famously known as Howlin' Wolf takes the stage. The suddenly unstaid crowd then loses it's collective mind…
Fast forward to 6/6/08. Before leaving the Essex Hotel for sound check, Queen Of The West Coast Blues; Sugar Pie DeSanto is summoned by the Hospitality Coordinator to the parking garage because Chicago Blues Queen Koko Taylor wants to greet Sugar Pie. They meet and greet each other like the long lost sisters in the blues that they are. They hug and charm each other with statements like, "what you gon' do girl?"
"Honey, I'm gon' kill'em." Koko does her dance. Sugar Pie does hers. It's a Soul Patrol moment.
Just prior to 3:30 sound check, I am in dressing room B at the Petrillo Music Shell with Sugar Pie DeSanto and the legendary Willie Henderson. (Do The Funky Chicken) w/The Soul Explosions. He also produced Tyrone Davis's two smash hits'; Can I Change My Mind and If I Could Turn Back The Hands Of Time. And directed the band during the Chi-Lites recording of Oh Girl.
Mr. Henderson and Ms. DeSanto are going over the arrangements of the songs she will sing in the Chicago Blues Festival's Blast From The Past
segment in which she will perform. The Blast From The Past set feature
a triumvirate of Soulsters, Mississippi/Chicago R& Bluesman Cicero Blake, R& B Diva Ruby Andrews and of course Queen of the West Coast Blues, Sugar Pie DeSanto.
At the sound check the vocalists discuss the battle plan. Cicero Blake is a seasoned performer whose first vocal group included the great Dee Clark.
The great Ruby Andrews (It's All Over Casanova) and Sugar Pie banter playfully about who will close. Wisely, Ms. Andrews chooses to let Sugar Pie close. You see, those in the business know that Sugar Pie DeSanto opened for James Brown for two years and in no small way contributed to his legend as the hardest working man in show business. She is a very hard act to follow. Ruby Andrews opens and Cicero Blake is sandwiched between the two Diva's.
Maestro Willie Henderson's band is called the Heritage Big Bad Blues Band. It is no misnomer. These cats are the cream of Chicago session players and most if not all of these gentleman played on the hits of Tyrone Davis, the Chi-Lites and others. Willie Henderson, baritone sax, Willie Hayes, drums, Tommy "Little Caesar" Whitfield, guitar, John Randolph, guitar, Walter Scott, guitar, Roosevelt Martin, Jr., keyboards, Bernard "Beanie" Reed, bass, Steve Hawkins, trumpet, Kenny Anderson, trumpet, Willie Woods, trombone, Henry Ford, tenor sax and Larry Weathersby, tenor sax.
The best testimony I can give these players is my observation during sound check that, well, they were ok. But when these cats put on their stage costumes and got in front of the thousand plus audience, they burned it up a notch. Matta' fact, they cooked with passion and precision.
Each vocalist did four or five numbers. Ruby Andrews, resplendent in white crafted a great set around her biggest hit. Cicero Blake, on the mend from health problems, was very well received.
Then Sugar Pie went to work. She opened with her big hit I Don't Want To Fuss and at the chorus, invited crowd participation with call and response. Once she had the crowd she kicked off her shows and launched into the emotional Life Goes On, which she dedicated to her late husband Jesse Davis. "He's no longer with us, but we gon' send it too him anyway", lamented Ms. DeSanto.
At the bridge, she unexpectedly jumped down from the stage and swung the song into the crowd. The women is a Blues missionary. She takes the message to the people. They loved it. At the song's end she proclaimed. "Don't you mess with me. I'm 72 but I ain't crazy."
The song that catapulted Sugar Pie into a contract with Chess Records was the classic I Want To Know. The band swung it up tempo and she was able to incorporate her dance moves into the groove. She spun, she kicked, she flipped, backed up and did not do the James Brown, but her own Sugar dance. She closed with Slip In Mules, the answer to Tommy Tucker's Hi-Heel Sneaker's and In The Basement, the famous duet she did with Etta James on the Chess label.
By the time she left the stage, she was the pied piper and the adoring legions followed her to the Best Buy Artist's tent where the acts sold and signed their CD's for fans. (This is where we were told to go immediately after the set.) Why corporations with muscle in the industry give youngsters with no clue about music history or simple R-E-S-P-E-C-T is almost beyond me. After we were firmly embedded in the tent, selling Sugar Pie's CD's like hotcakes, a nervous, corn-fed Best Buy employee approached us and said, "you need to sign a contract with Best Buy for your CD sales."
"Ok," I said, "where's the contract, we'll sign it". Young corn-fed disappears. He returns five minutes later with the contract and advises us that we need to bump up the price by $5.00 for the corporation's cut. No problem we surmise. Before we sign the contract he says, "oh and we, not you have to sell the CD's and we will give you your share after we're done running it through our computer."
"Whoa, Noah. That doesn't make sense. Why don't you just sit here and tally what we sell and we will pay you your $5.00 per. We are already in motion here and the people are clamoring for the product".
"My boss doesn't want to do it that way." "Well your boss needs to come talk to me"
Fifteen minutes pass. We're selling CD's like, Audi 5000. The young republican boss arrives and beckons at me with a crooked, come hither finger. You know, the old hypnosis drill that I stopped fallin' for when I'm Black And I'm Proud came out.
"No man. I'm handling business. You need to come over here". "You can't sell your CD's without signing a contract with us. And we sell the CD's, not you."
"Well, we are willing to sign the contract, but as you can see we are already selling the CD's. Where have you been for the last 20 minutes? The contract should have been signed before we got here."
"I can't let you sell inside this tent if you don't adhere to policy."
At this point a wise, adoring fan says, "I don't want to give the Best Buy Corporation my $5.00. Why don't you just come outside the tent and I'll glady give you the $20.00." (We were selling the product for $15.00). What a light bulb thata was, I think. "Ok, we're outta here.
Somebody gets Sugar Pie a chair and we continue selling until young republican returns with the festival promoter whom he has plied with lies about us being late, our demeanor and whatever other BS he could pile on to make his story stick. It is pointed out to the promoter that Best Buy was supposed to have us sign the contract at sound check. They didn't. They dropped the ball. It suddenly becomes clear to the promoter that this is a smear.
"Don't worry about it," he says to us. ".And don't pay them a dime. You've committed no crime. There just wasting time."
Sugar Pie and I head back to dressing room B. When I glance back at corn-fed and young republicans, they are snarling and red like KKK. I guess that's why they wear sheets.
Your West Coast
Soul-Patrol Correspondent,
T. Watts