Teena Marie (Interview + Review): The #1 Blue Eyed Soul/Funk Artist of All Time!
Its been 10 years since she passed away. So i thought it was high time for us to remember Teena Marie ("The Vanilla Child.")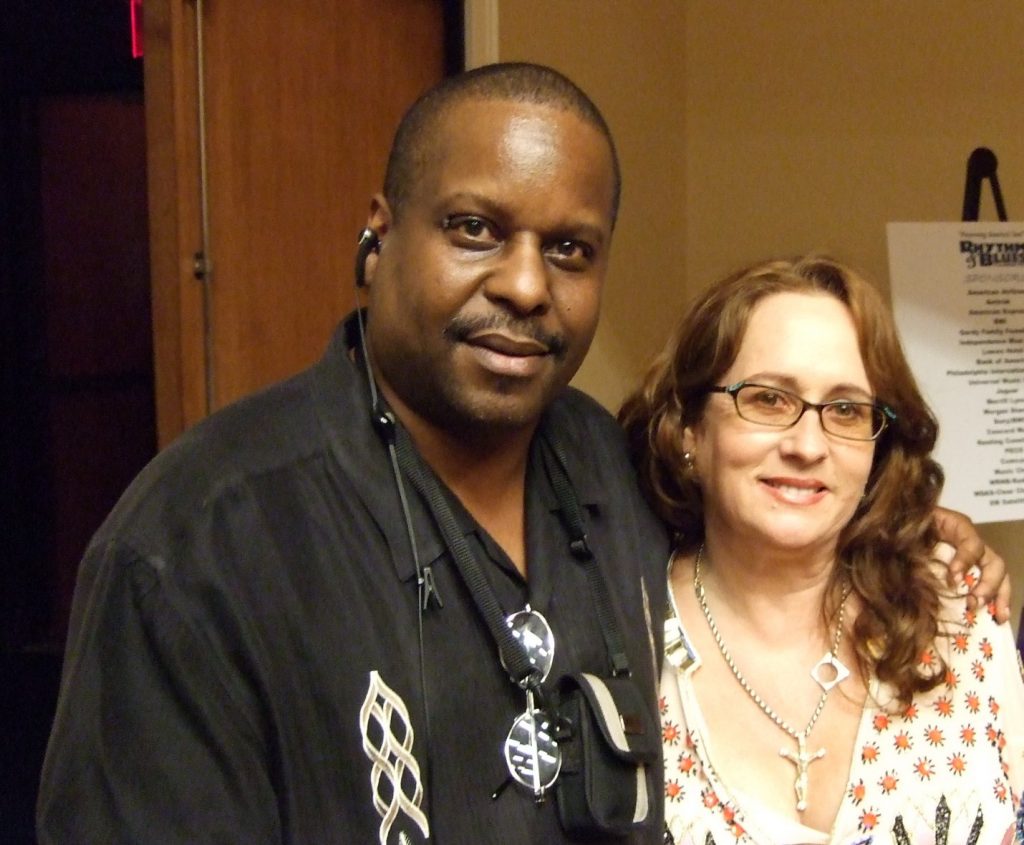 Going to a concert at the Dell East in Philly is always an uplifting experience for me. For me it's an activity that is somewhat akin to drinking "mother's milk" and rejuvenating my own spirit so that I can soar and become a better person.
Some of the best concerts we have covered here on Soul-Patrol.com have taken place at the Dell East.
Although I am not a native of Philadelphia, the whole scene reminds me of a time and place when Black Americans walked on the soil of the United States with pride in themselves because they were armed with the full knowledge that the culture they had created was quite simply the best that had ever been created and that their children would be able to leverage that culture into a future that knew no boundaries. We were truly the "Mighty People of the Sun" and we wore big Afro's and platform shoes because we deserved to be physically closer to the sun than other people.
Experiencing the true FUNK BOMB at the Dell East on a warm summer night is nostalgic for me because it reminds me of a time when Black Americans seemed destined for greatness. The 1970's truly were the historical equivalent of the 1920's "Harlem Renaissance". Although I'm always glad for the nostalgic feeling that it brings to me to be at the Dell East, it also causes me to cry when I think about how Black Americans have squandered all of our accomplishments of the 1970's since that time.
And for me this whole rollercoaster of emotions was to be enhanced by the presence of Sista Habibbah from the Philly Soul-Patrol Chapter & the Mandrill Family. If I was going to design a post card to use as an example of what 1970's Afrocentric philosophy "looked like", I would put a picture of Sista Habibbah on that postcard. Those of you who have met her, know that her calm & positive persona under what are sometimes the most negative of circumstances can be quite soothing. In short Sista Habibbah looks and sounds like what "tha Funk" was always supposed to be.
On this night instead of the almost biblical looking Mandrill the main attraction was going to be a small white woman named Teena Marie, who on the surface is the antithesis of of the Wilson Brothers.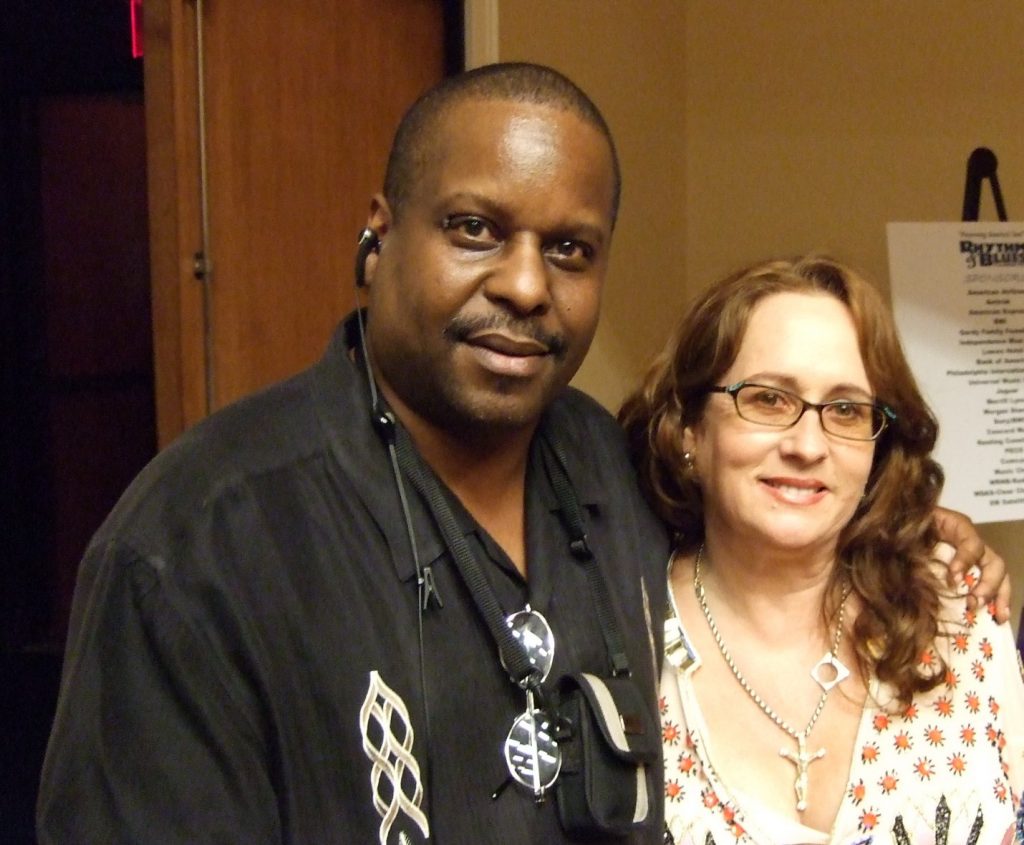 Teena Marie over the years has managed to become a "cult artist" within the Black community ever since she first burst on the scene in 1979 with the double sided hit: "I'm a Sucker For Your Love" & "Deja Vu (I've Been Here Before"). And in today's environment where on a daily basis we see new young white singers being artificially promoted as being "soul music artists", the accomplishment of Teena Marie and her astounding connection to Black America stands as the overwhelming example that these "wannabe soul artists" (ex: Joss Stone, Amy Winehouse, Justin Timberlake, etc.) should aspire to.
Opening the show was Howard Hewett…
Howard Hewett is a classic balladeer who also brings some "limited funk credentials" to the table based on the hits he had as a member of Shalimar. He did a good job in revising his classic hits from the days of Shalimar ("Make this Move Right Now", "Night To Remember", etc.) and his solo career ("For The Lover in You"). The crowd of just under 10,000 at the dell east responded to polite applause & respect. This crowd loves Howard Hewett, his legacy of great songs from the past and respects the trials & tribulations of his personal life which they know all about from his many TV appearances over the years as well as his transition into the world of Gospel music. He talked from the stage about his new album "If Only" and asked the crowd several times to request it on WDAS-FM (the local Clear Channel Knee-Grow Radio station). But in the end, the crowd knew Howard Hewett was really there to set the table for the "Vanilla Child".
By this point it was now dark outside and I decided to take a walk around both the inside and the outside of the Dell East. Although located inside of Fairmount Park, the Dell East is truly a part of the community of North Philadelphia. There is a fence around it, however the fence is set up in such a manner that even if you are outside of the venue, you can still see the stage and hear the music. People were camped outside of the fence with coolers and BBQ grills and there were plenty of little kids on bikes stationed outside. Inside of the venue there were "playas" (both male & female) all dressed like they were attending the Academy Awards. A fair number of younger people were also in attendance and the DJ was now playing a mix of 70's funk & early 1980's rap music in anticipation of Teena Marie.
Warren Haskins of "The Friends of the Dell East" took the stage to announce the presence of several local dignitaries and their support for the recently announced 40 million dollar renovations for the Dell East facility.
Patti Jackson of WDAS then introduced Teena Marie and the crowd finally had their "Vanilla Child".
Teena "skipped" on to the stage and then went off with a rousing cover version of the late Lyn Collins classic "THINK". So imagine this scene for a moment…
– I am inside of the Dell East, located in North Philadelphia, one of the largest ghettoes in the United States.
– The crowd is "99 & 44/100 percent Black".
– Teena Marie opens with a cover version of what is perhaps the FUNKIEST hit song ever recorded by a Black woman.
– Next to me, dancing up a storm is the most afrocentric Black woman that I know (Sista Habibbah)
– & the crowd is R-O-C-K-I-N to this tiny white woman and showing her as much love as if it were Lyn Collins herself.
You see that's because when you are dealing with Teena Marie and Black America, you are witnessing something that Joss Stone, Amy Winehouse, Justin Timberlake, (and their handlers) can only dream about and NEVER achieve.
I understand what it is, but for my own edification (and because I knew that I would be writing this review) I walked around during the course of the evening and asked at least 10 different people the question: "How come Black people love Teena Marie so much even though she's white?"
EVERY PERSON THAT I ASKED RESPONDED WITH THE SAME EXACT ANSWER:
"TEENA MARIE AIN'T WHITE, SHE'S ONE OF US"
Teena Marie then proceeded to run thru not only her own catalog of hit songs, but also those of others:
"Think"
"Behind The Groove"
"Love of Money"
"I Need Your Lovin"
"Deja Vu (I've Been Here Before)"
"Portuguese Love"
"You and I"
"I'm Just a Sucka For Your Love"
"Flashlight"
"Sweet Sticky thing"
"Ooo La La"
"Rock Your World"
"Fire & Desire"
"Skylark"
"Square Biz"
So therefore, in addition to her own beloved work, Lady Tee also had the good sense to connect the dots of her own music to that of other artists from that timeframe.
This was truly FUNK CHURCH yall
From the stage she spoke of "sistahood" and just how tough it was dealing with all of the "Casanova Brown's" of the world and the sistas in the audience yelled back at "Lady Tee"…..HELL YEAH.
She spoke of her mentor/lover the late Rick James and then paid tribute to him with the songs: "You & I" (featuring Teena's musical director whose name escapes me on the vocals) in tribute to the late Rick James and Teena joined him on him on "I'm Just a Sucka For Your Love". When it came time for "Fire & Desire", Teena sang it alone. I had been hoping that perhaps the musical director or maybe even Howard Hewett would join her for the classic duet originally sung by Teena Marie and Rick James. However there really was no need for Teena to be accompanied by anyone. At that point the spirit of Rick James had permeated the Dell East and you could literally hear his voice. This all brought a tear not only to my eye, but I am sure to all who were in attendance.
And of course during the rousing "Square Biz" she rapped (yes I do mean rap) the lyrics that forever made Teena Marie "ONE OF US" first heard back in 1981….
"I've heard a boatload of other ladies' raps
But they ain't got nothin' on me
I'm less than five foot one — 100 pounds of fun
I like sophisticated funk
I live on Dom Perignon, Caviar, Filet mignon
And you can best believe that's bunk
Here's what I'm talking — Square Biz, Square Biz
I've been called Casper, Shorty, Lil' Bit
And some they call me Vanilla Child
But you know that don't mean my world to me
Cause baby names can't cramp my style
I love chickiken and Buff's collard greens
A little hot water corn bread
I love you too Cat Daddy, but don't you let that
Go to your head — That's what I'm talking baby,
Square Biz
You know I like spirituals and rock
Sarah Vaughn, Johann Sebastian Bach
Shakespeare, Maya Angelou,
and Nikki Giovanni just to name a few
I'm wild and peaceful, Lady Tee
I got to keep my irons in the fire you see
I got the point, the scam, the low, the deal
What you feel, say what!
Flash back — who's that…"
Those words are in fact the answer to the question I had asked folks in the crowd earlier that evening.
Teena Marie really is "ONE OF US", regardless of her parentage…
HER DNA IS 100 PERCENT BLACK AMERICAN
And in the song Square Biz" she defines EXACTLY what that DNA is composed of.
Try as they might Joss Stone, Amy Winehouse, Justin Timberlake, (and their handlers) will NEVER GET THERE.
The crowd leaves the Dell East after the final song and they are energized once again about their own culture.
They are energized because they just got through watching a tiny white woman tell them just how great their culture is and that to prove just how great the culture of Black Americans is that she personally went to the extent of totally discarding not only the culture she was born into, but also the PRIVILEGE that goes along with it.
Now what better endorsement can the once (and perhaps future) currently low self esteemed "MIGHTY PEOPLE OF THE SUN" have for itself?
And what better place to do it than at the ancient Dell East, where surely the ancients themselves could be heard chanting "Square Biz" in the night air in Philadelphia…
Have read statements from people such as the "black music experts at Rolling Stone magazine" saying that "Teena Marie transcends race" or worse yet, "The music of Teena Marie is Color Blind".
I am here to tell you that these people have no clue what they are talking about because Teena Marie's music is explicitly about race, empowerment, culture and more.
Their statements prove beyond the shadow of a doubt that they either never listened to the lyrics or have never witnessed a show. Teena Marie's music is 100 percent about the glorification and extension of a culture that is dying a very painful death. And Teena Marie has a message to Black Americans; she wants you to "fly your funk flag" and to "fly it with pride." because once you let them take it away from you, that you won't EVER get it back.
And that my friends is what's "behind the groove."
–Bob Davis
earthjuice@prodigy.net