THE UGLINESS OF THAT RANCID DOG FOOD COMMERCIAL
You see in addition to being a chart topping song when it first came out, "What Cha See is What Cha Get" by the Dramatics is also the song which opened up the movie WATTSTAX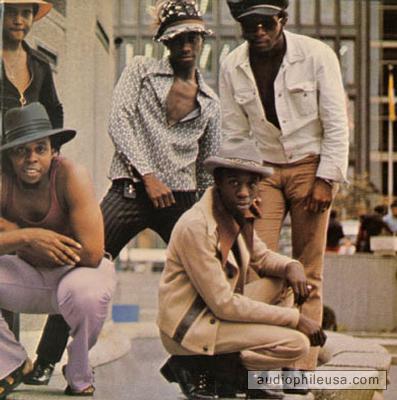 EDITORIAL PT 1: There is so much crap going on right now, it hardly seems worth it it to get indignant about anything.
Therefore it was a big surprise to me when I got so mad about a seemingly unimportant thing as a TV commercial.
But it happened to me. And it happened to me the very first time I saw the "Farmers Dog" commercial. I'm watching TV and not really looking at the screen when suddenly I hear one of my all time favorite songs come on; "What Cha See is What Cha Get" by the Dramatics. The song had come out when I was in high school and had been a monster hit record. It had even crossed over to the pop charts. However very quickly my joy at hearing the song on TV, turned to HORROR. I said to myself; THIS IS A MF'ING DOG FOOD COMMERCIAL.
Turns out they BUTCHERED one of my favorite songs, but they had to pick one that resonated with me in a personal way. You see in addition to being a chart topping sone when it first came out, "What Cha See is What Cha Get" by the Dramatics is also the song which opened up the movie WATTSTAX. And boy did it open up the movie in a big way. You see it served as the soundtrack for the opening montage of BLACK LOS ANGELES. It changed my perception of what life in Los Angeles was like for Black Americans forever. Before I saw the opening montage in the movie Wattstax, I thought that Los Angeles was palm trees, sports cars and surfin usa for everybody who lived there,
The montage teaches us that for Black folks, life in Los Angeles looks pretty much like it is in NYC, Philadelphia, Newark, DC, Detroit, or anyplace else. It raised my consciousness. It was a majestic song with a majestic message, to open up a majestic movie. BUT NOW IT MF'ING DOGFOOD.
https://www.youtube.com/watch?v=3MoVScUoqMQ
How offensive!
EDITORIAL PART 2: Hey Iris, what cha think of this version?

I always thought this was one of the coolest fcking songs in the whole universe. I mean after all it opens up the movie WATTSTAX and it's a perfect blend of Soul/Funk/Soul/Funk w/KILLER LYRICS!!! Then this year came the UGLINESS OF THAT RANCID DOG FOOD COMMERCIAL. I'm sick & tired of white folks taking MY CULTURE and twisting it around for their own EVIL PURPOSES. Then this morning I discovered this HELLIFIED "SOUL PURRFECTION" version and now I'm smiling. This sht is twice as cool as the original, of course nothing is as cool as the Wattstax version, but it will do till that rancid dog food commercial is removed from my sight!
This is some "finger poppin," stannk azz horns, stank azz guitar mound of some street corner funk. Hell on the inner sleeve of the fold out album, the Dramatics are even dressed like the Funkadelics! (plus the bass of Micheal Henderson)
.