WHO IS LITTLE RICHARD? (New Theme to MNF)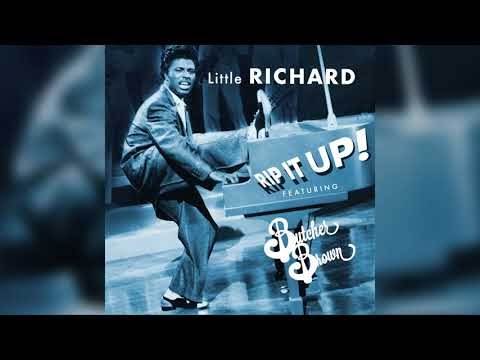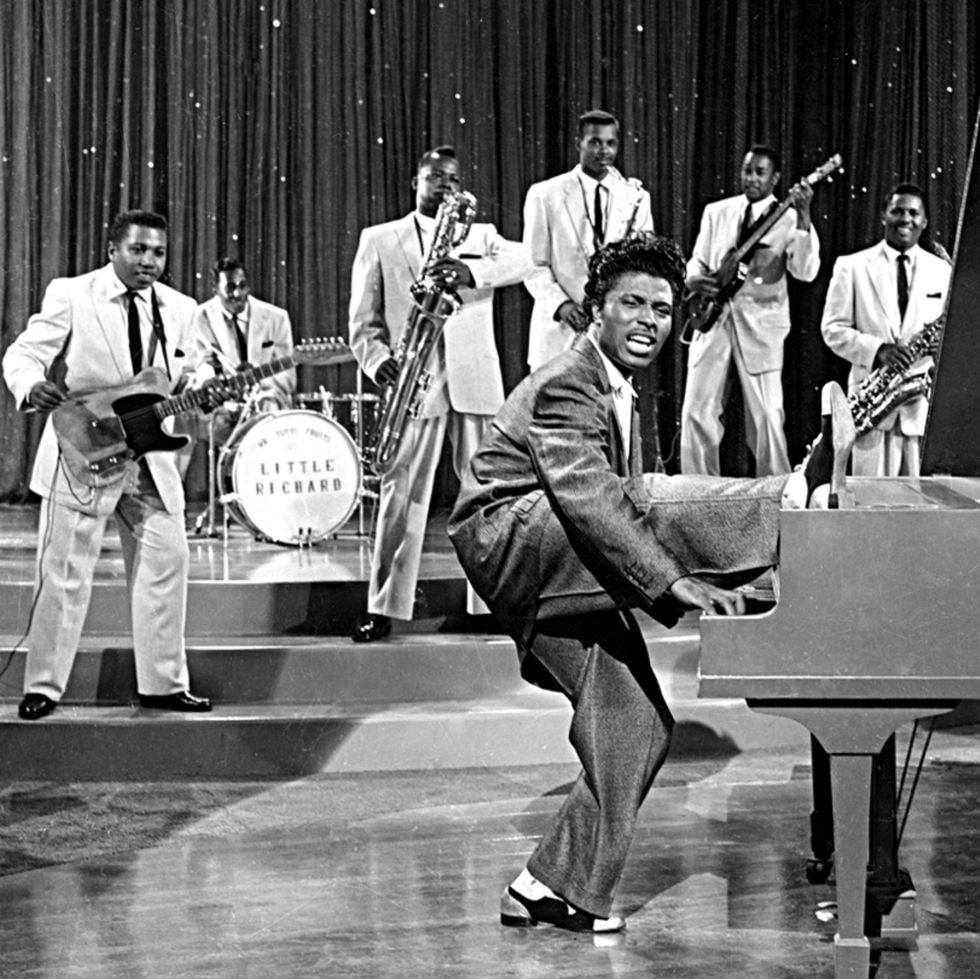 Here is where the rest of the world started to find out what those darkies were doing on the other side of the world. In the wilderness of North America, right after 408 years of servitude and so-called emancipation; we were freed from the shackle: yet without a dime in our pockets. After following a civil rights movement that yielded few privileges for our folks (Black folks would orchestrate another such movement that would take place 100 years later). However, from this murkiness, would come a music, triggered by adverse cultural conditions; carrying a voice and a sound that would define and redefine American music for years to come.
This sound was created from within an oppressive and repressive society; one which segregated Black folks from the rest of American society for many years. The sound came right after what is now known as Ragtime and Swing–direct from the music of Black folks living in the South (music currently known as the Blues)–after a time when folks, 'watched radio shows on the radio' to see what, "The Shadow knows. . ."
From this period, there came an articulation of lyrical genius–accompanied by voluminous amounts of outlandish piano playing; striking the hearts, minds and souls of many–created from Black people's form of music once referred to in American society as "Race Music."
They say, "Oppression spawns creativity," and with Black music, there is certainly no exception. Music itself is a cultural icon–a means of expression, a response to the social conditions made by a group of people. Certain types of entertainment by our folks wins favor in American society, because it conjures up what mainstream society likes.
As human beings, we are sociological creatures—our responses are a response to our environmental conditions—based upon our rearing, or the cultural aspects we're raised up in. As Blacks in America, we are subject to mainstream America opinions and proclivities, and this is an actual fact! And this fact impacts on the way our people process things.
Little Richard was born Dec. 5, 1932 in Macon, Georgia, a rural area (James Brown was born May 3, 1933, in Barnwell SC) in the South, during a time called the "Great Depression." This part of the country is known as the "Bible Belt"–home of both religious music and the music of (southern) Black folks (commonly known today as, "The Blues") which was bound to have an effect on Richard's life. [Whites have their own religious, folk or country music as well, but that is definitely another story.]
His full given name is Richard Wayne Penniman–one of twelve children of Charles Penniman; his mother was Leva Mae Steward. Richard's father was a brick mason, a bootlegger, and later a nightclub owner. His father was shot dead outside of a bar, when Little Richard was 19 years of age.
Tumultuous times in America, led to a period of segregation from 1877 to the mid-1960s; a time in which Blacks were treated like second-class citizens–and during such times came the Great Depression making money scarce; so hustling and businesses around vices began to crop up, deemed by some; necessary to survive in such times. Little Richard speaks of such times: "Macon was a muddy little town. . . I was born in the slums; my daddy sold whiskey, bootleg whiskey. Back at that time, the Black records was considered race records and Black records was not played on White stations at the time."
As a child, Little Richard was raised Pentecostal; embracing its' style of music as performed by Black folks. Shout and testifying tones delivered by lead singer–followed by a chorale response; reminiscent of a sound like: "Mbube" performed by Solomon Linda's Original Evening Birds (the original creators of "The Lion Sleeps Tonight"), "Pata, Pata" by Miriam Makeba, Hugh Masekela, Zulu tribes, or various forms of African religious music; consisting of similar hoots, shouts, and wails within tunes. As Richard's childhood was centered around the Pentecostal church and its' music. Even his grandfather and two uncles attended the church where he learned to play piano and sing gospel music. In October 1947, Sister Rosetta Tharpe heard young Richard singing her songs before a performance. So she paid him to open for her show.
As a matter of fact, all throughout his life, Little Richard has been known to be a deeply religious person; carrying his Bible everywhere which probably contributed to his incorporating of sacred sounds and other nuances into his "Party-hearty" danceable secular music.
Richard's father, Charles or "Bud," had issues with Little Richard's manner or effeminate ways; so at the age of 13, his father put him out on his own. Richard was bodacious, and somewhat of a prankster, doing things at a time when such things were not socially acceptable; but Richard was able to find refuge with a White family, while he honed his performance skills.
By "Party-Hearty" music, Richard is referencing to "Boogie-Woogie" or the "Blues-Boogie style" in Race Music, which plays piano with a strong, fast beat; but his style brought in some innovations. Today, it is hard to imagine that Black folks danced to Jazz, or the music we hear today as Blues–or even what has known today as Rock and Roll; but it is true for all the above.
Today Blues music does not showcase as much of the Blues & Boogie as it did in Little Richard's teen years but it is still around today. Recently I spoke to two Black men, whose ages range from mid to late seventies–who referred to the Motown Revue shows at the Uptown Theater in Philadelphia as "Rock & Roll shows."
Our perception on Black music today, is much, much different from how Black or Race music was viewed in Little Richard's younger years. The chemistry of Little Richard style is just pure genius; particularly when you consider that he gained national and superstar status in a very segregated United States.
First of all, Little Richard's style combined the electricity of church, the influence of Vaudeville, his manner of dress; flamboyant clothes and pompadour hair and Party-Hearty/Blues-Boogie music and supercharged personality, rocked and shocked the world to his arrival!
I think, in order for you to fully appreciate his genius, you have to realize that television wasn't a household item when Little Richard, James Brown or Sammy Davis Jr. rose to prominence. Davis, a Vaudeville childhood sensation of his day (was like a Michael Jackson of my youth): Multitalented, to say the least; Sammy was a Vaudevillian performer that sang, dance and act…in short a consummate performer. Little Richard had stars like this for inspiration. Also, this was during the time of the Golden Age of Radio; where audiences listened to "Television-like" shows on the radio.
People either went out to live entertainment like Vaudeville shows, theater or band performances or they "watched the radio"—this paradigm was entertainment during most of Little Richard's childhood.
I would venture to say, that this type of social influence made Little Richard and James Brown the dynamic performers they turned out to be. "I used to take my mother's curtains and put them on my shoulders and I used to call myself at the time "The Magnificent One." I was wearing makeup and eyelashes when no men were wearing that. I was very beautiful; I had hair hanging everywhere," Little Richard explained.
His fervent shrieks, shouts, screams and wails–religious-influenced vocal exclamations–along with his sexually charged innuendo while pounding at the keys–made Richard a force to be reckoned with. Little Richard's flamboyant garb and showmanship made him quite the spectacle…amply receiving notoriety for his onstage antics by Black and White audiences alike.
It is a known fact–Little Richard, Chuck Berry, Fats Domino and Bo Diddley were all responsible for the transition of Race Music (commonly known as the Blues) into what is today known as "Rock and Roll." But what is not so well known, is how much Little Richard's way of creating and performing his "Party-Hearty" music shaped the music world.
David Bowie said, "If it hadn't been for him (Little Richard), I probably wouldn't have gone into music." The legendary Jimi Hendrix, who once played in Little Richard's Band, said he wanted his guitar to sound like Little Richard's voice. Having an affinity for Protestant music–it was Richard's influence which prompted his manager to promote the 18 year old James Brown and his former gospel group (now known as the Flames). Brown's group got signed to Federal Records (a subsidiary of King Records), which released Brown's "Please, Please, Please" a record which sole 3 million copies and put James Brown on the map.
Paul McCartney of The Beatles said, "I owe a lot of what I do to Little Richard." The Beatles fifth UK EP album, "Long Tall Sally," included a Little Richard song "Long Tall Sally." The album, "Beatles for Sale" (4th study album) included, "Hey-Hey-Hey" and "Lucille" and "Oh My Soul" covered on the 1994, "Live at the BBC" Beatles' compilation adds to his accolades. The Beatles, "I'm Down," is a salute to Little Richard's style. The Beatles opened for Little Richard when he performed at the Star-Club in Hamburg during their early years. Richard's tunes are a part of the Rock & Roll canon, covered by almost every major European Rock artist. Elton John said, "I heard Little Richard and Jerry Lee Lewis, and that was it," I didn't ever want to be anything else…I'm more of a Little Richard stylist." Otis Redding joined the Upsetters, little Richard's band, after he went solo. Bob Dylan said, "He was my shining star and guiding light back when I was only a little boy." Chuck, Fats, Bo…those other Black men are Rock's architects; but Little Richard is its' prototype.
"I was wearing purple before you was wearing it," Richard said to the camera, directed towards Prince; who is considered, "The Little Richard" of his generation: as Little Richard and James Brown were among the top billers of theirs.
"From the git-go, my music was accepted by whites," said Little Richard; and he did this in a segregated world. But this feat wasn't enough to save him from being taken advantage of by the inequalities in the music industry of the 1950s: Pat Boone scored big by covering Richard's songs which Richard claims he never received anything. Pat Boone's lackluster copies of, "Tutti Frutti" and "Long Tall Sally," ranked well along Richard's own versions. "I been knocking for years and they won't let me in. I keep coming back, trying it again. Haven't got nothing. While I was slipping and sliding, they was keeping and hiding; putting my money in unknown banks."
While Little Richard recorded many secular and religious tunes, his success started with Tutti Frutti (Specialty Records) in 1956, followed by a series of hits; Long Tall Sally, Rip It Up, Lucille (1957), along with Good Golly Miss Molly in 1958, followed by a long career and many appearances and awards. Little Richard appeared in early Rock & Roll movies such as, Don't Knock the Rock (1956) and The Girl Can't Help It (1957) and Mister Rock 'n' Roll (1957). On May 9, 2020, Little Richard returned to his essence in Nashville, Tennessee from bone cancer.