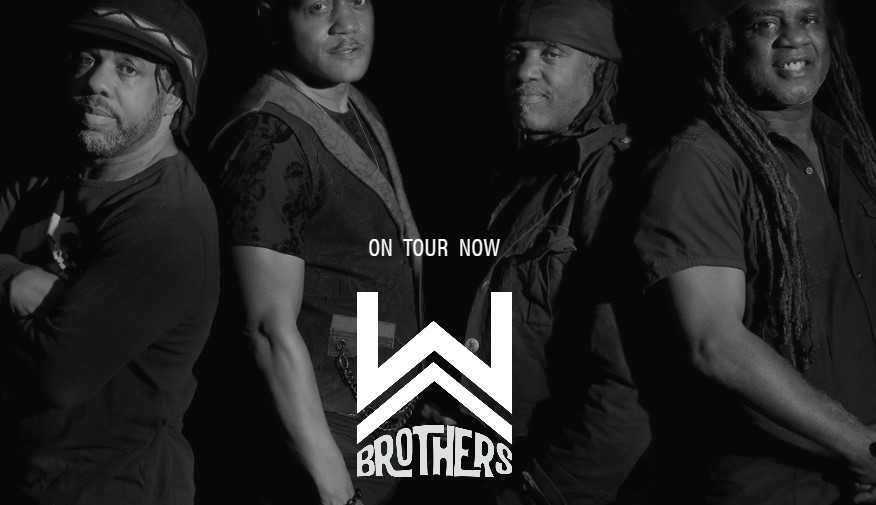 INTRO:
The purpose of this page is mostly to be a collection of some of the Soul-Patrol Wooten Brothers concert reviews from NYC, Philly, Washington DC, Cleveland, Columbus, Chicago, Los Angeles in the past. Sorry I don't have more pictures. At one time I had tons of them, but at least for the moment, I can't find them. Plus speaking of Los Angeles, I can't find our Los Angeles concert review (and I'm kinda pissed at myself.) If you have any pictures from any of these events, please contact me.)
If you are going to join us during this year's fall tour, go to the following link (www.victorwooten.com) to not only learn when the Wooten Brothers are coming to your town, but also to secure your tickets!
SOUL-PATROL & THE WOOTEN BROTHERS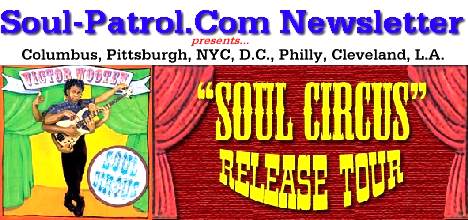 Soul-Patrol is proud to once again cover the Wooten Brothers on this fall 2023 tour. They have long been a major part of the Soul-Patrol website (over 20 years) and they long ago, made us a part of their musical family online and offline. For over 20 years there isn't a project that either one of us do, that the other hasn't supported. For that I am thankful. Musically there is much in common (and I will get to that in a moment,) but it is on a person-to-person level where it truly manifests itself. Whenever they reach out to me, it really has always been about me as a person. You can't know how much that has meant to me.
Musically we are kindred spirits with the Wooten Brothers.
Personally, they are like long lost family!
When their record label initially contacted me they said, "the Wootens don't fit into any existing radio format. They don't fit into any of the existing categories in record stores either. If this were the 1970's they would fit into a category called Funk, but that category no longer seems to exist."
My reply; "You don't know it yet but you also just described the Soul-Patrol website. Thats why our nickname is Great Black Music From the Ancient to the Future."
That is my long-winded way of saying to you, that if you are new to the Wooten Brothers, I urge you to scroll down and read this documentation from past Wooten Brothers event we have covered from around the country (NYC, Philly, Washington DC, Cleveland, Columbus, Chicago & Los Angeles.) It will make you smile as you read. But not as much as it made us smile when we attended these and other Wooten Brothers events in the past. You might even see your own name!
Soul-Patrol Wooten Brothers concert reviews from NYC, Philly, Washington DC, Cleveland, Columbus, Chicago & Los Angeles
NEW YORK CITY
———————-
These two reviews are from the NYC Victor Wooten Show last Wednesday night…
———————-
Victa! Victa! Victa!
I don't know what to say!!! Selah said I was the master of understatement when I described Victor Wooten as a phenomenal bass guitar player. My problem is that I don't know how ANYONE can describe Victor!
I love the new cd "Soul Circus", but as great as it is, it doesn't begin to capture the essence of a live Victor Wooten show! Let me try to explain . . . .
The show opened with a movie about Victor and whether the legend is true that he has eight arms. The screen goes up and there's a drum introduction and the band breaks into "Natives". Then they played "Stay". Flex came out front and started playing a medley of bass lines starting with "I'll take you there" and some others. Then Will Lee came out and the entire band played lines from Cream, Stevie Wonder and a host of others. Then they led right into "Bass Tribute" (my favorite song on the cd – anything that mentions my man Jaco Pastorius/James Jamerson is alright by me!). They played "Soul Circus". Victor spoke of his Dad dying on Christmas Day and because of his Dad's stories he wrote the song "Prayer", which they played. The duet of J.D. Blair on marching band snare and Victor on bass was wonderful. They played "Higher Law", Future Man did his thing next. And then Joe Wooten took over with his solo of a cute, funny but true, song called "Testosterone". Saundra came out and sang "On & On. Divinity, my bad, that's M.C. Divinity (get it right y'all!) – this Sister is bad!! She came out and sang "Rebel' and was slamming on the bass. The girl's been watching Victor and learning the ropes, um, strings!
Okay, at that point I just stopped writing! There were more songs,(practically all of the cd), but, you just have to see the show for yourself. It truly is a blend of rock, soul, funk, jazz, blues, gospel, hip hop – there is no musical genre untouched. Wear your comfortable clothes and those comfortable shoes because your body WILL be grooving and moving!!!!! And your voice will be gone in the morning!
Thank you Victor!
Peace,
Cheryl Y. Russell
New York Soul-Patrol Coordinator
First of all, I was tired. I'd been up since 6am, and had been to a host of meetings, one of which was back in Brooklyn. I had my heavy ass briefcase with me when I got to "The Plaza" at around 8:30. I had missed the "Meet and Greet". Got to the "Plaza" and there was a line leading up to the door. This was the ticket holder's line. After I was cavity searched for, bombs, weapons, bottles and other WMD's I was admitted and told that I had to check my briefcase. Believe me, I was glad to do so. I did not want to drag that mofo all night. That sucka was heavy.
After I checked my bag, I was told that I had to climb 2 more flights of stairs. I dutifully did so and came face to face with A WALL OF about 300 20 & 30 SOMETHING BOUNCING AND CATAWALLING FUNKATEERS TAKING UP ALL AVAILIABLE SPACE AT STAGE LEVEL!!! The wall of peoples went back at least 30 feet.
I looked all around for a sign of Soul Patrol but none was in sight, so I went to the balcony. The balcony was wall-to-wall peoples as well (and was smaller than I remember it.) Still no sign of Soul Patrol. I spied a section on the balcony THAT HAD CHAIRS and I figured that Soul Patrol would be there, so I made a beeline. I was stopped by a gangly brother who asked, "Do you have a pass?". I looked him up and down like he was a cockroach and in my best Klingon voice replied," Nooooo, I don't have a pass".
I surpressed an urge to squash the brother and went to the bar to buy a drink. Threw back a tequila from the well, and asked the bartender where the bathroom was. When he told me it was 2 flights down, I groaned and decided to
hold it.
I then went back to the balcony and found a spot by the railing. Unfortunately, I had to fight for elbow space with this college kid and he wasn't giving up an inch. I was contemplating breaking his elbow when I spied two cushioned love seats next to the VIP section (where the cockroach was.)
On one seat was seated a Black guy and a White guy. I asked them if I could sit down and the Black guy amiably said, "We've been waiting for you". When I sat down, the Black guy asked me if I was a musician. I nodded yes and he said, "Lemme guess, Bass Player, right?" Before I could ask him how he knew that, in sashays Ms. Cheryl Russell, accompanied by Robert, (whom I met a few weeks ago when Sally came to town) and two Black Wookies.
Cheryl was surprised to see me and said that I hadn't told her I was coming
(truly slipped my mind.) I asked her if she had passes for the VIP section.
She replied that she would have to summon Victa's manager. She told me to wait there, and 2 seconds later came back with a short White guy, looking like Paul Shaffer from David Letterman. He in turn told us to wait downstairs by the bar. So down the stairs we all went.
We got downstairs as the music started. Cheryl, looking pert and cute, started jumping up and down to the music like a teenager. She had soooo much energy. Disgusting behavior for a woman of her years. Somebody ought to tell her to act her age. (Although it won't be me, she ain't punchin ME out.)
"Paul Shaffer" came back almost immediately, gave Cheryl the passes and told us that we could go up right after the drum solo. I asked him if I had time to go to the bathroom. He and Cheryl urged me to go.
I went. When I came back I stopped at the bar and decided to have their cheapest beer. Never heard of Sharps before, so I ordered it. Turned out to be non-alcoholic. Not exactly what I wanted. What made matters worse was that when I got back to Cheryl and Co., I promptly spilled some all over the floor.
At this point the show began and Cheryl started jumping even more. What we witnessed was nothing less than a muthafukin Bass Clinic. The first song was a song called "Natives", which featured the aforementioned drum solo. Then they went into a song called "Stay", and it featured on the stage not one, not two, but three bass players (Regi Wooten, Victor Wooten and Anthony "Flex" Wellington.) One of the Bass Players (Regi Wooten) was playing what appeared to be A 10 STRING BASS!!! All three bass players (which of course included Victa) were virtuosos. To make it worse, a 4th Bass Player appeared, (MC Divinity) only she was female and was also a virtuoso. These 4 Bass players started trading licks and carrying on in rapid-fire style in what was appearing to be a Funk Symphony.
In the midst of all this, Regi asked if there were any Bass Players in the house. Now why did he ask that? Practically the whole room raised their arms, giving the P-Funk Sign and bopping to the beat. CLEARLY 9/10ths of the people in the room were Bass Players, including myself. No wonder the brother I sat with earlier knew I was a Bass Player, every Bass Player and his (or her) Mama was there (I actually saw a young lady check a Gibson Thumper when I checked my bag).
Then it got even worse. Will Lee from the Letterman show, showed up. NOW THERE WERE FIVE BASS PLAYERS ON THE STAGE!!!! Will Lee played the bass line from "Skintight", "I'll Take You There", "Flashlight", "Funky Good Time", "In A Godda Davida", "Sunshine of Your Love", "Slide", all the lines that we Bass Players had sat in front of our Wreaka Players and worn out grooves on these various tunes in an attempt to learn our craft. Everyone humming the lines as the five Bass Players played them. I WAS TRULY IN BASS PLAYER HEAVEN!!!!
After this, Will Lee got off the stage and Regi switched to regular guitar. They went into a song called "Bass Tribute" where Victor paid homage to the Bassists that came before him, and influenced him, such as Stanley Clarke, Jaco Pastorius, Marcus Miller, Larry Graham and James Jamerson. Victor paid homage by duplicating the style of each bassist. Sometimes he was successful and sometimes he wasn't. For example, his duplication of Stanley Clarke's style was unmistakable, a riff from "Romantic Warrior". Stanley is obviously a major influence. Victa's duplication of Graham and Miller was also dead on. When Victa duplicated Graham, he went into a brief rendition of "Can You Handle It" from Graham's Graham Central Station period. For Miller, he went into a rendition of "Back Seat Betty" from Miller's Miles period. His duplications of Jaco and Jamerson were less distinctive. Frankly, Victa's Pastorius sounded like Clarke played an octave lower. His rendition of Jamerson was indistinguishable. Still, I give him A for effort for even attempting to duplicate these great players.
Victa next went into a touching song that celebrated his father, the influence he impressed upon him, and the great love he felt for him. I felt my eyes welling up. I'm such a softie.
Next the percussionist, J.D. Blair, got up and put on a marching drum. I expected to see a drumming exhibition like that was displayed on "Drumline". None of that was forthcoming. J.D. did have the gift of gab, however. His duet with Victa was passable.
By this time, however, my dawgs were hurtin, my back was screamin and the knees were clamoring for relief as well. This standing up and acting crazy is alright for the young folk but I had run out of walls and door knobs to hold me up and Baba Selah had to go sit down. General Russell and the rest of the Soul Patrollers had indicated their desire to stay in the trenches. In spite of my desire to maintain tribal unity, neither the mind nor the body was willing. I asked Cheryl for the VIP pass and she gave it up. I then ascended to Heaven, and bid Soul Patrol adieu.
When I got upstairs, I flashed my pass to the cockroach. He got in the last word by requesting that I apply it to my person. With great flourish I applied it to my ample abdomen and walked on by.
I got a seat right by the railing, just in time to see DeRico Wilson display his contrapuntal dexterity on the trap set. I glimpsed Cheryl on the floor, jumping up and down like a ping pong ball, obviously in the moment and enjoying herself.
What came next was one of the highlights of the evening.
Regi Wooten is a geetar playin so and so. He has incorporated the best of Hendrix with the two handed tapping of Eddie Van Halen, all the while slippin and slidin like James Brown and doing his best Chuck Berry Duck Walk. What's worse, the brotha can sang. A joy to behold.
Joe Wooten is a KEYBOARD playin so and so. He sang a funny and poignant tune called "Testosterone". You had to be there.
Next Saundra Williams, a fine, dark skinned, lanky dreadlocked chanteuse sang a song called "On & On", which seguaded into a rendition of Chaka Khan's "Sweet Thing". Although she didn't even attempt to get into the atmospheric hyroglyphics that Chaka would have got into, she did sang the song.
Next came MC Divinity. Another fine woman. Gold Dreadlocks. Rappin like MC Lyte meets Chuck D, all the while thumpin a blood red bass. Folks, this lady is formidable. Trust me, you will be seeing a lot of her.
Next, the professor came and continued the bass clinic. I know that Dr. G says that he has seen all the greats and all I can say is, so have I. If I were to concede that Victor Wooten has not surpassed all of them, you would have to admit that none of them have anything on him either. Watching Victor leaves you panting like you just had great sex. And the thing of it is, he's so humble about it. And when he plays he looks like he's actually having fun. As far as I am concerned, when I see Victa play, I feel like Fats Waller felt in the presence of Art Tatum. Victor Lemonte Wooten is simply THE LORD OF THE ELECTRIC BASS GUITAR. End of story.
Although, I must put in a word about Anthony Wellington. When Ron Carter started his group, he got Buster Williams to hold the bottom for him. Anthony Wellington's bottom allows Victa to get stratospheric and still keep things on the ground.
He can play in anyone's band.
As for the Soul Circus, like Ed Sullivan used to say, it is a Really Big
Shew. Go see it.
As tired as I was, I had a great time. Cheryl is, as always, great company
and whenever we hang, we let em know that SOUL PATROL IS IN THA HOUSE!!!!
–Selah Eric Spruiell
PHILADELPHIA, PA
PHILADELPHIA SOUL-PATROL EVENT: An Evening With VICTOR WOOTEN @ the Keswick Theater, April 1, 2008
I did not write this review, but I was at the concert.
This was written by Soul-Patrol's Philly coordinator David Brooks (Dr. Brookenstien).
One of the things about most concert reviews that I don't like is that very rarely is….
:::THE TRUTH EVER TOLD:::
(that's because there are always "some people" who DON'T WANT YOU TO KNOW THE TRUTH)
And that is a shame, cuz if there is anyplace where THE TRUTH IS OBVIOUS FOR ALL TO SEE, it is AT A CONCERT
Well I was there @ the Keswick and let me tell you something…
DR. BROOKENSTIEN IS TELLIN YALL THE TRUTH ABOUT VICTA
:::::and I am glad that I was there to bear witness to it:::::
(and I am STILL in "recovery mode" myself, two days after the concert is over)
–Bob Davis
—————————————————
Review of VICTOR WOOTEN
At The Keswick Theatre – Glenside, PA (4-1-08)
********************************************************
Okay, funk fans…here it goes…..a review from the Victor Wooten show at the Keswick Theatre in Glenside,
PA (4/1/08)….please bear me as I may have momentary lapses of unconsciousness during this review….
UNDERSTAND THAT ABOUT 26 HOURS OR SO AGO, I WAS SUBJECTED TO THE MOST POTENT, POTENTIALLY LETHAL DRUG EVER KNOWN TO MAN…..NO, NOT HEROIN….NO, NOT PCP….NO, NOT CRACK……I'M TALKING ABOUT VICTOR WOOTEN AND HIS BAND OF VIRTUOSOS!!!!
UNDERSTAND THAT I JUST WOKE UP ABOUT A HOUR AGO!! I'M TALKING ABOUT SOME BRAIN DAMAGE GOIN' ON HERE!!
And as the Prince song (1999) goes, "I was dreamin' when I wrote this, forgive me if it goes astray!"
At 7:45pm, the nearly sold-out theatre was exposed to musicians playing a terrifying blend of funk, jazz and world music, under the guidance of possibly the best bass virtuoso on this side of the galaxy, MR. VICTOR WOOTEN!! "Cambo" was the first song (a nasty funk-jazz tune) featuring violin riffs and chant vocals by Ali……the basswork of Victor was fast and in-your-face nasty-funky!!
The second tune was another funk tune that focused on a spiritual theme, speaking about a world past this world where money means nothing and what is in your heart means everything. "I Saw God" (obviously more spiritual stuff) was a reggae/world music tune that featured a sing-along for the audience. On the next song, Steve Wineguard (new keyboardist) was burnin' it
up on his piano solo ….Victor and Anthony Wellington began singing to him "Play That Funky Music, White Boy" (Victor said "We're an Equal Opportunity Band").
"Left, Right and Center" was DA BOMB, because it was Derrico Watson's moment to shine…..well, this guy was shining like 10,000 suns as he was funky and steady, then fast, then super-fast, back to steady & funky, doing tempo changes unexpectedly…..I call "beautiful chaos", baba!! Everyone had a solo on "Left, Right and Center" with Anthony droppin' the nastiest poppin' bass funk (it was on like popcorn, baba), Regi Wooten soaring into rock guitar heaven, Steve funkin' with the keys, and Victor sending bombastic bass waves throughout the Keswick Theatre (you could hear the windows rattle to the point of ALMOST exploding)!! Derrico then proceeded to knock the walls down with some serious lethal, power drum riffs…….(I was wondering, was that drum riffing OR A MACHINE GUN SPRAYING AMMO??)!!! The audience was left to cool off with the beautiful, angelic voice of Saundra Williams doing a lovely R&B ballad. "Sifu" was another song that featured Ali on chant vocals. Victor gave a shoutout to the teacher that taught him how to play bass, his brother Regi….who began playing violin chords on his guitar for a minute, before switching to some nasty, distorted rock guitarisms
…THEN, REGI BEGAN TO BEAT THE STRINGS AT THE NECK OF THE GUITAR LIKE HE WAS PLAYING CONGAS…..JUST VERY, VERY FAST BEATING….LOOKING LIKE AN EPILETIC ON A LIVE WIRE AND
…………..eh……………………………………………………………………………………………………………………….
(oops, sorry about that. I just regained consciousness) anyway, he had the guitar lit up with blue lights and began playing it with a microphone and seconds later with his teeth!!!!!!!!!
Victor began a bass solo (A VERY LONG one), where he was playing some mellow bass riffs to a programmed bass line. After turning off the programmed bass, he continued with the mellow riffs and began to unexpectedly interject with a nasty
poppin' bass riff, down & dirty slap bass riff, or (the deadliest) supersonic-speed, earth-trembling bass
workout (WHERE YOU WOULD SEE AN EXTRA 6 ARMS APPEAR OUT OF NOWHERE)
……….eh……………………………………………………………………………………………………….
(oops, sorry. I'm back)…………………
Of course, Anthony was supposed to be featured next, and he was correct in sayin' to Victor "Do you THINK I play bass after the solo YOU did????" Actually, there was a surprise guest hiding out in the audience, a Philly-based bass legend by the name of Gerald Veasley and Victor invited him to play. Before the next song, Victor remarked "Y'know, back in the day, all good bass players were TALL!" (what a jokester!! LOL!) Gerald was playing some smooth jazz bassisms over the funky, slow groove of the band. Victor remarked that he liked Gerald because he had that "touch"….that he liked to stand close and watch so he can feel that "touch"….and he and Anthony stood very close and watched Gerald…..Victor even got his notepad to jot down notes!!
After Gerald left the stage, Anthony came back and remarked, "I just thought of something, I got to follow Victor AND Gerald….how did THAT happen??????????" The next song "Flex" was A MONSTROUS TUNE OF MOMUMENTAL PROPORTION, THANKS TO
ANTHONY "Why I Got to Follow Victor?" WELLINGTON…….no disappointment from Bass Player #2 of this band, AS HE LAID DOWN THE NASTIEST, LOUDEST, NOXIOUS, ODORIOUS RAPID-FIRE, FUNKY SLAP BASS RIFFING………I had to…
………………eh……………………………………………………………………………(okay,
let's try this again)……..
I had to get up and run to the front entrance for some air 'CUZ IT WAS TOO FUNKY UP IN THERE!!! DAY-UM!!!!!!!!! As Anthony continued to peel the paint off the walls with HIS FUNKY BASS, Regi and Victor were playing some super-fast funky guitar & bass solos! And the jazzy piano riffing was also good, too.
ANOTHER SURPRISE, Y'ALL……..P-Funk legendary keyboardist, BERNIE WORRELL, was in the house and was invited to the stage…..I put on my silver Bootsy hat and run like hell to the right side of the room, where I can get my funk on, dancing to the WOO-derful funk synthesizer riffs of the WOO-man himself (The WOO-Funk is your funk, the motherlode of your funk!) The song that Bernie was playing was one of P-Funk legendary hits, "Tear the Roof Off the Sucka"……and Victor,
Regi and Anthony were singing the chorus. The band ended the show with a nice feel-good song called "Miss U". The extravaganza ended at 10:05pm.
-Dr. Brookenstein
DAVID BROOKS
Soul-Patrol.com Philly Coordinator
http://www.brookenstein.com
———————————————-
Here is a review from Monday nights Victor Wooten Show in Philadelphia, PA byDr Brookenstein
———————————————-
BY THE WAY, I WOULD LIKE TO THANK SOUL-PATROL'S BOB DAVIS & EDDIE BOWMAN FOR BEING IN DA HOUSE AND MAKING MY NIGHT EVEN FUNKIER!!! REMEMBER FOLKS, SUPPORT SOUL-PATROL IN THE QUEST TO PRESERVE QUALITY MUSIC…. GO TO THE SITE www.soul-patrol.com AND LEARN MORE ABOUT THEM!!
ONE MORE THING…………BEWARE: THIS SHOW IS **NOT** FOR THOSE WITH WEAK CONSTITUTIONS OR HEART PROBLEMS!! IF YOU HAVE A PACEMAKER, BREATHING PROBLEMS, HEART TROUBLE OR AN ALLERGIC REACTION TO DA FUNK, IT IS IMPERATIVE THAT YOU DO **NOT** ATTEND THIS TYPE OF SHOW! A VICTOR WOOTEN SHOW CAN CAUSE SERIOUS INJURY OR EVEN DEATH IF YOU FALL INTO ONE OF THE FOREMENTIONED CATEGORIES! BY THE WAY, A VICTOR WOOTEN EVENT IS NOT A SHOW…..**IT IS A JOURNEY INTO THE INNER DEPTHS OF SPACE & TIME, BABA!!** BEING SO, YOU NEED TO GET PLENTY OF REST BEFORE THE SHOW AND YOU NEED TO TAKE ABOUT A WEEK OFF FROM WORK OR SCHOOL SO YOUR BRAIN CELLS CAN READJUST TO NORMAL LIFE…. CUZ YOU WILL BE SPACIN' FOR DAYS….LIKE A GOOD LARGE DOSE OF LSD!!**
At 8:20pm, the Victor Wooten Experience began with a mini-movie that discussed the myth about the bass guitar freak with 8 arms (Victor Wooten)…different people of different ages were commenting on the astonishing bass guitar skills of Mr. Victor and the subject of whether the dude actually has an additional six arms (that would explain his odd musical abilities). After the flick, it was on to a great drum solo by Derico and two other members began playing on marching drums to summon the entrance of the great one, Victor!! After more members joined the stage, Victor came out and jammed hard while standing on a high platform on the stage. "Natives" was a bass paradise song that featured moments of neuron-shattering bassics by Victor, tight guitar grooves by Regi Wooten, funkafied bass synthesizer riffs by Joseph Wooten, and some powerful bass rumbling and popping by rapper MC Divinity! This song was nothing compared to the next song "Stay"…some tight grooves, but the highlight was the heavy-duty Victor psychotic bass romping…it was too fast, too funky & too much!!!! YOU COULD LITERALLY FEEL THE WALLS OF THE TLA THROBBIN' WITH EVERY NOTE!!! At some point, Victor stopped breaking the laws of reality (doing some light-speed bass plucking) to say "And that's eleven!" (I guess meaning "That's 11 arms, not 8!!!!") and continued the impossible!
Flex gave a shoutout to all funky bassists….all the fans could hear were snippets of the bass riffing on various funk & jazz tunes, like:
I'll Take You There (by The Staples Singers), Don't Look Any Further (by Dennis Edwards & Sediah Garrett), Flashlight (by Parliament) — bass originally performed on bass synth by (of course) Bernie Worrell! Slide (by Slave) — bass originally performed by the one & only Mark Adams!! Frankenstein, a Miles Davis tune, Hair (by Graham Central Station) — bass originally performed by Larry Graham
The funk fans heard Victor playing all of these different bass styles by the original bassists! TOO FUNKY!! There was talk about all the great bassists, like Stanley Clarke, TM Stevens, Rhonda Smith (of the NPG), B**TSY COLLINS, James Jamerson (of Motown's The Funk Brothers), etc. That led to the song "Bass Tribute" where Victor played the original bass lines of these great musicians for each musician named in the song!
The hardcore funk energy slowed a bit, so Victor can talk about his father and about being a father over a smooth jazz tune. The tune "Prayer" featured Jeff Coffin on smooth sax riffs…the song alternated from smooth jazz to a nice mid-tempo R&B groove! From the bass school came two white girls, Alana Rockland & Arianna and they played excellent funk and jazz bass over a slow groove.
The band moved on to some hardcore guitar rock stuff, played by the master of good-tars Regi Wooten: Regi was playing stuff that was reminiscent of Rage Against The Machine's "Wake Up" and some Led Zeppelin stuff, before jumping into Jimi Hendrix's "Fire" (NASTY!), James Brown's "Sex Machine" groove (with "Get Up, Get Into It, Get Involved" and a lyric from "I'm a Greedy Man"…the chorus part).
It was time to slow down…to keep one's brain from shorting out (FUNK OVERLOAD)…with Saundra Williams singing her song "On & On"…..her vocals were very, very good! The inclusion of Rufus & Chaka Khan's "Sweet Thing" was also very nice. BUT WAIT………MC Divinity began to showcase some strong lead vocal skills and played some terrifyingly powerful funky bass riffs…this girl smoked the eyebrows off of half the folks in the room with the bass stench that she cut loose…. WATCH OUT STARR CULLARS 'CUZ SHE IS COMING TO SMOKE YOU! Victor's bass solo on the next song was cookin' and he did another solo with guitarist Gerald Veasley. Victor performed "Ari's Eyes", a nice slow song. "Victa" was dedicated to Mr. Victor Wooten…it was bassirific…..nuff said! There was a great percussion solo by JD Blair!
The encore featured a mini-movie about the 8 Arm Bass Playing Myth, featuring an interview with Victor Wooten…. Victor asked a series of questions, answering with a reference to "8" for each answer…the quick flick ended with Victor's "third" arm flashing the OK sign to the audience! The music afterwards was a medley of serious hard-hitting funk, a positive R&B message song by Saundra, some wicked synthesizer keys, eight-arm bass playing, blasting lead guitar plucking, psychotic-sounding mid-tempo song called "Thelonius Monk", and Victor's visual tricks of: swinging the bass around his neck, catching it and playing it. Lifting the bass over his head, playing it, dropping it to his chest, and playing it. using a bass like a yo-yo, by sliding the bass outward (making a loud thump on the floor) and pulling it back with a free guitar string, yanking it up, catching it, and playing it. playing a bass where the neck lights up in neon blue with every riff (the lights were turned off for this trick). Holding his bass horizontally while Regi holds his guitar horizontally, and two played the other's instruments simultaneously leaning forward about 65 degrees (near-levitation stance) while playing the bass.
WHEW!!! The journey was over at 12:00 midnight. After meeting the guys backstage for photo ops, congrats and autographs, I left for home…and passed out at the crib. THE END.
CHICAGO, IL
———————————————-
Here are two reviews from Saturday nights
Victor Wooten Show in Chicago
———————————————-
This was a MONSTER weekend for me as I drove in from Dee-Troit to kick it with my home boy-ee TTG; who just happen to fly up to Chi-Town all the way from West Palm Beach, Florida. And…we kicked it hard till 3-4am even before the nite of the Victa show. But, then again….Cali SPer's know……….this IS how WE roll. (LOL) And it is ALWAYS a joy to see Karl (Sarge), Gary (the REAL Soul-Man) and Queen Debra…..like we used to 'hang'. My cuz Steve' long-time homie Mike Smith, just happen to roll thru and when we hyped him up about the show, he posse'd up with us.
Yeah, yeah, yeah….Victa IS BAD…….a truly phenomenal bassist, but Regi Wooten gotz ta be one of the coldest ax slingers today. Forget Vai, Satriani, Van Halen and Eric Johnson. He just cold smokes them all.!!! Being totally honest……Victa has a smokin band with him….they are all 'COLD'…!!!
As for the show….'OFF DA CHAIN' is 'too weak to define' (ala Prince…Adore) the magnitude and intensity they brought to the stage. This show definitely was on another level than the 'Live in America' show. Instead of closing the show with everyone playing a bass guitar……THIS show started out like that. The song selections were very groovalicious and funk-ay….YA DIG? And of course my home girl 'MC Divinity' punched it up a notch at center stage with some of her own material. Once again Chicago's own Bill 'Buddah' Dickins joined Victa….ok really…STOLE THE SHOW, playing his white bass of many strings. If ya didn't know….Buddah is NO JOKE….NUTTIN NICE…and $100 an hour bass lessons are available.
The killer for me was when they turned Regi loose and went into straight 'clownin' mode. Then….the band joined him on the one for a rendition of Led Zepplin's……….KASHMIR. The 'Groove Regulator' (J.D. Blair) had THAT pocket on lock-down ala John Bonham style. When they hit Kashmir, all you heard was multiple 'AW HELL NAW' from us. That tune is still ringing in my head.
Now…onto 'the other' part of the show. If you can, avoid the House of Blues at all costs. The HOB is not about the artist nor the ticket paying fan and mos def not about Soul Patrollers. We were not treated as supporters of the Artist nor the venue. Considering that I drove in from Dee-troit, TTG FLEW in from Florida, I invited many a ticket purchasing friend, etc….. too many times did I have to explain to security who Soul Patrol was and that we DID have a scheduled 'meet & greet' with Victa, Karl had a week of changes and mishaps, continuing on at the HOB, and Danette (Victa's mgr) had to pay for a booth to watch the show from; it'll be a hard sell for me to return there.
'and there was much rejoicing throughout the land'
Yes….the show was one of the best I've ever been entertained by. Yes…Victor is incredibly talented. In fact, all the Wooten Brothers are extremely talented and are TIGHT together. But let me mention these points of MY observation. Joseph is not only one HELLUVA keys man, but the brother is very DEEP. I asked him was he gonna play something of his and he responded with 'Yes…..I'm gonna play this tune I call…RACISM'. Joseph went on to talk about it from the point of 'what are YOU gonna do about it and if you're not doing anything to help those who who are oppressed by it, then YOU are a part of RACISM too'. It was interesting the responses he had gotten from different people that he asked about it. Denial was the main issue and response as we agreed. But Joseph as a keys man…..SKILLS and very soulful licks, not flashy but felt and techinically impressive. In the the words of Lincoln Hayes from the Mod-Squad……the man is …'SOLID'.
This brings me now to 'The Teacher'…a true ax slayer…. Regi Wooten. Regi is a very humble brother as all the Wootens are, but by right can slay many a so-called guitar God. The Teacher has serious licks of lightning and a two-handed tapping technique Eddie Van Halen wish HE had. Regi does guitar pyro-techniques that would even impress Jimi if he were here today. Yes, the man's hands are incredibly fast and with so little effort…a BIG crowd pleaser, no doubt. He once told me that it's not as hard as it looks…just some well-learned and practiced tricks. But once, I'd like to see and hear Regi and the band slow it down to a nice pulsating groove or even a "Red House" type of blues. I'd love to hear, see and feel Regi's Strat cut thru on some simple, well-placed notes that cut thru you like a knife; to your very soul…ala Albert King. I'd love to see him just close his eyes, lay back, take his time and just stir it all up, like a slow simmering gumbo; a gumbo that you've been waiting to taste all day long. Now believe me, I love flying fingers myself, but you can't make a GREAT gumbo in a microwave…. YA DIG… ??
Yeah…. do THAT for me, the musician, the lover of tone…the lover of Fender Stratocaster Guitars.
–Ron B. Smoove
PITTSBURGH, PA
————————————–
Review From Pittsburgh Victor Wooten Show
————————————–
That Victor Wooten is a badd mother___ shut yo mouth! Ya'll didn't tell me it was like that. NOW I KNOW. I may take a road trip to Cleveland to see them again next week.
Man oh man. I just got home about an hour and a half ago from this wonderful performance. If anyone asks you to go to a Victor Wooten show, don't ask questions. Get your tickets early, pay your money, and just go… ok?
I witnessed along with 10 folks who joined us for the meet and greet and about 600 other folks a tremendous show at Mr. Small's. Like one of the people who was there said, "You just have to see Victor and the band live…it's a total entertainment package."
I was very excited to be there as I went to the show with one of our Pittsburgh Soul Patrollers, Janine. She was very glad she came also because she was not familiar with his music. She is hooked!
This show has everything. Truly a Soul Circus. They played a lot of songs from the new CD and they had a few other surprises that I am not going to tell you about. Why? Because I want you to see the live show for yourself.
I will tell you their are elements of Rock, Soul, Funk, Hip Hop, Jazz, Gospel, Blues, and even some magic. Say what! That's right….you have to be there.
I will tell you that Rico, JD, Regi,Joe, Saundra, Divinity and Victor….KICKED IT OUT. I really enjoyed meeting them all. All of our meet and greet folks got autographed posters and I gave the rest of the posters to folks who came to the show.
Each city will have different elements in it. The Pittsburgh show was different than the Columbus show. The New York show is gonna be something else too as will the rest of the tour. You will not be disappointed.
Don't forget…the CD is now officially out. RUN…don't walk to the next Victor Wooten show. Go see these fantastic musicians.
–Kevin Amos (tha Funkoverlord)
CLEVELAND, OHIO
———————————————-
Here are two reviews from Friday nights
Victor Wooten Show in Cleveland, Ohio
———————————————-
Vanguard recording artist and member of the Grammy winning group Bela Fleck and the Flecktones, Victor Wooten had the standing room only crowd at Cleveland's House of Blues awed, dazed and amazed with a nearly three hour concert on a rainy Friday C-Town night.
With his brothers, Reggie (guitar) and Joseph (keyboards), along with Shania Twain's drummer/percussionist J. D. Blair (whose crazy antics provided comic relief), M. C. Divinity, a hot, tight bod redbone who can rap and play her candy apple red bass at the same time, renown drummer Derico Watson, Anthony "Flex" Wellington (bass) and Harlem's Saundra Williams adding heartfelt vocal runs, Victor Wooten gave the people everything they wanted and more. Two other Wooten Brothers: Rudy who plays sax and Roy "Futureman" Wooten (percussions)–who like Victor is a Flecktone–are not on the tour. Brother Joseph was also the keyboardist for the Steve Miller Band.
A video spoofing that Victor has eight arms (for his lightening licks) began what turned out to be a marathon performance that if not recorded and video taped at some point during the Soul Circus tour will be a crime cause the excitement and energy of this band simply doesn't, or hasn't yet, come through on studio recordings. You have to witness them live to fully appreciate their innovativeness and instrument mastery. On "Stay" Victor kept changing the tempo (some crazy): ninth, 11/8 time, etc. and the tight ensemble missed a beat.
Derico Watson came out first and scream something into a mic near one of four conga drums at the front of the stage that were removed after the first number and it was on…like Donkey Kong. The other members followed with Victor coming out last standing on the highest platform on stage jamming like there wasn't going to be a tomorrow before jumping off and finishing the song with his crew.
Some highlights include "Bass Tribute"; a tribute to the great bass players who had some influence on Victor; "Prayer," which Victor dedicated to his late father Elijah Wooten, "Victa," a tribute to the man himself, and a song about racism, and a sweet poignant piece that Victor dedicated to Ven. Shih Ying Fa of the Zen Center of Cleveland
Each member had a chance to shine during the long but enjoyable show. Reggie, Joseph and Derico Watson soled on guitar, keyboards and drums respectively showing phenomenal virtuosity that left you truly amazed. A duet with Victor and J. D., instigated by J. D. who soled briefly before Victa joined him, was marvelous. M. C. Divinity (everybody likes to see a pretty girl jam) provided raps and vocals and slices from her solo CD Ain't No Other Way (available on CD Baby), including "Rebel"; Saundra, a vision in her own right, performed "On and On" from the Soul Circus CD.
After performing for two hours and fifteen minutes, and acknowledging Soul Patrol, the band left the stage and a video played where Victor was asked questions by an interviewer, the show seemingly over. It wasn't. The video was short and soon Victor and crew were back on stage blowing the standing room only crowd away. Needless to say I left the concert with my jaw dropped and my mouth wide-ass open.
–Andrew Hamilton
Friday was a grueling day for me. Woke up late (5:45am), had to get a lot of tasks done ASAP at the job, had to attend to some health related issues that stressed me out.
But there was light at the end of the tunnel….I was going to Cleveland and hang out with our Soul Patrolers and see the amazing Victor Wooten and his super funkified band.
Fellow Pittsburgh SP'er John who also is one of my long time radio listeners, gave me a ride to O-hi-ya. We both had to see again and verify what we had witnessed 10 days earlier in Pittsburgh (You know…he does have 8 arms!). John and I ventured out in the rain and made it to the Cleveland area in about 2 hours with no major traffic delays.
We got to downtown Cleveland after driving past a lot of liquor stores, check cashing outlets, KFC's, Mickey D's,and beauty salons. We both commented on the urban transition (It's the same everwhere folks) as we traveled down Euclid Ave. and finally made it to the House of Blues. The
staff we encountered at the venue were cordial. Didn't buy any beer. They had no drafts and I wasn't paying 4 bucks for a 12-ounce domestic brand. I settled for a strong mixed drink for the same price. The food is ok but I was hungry.
Ok, ok, the show. Iris Smith, the Cleveland SP coordinator and I missed the first part of the show. We were busy running our mouths in the restaurant and came inside the stage area to catch Victor's segment on his Dad.
I noticed that the folks around us apparently had never experienced the band before. I saw mouths agape, people saying, "did you see that?", folks saying 'I haven't seen anything like this in a long time". John kept commenting…"Now how can you describe that to someone?" You can't…you have to see Victor Wooten and the band live. The guitar playing of Regi just blows me away. Joseph is a keyboard wizard. Derico and JD are percussion masters; Saundra and Divinity as well as the other guitar/bass player were supurb on the vocal work. The stage show is something else. They played close to 3 1/2 hours.
About 10 of us went backstage for the meet and greet after the show. I got to meet the wives of Jere B and Phil the Beat from Soundoctrine. I also met Anthony, Big Walt, and a few others whose names I can't recall. We took a few pictures and then we were rushed off. Not really enough time to interact well with the band members even though I did get a chance to say hi to Regi, Saundra, and Divinity.
Was it all worth traveling 2 hours after a hectic day?
YOU"RE DARN RIGHT! I'm talkin bout Victa. I'm Victorized.
Can't wait to see them on their next visits to the East coast.
And Karl…they are both very attractive sistas. You hound you.
–Kevin Amos tha Funkoverlord
COLUMBUS, OHIO
————————————–
Review From Columbus Ohio Victor Wooten Show
————————————–
The show was tremendous. One of the running topics throughout the show was the fact that since Soul Circus didn't come out until today, they couldn't sell it…unless they played until it was officially Tuesday. So, the show started around 8:45, and went until just after midnight, with only a short break for an encore and an interlude at 11:40 when the label called to confirm that they could sell the album at midnight, and Victor decided to lead the band into a couple more songs. There were all sorts of highlights, but I think my favorite songs were the last two: covers of "Can't Hide Love" by EWF (I've been on a mission for years to figure out what that song was, I'm glad I finally know and that it's on the new album) and "If You Want Me to Stay" by Sly and the Family Stone (I heard his cover on the live album from a couple years ago, and I was hoping he'd play it!)
that really closed the show well. Columbus' Shawn "Thunder" Wallace was featured on the alto/tenor sax on these songs and many others (and I guess he's on the album as well), and he can really wail. As far as the other 3 hours go, I loved the rock-funk medley, alot of the solo/duet moments (Victor on bass and J.D. Blair on marching band snare was awesome), and most of the originals. MC Divinity was great on the bass and the mic, and Saundra has a great voice.
The "Teacher" was awesome on the guitar, especially during the medley. And of course, Victor killed it throughout the night. It was just an overall exhaustingly awesome funk set! It didn't work out to meet with the band ahead of time, but I waited in line afterwards to get autographs for me and E. Norman (don't worry, I didn't forget!) and talk with Victor for a minute. He
says hi to everyone here at Soul Patrol, but I'm sure he's delivered/delivering that message to many of you in person. It was a great time. Thanks to E. Norman, Bob and SP, and Victor and everyone on his team (most of whom he thanked on stage, which is rare) for putting together such a show. Thanks again,
–Andrew Patton
WASHINGTON DC
———————————————-
Here is a review from Friday nights
Victor Wooten Show in Washington DC
———————————————-

Thanks to our friend the legendary funk historian "Dr. G" for this review of Victor Wooten's show at the 9:30 club in Washington DC
—————————————————————–
I've been hearing about the legendary bassist Victor Wooten for several years. First from my boy JB at work and then from Soul Patrol founder Bob Davis. JB plays bass also and told me years ago that Vic was not far behind Stanley Clarke and Bootsy when it comes down to fast "finger funking". Friday night at the 9:30 Club in DC I saw for myself that Victor Wooten does indeed funk the hell out of a bass guitar. The crazy surprise, however, was not that he has 8 arms, we all knew that. The surprise was that he has 2 hands on each arm and 10 fingers on each hand!
The boy is fast and precise. His stage was decorated with lights and lasers. When the lights came on Vic was elevated on a raised stage and his bass seemed to rise even higher.
He came out with "Another Point of View" from the new CD "Soul Circus". The 80% white crowd was ready to roll. He sounded at times like Stanley Clarke and other times like Larry Graham. As a matter of fact, Vic played a tribute (also from Soul Circus) to all of his favorite bass players. The song plays tribute to Clarke, Bootsy, Graham, Jaco and even Robert Wilson from the Gap Band. He had the crowd really going when he would play a famous bass riff and ask the audience who was the original player of the riff. He played James Jamerson, Bootsy and even fooled a few folks when he played "Flashlight". Of course "Flashlight" featured Bernie Worrell on his keyboard that sounded like a bass.
So on this very special night I saw the great Victor Wooten for the first time and also met Soul Patrol's 1st Lady "ZieLove" for the first time. I thought I was a rock-n-roll guy, but Zie is totally rock-n-roll! She had on her glitter shoes and glitter jeans and was rockin' all night to the sounds of Vic and his band (several of his actual brothers). Zie and I met Vic before the show and he signed a poster for my boy JB.
I have been around the music industry for many years. I remember when I was a broke Morehouse kid and Larry Graham took me by the shoulder and walked me into a downtown Atlanta club because I was there 2 hours before the show and had no money. It was Graham Central Station's first trip to Hotlanta and Larry was impressed that I knew all about his new band and his days with Sly. Larry put on a hell of a show that night. I have also written about how I would sneak into the "Psychodelic Grave" nightclub as a teenager in Cincinnati to watch Bootsy play with "The Complete Strangers". Stanley Clarke once jumped om my table and served me "bass in the face" at the Bayou in Georgetown. I have seen the greatest bass players in the world.
Victor Wooten is a great bass player. No doubt. But even after meeting him and hearing his thunder, I can't quite say that Vic is quite in the same class as Bootsy, Larry and Stanley. But he is certainly on his way and is leading the "new school" of bassologist.
–Dr G
REMEMBERING RUDY WOOTEN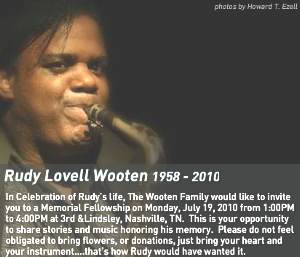 R.I.P. – Rudy Wooten
For about 10 years, Soul-Patrol has been extremely pleased to have been associated with the legendary musical Wooten family. Over the years they have treated us to some amazing performances both in concert and on record. Beyond the music we have shared many good times with them as people who have a strong commitment not only to great music but to bettering humanity. Unfortunately, now we also have to share some of their pain, with the passing of the brother Rudy. At this time, we just want them to know that we are there with them now, just as we are with them during the good times.
(–Bob Davis)
WOOTEN, Rudy Lovell Was born in Pinetops, N.C. on November 13, 1958. He was the 3rd of five siblings born to Dorothy and Elijah "Pete" Wooten. He and his brothers started a band while living in Hawaii in the mid 60s led by oldest brother, Regi. Rudy started out on the recorder and then quickly moved to the saxophone where he was prodigious. If he could hear it he could play it.
He was born in North Carolina and was raised in music. Music was what he did. It was who he was. As immense as his talent was, his heart was bigger. He never had a harsh word for anyone and just plain did not understand meanness. He had a shy smile, loved to laugh, and loved to play that sax. He was pure and sensitive, and he retained his purity throughout his life.
On July 12, 2010, Rudy passed away in his home in Inglewood, peacefully of natural causes. He still had his horn around his neck. He is survived by his mother, Dorothy G. Wooten, and brothers, Elijah "Regi", Roy "Futureman", Joseph, and Victor and their families. There will be a Memorial and Musical Tribute on Monday, July 19, 2010 from 1 p.m. to 4 p.m. at 3rd & Lindsley, Nashville, TN. This is your opportunity to share stories and music honoring his memory. Please do not feel obligated to bring flowers, or donations, just bring your heart and your instrument.that's how Rudy would have wanted it. Service by SCALES FUNERAL HOME
–Bob Davis
609-351-0154
earthjuice@prodigy.net
Co-Founder www.soul-patrol.com
Blues, Hip Hop and Soul Music Director www.radioio.com