Wooten Bros – Fall 2023/Winter 2024 Concert Reviews (DC, Philly, More to Come…)
They then started playing and singing some of those songs. The sound of their harmonies is reminiscent of the Five Stair Steps of Chicago from the 1960s. Their playing of these songs also resembled a later incarnation of the Five Stair Steps, the Invisible Man Band of the disco era of the 1970s. Joseph had the vocal limelight for a medley of songs including Elton John's "Your Song", Sly and the Family Stone's "It's a Family Affair" and Stevie Wonder's "My Cherie Amour".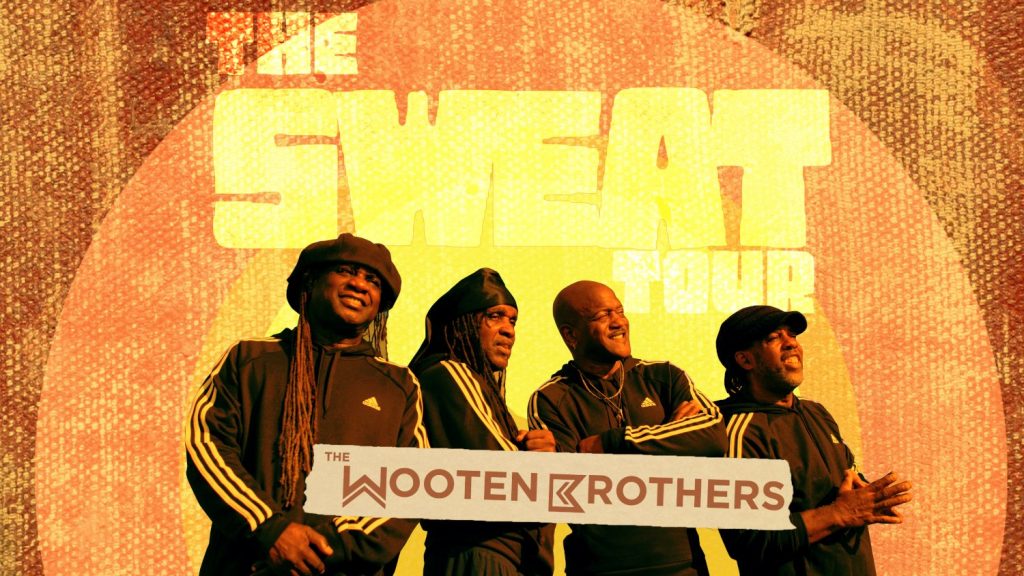 Editor's Note: Here is some live performance video (just a taste to wet your tonuge!) from the Baltimore show for you to listen to as you read the reviews. Stay tuned and return to this page early & often as we will bringing you more Wooten Brothers Concert Review from more cities as the tour continues to unfold…(Bob Davis)
WASHINGTON DC
Victor Wooten and the Wooten Brothers
w/ special guests The Rebirth Brass Band
The Fillmore Silver Spring
Silver Spring, MD
Thursday, October 5, 2023
by Kevin Webb
This was my first Wooten Brothers show, but I was clearly in the minority. Before a single note was played, the multigenerational, multiracial crowd cheered in anticipation of what was coming as the brothers walked out onstage and took a moment to embrace each other. It wasn't long before I understood what I'd been missing. The Wootens launched into some serious funk, laced with the sounds and styles of their individual musical journeys playing with an eclectic mix of artists, from soul/R&B, to rock, to bluegrass, to jam band.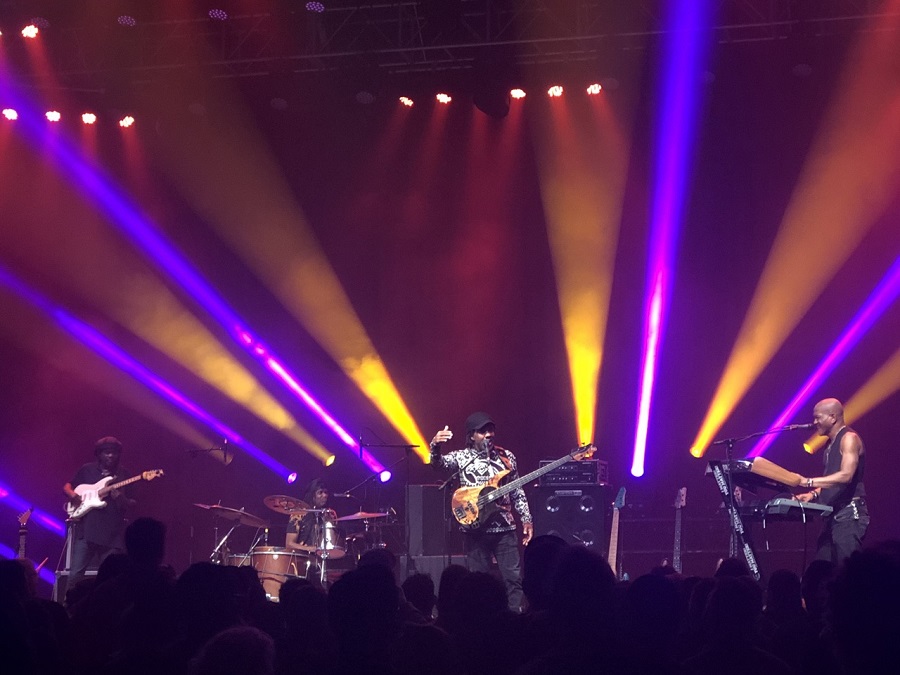 Like many of the great family bands that grow up learning to play and sing together, the Wooten Brothers trust each other's musical instincts. Each brother is a virtuoso in his own right, and the Wootens displayed individual mastery on their respective instruments. But their collective power galvanized the crowd, and the joy they felt to be playing together radiated from the stage and into the audience. Victor left no doubt why he's considered one of the greatest bass players of his generation. In addition to Wooten originals and a tune by Béla Fleck and the Flecktones (of which Victor is a founding member), we were dazzled by an extended, polyphonic bass solo, during which he created a live loop, layering multiple bass parts and effects. Keyboardist Joseph Wooten (Steve Miller Band) handled most of the vocals, including on his songs "Not Just Religion" and "Unity," which featured both his compelling vocals and keyboard wizardry. Drummer Roy "Futureman" Wooten (also a Flecktones founder) stepped from behind the drum set to play one of his trademark inventions, "The Drumitar." And eldest Wooten, Regi "The Teacha" (who has collaborated with such artists as Ginger Baker), served up several blazing guitar solos and held it down on rhythm as well.
At one point, Victor shared a story about a blast from their musical past. A man who had worked for Don Kirschner (producer of the popular 1970's TV show, Don Kirschner's Rock Concert) reached out to him a few years ago. The man recalled being sent to the Wooten family home in Virginia to scout the young band and said he still had the demo cassette tape their mother had given him. The Wooten Brothers ultimately got the cassette, which jogged their memory and led them to unearth the original reel-to-reel tapes the cassette came from, as well as tapes from another session a few years later, in the early 80's. A new Wooten Brothers album planned for 2024 will be a mix of these archival tracks (some featuring a ten-year-old Victor) along with new material. As a preview, they played three of the "lost songs." Together they were a yellow brick road of development and a nod to their musical influences when they wrote these songs: likely, a heady a mix of Earth Wind and Fire, Cameo, and Return to Forever. Joseph also chronicled this musical evolution in a solo keyboard/vocal medley that covered Harold Melvin and the Blue Notes, Herbie Hancock, Elton John, Stevie Wonder, Cameo, and even Silk Sonic. After reminiscing, the Wootens brought it back to the future with their new single, a deep purple funk jam called "Sweat."
Show openers, the Rebirth Brass Band, returned to the stage to join the Wooten Brothers on "Sweat" and help close out the show with a James Brown medley. Rebirth had already served up a soulful set that kept people dancing and singing along to their mix of traditional New Orleans brass music, funk, and hip-hop, including nods to Bobby Womack and Outkast. Earlier in the Wootens' set, Victor declared, "We love horns," and the sound and sight of the two bands onstage together provided the perfect crescendo to an evening of great music, musicianship, and brotherhood. This kind of music – and musical mastery – is best experienced live. So, snag your tickets to see the Wooten Brothers as soon as you can.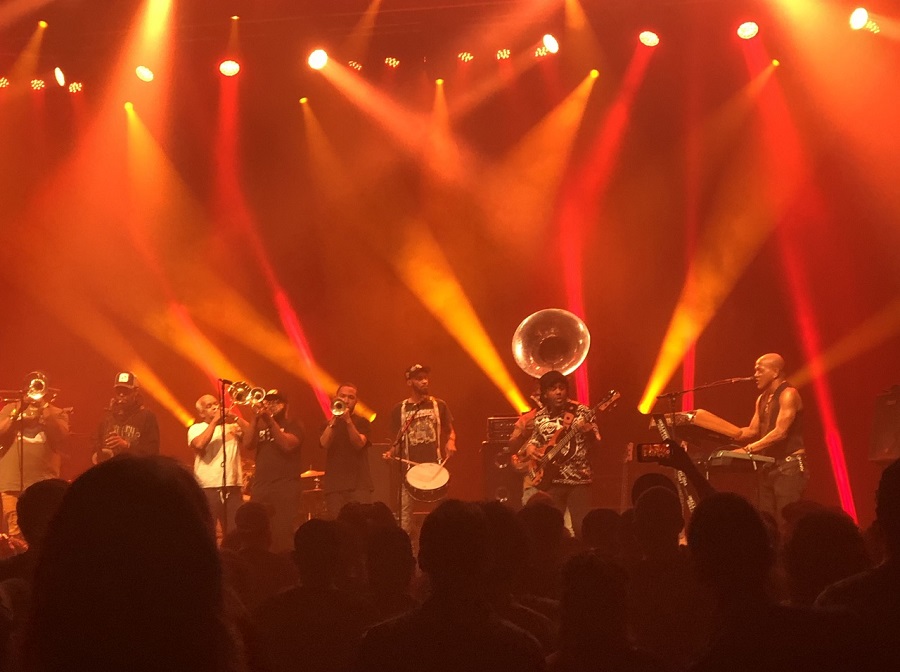 PHILADELPHIA
Victor Wooten and the Wooten Brothers and the Rebirth Brass Band Brooklyn Bowl Philadelphia – October 4, 2023 8:00 p.m.
By Selah Eric Spruiell and A. E. O'Neill
Rebirth Brass Band
The Rebirth Brass Band Jazz, as we all know, originated in the United States in New Orleans. It originated primarily with Black musicians picking up band instruments and participating in what was essentially Drum and Bugle Corps, starting around the late 1800's. These groups got gigs playing for dances and houses of ill repute. Eventually they started accompanying funeral processions. On the way to the cemetery, these groups would play slow, mournful dirges, however, returning from the cemetery they would break into joyous, syncopated dance ditties, and the crowd accompanying them would dance on the way home while they played. This section of the funeral procession became known as the Second Line.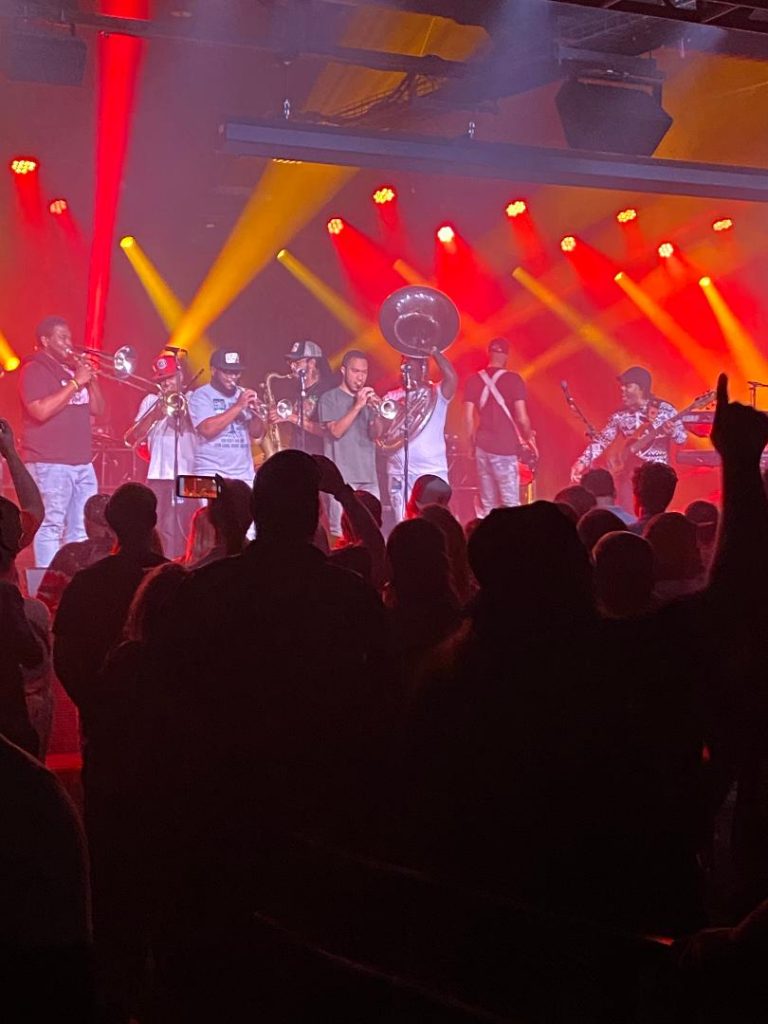 As described in Wikepedia, "The Rebirth Brass Band is a New Orleans brass band. The group was founded in 1983 by Phillip "Tuba Phil" Frazier, his brother Keith Frazier, Kermit Ruffins, and classmates from Joseph S. Clark Senior High School, which closed in the spring of 2018, in the Tremé neighborhood of New Orleans."
There have been numerous Second Line brass bands in the history of New Orleans. The Rebirth Brass Band is part of this tradition.
Without benefit of a printed program or backstage access, the lineup on October 4th was as far as we could determine, as follows: Keith Frazier- Bass Drum, Philip Frazier- Trumpet, Stafford Agee[1]Trombone, Jenard Andrews – Snare Drum, Vincent Broussard – Saxophone, Eric Gordon – Trumpet, Clifton Smith – Sousaphone, Caleb Windsay[1]Trombone.
The sounds of the opening number, Hugh Masekela's "Grazing in the Grass", was a raucous, funk infused romp which reminded one of the horn lines of the Bar-Kays and the Memphis Horn Section of the Stax Record Company. Rounding out the evening's entertainment were such numbers as "Rebirth Got Fire" and "Feel Like Funkin' It Up". They certainly had the crowd dancing and jumping.
The Wooten Brothers
The five Wooten Brothers were born into an Air Force family, moving around as military families do. It was while stationed in Hawaii that the brothers started performing as a band. Regi on guitar, Roy on drums, Rudy on Sax, Joseph on Keys and Victor on Bass. Performing in their front yard, the band honed their skills, eventually touring the country, opening for such groups as War, Curtis Mayfield, Ramsey Lewis and the Temptations.
Sadly, Rudy the Saxophone player died in 2010. Rudy could play two Saxes at the same time much like Yussef Lateef and Rahsaan Roland Kirk. Regi.who is known among the brothers as "Teacha", is a multi[1]instrumentalist who taught all the brothers how to play their instruments.
Victor and Roy are members of the world-renowned Bela Fleck and the Flecktones, Victor of course playing Bass and Roy, an inventor known as "Future Man', plays a creation called the Drumitar which is played strapped around the shoulder, much like a regular guitar. His playing is reminiscent of Tony Williams of the Miles Davis second great quintet. In this appearance with his brothers, he played traditional Trap Drums. Joseph Wooten has spent 30 years playing keyboards with the Steve Miller Band.
Although the show was billed as Victor Wooten and the Wooten Brothers, Victor chose to blend in with his brothers displaying a cohesive unit to the audience rather than showcasing his own prodigious Bass skills. You did not get the playful things you had gotten previously from some of his performances where he played the Bass behind his neck, played it with his teeth and swung the Bass so it traveled around his body. In an interview with Bass Magazine, he revealed that he has developed a physical condition called Focal Dystonia. "This is like a bad habit, where my brain tells my fingers to play the wrong things, so instead of playing at my normal pace, I have been playing very slowly and retraining my hands to respond correctly."
Their first number, sounding very much like Jazz/Rock Fusion in the mode of Chick Corea's "Return to Forever", celebrated their being back together again. Their second number, still in a Jazz Fusion mode "Teacha, Teacha, What's on Your mind" featured Regi Wooten's prowess on the guitar.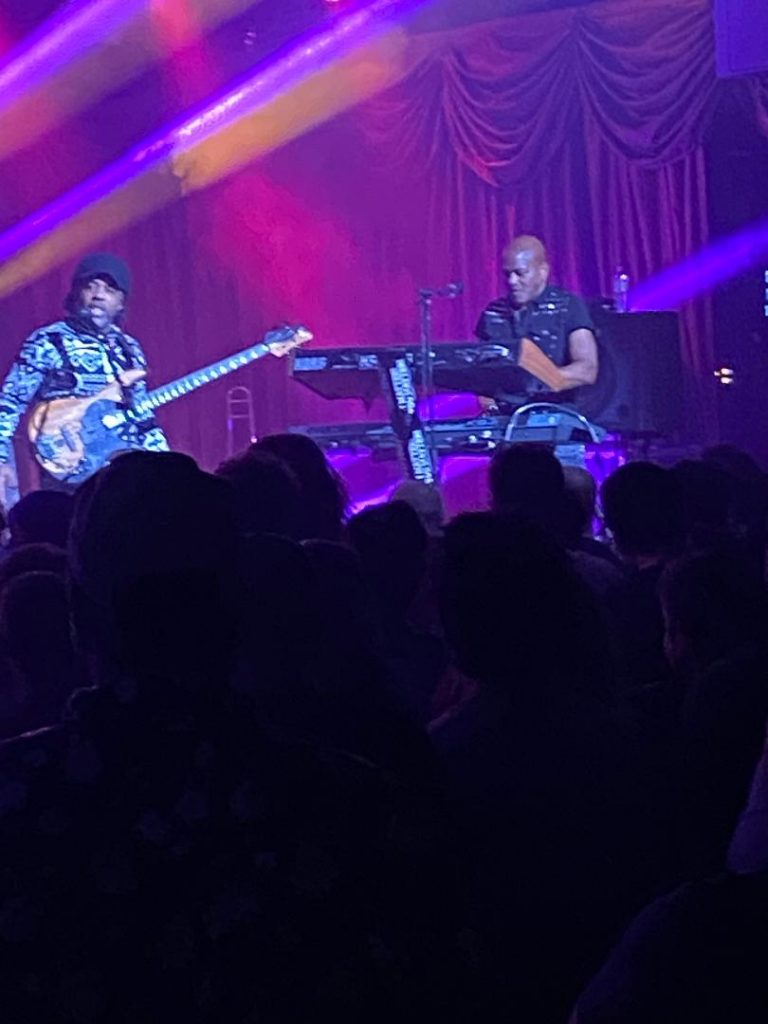 At this point in the program, Victor started talking about their origins as the Wooten Band and related the story of being offered a cassette tape for purchase by someone who needed money for a sick wife. The cassette tape was a recording of the Wooten Brothers from back in the 1970s as a young band.
They then started playing and singing some of those songs. The sound of their harmonies is reminiscent of the Five Stair Steps of Chicago from the 1960s. Their playing of these songs also resembled a later incarnation of the Five Stair Steps, the Invisible Man Band of the disco era of the 1970s. Joseph had the vocal limelight for a medley of songs including Elton John's "Your Song", Sly and the Family Stone's "It's a Family Affair" and Stevie Wonder's "My Cherie Amour".
They also played their first release as The Wooten Brothers "Sweat". Disappointingly it sounded like a re-vamped Prince. Not very original.
The show came to its conclusion with Victor inviting the Rebirth Brass Band to join them on stage. Joseph started doing the famous James Brown introduction to Sex Machine and the bands joined together to play it in a Funky, rousing rendition.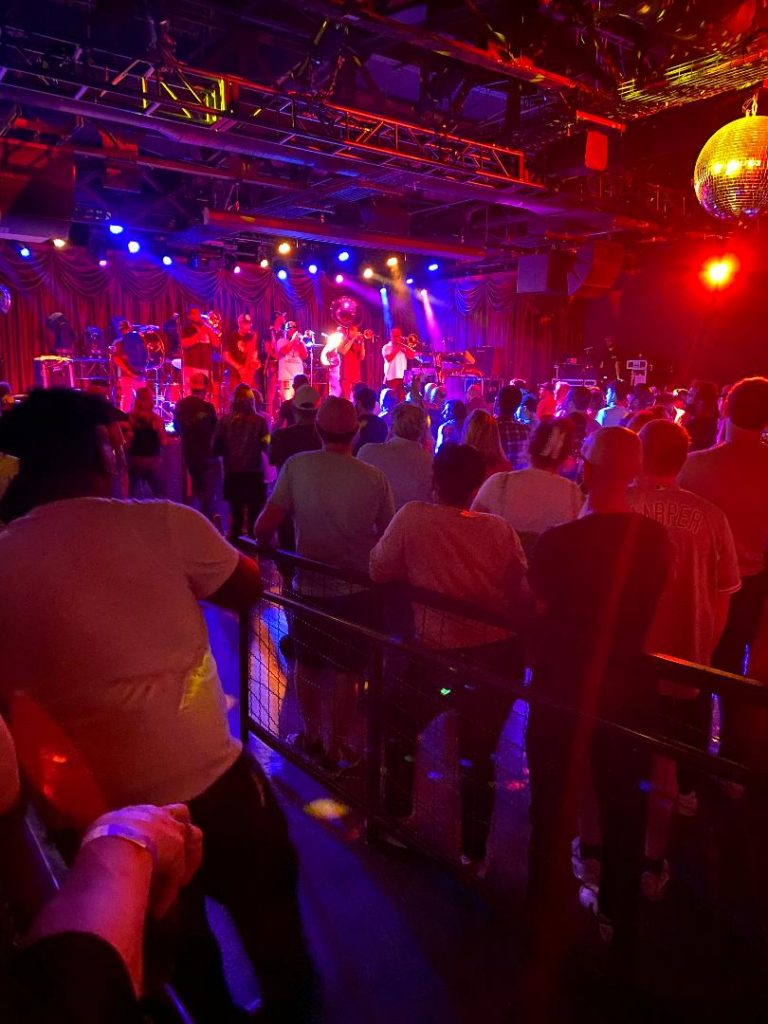 Just as an aside, the Brooklyn Bowl lends itself to young people who enjoy staying on their feet for an entire performance. There were maybe twenty high stools for people to sit on who had VIP Club seating. There were not enough by any means to accommodate the numbers of older people who turned out to enjoy the show