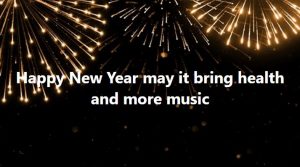 Well we made it to 2021 😊 Hopefully soon the disaster known as 2020 will become a distant memory? I for one am happy to be here, I am counting my blessings and looking forward to the positive groove that 2021 promises to be!
1. I want to thank all of you for hanging in there with Soul-Patrol. Starting next week, I will be making some major announcements regarding our plans for the site in 2021. Stay tuned…
2. Speaking of hanging in there with us, I want to formally welcome aboard two longtime friends of Soul-Patrol. Rickey Vincent and A. Scott Galloway are two of the top Black music writers in the universe. You have already seen some of their content published on the site and you will see more going forward.
3. We have several other longtime friends who have been helping us out in the blackround. Over time I will tell you more about them!
Well That's all I've got for now. Keep an eye out for the big announcements next week. Enjoy the newsletter and if you have any suggestions for me, just email me, text me, call me but let me know.
And of course, I still wanna be like John Lee Hooker when I grow up....
Be sure to leave your comments at the bottom of each page on the site or shoot me an email, call me, leave me a message on Facebook or Twitter (use the links at the bottom of the Newsletter) with suggestions, ideas, complaints etc.
Thanks (& stay safe)
Bob Davis - earthjuice@soul-patrol.com
609-491-3537