Of course, I am unable to let this week go by without making note of the significant event represented by this graphic.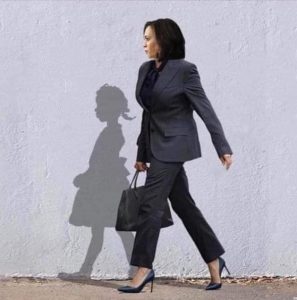 I would like to applaud the accomplishment of Kamala Harris in breaking thru yet another "glass ceiling." However as significant as is her accomplishment, I would also like to take this moment to turn you on to another Black American female who has been working in the trenches on some similar issues, who has more than a passing connection to Soul-Patrol.
Dr. Kathryn Rice has a history of community development involvement and expertise. From the local to the federal level, Dr. Rice moved from participant to leader to practitioner to Instructor and Consultant. Dr. Rice taught courses in Economic Development and Urban Affairs at Georgia State University. She received her undergraduate degree from Harvard University in Government.
I bring up Dr. Rice in the context of this newsletter (& Kamala Harris) for several reasons:
1. - She is also the founder of a publication/broadcast called the Rice Report, a Georgia based examination of business and politics and the intersection between the two. Its goal is E to the 5th power - EDUCATE, ENCOURAGE AND ENERGIZE PEOPLE TO GET ENGAGED SO THEY CAN BE EMPOWERED!!! In a sense, she is a local Atlanta version of Kamela Harris. As the focus of the aftermath of the election moves now to Georgia, I strongly urge you to subscribe.
2. - Dr. Rice went to High School with me. We were bussed to the very same "lily white" High School in New York. We grew up in the same neighborhood, right around the corner from each other.
3. - If you have ever read one of my essays about "blue light basement parties," in the 1970's, you can be sure that Dr. Rice was not only in attendance, but I can assure you, based on first hand experience, that she was one of the very best GRINDERS in a neighborhood of GREAT GRINDERS. She was a member of Soul-Patrol, long before the internet was even thought of.
In 2020 we are all grown up and we have expanded our horizons well beyond "blue light basement parties." However, what we never do is forget how BLACK MUSIC & BLACK CULTURE intersect with each other and we never forget to connect the dots. I fully realize that some of you do not like it when we connect the dots in this manner. But if you have been reading this publication since it started in the mid 1990's you also realize that "connecting the dots," is what we are all about.
As you scroll down this weeks Soul-Patrol Newsletter we have the following articles; (speaking of blue light basement parties) an article on the late/great Linda Jones, An article on the genius of the late/great Donny Hathaway, a "drum side chat" with Dr Ric Wilson of Funk music legends Mandrill, where he connects the dots between Mandrill, Doo Wop, Marvin Gaye and more. Speaking of Doo Wop (& "lily white" environments) a review of Kenny Vance & the Planetones in Brooklyn. Plus two long overdue articles on Jazz great Freddie Hubbard and slow jam master Reggie Haynes (of the Legendary Escorts.) Finally circling back to the events of the past week, one last article on the disaster called Donald Trump, from our good friend the legendary Funk music author, educator and author Rickey Vincent called "Trump is our Chernobyl Disaster."
As always you may not agree with everything we have to say in these articles, we don't expect you to. This world would be a boring place if we all agreed all of the time. Therefore, I encourage you to leave your comments right on the web pages or email me (or even call me) directly to let me know what you think.
Be sure to leave your comments at the bottom of each page on the site or shoot me an email, call me, leave me a message on Facebook or Twitter (use the links at the bottom of the Newsletter) with suggestions, ideas, complaints etc.
Thanks
Bob Davis - earthjuice@soul-patrol.com
609-491-3537