Yes It's Summer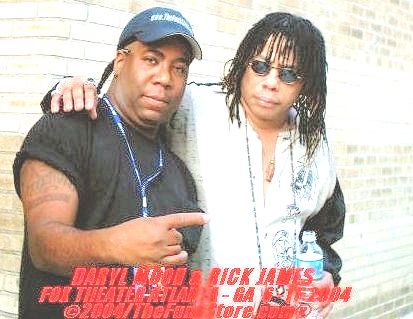 Darryl Moon & Rick James[/caption]
This has been a pretty interesting summer so far. In some respects pretty quiet. In others, it feels like the "calm before the storm," given what some of the possibilities may be for what has previously been the American way of life, should the Re-Thug-Lickkkans gain any additional power.
One of the nice things that has happened for me this summer is that I have reconnected with some folks who should I ever document the history of Soul-Patrol were instrumental in it's evolution. One of those folks is Darryl Moon (better know these days as "MoonThangski" on Facebook.) Moon is linda like a lot of brothas that I grew up with, which means people who are in short supply these days. He is hard core Classic Soul and hard core Rock n' Roll at the same time. In other words he is just as well versed in Frank Zappa as he is in ZZ Hill and everything in between. When I was a teenager there were actually quite a few brothas like him that I knew and hung out with. In other words he is a total "free spirit," who doesn't easily fit into any box. Over the years they have slowly disappeared, although a few remain. During the early days of Soul-Patrol he created an online business call "The Funkstore," which featured music & merchandise associated with George Clinton/Individual Pfunk members and others thinks FUNKY, stuff you couldn't get anywhere else. He became an on again off again advertiser for Soul-Patrol. More importantly he became a trusted friend and advisor to me. He recently posted the picture that you are currently viewing of himself and the late Rick James from 2004. Darryl Moon is a native of Buffalo, NY and Rick James is one of his "homeboys." I thought you might enjoy seeing it.
In this week's Soul-Patrol Newsletter, I have no deaths to announce. What we do have is a feature on some new music from our friend Ted Mills, legendary lead singer of Blue Magic. Be sure to take a listen and let us know what you think. Two historical analysis pieces; Aretha Franklin, Young Rascals/"How Can I be Sure." A Dope Commentary: 80's Music – My Journey to 2022 (Gainesville to LA, Multiculturalism to Pandemic) and two historical pieces on two Blues legends, Robert Johnson and John Lee Hooker
Let me know what cha think?
Thanks, and be safe
Bob Davis
earthjuice@prodigy.net
609-351-0154