9/18 - 9/24 - REPLAY
SOUL-PATROL SPOTLIGHT BROADCAST
JIMI HENDRIX BLACK LEGACY RETROSPECTIVE
- Q & A - W/COREY WASHINGTON & BOB DAVIS
- PANEL DISCUSSION W/ERNIE ISLEY, DARRELL MCNEIL & COREY WASHINGTON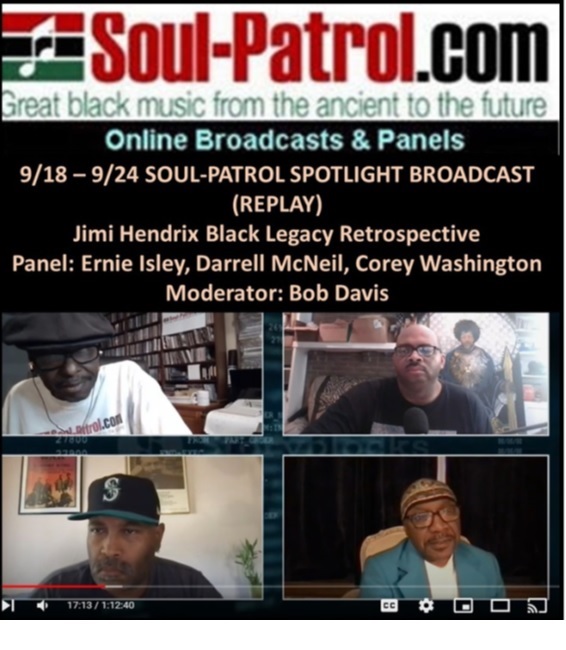 Jimi Hendrix died on 9/18/1970. This week we want to celebrate his legacy in our way that ONLY Soul-Patrol is able to do
This topic is near and dear to my heart. As many of you are aware, the Soul-Patrol website was first established specifically to have a platform to write about this topic.
The panel was be moderated by Bob Davis and will consist of author Cory Washington, Darrell McNeill (Black Rock Coalition) and Ernie Isley (Isley Brothers.)
I can't think of 3 more iconic/knowledgeable individuals that I would like to see this topic discussed. In fact I would pay to see such a discussion, although this event is free and presented for your educational enjoyment.
View/Listen and share
As always feel free to email or call me with any suggestions
Let me know what cha think?
Thanks, and be safe
Bob Davis
earthjuice@prodigy.net
609-351-0154