Annual Halloween: One of many reasons I despise Halloween…
Or (probably) not… Because you (probably) don't have any real Black friends to check your asses and, well, you simply can't help yourselves…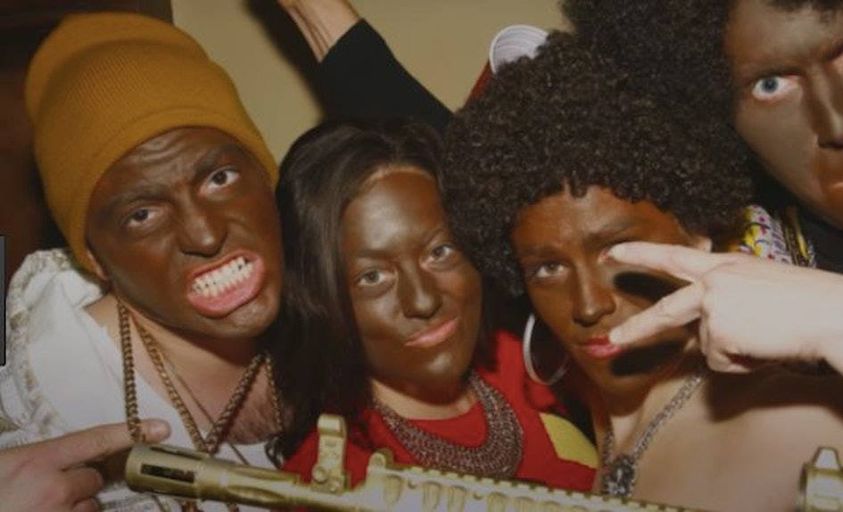 Some fun tips for all you twisted, corny, garbage-ass, culturally-fractured Caucasians who insist on doing twisted, corny, garbage-ass, culturally-fractured blackface ratshit for Halloween (because you probably don't have any real Black friends to check your asses and, well, you simply can't help yourselves)…
First, some ground rules: Don't go cheap on the Afro wig. Look for authentic "human hair." Cheap Afro wigs will not get it. You will simply look like "Save By The Bell's" Dustin Diamond after getting shot out of a circus cannon.
Second, consult your Pantone keys to at least approximate a respectably human skin tone. If your blackface shade matches a sleeping iPad screen, then, no. Just no. It speaks volumes that you would be more exacting about the color palette of a guest half-bath than a human being's pigment.
Third, do NOT forewarn any of your peoples that you are embarking on this little escapade (unless they are joining in). That would be cheating. Black people don't text ahead to the general populace to serve notice of our presence. Neither should you.
Finally, and MOST importantly, DO NOT UNDER ANY CIRCUMSTANCES ALERT ANYONE YOU ENCOUNTER TO YOUR WHITENESS. Again. Cheating. It's the height of punking out.
Once you are properly "dipped," so to speak, then here are some rip-roaring hoots for you to partake in this Hallow's Eve:
1. Go to a local public park with all of your shoe-polished peeps and have a barbecue, preferably near a brand-new, densely populated luxury building. Be sure to catch the eye of any number of freshly-minted residents of the community. If they give you an agitated stare, reference some arcane city ordinance challenging the legitimacy of your gathering, then whip out their cellphones, taking pictures and speaking officiously and frantically to, I imagine, some random authority figure as if you aren't even there, you'll know you're doing this correctly. Unforgettable hijinks will ensue shortly thereafter…
2. Go about your regular routine of leeching Wi-Fi for free at a local coffee klatch–not Starbucks, though. They've had training, so it won't work–and be sure to make note how many others are doing the same exact thing without purchasing so much as a packet of Stevia. Then ask one of the baristas for the bathroom code. You're all set now to play the "Who Gets Asked To Leave The Premises First" game…
3. Make it a point to make a very late night of your Halloween shenanigans. Like, after 2am late night. Then simply take a long, slow stroll through your neighborhood. Revel obliviously in your oblivious revelry. Then try entering your building. If you see one of your neighbors, be sure to impress with your flawless impersonation of Black people. If they attempt to prevent you from entering or, again, whip out the phone and start calling 5-0, you'll know you are spot on…
4. Here's a crowd favorite: again, while carousing late at night, see if you can you can get the attention of a passing police cruiser. Usually, you don't have to do much—you really don't have to do anything. If you find yourself not getting the desired results, try something more pronounced, the more boisterous and rebellious, the better (you are "imitating" Black folk, after all. You know how we get down). N.W.A.'s "Fuck Tha Police" is a can't-miss. Caution, this brand of mischief is not for the feint of heart…
5. If there are any near your town, go to a Trump rally. Any Trump rally. Do NOT wear any MAGA regalia—you are probably too tall to suitably pass for Kanye West. In fact, rock some 'Black Lives Matter" swag… Guaranteed merriment to be had by all…
6. Some noted sororities and fraternities—Cal Poly San Louis Obispo's Lambda Chi Alpha, Syracuse's Theta Tau, Dartmouth's Alpha Delta, Phi Kappa Sigma at U Maryland-College Park, and Sigma Alpha Epsilon of U of Oklahoma, for example—have made headlines for aggressively and unabashedly rejecting Black people en masse or indulging in blackface monkeyshines (along with superhuman alcoholic binges, violent hazings, gang rapes, drug distribution and casual gunplay). See if you can charm your way in using your blackface get-up. Then, again, this might prove too uneventful—given many Greek clubs predispositions to employing blackface, you may already belong to Greek clubs like these and they already have events planned for just such an occasion. In a way, it'd just be a typical Wednesday, and, really, where's the fun in that?
7. Be sure to sprinkle some blackface Halloween love on your favorite retail establishments and boutiques like Whole Foods, Kheil's, Barneys, Sephora, Nordstrom, Banana Republic, Gap, Pinkberry, Vans, Target, HomeGoods, American Eagle, Teavana, Express, Claire's, Pink, Lucky Brand, Bath & Bodyworks and Abercrombie & Fitch. Be sure to post pics of the horrified stares on all your socials. And tell the guards that real Black people say "Hi."
Of course, these are merely suggestions. Feel free to expand on these themes. Use your already-fervent imaginations. Walk up on a random neighbor's house in the dead of night—preferably a gun owner in a 'Stand Your Ground' state—and see if you can ask for directions. Take a late cruise on a state highway and make your presence felt. Find the most elite college in the area and see how long you can lounge in the public indoor spaces before security is called to vet and/or remove you. If you are attending a sporting event, do your best Colin Kaepernick imitation during the anthem. The possibilities—like misplaced White fear—are literally endless.
OR… and this is admittedly a radical notion… Just knock it the fuck off with this twisted, corny, garbage-ass, culturally-fractured blackface ratshit altogether. Exercise some basic human empathy. Contrary to what you've been told, slavery "ended" only a shade over 150 years ago. Large segments of the Black population are separated by only a grandparent or great-grandparent from that especially heinous institution, its subsequent effects still very much informing attitudes and sociopolitical structures to this day… On a GLOBAL scale…
So you might… MIGHT… consider the inconceivable hubris involved in assuming you can just simply "inhabit" Black spaces without accounting for any of the consequences as direct result of your deliberate, aggressive and unabashed efforts to fortify, protect and expand the safety and prosperity of your privileged White spaces, while conversely making our Black spaces decidedly unsafe and hand-to-mouth…
Or (probably) not… Because you (probably) don't have any real Black friends to check your asses and, well, you simply can't help yourselves…
By the way, if you run into your girl, Megyn Kelly, you might explain this to her. Though I imagine—not long removed from cashing in her $69-million severance package—she's on a beach somewhere, crying into her Cosmos and wondering where it all went wrong. Perhaps she can get her mojo back by "blackening up" and go trick or treating as former Today Show co-host Tamron Hall, the immensely likeable, immensely talented rising star, making a real impact on the show's third hour—who also happened to be Black—just to be steamrolled by Kelly's garbage truck of Fox-informed, train-wreck TV entertainment.
I feel Megyn Kelly would probably get a kick out of something like that…
Like my big brother, Greg Tate, likes to say, "Y'all will take everything but the burden…"
Yo, America, for real…? Come get your people, man…