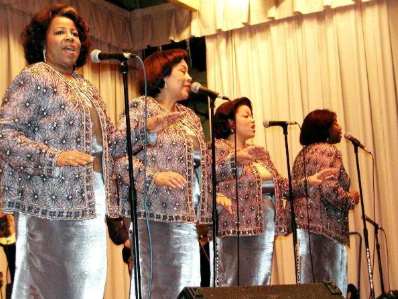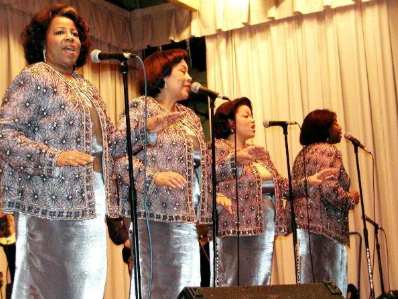 The Chantels LIVEOf course i am too young to have actually been a fan of the Chantels during their heyday, however I remember listening to their music on oldies stations while I was growing up and to me her voice on those songs is about as erotic as they come…

–Bob Davis
I just got back from seeing the Chantels (one of my boyhood idols) , the Calvanes, and some other DOO WOP artists at a Ballroom in North Jersey.
Bout 600 or so people in attendance A few of you were there, I met many Soul Patrol "lurkers" during the course of the evening
The Chantels (this was the version without Arlene Smith) THREW DOWN, and had me GRINDING IN MY SEAT…
When they sang "The Plea", I was nearly in tears.
It's one of the best slow jams of ALL TIME
(more on that later)
A few observations..
(Keep in mind, this is directed at those who WEREN'T THERE as opposed to those who WERE THERE!)
1. The crowd was about 98% white
2. Most of the Blacks who were there were performers
3. I spoke with most of them, and they all said that they were glad to see me there, and then they hugged me and whispered into my ear, that they were REALLY glad to see me there
4. Even white people (whom I didn't know) came up to me and said that they were REALLY glad to see me there
Sometimes Black people make me ashamed.
We can complain all we want to about "Stolen Legacy"
However, is it really "stolen" if we "give it away for free"?
It is OUR responsibility to preserve and expand OUR culture NOT white folks
Sometimes we really are victims
Sometimes we really make victims of ourselves 🙁
Thanks to the folks at UGHA for inviting me
Thanks also for acknowledging Soul Patrol from the stage as well
The Chantels Show……
The Chantels set last night was a short one (bout 30 min), however it was one of the most enjoyable concerts I have seen in a while
Here is the set list from the show…
1. He's Gone
….and so it starts, alternating leads, lush streetcorner harmonies at it's best.
This song was a hit for the Chantels and deservedly so
2. The Plea
I have spoken of this song before It's PURE EROTICA. Seeing it performed
live, had me grinding away in my seat. The song ended too quickly for me.
3. I Love You So
More EROTICA, yet another good song for a "slow jammin fool" like me
4. Hit The Road Jack
I have received many letters from people all over the world asking me how I
could possibly say that doo wop is Rock n' Roll.
The people who write these letters always tell me that they appreciate the sounds of doo wop, but that it's really just R&B type slow stuff.
Of course these folks couldn't be more wrong, they are only listening to the slow stuff.
Check out a doo wop group doing a fast song, as opposed to a slow song and you will hear what Rock n' Roll sounds like at it's root.
That was certainly the case when the Chantels were joined on stage by Fred Willis of the Calvanes for a ROCKING cover version (answer record?) of the song "Hit the Road Jack". The combination of the magnificent harmonies along with a gutbucket band sure does sound like "Rock n' Roll" to me
5. Maybe
This is the Chantels most famous song.
To me it's over rated, especially when compared to the beautiful "The Plea".
However it's a crowd favorite and they sing it twice
This performance although short, was certainly mind blowing for me. It also re affirmed my thinking that the Chantels belong in the Rock n' Roll Hall of Fame.
Because without them, there would have been no:
– Supremes
– Shirelles
– Marvelettes
– Ronnettes
– Three Degrees
– Vandellas
– En Vouge
– Destiny's Child? (lol)
– etc
go and see them if you get the chance!
NP: "Free Your Mind…"
–En Vouge
–Bob Davis
CHANTELS FOR THE ROCK N' ROLL HALL OF FAME?

| | |
| --- | --- |
| | |
CAN WE GET A DISCUSSION GOING ON WHO BELONGS IN THE ROCK AND ROLL HALL OF FAME (MAKE A CASE FOR THEIR INDUCTION), AS WELL AS WHO IS ALREADY IN BUT SHOULD NOT BE(MAKE A CASE)? UP FRONT, LET'S RESPECT EVERYBODY'S OPINION, EVEN IF IT IS NOT OUR OWN, AND WE KNOW THE HONOR OF INDUCTION IS DESERVED BY MANY WHO HAVE BEEN OVERLOOKED. ON THAT NOTE, I OPEN WITH THE CHANTELS:
CASE: THE FIRST TRULY SUCCESSFUL GIRL GROUP, THEY WERE
15 TO 17 YEARS OLD WHEN THEY FIRST RECORDED, BUT SOUNDED LIKE MATURE, SEASONED VETERANS: ARLINE SMITH'S VOCALS CAN BE CHALLENGED BY FEW (DON'T LET HER EMOTIONALLY QUIVERING VOICE ON DOO-WOP 50 INFLUENCE YOU-SAW HER A FEW WEEKS AGO AND SHE WAS CALM AND IN CHARGE
–Gloria
I agree with you 1000 percent.
Although Arlene Smith and the Chantels are yet another one of those artists
that are "before my time", I was privileged during my childhood to be
surrounded by their music. This group was a favorite of my parents, and their music was played regularly in my home.
However as I got older, for me one song by the Chantels in particular stood out in my mind.
"THE PLEA"
This is a song that is right up there with the 1970's slow jams that I love so much!
It's got a SERIOUS beat for sure, but it's Arlene Smith's soaring voice that is somewhere between "angelic and lustful" that sent the heart of 13 year old Bob Davis going 🙂
To me this group is equal to the Fuzz in terms of facilitating an atmosphere of unbridled teenaged lust.
And since it's unlikely that some of the other female groups that set my heart a flutter during the early 1970's will ever get in the Rock n' Roll Hall of Fame (since they never crossed over), I guess that for me Arlene Smith and the Chantels will provide a worth substitute for all of the early 1970's "girl groups" whose music may have only been heard by listeners of radio stations at the "other end of the dial"
–Bob Davis
THOSE WERE THE CHANTELS!

| | |
| --- | --- |
| | |
Sister Lorraina:
Those were The Bronx's (New York City) very own The Chantels! The first number they did was a tune they originally recorded in 1961 when original lead singer Arlene Smith (the woman who came out dressed in black for their second number) had left the group, "Look In My Eyes."
Then Smith joined the other ladies on stage to sing what is perhaps regarded as one of the all-time greatest songs of ANY era, "Maybe, "which was penned by Smith.
Recorded on October 16, 1957 and released on End Records that December, "Maybe" reached #2 on the R&B charts and #15 on the Pop charts. They were also one of the very first female vocal groups in the rock era to have an album under their own name ("We Are The Chantels," released September 1958).
The Chantels were originally a quintet: Arlene Smith, Lois Harris, Sonia Goring, the late Jackie Landry, and Renee Minus. They got their name by taking the name of a rival Catholic high school, St. Francis de Chantelle (the girls attended St. Anthony of Padua in The Bronx).
–Charles
The Chantels, were produced and managed by Richard Barrett, who also produced
"Tears on my Pillow" which was Little Anthony & The Imperials biggest hit.
He was also their manager. The also discovered Frankie Lymon, and The Teenagers, and if I'm not mistaken produced "Why do fools fall in love". He also produced and managed The 3 Degrees. These little gems are quietly hidden in the history of music, as was Harvey Fuqua, before being inducted into the R&R Hall. Now that the door is slightly ajared, we wanna know about producers, such as Bobby Miller, Charles Stepney, Norman Whitfield,Johnny Bristol, Tom Tom 84, Phil Wright (arranger for Billy Stewart, Etta James) Don Davis (Producer for Johnny Taylor, Dramatics, Dells) where are they, and WHEN do they get their PROPS.
–mmdells
I believe that I have an album somewhere of the Chantels. On the cover is a picture of the Chantels and they are all playing instruments. The liner notes state that they play these instruments and that they are a band. This would eliminate them as only standup singers and make them potentially the first soul female self contained band.
Johnny
I think one of the members played the piano and another played the guitar but I don't think they played those instruments during live appearances. They may have done some accompanying but when I've seen old footage of them on television they had musicians behind them. They were trained singers and Arlene Smith the lead singer was a gifted song writer. Unfortunately, the group recorded for a label owned by a scumbag of a culture bandit named George Goldner who also had a hand in the misery of Little Anthony and the Imperials and Frankie Lymon and the Teenagers. Need I say more about this SOB.
Ron