Review – Avery Sunshine's Lucky Tour (w/Laurin Talese)
So, this was a night of firsts—first sensations and first impressions.  And oh, what a wondrous night it was; that is, for a place familiar with giving great bashes…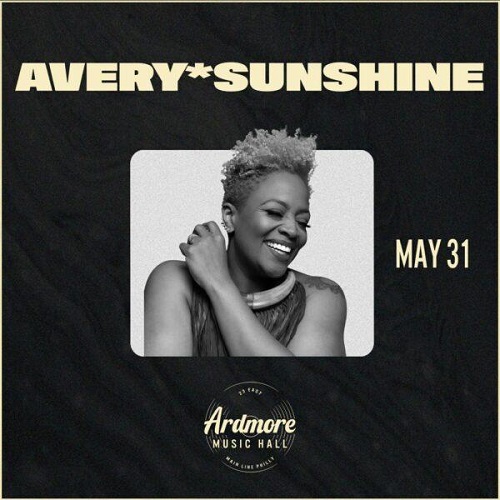 By C Be'erla Hai-roi Myers
As eclectic as I am, emerged into musicology, I wasn't familiar with either of the artists. My partner and wife, Tonya, knew a lot of Avery Sunshine's works, but she, nor I, had been to the Ardmore Music Hall, despite the warm crowd and atmosphere.
So, this was a night of firsts—first sensations and first impressions. And oh, what a wondrous night it was; that is, for a place familiar with giving great bashes…
Laurin Talese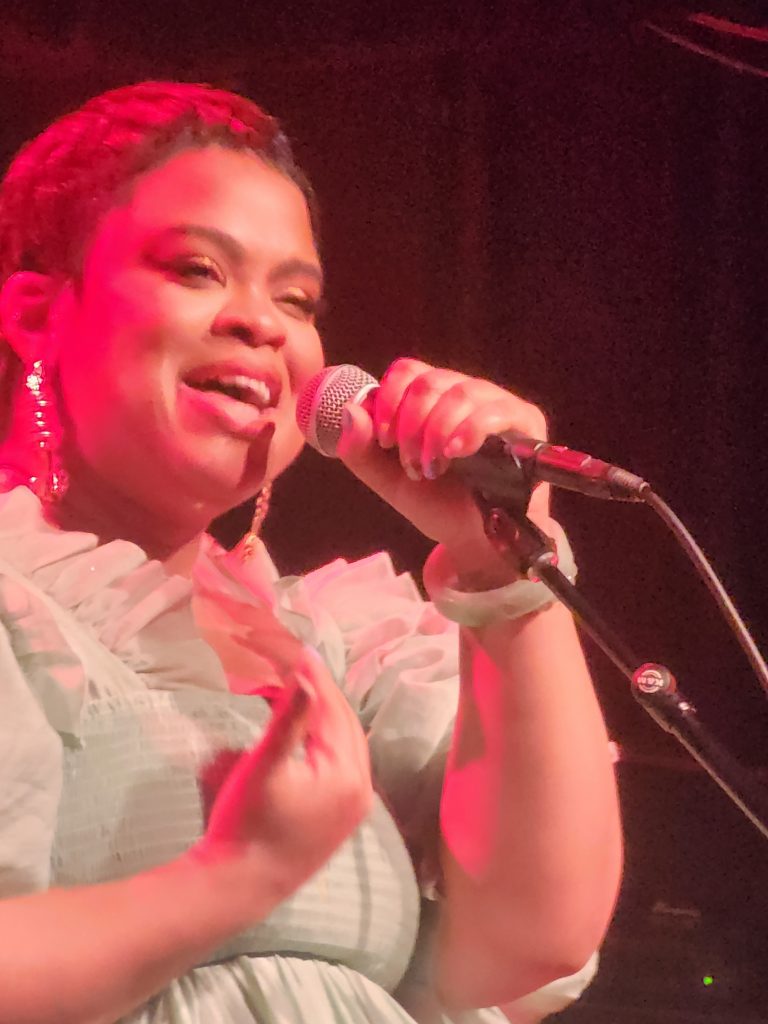 The night started out with singer, Laurin Talese, accompanied by an acoustic guitarist playing in an extraordinary Bossa Nova/Flamenco-like style, Mr. Clay Sears. 
Their sound was very passionate and at times; somewhat introspective and intimate: Reminiscent of the works of "Tom" Jobim with his singers.
Laurin has a beautifully, strong voice—and it showed through continuously and lovely: You can't hide when using sparse arrangements—either you have it, or you don't; and she's got it!
Performing as a jazz singer would in an intimate setting, she was somewhat theatrical, a true balladeer at the helm. Receiving warm, rhythmic claps, like slaps, to the base of a guitar. Then, out of nowhere… Laurin bursts into a Portuguese tune… a nice touch!
Very artistic and original by today's standards. Spell bounding, sprinkling a little soul at the end. . .
Very delightful.
Avery Sunshine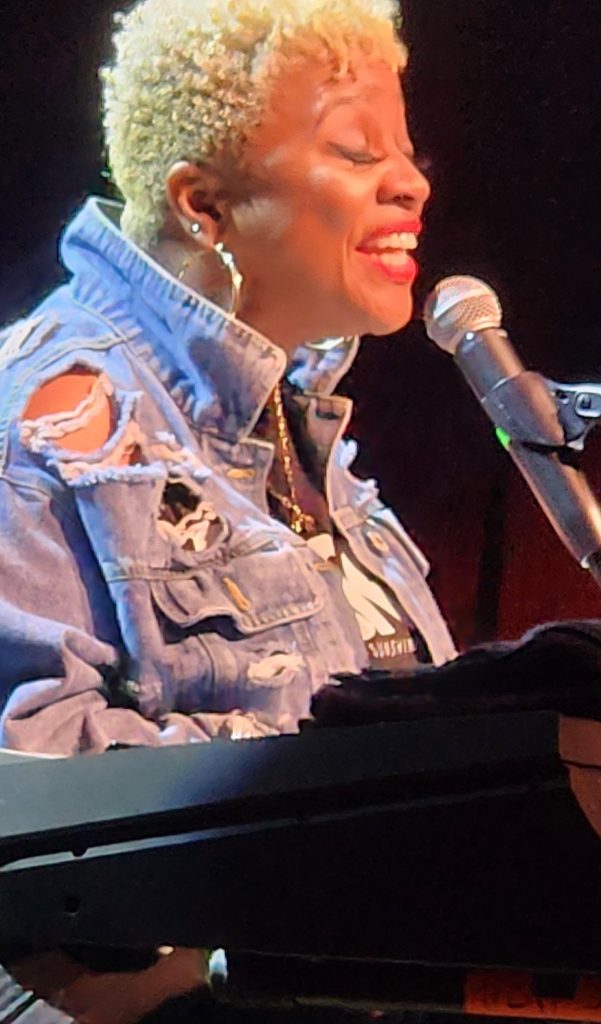 I really didn't know what to expect from Avery after that. 
Then, like a bolt out of the blue, came this vicious, rumbling sound, with growling bass in your face, and my man Dana Johnson on guitar jamming ferociously, while keeping pace on the bass drum.
Funky!
And Avery! Avery!
She came in corralling folks with those "wrap around vocals," commanding that you give a listen. Watch out Patti! I know you're going to love her.
Singing and filling up the spaces with Spoken Word episodes, Avery Sunshine is just that: Sunshine!
Funky, gritty—and warm too! I love it.
Groovealistic!!!
She knows how to carry a crowd. . .
What a vocal range! Avery's got tales, and like all true Neo Soul fans, we're all suckers for a story!
Avery Sunshine was very witty, engaging…and funny too! She got us all riled up, then she hits us up in a romantic gesture like the "Queen of Soul."
Beautiful and well thought out.
Captivating!
Mixing, and switching-it-up, with soulful strums on guitar, while bassist, Detox, holds down the fort; and Ms. Sunshine keeps telling her stories. Funky and soulful throughout, with affirmations to love (something you don't hear much about these days) … Kinda' like early LTD and Isley brothers in a sense, at-times.
She's got style! Yeah!
Beautiful stories, funky tales!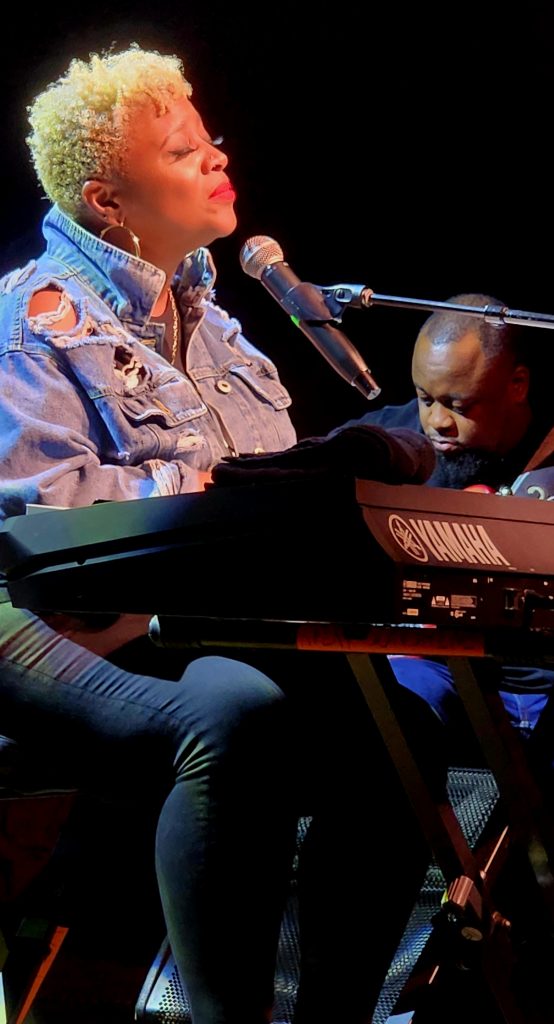 Bringing it to you, like a family hug, too.  Good to have someone make us feel at home. Just basically raw rapture and funky interludes!
She definitely has a musical message for you. . . With a whole lot of love. Glad to get caught up!
Thank you, Ardmore Music Hall for providing the ambiance.