Concert Review: Bernie Worrell/W00 Warriors @ "The Moose" Doylestown, PA (from 2005)
BLACK MUSIC MONTH – Today we recognize the passing of our great friend Bernie Worrell, by remembering this SLAMMIN 2005 concert with Bernie Worrell and the W00 Warriors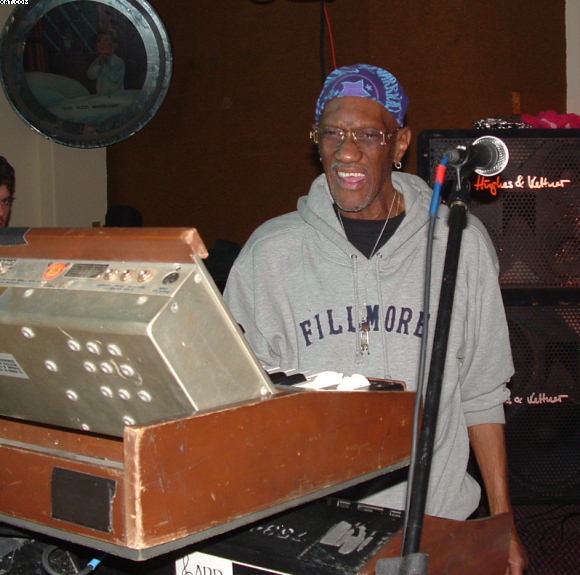 BERNIE WORRELL & THE W00 WARRIORS
* Wizard of W00 – Keyboards –
* Garry "G Man" Sullivan – Drums –
* Donna "Lady Bass" McPherson – Bass
* John Hickey – Guitar –
* Scott Free – Guitar –
(Photos courtesy David Brooks)

I have often made the comment that FUNKADELIC from the early 1970's was the very best Rock n' Roll band that I ever saw perform live. Of course, when I say that, people who have never seen FUNKADELIC, yet associate that term with something other than what it was will give me a strange look as if to say… "Uhhhh Bob, didn't you mean to say FUNK instead of ROCK n" ROLL…" If you are a person who falls into this category, then I would advise you to go and see Bernie Worrell & the W00 Warriors if they ever are within 150 miles of where you live. You won't be sorry that you did. Here is the set list….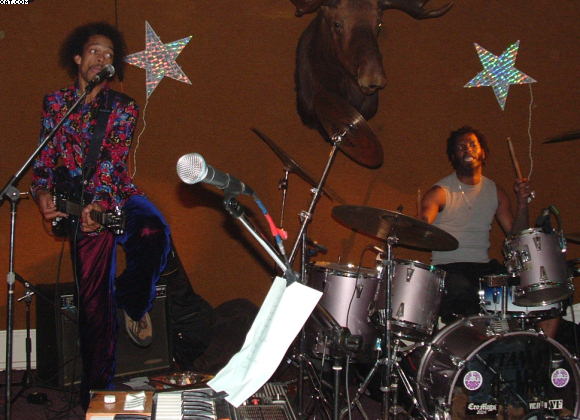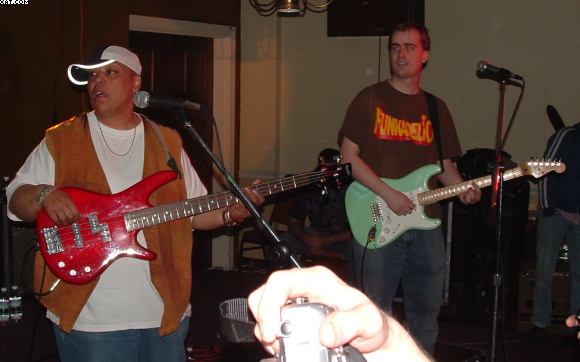 SET LIST
* Stretchin Out –
* Woo Together –
* Gamin On Ya –
* Super Stupid –
* Red Hot Momma –
* Funkytelechy –
* Alice In My Fantasies –
* Undico Kid –
* Cosmic Slop –

The band stepped onto the stage (sans Bernie) and kicked things off with Scott Free (as emcee) announcing that they were about to stretch things out with the "elasticmusicofbootsysrubberband" And that is EXACTLY what they did for about 8 min till Bernie came out, with our boy Scott Free "takin it to the stage" sounding like a combination of Bo Diddley and Eddie Hazel and prancing around the stage looking like "Chuck Berry from Mars".
….and then Bernie comes out! The crowd knows just who the INSURANCE MAN OF THE FUNK is and is primed for him. Bernie doesn't disappoint them by urging everyone to "W00 TOGETHER" and they do, because you see this "lily white crowd", in the home of Philadelphia's far right-wing conservative radio talk show host (Michael Smerconish) know what the deal is with Bernie.
(See what y'all are missing, Black folks???)
Bernie has got the crowd in serious "W00 Mode" and then the band takes off with the FUNKADELIC classic "SUPER STUPID", where guitarists John Hickey and Scott Free turn the show into ROCK SCHOOL 101. In the meantime, I have been in the middle of the crowd dancing right along. Our good friend "DR BROOKENSTIEN" (David Brooks) was on the other side of the floor dancing his be-hind off, wearing one of his trademark "purple on purple on purple" suit (with matching "star child glasses & rings"). Next up was a short interlude with some Hendrix riffs as an intro to "RED HOT MAMA".
During the song drummer "G-Man" got off into some serious "Billy Cobham style territory" during his long solo that energized the crowd. At this point I closed my notebook, taking notes and just grooved with the rest of the show, which ended with a MONSTER version of COSMIC SLOP.

A couple of side notes…

**Guitarist John Hickey had got a great new solo CD that I have been listening to for the past couple of months. http://www.jhickeymusic.com

**The new documentary film about the life of Bernie Worrell has been showing at film festivals across the country and is gearing up for a theatrical release… http://www.strangermovie.com

**I had an extended conversation with "Bernie's Management" (our good friend Judie :)) and she told me about a number of new projects that Bernie has in the queue. To stay updated, take a visit to Bernie's site and sign up to his mailing list. http://www.bernieworrell.com

**Bernie Worrell is truly one of the greatest artists of his generation. (http://en.wikipedia.org/wiki/Bernie_Worrell)

**Funk Star, Rock Star, Soul Star…. SUPER STAR. Bernie Worrell is truly one of the greatest artists of our time. I've known him for quite a while and of course he was one of the very first artists that we ever dealt with on Soul-Patrol.

He has been a believer and a supporter of ours for many years. One of the things I mentioned to Judie was that over the past 10 years or so since we did our very first artist chat session online with Bernie that his profile has expanded greatly. Back then I couldn't just say "Bernie Worrell". I always had to say…. "Bernie Worrell…. Classically Trained Keyboard Wizard of Parliment-Funkadelic, Talking Heads, Pretenders, Ray Charles, David Letterman show, etc…." Now I can just say…"Bernie Worrell" (and people know who I'm talking about…)
–Bob Davis earthjuice@prodigy.net
Bernie Worrell & the W00 Warriors! Video
Unfortunately, I don't have a video of the show that night. However, I did find this 25 minute YouTube video, which will provide a reasonable facsimile of what we saw & heard at the MOOSE, in Doylestown, PA on 3/4/2005, from Bernie Worrell & the W00 Warriors!