Billy Stewart – Fat Boy Documentary Trailer
Press Release – "Fat Boy: The Billy Stewart Story"
Washington, DC, September 4, 2020- The charismatic and electrifying Billy Stewart is considered one of the most prolific and stylish rhythm and blues singers of the 1960s. "Fat Boy: The Billy Stewart Story", a documentary,
produced for PBS broadcast will premiere on WHUT-TV Howard University Television (PBS) on Saturday, October 24, 9:00 p.m. Encore broadcasts are scheduled for Sunday, October 25, 1:00 a.m. and Monday, October
26, 8:00 p.m.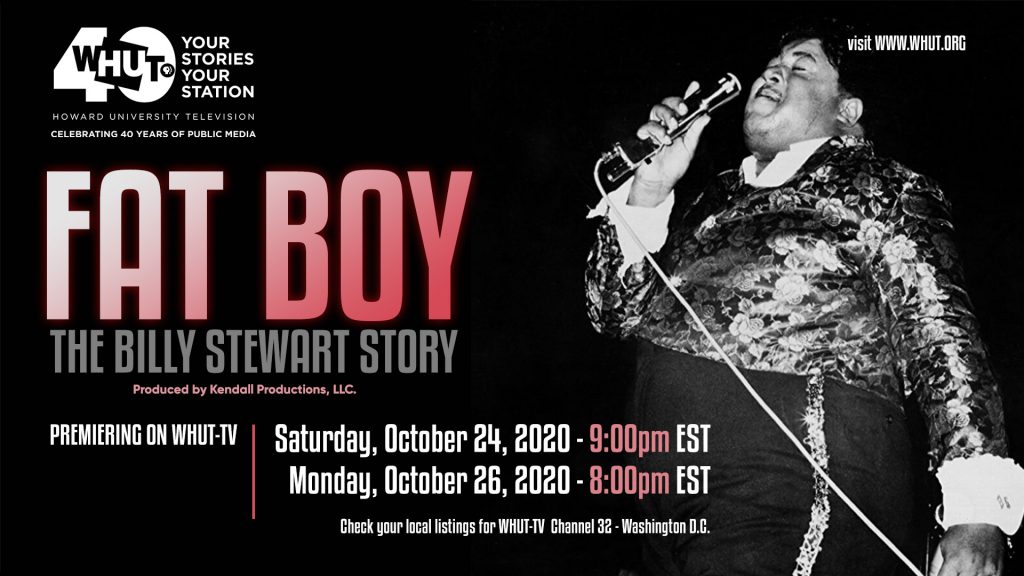 The documentary explores the journey of this incredible singer from his days as a young piano player to a famous R&B balladeer. His electrifying and unique style of singing was untouchable as he mastered word doubling and scatting throughout his songs and performances. His original hits include "I Do Love You", "Sitting in The Park" and his masterful remake of the Gershwin tune "Summertime".
Produced and directed by Emmy award winning documentary filmmaker Beverly Lindsay-Johnson through her company Kendall Productions LLC, under the fiscal sponsorship of the African American Music Association
(AAMA) of Washington, DC, the documentary is filled with exuberant imagery and actual footage from Billy Stewart's early years, including a special interview with "Little Anthony" of Doo-Wop legends, Little Anthony
and The Imperials, who recounts the 30-day cross-country concert tour he and Billy Stewart performed on the Dick Clark Caravan of Stars in the 1960s. An amazing and original talent gone too soon. Mr. Stewart was
tragically killed, on January 17, 1970 in route to a performance in Smithfield, North Carolina. He and 3 of his band members plunged into the Neuse River, killing all occupants as the car sank. "Never before seen" clips of 8mm films of Billy Stewart with his family, performing in various night clubs as well as his funeral service will be included.
A special closing segment titled "Keeping the Legacy of Billy Stewart" describes the influence Billy Stewart and his music of the 1960s has on contemporary artists of R&B, Hip Hop and Go-Go music
About Kendall Productions, LLC: A multimedia production company providing professional services in film,
video, entertainment management and consulting, and public relations.
Beverly Lindsay-Johnson is President of Kendall Productions, LLC located in Washington, DC. Beverly Lindsay-Johnson has 24 years as a seasoned documentary producer. She received the 2006 Emmy Award as Producer of the documentary "Dance Party: The Teenarama Story" (PBS). She has received 24 media awards for Broadcast Excellence for her productions at WHUT-TV Howard University Television in Washington, DC, and
her independent productions.
About the African American Music Association: AAMA was established to preserve, protect, promote and to foster the continued development of African American music and the legacy of those who compose, record, and
perform the music.