Bludazz – Thats Wazzup
Michael J. Calhoun has accomplished greatness in music for over 30 years. He was influenced by B.B. King, Jimi Hendrix, Jeff Beck, The Beatles and Motown. Michael's career launched as a founding member, singer/composer and guitarist for the 1978 R&B hit making band 'Kinsman Dazz,'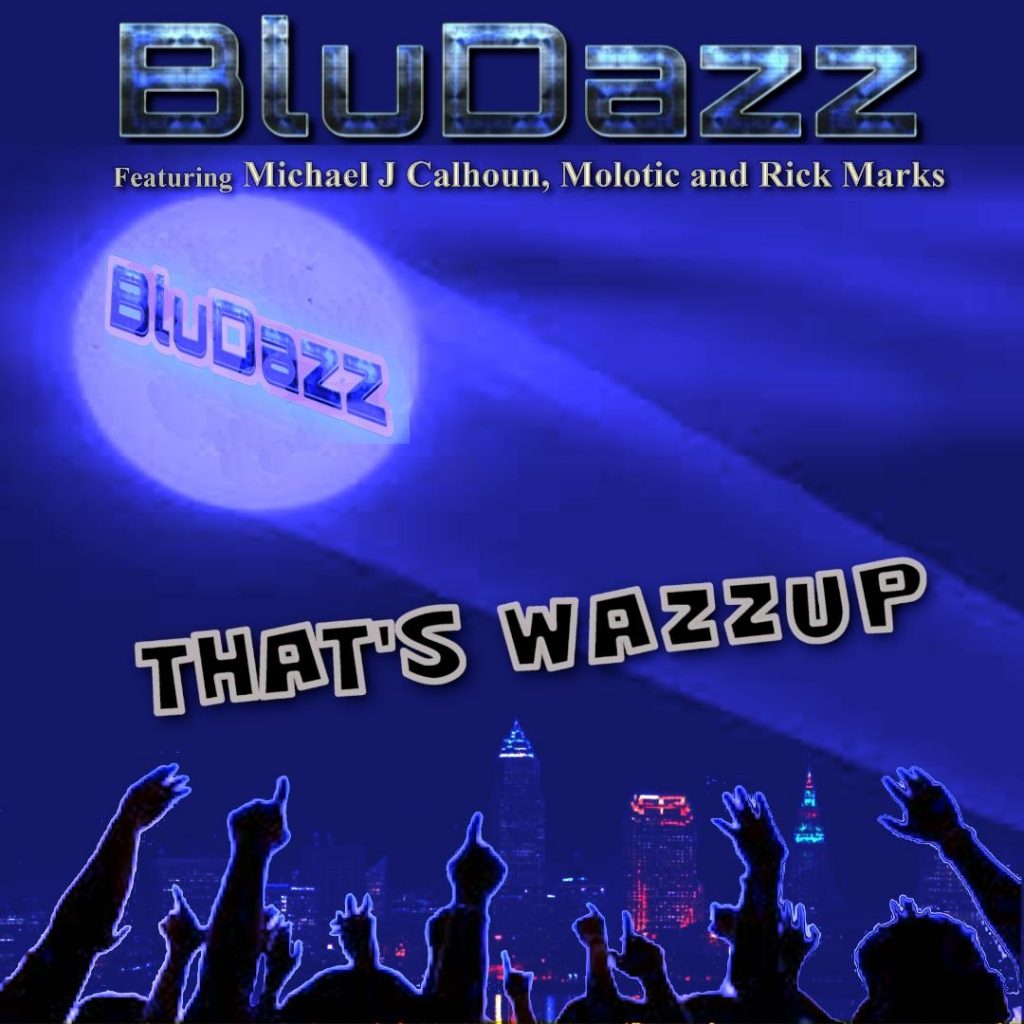 Michael J. Calhoun has accomplished greatness in music for over 30 years. He was influenced by B.B. King, Jimi Hendrix, Jeff Beck, The Beatles and Motown. Michael's career launched as a founding member, singer/composer and guitarist for the 1978 R&B hit making band 'Kinsman Dazz,' under Twentieth Century Fox's record label where Michael was mentored by both Marvin Gaye and Philip Bailey of Earth Wind & Fire. 'Kinsman Dazz' put out two charting R&B hits – "I Might As Well Forget About Loving You," and "Catching Up On Love." The group eventually moved to Motown records, and became the Grammy award winning 'Dazz Band' for their hit single titled "Let It Whip".
While Michael's guitar playing has always stood out, he was also one of the primary songwriters for the 'Dazz Band,' where he wrote hits like "Invitation to Love", co-wrote "Knock Knock", "Everyday Love", "Gamble", "Shake it Up" and "Shake What You Got". Michael left the 'Dazz Band' before their demise to sign with MCA Records. Joe Bendo, Tim LaRose and George Cappellini helped Michael get the deal along with lead singer Juan Lively forming the group 'Voyeur'. Michael (RIP) & Isaac Wiley (from the Dazz Band) joined him on the album. The following year Michael returned to the 'Dazz Band' for one more album entitled "Joy Stick" before his three year tour with reggae band, 'Identity' on Mango Island Records. After leaving 'Identity', Michael toured for two years with 'The Travis Haddix Blues Band.'
In 1994, Michael was presented with a Platinum Membership from the Rock and Roll Hall of Fame, and played guitar in the facility's all-star tribute band concert. The same year Michael wrote and produced Cozette Morgan's Critically Acclaimed LP "Stay With Me " and in 2003 his first solo LP "In Blue" was released. "In Blue" is an eclectic project with elements of rock funk, rap, jazz, blues and even a few gospel tunes that give tribute to his spiritual roots, and also his mother, who Michael promised just before her passing, to one day write and play songs for the Lord.
In 2019 Michael signed with Kermit "The Superstar Maker" Henderson and ECMD / INgrooves / Universal Music Group for Distribution who helped promote a #1 charting song on the Digital Radio Tracker, (DRT), charts, written by Michael,entitled "Soul Jam." Michael also kept his promise to his Mother with a #5 Gospel Hit on the DRT GLOBAL TOP 50 GOSPEL/INSPIRATIONAL AIRPLAY CHART & # 2 Gospel hit albums . The latest Inspirational/Gospel single is "Saved" 2021.
Currently, Michael is writing and promoting songs for his brainchild and new group, BluDazz. To date BluDazz has released 3 explosive tracks "That Body featuring Michael J Calhoun & Moloctic", THAT'S WAZZUP featuring Michael J Calhoun, Molotic, and Rick Marks" and "Chillax. And rounding out the rest of the BluDazz clan on the "Chillax" EP are Chris Cuda,Joe Bendo, Ronnie B., Duncan Crooks, John McLaughlin, Paul MFunker, and Byron Clayton. Catch "THAT'S WUZZUP featuring Michael J Calhoun, Molotic, and Rick Marks RIGHT NOW in super rotation on WRDR! BluDazz featuring Michael J. Calhoun is here!