Bobby Womack – Rest In Peace ("That's The Way I Feel About Cha")
What I got during those two weeks I spent with Bobby Womack was the "un-sanitized" version of what you would find on his Wikipedia page. And I got it all in his voice. And it is his voice that is for me the most valuable "artifact," from those two weeks. …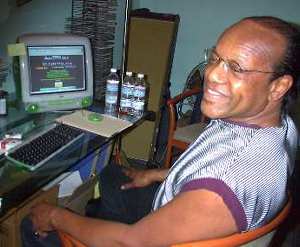 RIP is one of those acronyms that over time has ceased to even be an acronym anymore. Over time it has become a word. I suppose that it is a matter of convenience. After all it is much easier to simply type three letters than to type out what is essentially a short sentence…
REST
IN
PEACE
For me Bobby Womack is a total and complete enigma, despite the fact that I spent 2 weeks daily conversation with him back in the 1990's.
For me it was a wonderful 2 weeks, that at the time was probably the most important thing going on in my life at that time. But today almost feels like a blur. Almost like it never happened.
Whets most interesting about that is that for two weeks of something that today feels almost like it never happened, there is in fact a very tangible thing that exists, that was the end result of the two weeks that I spent with Bobby Womack. We did a chat session with him and afterwards, we produced and posted the transcript.
A seemingly archaic and obsolete artifact, from an earlier time in the history of internet. However at that time it was a unique and supersonic concept. To take a musical icon like Bobby Womack, put him into an internet chat room with 50 hardcore musicologists from all over the world, and have a freewheeling "meta discussion," about the highs & lows of his life and music.
If you go to Bobby Womack's Wikipedia page you can find all of the basic facts about his life and career. You can learn all about his musical accomplishments, his basic biography, the artists that he worked with, the artists he influenced, the artists that influenced him, chart listings for his albums/singles, his family and more.
What I got during those two weeks I spent with Bobby Womack was the "un-sanitized" version of what you would find on his Wikipedia page. And I got it all in his voice. And it is his voice that is for me the most valuable "artifact," from those two weeks. Have you ever had occasion to have a normal conversation with a famous person whose "voice" is burned inside of your mind? The first time I had a conversation with Bobby Womack, what registered in my mind was; "I'm actually talking to Bobby Womack…..LOL."
We talked about Sly Stone, Rolling Stones, Sam Cooke. We talked about his songwriting, and his guitar playing. We talked about crooked/honest record labels, music executives, concert promoters, radio executives, music journalists, film producers. We talked about "sex, drugs & rock n' roll." I mean, damn it, I am after all supposed to be a "musicologist" myself. I want to know about all of those things myself. Maybe one of these days I will write about all of that stuff?
However I also had to focus on all of the "dots I had to connect," both online and offline in order to pull off the chat session. As the "producer" of the chat session, it was truly a test of all of my "PMP Trained Project Management Skills," from a business, technology and operational perspective.
In short there were many things that could go wrong, and cause the whole thing to result in failure. And if any of those things happened, they would be MY FAULT. And of course the details of that failure would be public knowledge.
And one of the things that I had to do within that process was to talk to Bobby Womack, multiple times per day, every day for two straight weeks.
The chat session turned out just fine. And it was a major accomplishment for Soul-Patrol.com. It was written about in most of the major music publications on the web at that time.
You see that was one of the things most important to Bobby Womack. He knew that was going to happen. It is one of the things that he told me. He said that it was very important to him that Soul-Patrol get as much recognition as possible since there were so few successful Black owned entities in the music business, he saw that as a part of a personal obligation for himself. He reminded me of the promise/vision that Sam Cooke had for SAR records and his involvement in that legacy. Bobby told me that he saw a parallel between that and what my brother & I were doing with Soul-Patrol.
One of the key results that resulted from the session is the photo of Bobby Womack, sitting in front of a PC/keyboard, with the Soul-Patrol.com website displayed on the screen. That photograph exists because it was Bobby Womack's idea. A few hours before the chat session was to begin, Bobby called me up and said; Hey Bob, I'm not sure how all of this will go, but could you use a picture of me sitting at the computer?" I said; "of course, what did you have in mind?" Bobby said; "nothing complicated, just a picture of me and the computer showing Soul-Patrol. It would be something like an album cover of the chat session, proof that it actually happened." He had the picture taken and sent to me via email. Again, a much bigger deal back then, as opposed to today, when camera enabled smart phones make this a task that can be done in a matter of seconds
Of course Bobby was completely, 100 percent computer illiterate. Keep that in mind, because coordinating how someone who didn't even know how to turn on a computer was going to participate in a LIVE online chat session would prove to be yet one of many challenges of all of my "PMP Trained Project Management Skills." (we had someone relay the questions to Bobby via telephone and someone else type for Bobby.)
In the end all turned out well.
About 50 people showed up for the actual chat session, some quite well steeped in the details of Bobby Womack's career, and some who were "star-struck" at being in the same "space" with Bobby Womack. It was a BIG HIT.
When the chat transcript page went up a week or so after the session.
Bobby called and thanked me.
I thanked him.
We continued to stay in touch.
But not daily.
Soon not weekly.
Then not monthly.
Eventually not really at all.
Yesterday afternoon when there was some confusion about if Bobby Womack had passed, a number of people contacted in and out of the media me for information. They simply had to know IMMEDIATELY if Bobby Womack had passed. And they HAD TO KNOW NOW!
I don't understand this particular "compulsion" that folks on the internet have to know if a person that they didn't even know is dead or alive.
I can tell you this much, Bobby Womack is no doubt having a huge laugh about all of that right now. Inside of my mind I can hear his voice right now saying something along the lines of…
"Good, those mf's can't even figure out if I am dead or alive, good for em, none of them gave a shit about me anyhow…"
So….to Mr. Booby Womack
"That's that's the way I feel about cha"
And it is my sincere hope, that you are indeed…
"RESTING IN PEACE"