Brenda Holloway: The Very Best Of Brenda Holloway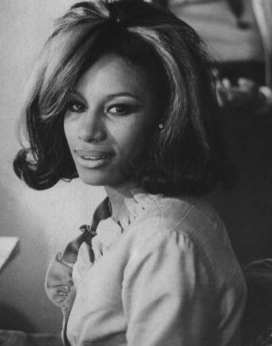 Sometimes true GREATNESS gets overlooked and we wonder why?
Sometimes it's due to racism.
Sometimes it's due to the artist being in the wrong place at the wrong time
Sometimes it's because the artist got screwed.
Sometimes it's all of the above
Sometimes it's none of the above
During the 1970's I can remember "rock critics" in places like Rolling Stone magazine, the Village Voice, etc talking about a phenomena called the "female singer songwriter". I can remember article after article discussing the brilliance of artists from Laura Nyro, to Carly Simon, to Judy Collins, Joan Baez and others.
In my opinion the "rock critics" at the Village Voice, Rolling Stone, etc may just have missed out on the very best of them all.
All of these songs on the album are sultry, sexy and highly recommended at 3am. You can GRIND to these songs either horizontally or vertically.
But they really are so much more than that.
Brenda Holloway is taking some time out, at the height of the Civil Rights Movement, during the late 60's to remind Black women that regardless of whatever is happening in the streets, whatever laws are going to be changed, it is in fact the Black Woman (and NOT the government), who is going to set the Black man free.
Take a listen to the PAIN and ANGUISH of Brenda Holloway
Anyhow, here is my track by track review of the compilation album released in 1999:
THE VERY BEST OF BRENDA HOLLOWAY
1.EVERY LITTLE BIT HURTS
Every time I hear this song, it damn near brings me to tears. Brenda Holloway's voice is one of only two that I can think of that does that to me. (Barbara Mason is the other one). As I listen to this song, there is so much PAIN in her voice, that I always think to myself (Who would do this to her?)
In the liner notes Brenda says: "The first time I heard Every Little Bit Hurts, I didn't want to record it. I was acting crazy at the session and if it sounds like I was crying on the record, it's because I was upset."
LAND OF A THOUSAND BOYS
The title of this song reminds me of the song "It's Raining Men" by the Weather Girls. However it's quite a bit different.
It's got a haunting melody, similar to a 1950's Doo Wooper
I'LL ALWAYS LOVE YOU
Starts out very somber, almost like funeral music.
SAD SONG
Once again, Brenda finds herself quite willing to be the doormat of her man. As I have now listened to this album 4 times, I can now see that this song is really part of the build up to the next song, which is kinda like an anthem of sorts for Black women
WHEN I'M GONE
Fast forward to the year 2000 and we are bombarded by the media with the next "new thing" (Jill Scott, Erykah Badu, etc). Well, I've got news for those media hounds in search of a good story…
Black women have been writing and singing about the PAIN that Black men have caused them for quite some time. And when they do so it's with a combination of LOVE and ANGER since they also understand that much of that pain is a secondhand reaction to the brutality of racism that the brothas are faced with on a daily basis. They understand the effects of that racism, they don't like it, they would give their lives to change what the daily existence of brothas is if they could. They understand what the FULL impact of it is, that's because they and their children are the ultimate victims of it from BOTH SIDES.
"What are ya gonna do when I'm gone?
whose shoulder are you gonna cry on?
What are ya gonna do on the day
When I turn my head and just walk away now?
What are you gonna say to your friends?
When the talk around town begins
Will you tell them how you treated me bad?
Will you tell them how you made me so sad?"
Now if that's not bad enough….
"They don't know how much YOU'VE LIED
And They don't know how much I'VE CRIED
You're a REAL DR JECKLE/MR HYDE"
You make a pass at..
E-V-E-R-Y
GIRL
THAT
YOU SEE
Then when they hold you
You come right back crying back to me
I comfort you whenever your low
And you don't have a place to go
You put your head on my shoulder to cry
And then you turn around and tell me a LIE
And I just can't take it
I've gotta make it
What Are You Gonna Do When I'm Gone?
I'VE BEEN GOOD TO YOU
OPERATOR
"Please Operator, put him on the line, I want him on the line"
A couple of years ago when asked to describe one of the differences between FUNK and SOUL, I made the following statement among others:
"In FUNK, female singers DEMAND SEX, while in SOUL they timidly beg for companionship."
Brenda Holloway is s SOUL SINGER, sleek, smooth, elegant and sexy
She doesn't need to demand ANYTHING from a man.
Any man worth his salt will simply stand at attention and do whatever she wants if he is smart!
"Please operator, get this straight, it's unfair to make me wait any longer"
In fact, Brenda let's her man know…..
I'LL BE AVAILABLE
Of course, she is "available", even to the point of willing to be his "doormat"
Now if that sounds negative, I don't mean for it to sound that way.
Black women NEED to be there for their man, and Brenda knows this!
Part of what went wrong in the last 20 years of the 20th century was that Black men weren't really sure if the Black woman was going to be there for them. Part of the message that Jill/Erykah are preaching is that in today's world, Black women know that they have to be there for their man, if the Black family is to survive. They know that it's NATION TIME, and so did Brenda Holloway
You can think of her lyrics as "total capitulation" or you can think of them as "advice on how to keep your family together", in the face of a society that sends us messages every day that tells people it isn't worth it
YOU'VE CHANGED ME – (PREVIOUSLY UNRELEASED)
"You changed the way I dress and the way I wear my hair
When I look in the mirror there's a stranger standing there"
At first blush these lyrics sound like we are about to explore some type of "pimp/ho" kind of relationship
But then…
"I've got to find some one new,
cuz the person you changed me to,
doesn't love you"
So apparently, even Brenda has her limits 🙂
YOU CAN CRY ON MY SHOULDER
This song sounds quite a bit like the music of Dionne Warwick from the same timeframe
TOGETHER 'TIL THE END OF TIME
Yet another BADD SLOW JAM.
If Brenda Holloway's voice doesn't melt your heart, then you are hopeless.
HURT A LITTLE EVERYDAY
Mo pain
TILL JOHNNY COMES – (PREVIOUSLY UNRELEASED)
"Stay with me baby, till Johnny comes"
This is another doo wopper, it's got a PHAT B3 Organ in there. This is one of the BEST cheating songs I have ever heard.  A bonus is that this is a song that if played at a basement party would leave everyone sweaty.
How this song could have been "unreleased" all of this time is beyond me.
Perhaps the lyrics were too "risqué" for Motown at the time?
JUST LOOK WHAT YOU'VE DONE
You have all heard this song before.
It was #21 R&B/#69 pop in 1967
It's assembly line Motown
Nothing special about it at all
It even gets played on the "white oldies stations"
YOU'VE MADE ME SO VERY HAPPY
In the liner notes, Brenda Holloway says that she likes the Blood, Sweat and Tears version of this song better than her own. I think that she is pulling our leg here.
"You've made me So Very Happy" is one of the songs that come pretty close to defining just what the term Classic Soul means.
If you haven't listened to her version of the song in a while, take another listen and see if you don't agree.  The B, S & T version of this song doesn't hold a candle to Brenda's own version. I think that she was just trying to be nice, in those liner notes.
FINAL ANALYSIS: Although this album was originally presented to me as a "compilation," almost a throwaway, it's really much more than that and should actually be regarded as much more than that. Any you should think of both this music and the artist, far differently than, history has thus far regarded her. It's really one of the best albums ever released from Motown. And Brenda Holloway should be thought of as one of the premier artists of her generation!
SOME COMMENTARY ON BRENDA HOLLOWAY…
Brenda Holloway was one of the very first topics that we discussed here on Soul Patrol when we first started. So here is the compilation album we were waiting for.
It's smooth and it's rough, it's sexy and it's tolerant.
It's got a message about female empowerment, thru the uplifting of the family.
It's performed by the faceless performer, who was probably the most beautiful woman on the entire Motown Roster!
But there's more…
On about ¾ of the songs here on the compilation, the following note appears.
"Slated to appear on the cancelled album "Hurtin & Cryin"
Hmmmmmm
Most of the tracks are produced by Smokey Robinson, Brenda writes about ½ of the songs and Smokey wrote the other half.
The possibilities for "what could have been" are tantalizing:
Brenda Holloway and Smokey Robinson as a duo?
Brenda Holloway as a Las Vegas superstar?
Brenda Holloway as a Movie star?
Brenda Holloway replacing Diana Ross as the lead singer of the Supremes?
Brenda Holloway on the cover of Rolling Stone, with Carly Simon and Joan Baez?
Well, back to reality 🙂
None of those things happened, even though they easily could have.
Shame none of them did happen, I think Brenda Holloway deserved to have GREATNESS bestowed upon her.
Maybe she was just in the wrong place at the wrong time?
Maybe her name should have been Erykah Badu instead?
Then maybe she would get some props.
Maybe Erykah Badu should give Brenda Holloway some props?
Perhaps there is in fact some level of closure in this world.
(or perhaps I'm dreaming)
"Everything Old is new again."
–Bob Davis