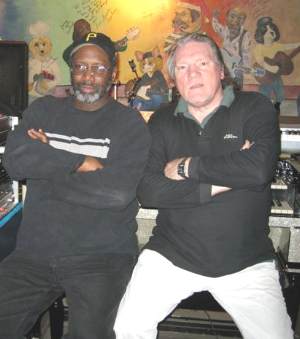 Brian Auger's Oblivion Express,Brian Auger's Oblivion Express,Brian Auger's Oblivion Express,Brian Auger's Oblivion Express,Brian Auger's Oblivion Express,Brian Auger's Oblivion Express,Brian Auger's Oblivion Express,
Concert Review: Brian Auger in Pittsburgh 3-22-2008
(Jazz/Funk)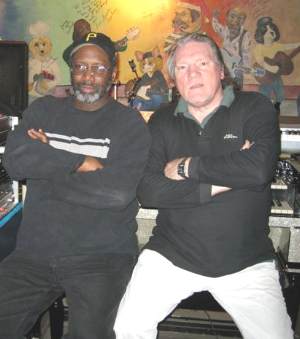 It was a few weeks ago today that I saw Brian Auger perform at Moondog's here in Pittsburgh. The steam from the smoke caused at the club that night is finally staring to go away, thanks to some rain in the area.
I don't know how many of you have seen Brian and the Oblivion Express recently but don't pass up the chance to see them. The whole show is a journey through "Great Black Music". How that is possible many of you may ask for this White guy do do this?
The answer is plain and simple. Brian Auger is one of the giants of Jazz-Fusion. Like Joe Zawinul, he has the soul of a Black Man and is funkier than a mosquitoes tweeter.
Some of you have been following his music for over 30 years on the US recording scene. For over forty years, Brian Auger has been a musician's musician. Jazz pianist, bandleader, session man, Hammond B3 innovator, and key player in the rise of jazz/rock fusion, Brian has done it all and then some.
An incredible musician with one of the most varied careers in music, he has incorporated jazz, early British pop, R&B, soul and rock into an incredible catalog that has won him legions of fans all over the world. Brian has also played with the Yardbirds, Long John Baldry, Eric Burdon and founded the Trinity with Julie Driscoll before creating the Oblivion Express. Aside from playing the British and American pop tunes of the day, Brian's ears lit up when he started listening to his older brother's record collection with names like Count Basie and Duke Ellington. Auger's brother also gave him and old radio, and he was able to hear American jazz played over Armed Forces radio. Brian could see patterns in jazz compositions, which helped him later as a composer. Auger became fascinated with the various jazz piano men that were making an impact on jazz He admired Oscar Petersen, Hampton Hawes, Victor Feldman, Red Garland, as well as McCoy Tyner and Herbie Hancock. During the show you will hear Eddie Harris, Les McCann, Wes Mongomery, John Coltrane, Marvin Gaye and James Brown.
That night at the club, me and my good friend and original "soul-patroller" Aaron Clausell who went to school with Bob Davis also, grooved to many of the jams we listened to as students some 35 years ago. Wow…it was like a trip back in time and seemed like we were sitting in the dorm listening to the record player and having "refreshments". Aaron was grinning from ear to ear as we listened to the new edition of the band reworking some classic tunes and turning us on to new ones.
We were delighted to check out Derek Frank on bass, Savannah Grace Auger ( the ah "quiet one") on vocals, Karma Auger on drums, and Brian Auger "the godfather of acid jazz" on Hammond B-3 and keyboards.
The joint was jumpin' and there was definitely smoke coming from the bandstand.
Like I said…go check them out. Happiness is sure to be just around the bend.
Kevin Amos – Tha Funkoverlord
Brian Auger's Oblivion Express
One of the funkiest keyboard players I have ever heard. I remember thinking of him as the "bridge" because of his assosiation with Passport, Average White Band & Les McCann and Eddie Harris.
He played with all of them, but he also had a great band called the "Oblivion Express" that had hit records that you could dance to. Jazz, Soul…..whatever you want to call
Brian Augar….he "sho nuff" funky to me !!

I think it's about time the man got some respect !!
Brian Auger began his carrer as a straight up jazz player in England in the mid 1960s. Later on he switched up to a type of R&B/jazz, and was accused of selling out. In any case I was a huge fan of his music during the 70s and owned several of his albums (all of which are long gone !!). As you can see from the track listing Brian Auger did plenty of covers one of which was Freedom Jazz Dance. To summarize Brian Auger would have probably felt quite at home at CTI and WRVR-FM in NY (where I first heard his music) during the 70s. If I had to classify his sound I would call him Bro. Jack McDuff meets Average White Band !!
Brian Auger came out of the British Blues scene playing with John Mayall and others. He is obviously influenced by organ players like Jimmy Smith, Groove Holmes, Don Patterson, Jack McDuff, Charles Earland and others, but is a great musician in his own right.

At one time I also used to have a bunch of his stuff, now of course all I have are the compilation CD's.
Augar is really a good example of why FUNK is never really "un-cut" (despite what Funkenstien may say). There is nothing really "pure" about it at all, FUNK can be found in many "places & spaces". It really is a blending of many different musical styles and attitudes.

His music is jazz + soul + rock n' roll + blues and you…
…can even dance to it !!
"Ride The Oblivion Express"

The Best Of Brian Augers Oblivion Express

Disc 1

1. Dragon Song
2. On The Road
3. Oblivion Express
4. Dawn Of Another Day
5. Marai's Wedding
6. Fill Your Head With Laughter
7. Tomorrow City
8. Truth
9. Don't Look Away
10. Sombody Help Us
11. Freedom Jazz Dance
12. Second Wind

Disc 2

1. Whenever You're Ready
2. Happiness Is Just Around The Bend
3. Inner City Blues
4. Voices Of Other Times
5. Straight Ahead
6. Bumpin' On Sunset
7. Beggining Again
8. Brain Damage
9. Thoughts From Afar
10. Future Pilot
11. Sundown
12. Planet Earth Calling

Brian Augers Oblivion Express The Complete Live Oblivion

Disc 1

1. Beggining Again
2. Don't Look Away
3. Bumpin' On Sunset
4. Dawn Of Another Day
5. Marai's Wedding
6. Truth
7. Freedom Jazz Dance
8. Happiness Is Just Around The Bend

Disc 2

1. Maiden Voyage
2. Second Wind
3. Whenever Your Ready
4. Inner City Blues
5. Straight Ahead
6. Compared To What