Brighter Side Of Darkness. "LOVE JONES"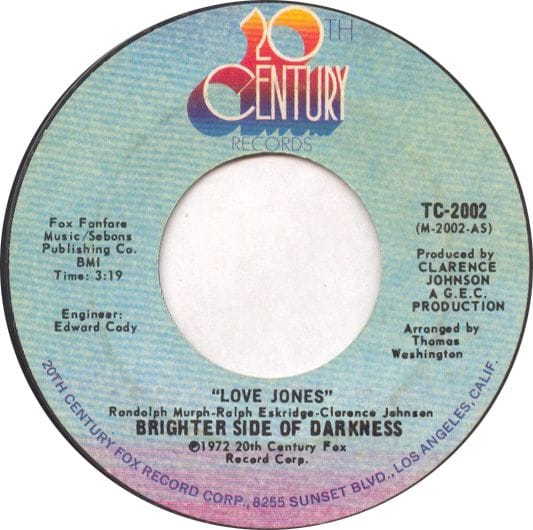 An epic three minutes and nineteen seconds of pure awesomeness, that still hasn't been matched as an expression of pure teenaged passion. This song (and it's performance) was so effective at what it was trying to do that it was parodied in such a manner that the parody ("Basketball Jones") is actually more famous than the original. One of the reasons why I hate "best of lists of songs" is because the people who make them generally fail to analyze and include songs like this one, which are usually far more reflective of what they are trying to capture with their lists, but usually fail to realize.
Bio – Brighter Side of Darkness (From Wikipedia, the free encyclopedia….)
Brighter Side of Darkness was an American R&B/soul group. They were formed in 1971 at Calumet High School in Chicago, Illinois.[1] Their lead singer was 12-year-old Darryl Lamont; the other members were Ralph Eskridge, Randolph Murph and Larry Washington.
They released the single "Love Jones" in December 1972. It was a hit in the US (Hot 100, #16; Hot Soul Singles, #3) and was certified gold by February 9, 1973 by the RIAA.[4] They released an album, Love Jones, in 1973. Their second single, "I Owe You Love", was less successful, and the group disbanded in 1974.
An updated, more mature version of "Love Jones" was recorded in 1975 by labelmates "The Imaginations." In addition, "Love Jones" was parodied as "Basketball Jones" by Cheech and Chong in 1973. The parody was released as a single in August 1973 and reached #15 on the Hot 100.