Buddy Miles (2 Hour YouTube Interview)
This update contains 1. a reposting on the internet of the EPIC TWO HOUR INTERVIEW I DID WITH BUDDY IN 2006 along with the history, of how (the ultimate Irony) it came to be broadcast to the young people of Philadelphia daily for several months, via the airways of the GREAT WJYN-FM (98.5). UPTOWN RADIO. 2.Written transcript of my last telephone call with Buddy, where he told me that he was going to have his pacemaker removed. 3. And bio of Buddy from our friend Dianne Washington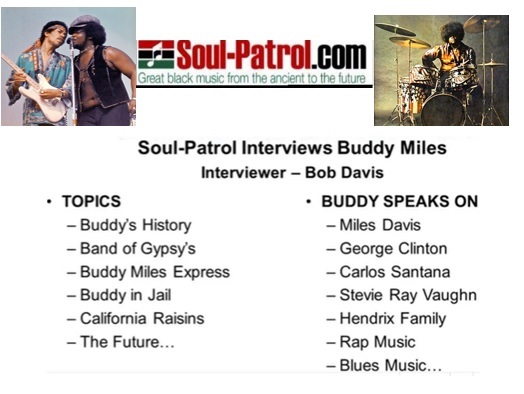 EPIC TWO HOUR INTERVIEW I DID WITH BUDDY IN 2006
HISTORY OF THIS EPIC INTERVIEW, WITH THE "FAT MAN OF FUNK"
Recorded 12/2006 , prior to Buddy's death, in NYC and Broadcast via Soul-Patrol on the Internet
Edited and broadcast via WJYN-FM (98.5) Philadelphia, November & December 2016
TOPICS DISCUSSED DURING THE TWO-HOUR INTERVIEW.
Buddy's History
Rap Music/Doriella DuFontane/Last Poets
Jimi Hendrix/Band of Gypsy's
Hendrix Family & Billy Cox
Buddy Miles Express
Buddy in Jail
California Raisins
Collaborations with: Miles Davis, George Clinton, Carlos Santana, Neil Young, Stevie Ray Vaughn, and more
Buddy and the Rock n' Roll Hall of Fame
(& more)
More names discussed during the interview:
Betty Davis, Ed Chaplin, Morris Levy, Tommy James, Tommy Shannon, Stephen Stills, Delfonics, Electric Flag, Wilson Pickett, Mike Bloomfield, Cynthia Robinson, Eddie Palmari, Flora Purim, Willie Bobo, Neftali Santiago, Robert Lockwood Junior, Lighting Rod, Keith Emerson, Johnny Winter, David Clayton Thomas, Eric Clapton
WRITTEN TRANSCRIPT OF MY LAST PHONE CALL W/BUDDY (Buddy, Buddy Buddy)
PHONE CONVERSATION TRANSCRIPT:
JUST IN CASE THERE IS ANYONE HERE WHO DOESN'T THINK THE UNITED STATES DOESN'T REQUIRE ADDITIONAL HEALTH CARE REFORM:
(YES I AM YELLING ON PURPOSE)
Earthjuice: Hello, Buddy wazup man?
BUDDY: Hey Man, I just wanted to give you a quick call, I have some news for you.
Earthjuice: What's happening?
BUDDY: Just wanted to let you know, that I have decided to have my Pacemaker removed.
Earthjuice: Uh, how come
BUDDY: I can't afford it anymore
Earthjuice: It doesn't matter if you can't afford it. My understanding of a Pacemaker, is that a person who needs one can't live without one
BUDDY: Yesterday, I had a conversation with my doctor and was told that if I have it removed, my chances of survival are about 50/50. I'll take those odds.
Earthjuice: Ok, what are your odds if you leave it in?
BUDDY: 100%, till I die from something else!
Earthjuice: Buddy, you are gonna have to tell me more. This sounds like a "no brainer," on my end.
BUDDY: That's because you don't understand. I'm getting sick & tired of someone having to do a "benefit concert" every couple of months, in order to raise the money to keep this F@ckin Pacemaker inside of me. People mean well, but I'm done with it. Later this week I'm having it removed.
Earthjuice: Buddy, this is about the STUPIDIST thing anyone has ever told me.
BUDDY: Laughs and says, "you might be right, but it's far from the only time that I might have done something stupid."
TWO MONTHS LATER HE WAS DEAD
BUDDY MILES/BLACK RADIO POSTSCRIPT (WJYN -FM 98.5, UPTOWN RADIO PHILADELPHIA)
One of Buddy's favorite topics during our many conversations, was about his lack of airplay on Black Radio. As most of you are aware, I served as the Program Director/Chief Cook & bottlewasher for WJYN (98.5) in Philadelphia. Some of you may also remember the EPIC 2-hour interview that I did with Buddy Miles.
To this day, there are some folks who think that is the best piece of content ever to appear on the Soul-Patrol website.
I thought it was pretty good myself. That's why I re-used it for the purposes of training the staff of WJYN (98.5} on topics like interviewing, editing/editing shows and more. When we first launched the station, that interview was broadcast over the air incessantly. It aired at least once/day, for several months simply because it was the best content we had at the time. I would get tons of phone calls from all over the city from folks telling me how much they learned from the interview and wanted us to broadcast more like it. Even after I resigned from the station, they still continued to broadcast the interview. Although I didn't plan things this way, looking back I am quite happy that I was able to play a role in securing airplay on Black radio in Philadelphia, for my friend Buddy Miles. No doubt Buddy Miles was smiling from heaven, the whole time!
Buddy Miles Bio

By Dianne Washington
Buddy Miles was born on this date in 1947. He was a Black rock drummer, vocalist, composer, and producer.
George Allen "Buddy" Miles Jr.was born in Omaha, Nebraska. His father played upright bass with Duke Ellington, Count Basie, Charlie Parker, Dexter Gordon, and others. By age twelve, Miles had begun touring with his father's band, the Bebops. Given the nickname "Buddy" by his aunt after the drummer Buddy Rich, he was often seen as a teenager hanging out and recording at Universal Promotions Corporation recording studios, which later became Rainbow Recording Studios.
Miles played with a variety of rhythm and blues and soul acts as a teenager, including Ruby & the Romantics, the Delfonics, and Wilson Pickett. In 1964, at the age of 16, Miles met Jimi Hendrix at a show in Montreal, where both were performing as sidemen for other artists. In 1967, Miles joined Hendrix in a jam session at the Malibu home of Stephen Stills. They also went on to play together again in 1968 in both Los Angeles and New York. He was a founding member of the Electric Flag (1967), a member of Jimi Hendrix's Band of Gypsys (1969–1970), founder and leader of the Buddy Miles Express and later, the Buddy Miles Band.
Miles also played and recorded with Carlos Santana and others. Additionally, he sang lead vocals on the critically and commercially acclaimed "California Raisins" Claymation TV commercials and recorded two California Raisins R&B albums. Asked in 1995 how he would like to be remembered by the American music magazine Seconds, Miles simply said: "The baddest of the bad. People say I'm the baddest drummer. If that's true, thank you world." The day before Miles died, he heard Steve Winwood and Eric Clapton playing "Them Changes" at Madison Square Garden through his cell phone. "Them Changes" is now part of Clapton's set on tour as a tribute to Miles.
At the age of 60, Buddy Miles died on February 26, 2008, at his home in Austin, Texas, with his family by his side. According to his website, he died of congestive heart disease. Miles was cremated, and there was no funeral. The UK-based newspaper The Independent ran an almost full-page obituary in its Friday, February 29, 2008, edition. A month later, a memorial concert took place on March 30, 2008, at Threadgill's on Riverside Drive, South Austin that included performances by Bernie Worrell, The Family Stone Project, Doug Pinnick, Cyril Neville, The Sixth Chamber and surviving members of the Buddy Miles Express.
Concert Review: Jimi Hendrix Tribute (NYC 11/27/2006)
By Bob Davis
FEATURING: Jose Feliciano, Buddy Miles, Ghetto Fighters, Dave Honeyboy Edwards, Curtis Knights Squires, King Curtis Kingpins, Johnny Winter, Cornell Dupree, Chuck Rainey, George Bragg, Harry Jensen, Commander Cody, Larry Coryell, Lenny White, and Victor Bailey, David Kramer, Leon Hendrix, Burr Johnson Band, Ducks Chn Groove
I didn't forget the 64th Birthday of Jimi Hendrix. In fact I celebrated it in GRAND STYLE on 11/27 in NYC at a local Times Square "tourist trap", filled to capacity @ the Jimi Hendrix Birthday Tribute Show.
I keep telling myself that with all I have writen about Jimi Hendrix and his impact on my life, that I couldn't possibly have anything else to say. Yet here I find myself with more to say about the music of James Marshall Hendrix, an artist who only had one song that cracked the US Top 20 Pop Music Charts. And I know that before I even get started with this review, that I can't possibly do this event justice. It was indeed a mind blowing experience for me, musically, culturally and spiritually.
I'm pleased to report that this show was a MONSTER wall to wall FIVE HOUR FUNK/ROCK/BLUES MUSIC SPECTACULAR.
The show started with legendary bluesman Dave "Honeyboy" Edwards doing a Chicago blues set, followed by videotaped birthday greetings for Jimi from BB King, Bo Diddley, Little Richard and Buddy Guy.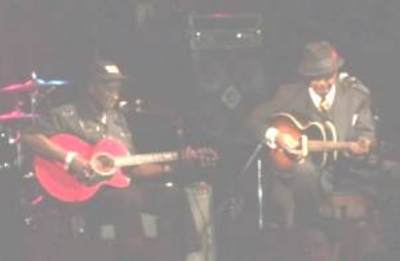 Next up were the Ghetto Fighters (Aleem Twins) doing "Dolly Dagger", when they introduced the song, they reminded the audience that they had sung background on the original version of Dolly Dagger and figured that they should learn the whole song. With that the Ghetto Fighters played what sounded to my ears like a "note for note cover" of Dolly Dagger that got me remembering how we used to party to the song "Dolly Dagger" at the University of Pittsburgh in 1973 and up out of my seat dancing. The Ghetto Fighters ended their set with a very nice version of "My Friend". The Aleem Twins also told the story of how they met Jimi Hendrix on the streets of NYC and how he gave them the name "Ghetto Fighters".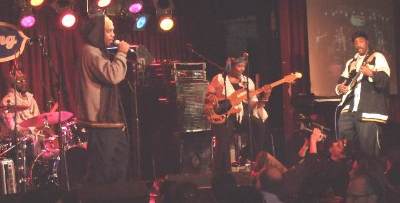 Next up was Leon Hendrix. His set consisted of a medley of Jimi Hendrix songs (ex: "Hey Joe", "Foxy Lady", etc.) with new lyrics. Although the guitar playing and singing of Leon Hendrix is questionable (at best), I enjoyed his presence at the show because he brought the spirit of Jimi Hendrix to the proceedings and for me that was what the evening was all about.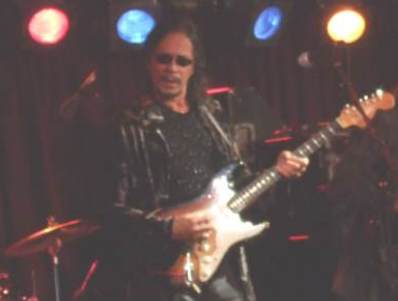 After Leon Hendrix left the stage there was no way that I could have been prepared for what happened next. The "pre-experience" portion of Jimi Hendrix's career is usually stated something like this by entities like Rolling Stone Magazine: "He played with a variety of Chitlin Circuit Bands". What a huge understatement!!!! What came next were members of Curtis Knights Squires and King Curtis Kingpins (two of the bands that Hendrix played with in his "pre-experience" days). When Cornell Dupree, Chuck Rainey (from the Kingpins) and George Bragg, Harry Jensen (from the Squires), along with Commander Cody hit the first note, I was in FUNK HEAVEN. I mean, this was tha REAL DEAL, FROM THE REAL FUNKMASTERS. I mean this was that serious "10FootHighAfroChickenFatBurntHairOnTheStoveBBQSauceDrippin
DownYourArmsAllTheWayToYourArmPitsProjectApt#2C FUNK". Starting with Jimi's cover version of Ray Charles "What I Say" to "Peoples, Peoples, Peoples", their set blew my mind and gave me greater insight into just how talented Jimi Hendrix must have been in order to keep up with these FUNKMASTERS!!!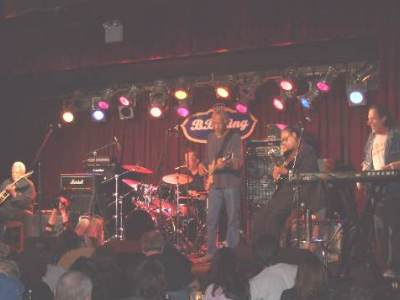 Next up was the legendary blues/rock guitarist Johnny Winter (he truly looked like "death warmed over..lol), who played a fast & furious blues/rock set containing songs like "Mojo Boggie", "Highway 61" (which I liked better than Bob Dylan's original), etc. However despite the blistering set by Johnny Winter I wondered why he didn't play any Jimi Hendrix songs?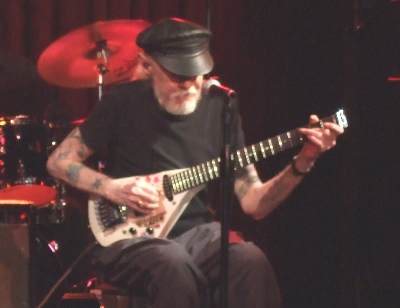 Then Larry Coryell, Lenny White, and Victor Bailey came on with a Miles Davis inspired "JIMI JAZZ-FUNK" set. I mean everybody knows that Jimi was gonna eventually hook up with Miles Davis, so what we got here was just a taste of what that combination might have sounded like. Taking cues from Miles Davis – "Jack Johnson" and Jimi Hendrix – "South Saturn Delta", this set was some of the FIERCEST JAZZ-FUNK-FUSION that I have heard in a long time. Oddly enough the two songs they played (Jimi's "Manic Deppresion and Led Zeppelin's "Black Dog") aren't really Jazz Fusion songs. But they sounded like it tonight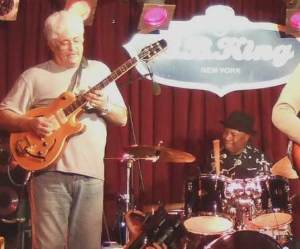 Then two bands (Burr Johnson Band & Ducks Chn Groove) I never heard of before took the stage and TORE UP songs like "3rd Stone From the Sun", "Tax Free", "Nightbird" and "Room Full of Mirrors". The crowd went NUTS over these two bands because these wre some stank azz nasty Hendrix covers!
Then to close out the show, the legendary Jose Feliciano joined Buddy Miles on stage for a rousing version of "Chitlins Con Carne", which sounded like 1972 era Funkadelic playing the damn song. Buddy then ended the show with a inspired version of the classic Band of Gypsy's song "Them Changes", mixed in with a little bit of "Who Knows" for bout 20 minutes.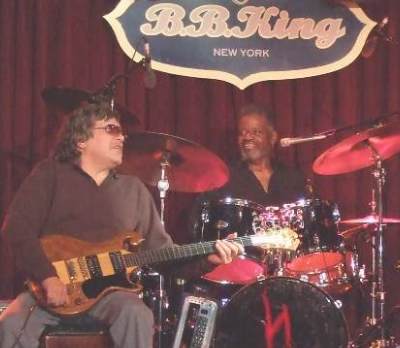 Oh….in between each one of the set's, portions of an unreleased Jimi Hendrix documentary by David Kramer were shown up on the screen.
At the end of the FIVE HOUR SHOW, I was drained. I think that this may have been the best concert I saw in 2006! The music of Jimi Hendrix has always been such a big inspiration to me on a personal level, that it felt so good to be in the company of so many other people for whom his music has a similar impact on. The whole vibe inside of the room was incredible. In fact for that entire 5 hour period of time, it felt like all of the things that his music represented both on a tangible and an intangible level were possible. I walked out of the club feeling more optimistic about my own life and my own future than I have felt in a long time. That is the kind of feeling my friends that money can't buy and for me it's worth just about anything to get. That is how powerful a force the music of Jimi Hendrix has been for me since I first started listening to it when I was 11 years old, back in 1968. To know that here in the year 2006 there are a whole bunch of other people who's lives have also been similarly impacted by the music of a man who passed from the scene at the age of 27 over 25 years ago is both amazing and quite comforting.
On second thought maybe it wasn't really a concert at all. Maybe it was really a once in a lifetime event (a convergence?) that at least for one night captured the spirit of James Marshall Hendrix on stage. As a Hendrix fan, what more could I have possibly asked for? I wish that I could put the music & the vibe into a bottle and let all of the angry, disgusting and vile people in the world take a drink from that bottle in order to give those people a chance to redeem their own miserable existence. It would do them and the rest of the world a huge favor.
And as I left the show and walked towards the subway on 8th Avenue, I ran into the Ghetto Fighters. I spoke with them and told them just how awe inspiring the show had been and how glad I was, that I was able to be a part of the proceedings. And they said, "you don't know how happy Jimi would be to know that you were here tonight." I smiled and said, he knows…