Marvin Gaye Day in Washington DC
MARVIN GAYE IN DC – I WAS IN THE HOUSE FOR THIS. (and I took one of Harriett Tubman's old routes to get there from Delaware)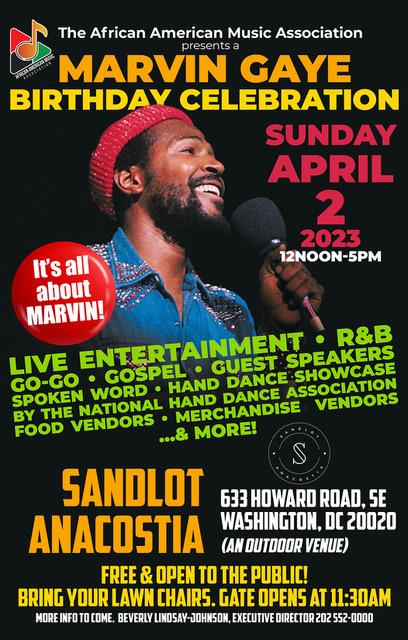 MARVIN GAYE IN DC – I WAS IN THE HOUSE FOR THIS. (and I took one of Harriett Tubman's old routes to get there from Delaware)
Just got back from this event. "Mrs. Earthjuice" and I had a blast. This was a wonderful community event honoring one of Black music's most legendary artists, but also a great multi-generational educational platform, to pass the culture on to succeeding generations. BIG UPS to our friend Beverly Lindsay-Johnson & the DC African American Music Association for putting this on.
One of the most impressive things about this event is that it was multigenerational. The crowd of maybe 1,000 people were equally composed of older and younger music fans. It was a great event for not only spreading the musical legacy of Marvin Gaye, but also his societal message. For example, t-shirt vendors sold Marvin Gaye t-shirts right next to Malcolm X and Marcus Garvey t-shirts, sending a not too subtle message on how younger people just might want to think of Marvin Gaye.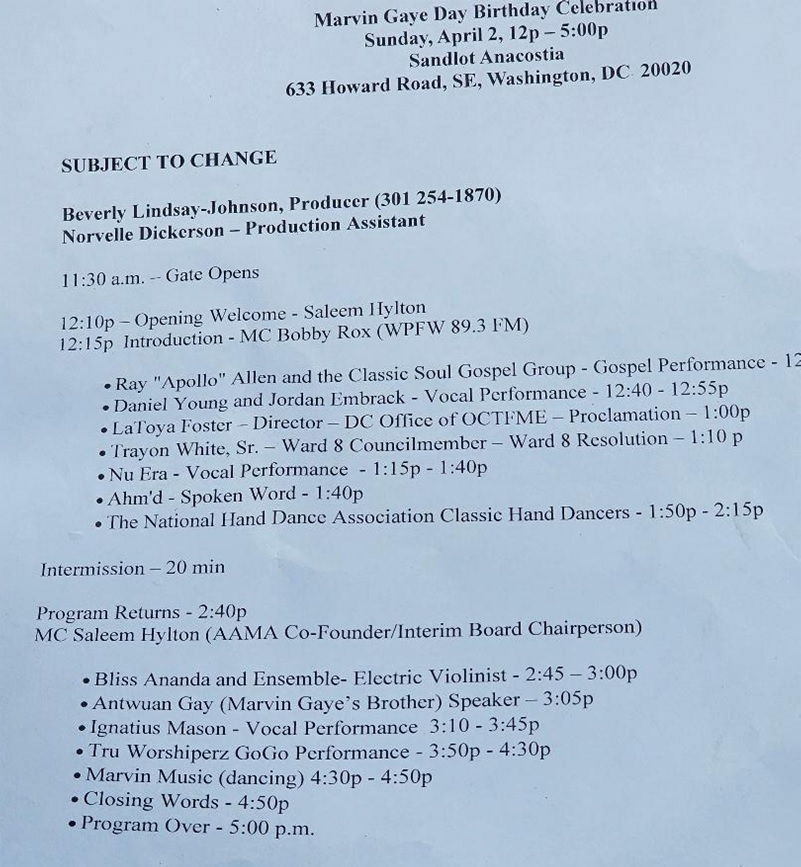 Highlights for me were…
Daniel Young and Jordan Embrack – Did a very nice medley of Marvin & Tammi duets (to tracks.)
Nu Era – Covers of "Music," "Got to Give it up" (to tracks)
Ahm'd – Did an impressive spoken word presentation, stringing together 20 – 30 Marvin Gaye song titles together to create a powerful statement about unity & empowerment.
Bliss Ananda & Ensamble – Have you ever wondered what Marvin Gay's music might have sounded like if Weather Report or the Mahavishnu Orchastra were to play some of his songs? Well that's what this band sounded like. Instead of Marvin's vocals, we got instead the funky azz jazz violin of Bliss, fronting a serious jazz-funk band, performing songs like "Got to Give it Up," "What's Going On," "Ain't That Peculiar," and more. This was the most ambitious musical set of the day, and it worked for me. Both "mrs. earthjuice" & I loved it.
Interspersed between these artists were DJ's spinning Marvin Gaye favorites, the Hand Dancers (dancing to rare doo wop era Marvin Gaye songs, various announcements) All capably emceed by Bobby Rox of WPFW FM (89.3)
We left right after Antwuan Gay spoke, to try and beat some of the traffic back to Delaware.
Hopefully someone recorded the performances I missed.
I'd like to see/hear them
---
The African American Music Association presents
"A Marvin Gaye Birthday Celebration"
Sunday, April 2nd 2023
SandlotDC-Anacostia (outdoor venue)
633 Howard Road, SE, Washington, DC 20020
12noon until 5:00 p.m.
This celebration includes entertainment, food vendors, merchandise vendors. R&B, GoGo, Gospel, Spoken Word, Hand Dance Showcase, Guest Speakers, and plenty of Marvin Gaye music!
FREE ADMISSION – Gate opens at 11:30 a.m. Lawn Chairs Allowed – (Rain Date Sunday April 16)
Join Us In Celebrating the Birthday of DC's Native Son Marvin Gaye! It's all about Marvin. Be there!
Merchandise and food vendors wanted.
For more information call Beverly Lindsay-Johnson 202 552-0000