Chairmen of the Board – New Release Jack & Jill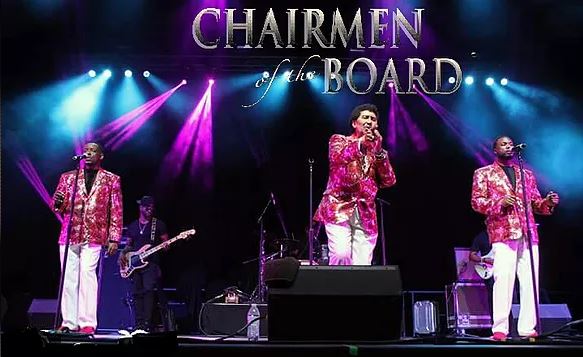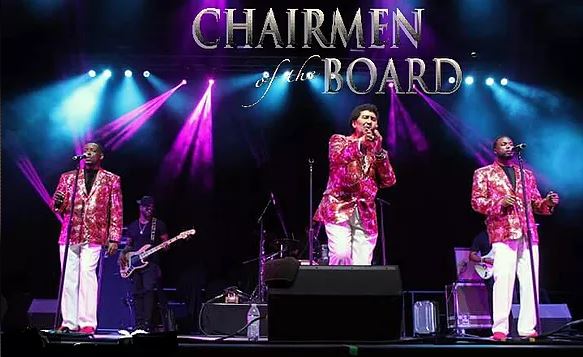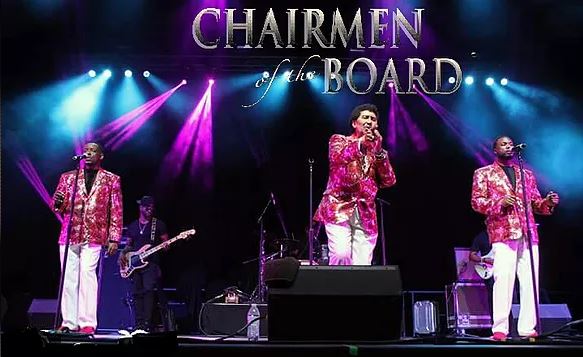 New Release
Official Bio
With one of Soul Music's all-time great group names, the Chairmen of the Board has pleased music lovers for over 30 years. Formed in Detroit , the Chairmen were one of the first acts signed by songwriting legends Holland/Dozier/Holland for their Invictus label following H/D/H's messy divorce from Motown. The group came out of the box strong in 1970 with the wonderful "Give Me Just A Little More Time," a classic early 70's radio smash highlighted by lead singer General Johnson's emotive, plaintive vocals. "Give Me" was the foundation of the group's excellent debut album, which also featured the infectious "(You've Got Me) Dangling on a String,".
Over the years, the Chairmen of the Board were among Soul Music's most consistent hitmakers, scoring big with "Pay to the Piper," "Finders Keepers," "Chairman of the Board," and the blissful "Everything's Tuesday.".
The Chairmen continued to record with moderate success, scoring a surprise hit in Europe in the early 2000's with the joyous "Bless Your Heart," a great tune and performance that sounds like it was plucked from their early 70s catalog.
Group leader General Johnson died on October 13, 2010 at age 67. At the request of General Johnson to keep the group's legacy strong , 38 year member Ken Knox continues to lead the group touring with members Thomas Hunter and Brandon Stevens and 6 musicians.
Two years later, Swiffer Jet used the group's timeless hit "Give me just a Little More Time" in a popular commercial for the company. The Group also released their first single post General Johnson" YOU" to an enthusiastic Fan Base stateside and across the pond.
In 2015, the group scored a # 5 record on the UK Soul Charts with " Reach Out 2 Me" written by Thomas Hunter, Ken Knox with Production from famed UK Producer Nigel Lowis.
The past few years, The NFL Carolina Panthers have featured the group in a video, and a Half Time Performance and continues to play their music during home games.
Chairmen of the Board are members of the NC Music Hall of Fame.
(NY Times) General Johnson, Singer and Writer of Hit R&B Songs, Dies at 69
General Johnson, who provided the distinctive lead vocal for the Chairmen of the Board's 1970 Top 10 hit, "Give Me Just a Little More Time," and went on to become a successful rhythm-and-blues songwriter, died Wednesday in suburban Atlanta. He was 69 and lived in East Point, Ga.
His death was announced on the group's official Web site, chairmenoftheboard.com. The cause was complications of lung cancer, his family said.
Mr. Johnson, whose first name really was General, was best known as a singer but won a Grammy in 1971 for his composition "Patches,' a Top 10 hit for Clarence Carter. He also wrote hits for the Honey Cone ("Want Ads," "Stick-Up") and Freda Payne ("Bring the Boys Home").
He first reached the pop charts in 1961 as the lead singer of the Showmen, whose song "It Will Stand," which he wrote, was a defiant ode to the power of rock n roll…
Some "General" Reflections
I can tell you this much; General would be quite happy to read his own obituary from the NY Times. That's because they actually got the story right!!!! And most importantly they included a direct link to his website: http://www.chairmenoftheboard.com
One of the things that most impressed me about General Johnson is that he didn't rely on anybody else to TELL HIS STORY EXCEPT HIMSELF.
So therefore I'm not going to try and do it either. I would suggest that if you want to know the truth about General Johnson, Chairmen of the Board, Ivictus Records, The Showman, or anything else related to the career of General Johnson, that you take a moment and go to his website: http://www.chairmenoftheboard.com
This is a difficult lesson for Black artists to learn, but it is one that General Johnson actually practiced. For doing so, he gained my eternal respect. For teaching me a number of other things, he has gained my eternal friendship!! Scroll down and read his bio, as composed by General himself.
The rest of what you will read heare as you scroll down, are some of my own experiences with General Johnson.
At the end is the story of how the General's message to me about what I need to be doing continues to this day and beyond…
Please enjoy and share…
–Bob Davis
609-351-0154
earthjuice@prodigy.net
BIO: General Johnson/Chairmen of the Board (by General Johnson)
My career has been a long exciting journey with all roads leading to the musical oasis called Beach Music. In the spring of 1966 in Raleigh, North Carolina, as lead singer of the Showmen, I performed before my first Beach Music audience. Thinking Beach Music was music by artist like The Beach Boys and Jan and Dean, we nervously performed a variety of rhythm and blues classics. Surprisingly, each song was met with the audience's approval. As we ended the show with our regional hit "39-21-46" and our nationally charted hit song, "It Will Stand," the audience responded by applauding us back for an encore. Because we didn't know any other songs to perform, we sang two more verses of "It Will Stand" and spontaneously, began to adlib the chorus of Bruce Channel's song "Hey Baby." As we sang "Hey Baby," we waved our hands in the air and to our surprise, everyone in the audience responded by doing the same. When we concluded the show with a bow, the audience showed their appreciation by rewarding us with another thunderous round of applause. That spring night, I understood, appreciated and became a part of the Beach Music phenomenon.
In 1968, 1 moved to Detroit, Michigan to further my career with Invictus Records. As a member of The Chairmen of the Board, I experienced and enjoyed international success as a songwriter and an artist. My success in such a short period of time magnified the business dealings with my recording and management companies. Soon, business disagreements deteriorated our musical relationship and eventually terminated our successful venture. In 1974, 1 left Invictus.
In 1978, 1 returned to the Carolina's with The Chairmen of the Board. For the first time in eight years, I enjoyed performing music without the depression of the music business. I found an independent music industry that was still free of monopoly, politics and categorization. I felt the energy of an industry propelled by its loyal supporters.
In 1979, 1, along with the late Mike Branch, formed Surfside Records. Our objective was to record new music to revitalize the identity of a thriving music market that was slowly being recognized as and too dependent on old recordings.
In 1981, two years after forming Surfside Records, I was contacted by Motown Records, leading to discussions with then CEO Mr. Berry Gordy Jr. The meetings at his home in California were personable and candid. His offer could have proven to be financially lucrative for me but would have meant moving to California and abandoning Surfside Records and the musical utopia that I had found to be a safe haven. I respectfully declined Motown offer and for years, I wondered if I had made the right decision.
Nineteen years later, I have absolutely no regrets. Those years have been filled with excitement and personal fulfillment that exceeds any monetary gains that I could have attained.
I'd like to sincerely thank all Beach Music lovers and supporters for affording me the opportunity to create and perform, without compromise, the music that we treasure. I am humbly appreciative and honored to be a part of the Carolina Beach Music phenomenon
–General Johnson
COMMENTARY: A few observations about General Norman Johnson…(Chairman of the Board)
I first met General Johnson about 5 months ago. He told me that he was initially interested in Soul-Patrol because the Chairman of the Board had a new INDEPENDENTLY PRODUCED CD called "ALL IN THE FAMILY" and he was interested in how we might be able to help get the word out about the new album and his website
However during our initial telephone conversation, we talked little about the new CD, which incidentally is off the chain and you can listen to parts of it at his website. What that first telephone conversation was mostly about were just two things.
He was most impressed with the fact that Soul-Patrol had so much documentation up on the site about Mr. Jessie Stone. Turns out that General Johnson and Jessie Stone had not only worked together at Atlantic Records back in the 1950's, but also were great friends.
He spent the bulk of that initial 2 hour conversation telling me stories about Jessie Stone and asking me if there wasn't some way of insuring that this man got the recognition that he deserved. Then we started talking about the RRHOF and how certain artists were getting screwed.
Yup, Yup, during that first conversation General Norman Johnson…
TOOK ME TO SCHOOL
In subsequent conversations, we talked quite a bit about how HE HAD GOTTEN SCREWED by the music industry. There is a section up on his site that he calls "The Music Bandits", where he scratches the surface on a concept that has much in common with what we have been calling "Culture Banditry" here on Soul-Patrol.
When you go to his site and begin to understand the sheer enormity of his contributions it becomes painfully obvious that much like his mentor Jessie Stone, General Norman Johnson also belongs in the RRHOF as well.
This man has not only performed many, many hit songs. But he has written even more, for many other artists, some of which he has never gotten the credit for. For example, in addition to all of the great well known songs that he wrote that were hits for the Chairman of the Board in the 1970's, turns out that General Norman Johnson wrote many of the MILLION SELLING HIT SONGS we all know and love from artists like Clarence Carter, The Honey Cone, 100 Proof Aged in Soul, Freda Payne.
Hell, even if he did nothing else but writing the song…
:::"IT WILL STAND":::
Which is a song that very accurately predicts just how this MULTI BILLION DOLLAR BUSINESS, created by men like JESSIE STONE, which we refer to today as "rock n' roll" would indeed become a resilient force in American Society.
HE DESERVES HIS PROPS FROM EVERYBODY
Is that what I am saying? Why should you believe me?
After all, I am just a little "colored boy" from Brooklyn
Actually I am only paraphrasing what Dick Clark has said about the song:
:::"IT WILL STAND":::
Want to learn more?
Go to General Johnson's website and be taken to school on some of the history of BLACK MUSIC that you thought you knew and you will quickly learn (just as I did), just how little you do know!
Isn't it ironic that the very people who created this business, such as JESSIE STONE and GENERAL JOHNSON have been relegated to the scrap heap of history, while artists like the Sex Pistols, Black Sabbath and others get to reap all of the money and recognition that was made possible in the first place by people like JESSIE STONE and GENERAL JOHNSON?
Once again the questions must be asked…"Why does Soul-Patrol exist"?
"Why bother to even cover an event like the RRHOF Inductions"?
Greer Muldoon's Comments from the 2006 RRHOF Inductions
It's because we need to be able to discuss things in their proper context. And the stories of men like JESSIE STONE and GENERAL JOHNSON are a reminder of exactly what that context needs to be.
Above and beyond that, General Johnson has actually inspired me to do more with Soul-Patrol. If you go to the following link:
http://soul-patrol.com/category/blues-southern-soul/
One of the reason we now have this evolving area on our website is because of the inspiration of General Johnson, now giving us a place to talk about NEW MUSIC currently being produced by artists like him! This site isn't quite where I want it to be yet, but if yall can:
::GIVE ME JUST A LITTLE MO' TIME"::
I can guarantee you all that:
::IT WILL STAND:::
–Bob Davis
RIP: General Johnson – School's In ("Chairmen of the Board, Ray Charles, Jessie Stone, It Will Stand, & more")
When I got the news of General's passing, I was due to leave out of my house to teach my Thursday night class; called "Evolution of American Popular Music," (Blues, Country, Rock n' Roll, R&B, Jazz & Hip Hop) at Burlington County College, located in Suburban Philadelphia.
As well I have learned over the past 15 years of doing Soul-Patrol is that the very artists that I need to spend a little bit of time, preparing a death announcement because they are an individual that I know pretty well are the ones who pass away just as I am about to run out the door or worse yet, "out & about."
I made a few quick/small online postings about General. I also received a telephone call from an upset Ken Knox. Ken is one of the members of the current day Chairmen of the Board and of course is a key partner of General Johnson. Ken had seen one of my quick/small online postings about the General and wanted to reach out to me.
And thus was the case with General Johnson. I got the word of his passing at the most inconvenient of times for sure. However at the same time, it turned into quite literally the perfect time. That's because tonight was day #2 of the 5 day seminar of "Evolution of American Popular Music." Day #2 is called "The Evolution of Rock n Roll."
When I first met General Johnson, back in the mid 2000's he told me that he had checked out the Soul-Patrol.com website and he told me that he was most impressed with the fact that we had an entire section devoted to Jessie Stone. When I asked the General why he liked our section on Jessie Stone the General said; "I worked with Jessie Stone at Atlantic Records back in the 1950's and yall are about the only folks that seem to realize that those SOB's need to put Jessie Stone into the Rock n' Roll Hall of Fame. He was the REAL force behind building Atlantic Records and making Ray Charles into a star!!!"
We then spent most of the next 3 hours talking about Jessie Stone…..(who of course has since been inducted into the RRHOF)
Over the next few weeks I had many extended telephone conversations with General Johnson. We talked a whole lot about his long career and the many artists that he had been associated with from Ahmet Ertegun, Ray Charles, Holland Dozier Holland, Clarence Carter, The Honey Cone, 100 Proof Aged in Soul, Freda Payne and others. We also talked about his then new album called "All In The Family," it's popularity on the Southern Soul/Beach music charts, the analogies of Southern Soul/Beach music to the past and of course the struggle of being an indie artist in the 2000's. However most of what we talked about was the history of Rock n' Roll, Soul their intersections musically, culturally and the pure absurdity of how inaccurate way they are historically represented.
You see, General was first and foremost a historian and was most interested in making sure that the history was as accurately represented as possible. His own history for sure, but most importantly, the history of those whom he felt had great contributions, but had been marginalized by the mainstream, such as Jessie Stone.
In the 15 or so minutes that I had before I had to leave to teach my class, I decided that I was going to discuss the passing and the historical importance of General Johnson during the Rock n' Roll section of my class. In fact I was going to discuss General Johnson in lieu of a special section I had created just for the class to discuss the recent passing of Solomon Burke as well as the resurgence of interest in the Beatles sparked by the 70th birthday of John Lennon.
Despite having made that decision, I then realized that I had no prepared material on General Johnson and decided to simply "wing it," and put together a game plan for the class during the drive over.
The class features me going thru a PowerPoint presentation of material, augmented with audio/video clips taken from Soul-Patrol.com, RadioIO.com and other internet sources. The class is interactive and students are encouraged to bring up their own topics as well within the general framework of the discussion.
During the class I already had a section where we discuss the time period of 1957 – 1960, when it appears that Rock n' Roll just might be on the decline because of the deaths of Buddy Holly, Big Bopper, Ritchie Valens, the retirement of Little Richard, the arrest of Chuck Berry, the marriage of Jerry Lee Lewis to his under aged cousin, and of course Elvis going into the army.
I wrote all of this out on the classroom whiteboard, in one column.
Then I wrote out in a second column:
"GENERAL" NORMAN JOHNSON HITS
The Showman – "It Will Stand" (1961)
Chairmen of the Board – "Give Me Just A Little More Time" (1970)
Clarence Carter – "Patches" (1971)
Freda Payne – "Bring The Boys Home" (1971)
Chairmen of the Board – "All In The Family" (2006)
It will stand forever despite the then absence from the scene of the great artists, that I have listed on the whiteboard.
I shut off the audio after "Nightrain's" explanation and told the class that "General" Norman Johnson had just passed away today. He was a friend & inspiration to me, I had just found out right before class and I was absolutely positive that "General" Norman Johnson would have wanted me to mention his name in conjunction with the "Evolution of Rock n' Roll Music."
The classroom then stood up and applauded. Certainly before last night, not a single one of them had ever heard the name, "General" Norman Johnson used in a sentence.
I am absolutely positive that the names "General" Norman Johnson or "Showman" or Chairmen of the Board," will never be announced as inductee's into the hallowed halls of the Rock n' Roll Hall of Fame.
However I am now absolutely positive that a bunch of students at Burlington County College understand exactly why names like "General" Norman Johnson or "Showman" or Chairmen of the Board," ABSOLUTELY BELONG IN THE ROCK N' ROLL HALL OF FAME. (and they also understand exactly why it is unlikely to ever happen)
Nevertheless, I also know that on this day, "General" Norman Johnson is smiling down on Bob Davis. That is because he not only "took me to school," but more importantly gave me the tools that I needed in order to "take others to school," that he most certainly could not reach.
Smile on, mah brotha, smile on….
–Bob Davis (10/15/2010)
LYRICS TO: "IT WILL STAND" – SHOWMAN (1961)
(written by: "General" Norman Johnson)
"You take some
music music
sweet flowin music
a little movin and groovin'
and rock n roll will stand
you take heart beat stone beat
finger poppin and a stompin beat
a little dance that looks so neat
you see why it will stand
but folks don't understand it
and that's why they don't demand it
they're out tryin' to ruin
but forgive them
they know not what they're doin
don't you misname it
in fact you might as well claim it
it's swept this whole wide land
rock n roll, forever will stand
Allright
hear those guitars twangin'
sharper than lightnin'
hear those drums beat
louder than thunder
but folks don't understand it
and that's why they don't demand it
they're out tryin' to ruin
but forgive them
they know not what they're doin
don't you misname it
in fact you might as well claim it
it's swept this whole wide land
rock n roll, forever will stand"
–Bob Davis