Chip Shelton, Imbued With Memories, Have Flute Will Travel, Stop 2, Cape May Jazz Festival Live, Peacetime, Doug Carn- Organ, Lou Volpe- Guitar, Sipho Kunene- Drums, Cedar Park, Denise King, Kenny Mead,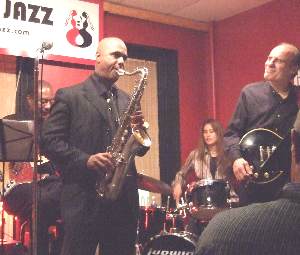 Chip Shelton, Imbued With Memories, Have Flute Will Travel, Stop 2, Cape May Jazz Festival Live, Peacetime, Doug Carn- Organ, Lou Volpe- Guitar, Sipho Kunene- Drums, Cedar Park, Denise King, Kenny Mead,
Concert Review Chip Shelton/Peacetime @ Twins Jazz Club in Washington DC (5/17/2008)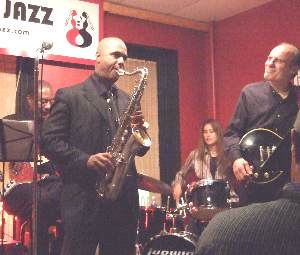 This past Saturday night at Chip Shelton's CD release party for his EIGHTH ALBUM, "Imbued With Memories" at Twins in Washington DC, was quite simply an amazing event, in front of a PACKED HOUSE FOR BOTH SETS. By the way, you can listen to Chip Shelton's New Release, "Imbued With Memories" (featuring the entire album + an interview with Chip) exclusively on Soul-Patrol.Net Radio at: http://www.soul-patrol.net/chip_memories.ram
(and sometimes there is "elegance in simplicity")
– It was a GREAT evening for Chip Shelton.
– It was a GREAT evening for Twins Nightclub.
– It was a GREAT evening for Jazz.
– It was a GREAT evening for Black Music/Culture.
And it all really did happen, on a warm spring night, right in the middle of America's ORIGINAL…"chocolate city"
(the home of DUKE ELLINGTON)
And I have no doubt that the "Duke" was looking down on us and smiling…
First let me tell you about the music. Chip and his band were "on tha one" in more ways than one. They simply flat out SMOKED. Some jazz artists & fans traditionally have a problem in trying to classify things by musical styles. They get caught up into so much of a terminology game ("smooth jazz" vs. "straight no chaser" vs. "fusion", etc) that I think that sometimes they forget that the music is supposed to be fun. If I had to describe the type of music that Chip played last night I suppose that I would say that it was very "CTIesque". But for those of you who don't know or care what that term means, I will tell you that musically it was a whole lotta fun. Chip Shelton "channeled" Hubert Laws, Stanley Turrentine, Ronnie Laws, Herbie Mann, Louis Jordan, Eddie Harris and more during the show. One of the highlights for you Classic Soul fans was Chip's cover of Donny Hathaway's "Valdez in the Country" (taken from Chip's new album "Imbued With Memories.") Another highlight was the song "Cliff Notes" (also taken from Chips new album "Imbued With Memories) a very funky cut inspired by the artistry of the legendary Clifford Brown.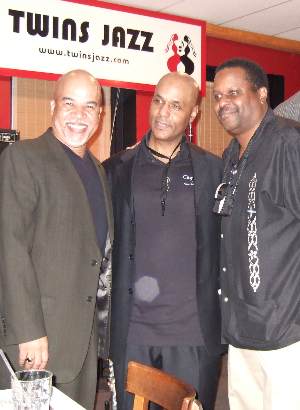 Longtime Soul-Patroller and longtime Washington DC area radio personality "Dr" Nick Johnson was the emcee for the evening. Nick can be heard worldwide via XM Satellite Radio daily as the host of "Soul Street" every morning. "Dr" Nick is someone that I have known for a long time and I was honored to have him introduce me to the crowd. When he did so the entire room greeted me with warm and enthusiastic applause. Did my ego a whole lot of good, but more importantly that told me that the that the online promotion for the show had been effective. Twins Nightclub (www.twinsjazz.com) was full for both sets. It was a classic jazz club type of setting, with a twist. They had a menu of fantastic Ethiopian food that my family of picky eaters thought was off the chain.
The crowd was 99 & 44/100 percent Black. That certainly wasn't by design, but I thought that it was most interesting, since the racial mix at most jazz clubs that I have been at over the past few decades has been overwhelmingly white. That's not a bad thing, but it always causes me to wonder just why it seems that Black folks seemed to have abandoned jazz? I don't pretend to have the answer to that question, however I do think that it's worth pointing out that the presence of BOTH the hosts of "Soul Street" and "Soul-Patrol.com" in the house says volumes about the "soulfulness" at the heart of Chip Shelton's music. Thinking about the "CTIesque" nature of the music, the "Saturday night fish fry 99 & 44/100 percent Black crowd, the "chocolate city" location it all had a "Grover Washington Jr." type of vibe, that left me smiling.
On a personal note…
In addition to "Mrs. Earthjuice", I brought my daughter 15 year old daughter Rachel. Soul-Patrol's Greer Muldoon brought her 15 year old son Tyler. For both of these two young people it was their first time ever at a jazz club.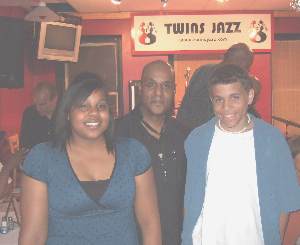 Some of yall will remember meeting Tyler at the 2004 Soul-Patrol Convention and seeing just how excited he was at seeing a live band
(RioSoul) perform for the first time in his life and how excited he was to have been a part of Badal Roy's Tabla Drumming workshop.
And of course as you all know, Rachel runs hot & cold with this kind of stuff. Nevertheless both got quite a bit out of being there to hear the music, meet the musicians and more. The club was packed for both sets and both Tyler and Rachel hung in there for most of the three hours of live jazz. They both got to meet the musicians as well as many of the folks in the club.
Does this mean they will become lifetime fans of jazz? http://www.chipshelton.com
(I dunno)
But I'll bet they will never forget last sauturday night as long as they live. And they both will always know, just what it's like to see/hear LIVE JAZZ done in a classic setting surrounded by a whole bunch of people simply enjoying themselves, as they groove to some GREAT MUSIC.
They will know what it's supposed to be like. And to me that is worth all of the money in the world. How's that for …"putting skin in the game…"
The last song of the first set was a Chip Shelton original called "Chip's Blues". The song is a "jump blues" (think Big Joe Turner/Louis Jordan) that Chip had the entire audience "tappin", "clappin" and "rappin" to. Both Tyler and Rachel were "tappin", "clappin" and "rappin" right along with the rest of the packed nightclub filled with "grown folks" 30 to 50 years older than they were.
Overall, this show was just about "as good as it gets", because Tyler & Rachel were there. But also for several other reasons as well.
As I observed all of this Duke Ellington's famous line, flashed thru my head:
"There are only two types of music…..GOOD AND BAD"
I thought about the irony of this show being in Duke Ellington's hometown of Washington DC. One of the songs that Chip Shelton played was a cover version of Duke Ellington's "It Don't Mean a Thing (If It Ain't Got That Swing)."
I had a great big smile on my face, thinking about just what the future of Jazz might just sound like in the hands of artists like Chip Shelton. It might just sound like a whole lotta multi generational fun, filled with lots of "good music" (to quote "the Duke"), with a crowd of smiling faces in my opinion. To this "1970's old head" that sounds a whole lot like that late/great record company called CTI which was able to successfully bridge the "terminology gap" in Jazz and bring an entire new generation of listeners (like me) to the genre in a way that connected the listeners of the past, present and future.
I'll leave the answers to the hard questions about jazz to the "experts." But I have no problems answering the easy ones. If you want to go out and listen to some great music, played by virtuoso musicians and have a whole lotta fun at the same time, be sure to go and check out Chip Shelton/Peacetime, when they come to your city.
And if you can't check him out live, check out his website online at: http://www.chipshelton.com
There is a good reason why Chip Shelton is one of the core artists of Soul-Patrol.com. There is indeed a "message in the music."
Listen to Chip Shelton's New Release, "Imbued With Memories" exclusively on Soul-Patrol.Net Radio at: http://www.soul-patrol.net/chip_memories.ram
–Bob Davis
LISTEN TO: Chip Shelton's Peacetime – Imbuded With Memories @ Twins Jazz Club, May 17 at 9pm
(Jazz/Funk/Soul)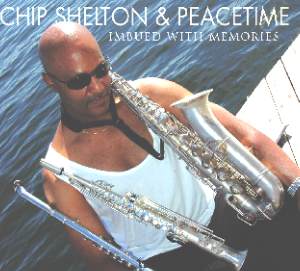 Featuring one of Soul-Patrol.com's "core arrtists" Mr. Chip Shelton and Peacetime as they launch their brand new album release called: Imbuded With Memories. It's an exciting new album that combines straight no chaser + funk + fusion + soul + latin. If you click on the link you can listen to the album in it's entirity + an mexclusive interview with Chip Shelton…
Track Listing:
1. Recordame
2. Imbued with Memories
3. Cliff Notes
4. Crystal's Nick Nack
5. It Don't Mean a Thing (If It Ain't Got That Swing)
6. Salt Rhythm
7. Valdez in the Country
8. MLK
9. Tsunami After-Prayer
10. Shadow of Lo
–Bob Davis
Profile: Chip Shelton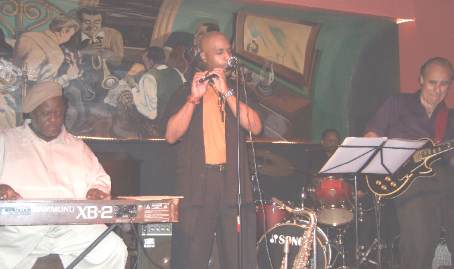 Anybody here remember the 1980's slamming club classic called "Take Me For A Night In New York" by "Elbow Bones and the Racketeers"
Well this posting doesn't have anything whatsoever to do with that song
🙂
It's all about the "little things" that make doing Soul-Patrol totally worth it for me. It has to do with people.
Yesterday was a terrible evening for me to travel to NYC. The traffic was horrible and the weather was even worse. Yesterday 2.5 inches of rain fell in New Jersey. And I had to drive thru all of that in heavy traffic in order to get to NYC.
However when you promise someone that you are going to be somewhere, you do it and you do it at all costs. This is something I have learned, and it has served me well. Billy Paul taught me this lesson.
http://www.soul-patrol.com/search/index.php?cmd=view&id=25640
You know why?
Because at the end of the day, the music business really isn't any different than any other business. It isn't really about "music" or about "business."
IT'S REALLY ABOUT PEOPLE
And it really isn't about "the big things", it's really about "the little things".
AND ONE OF THE MOST IMPORTANT "LITTLE THINGS" IS TO "SHOW UP"
CHIP SHELTON
Many of you know Chip Shelton. He is of course besides being a very fine jazz sax/flute/vocalist, he is one of Soul-Patrol's sponsors. And he is a sponsor in the truest sense of that word. He just doesn't buy "ad space". He's a real sponsor There isn't a thing that I have asked Chip Shelton to do that he hasn't done. He "SHOWS UP" All of the time, every time
Know how I first met Chip Shelton? He "showed up" at a Soul-Patrol event at Joe's Pub. He sought me out, and hung out after the show to give me his CD's.
The rest is history…
Last night he sponsored an event at the River Room in Manhattan. It was the type of "non descript" event that we all go to as a part of our everyday lives, involving family, friends, co-workers, etc.
In fact it wasn't a "music event" at all, even though Chip and his band performed. It was an "event" that simply had to do with gathering of those who are closest to you in "real life" and just letting them know that you appreciate them for who they are.
Chip Shelton is a man who understands that it is truly these type of events that are what make life "rich." Have you ever been to a funeral, looked at the body in the casket and observed that the person almost looks like they are smiling? Vs. looking at a body where it almost looks like the face has a frown?
I dunno about you, but I wanna be a "smiling corpse".
I think that it says something about the way that person lived their life and how the other people that they touched felt about them. And they are smiling, because once again, they were able to bring those people together.
Chip Shelton is a quiet and humble man who actually doesn't say much. He has accomplished much outside of the world of music. I won't go into those things here. Chip would be embarrassed if I did.
But I will say this….
Chip Shelton has truly made Bob Davis a member of his family. In fact I would say that Chip Shelton has probably made Bob Davis a better person. Chip Shelton is a leader. He doesn't say much. But he leads by example. And that makes him more than just a "leader". It makes him a "role model" for all of those who encounter him (including myself).
Chip may never make the cover of Downbeat or Jazzis magazine.
But Chip Shelton is the type of individual that used to appear on the cover of Jet or Ebony many years ago.
Jet/Ebony used to put "unknown people" like Chip Shelton on the cover, because they wanted to spotlight Black men and women who were successful individuals and made a difference in the lives of the people that they touched.
I dunno if they still do that or not?
Chip Shelton is currently on the "cover" (homepage) of Soul-Patrol.com. It's a concert review. It's about 4 months old at this point and should probably be removed. However I'm not going to remove it anytime soon. If I do it will be replaced with something else about Chip Shelton.
That's because in my opinion, Chip Shelton deserves to be on the cover of something.
There was a time when Black people used to give "props" to each other for no other reason than because they were good people, doing the right kinds of things and inspiring others to do the same.
In fact I think that doing so is far more important than either "music" or business"
Call me "old fashioned" is you like, but I still think that way…
–Bob Davis
Concert Review: Chip Shelton & Peacetime (Doug Carn- Organ, Lou Volpe- Guitar, Sipho Kunene- Drums) Friday Night Jazz @ The Firehouse, Cedar Park, 50th & Baltimore Av. Philadelphia, Pa.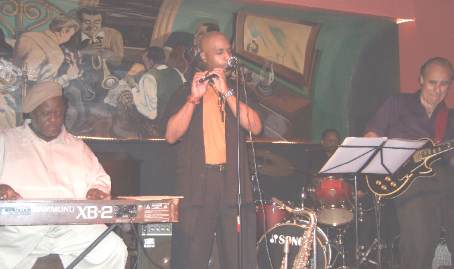 I arrived at the venue, located not far from Clark Park, the scene of our recent Soul-Patrol Convention at around 7pm. Cedar Park however is as different from Clark Park as night & day. First of all Cedar Park is very small, it's what they used to call a "vest pocket park" composed of a small grass area & some swing sets, located at the "triangle" where two streets meet. The second part is that it's not in "University City", it's in "West Philadelphia" and those seven blocks make all of the difference in the world.
Chip was on stage when I arrived, backed up by the same band (Doug Carn- Organ, Lou Volpe- Guitar, Sipho Kunene- Drums) that appear on his new album "HAVE FLUTE WILL TRAVEL, STOP 2, CAPE MAY JAZZ FESTIVAL LIVE!". A few of you may recall that we featured Chip's last album "Peacetime" here on Soul-Patrol.com last year. The new album is as different from the last one as "night & day". In a word "Peacetime" was "highbrow/experimental" and "Have Flute Will Travel, Stop 2, Cape May Jazz Festival Live!" is "lowbrow/funky."
At the Soul-Patrol Convention we had quite a bit of heated discussion about the future of jazz and the challenge of engaging the modern day Black community in the music we call jazz.
http://www.soul-patrol.net/2007jazz_panel.ram
It seems to me that both Chip Shelton's new album and the concept of presenting live jazz on Friday nights in a small neighborhood park in West Philadelphia just might provide at least part of the answer.
For those of you who like labels, this show would be described as "soul-jazz" of the type that we used to listen to back in the late 1960's/early 1970's at back yard BBQ's, fish fry's, block parties and marathon bid whist games! It was all about artists like Herbie Mann and Freddie Hubbard. It was "jazz that you could dance to" and I saw people doing the bop & the lindy to the music of Chip Shelton on a mild Friday night on the corner of Baltimore & 50th street in West Philadelphia. It was "jazz that you could see" as the street scene not unlike that depicted on the cover of the great Miles Davis album "On the Corner" came to life "on the corner" of Baltimore & 50th street in West Philadelphia. It was "jazz that you could smell" as the aroma of BBQ & auto emissions freely mixed on the corner of Baltimore & 50th street in West Philadelphia. And lastly it was "jazz that you could hear" as the sounds of Chip Shelton- Flutes, Sax, Vocal, Percussion, Doug Carn- Organ, Lou Volpe- Guitar, Sipho Kunene- Drums freely mixed with the urban street sounds of the corner of Baltimore & 50th street in West Philadelphia.
The band played two sets and the audience (as well as myself) were treated to legendary Philadelphia jazz singer Denise King (another member of Soul-Patrol & the organizer of the Friday night jazz series @ Cedar Park).
http://www.denisekingjazz.com
In short this was all great stuff and the overall environment in my opinion provides at least part of the answer to the questions raised about the "future of jazz" at the 2007 Soul-Patrol Convention. The music must return to it's roots as "popular music" amongst the people who "originated the music." And Chip Shelton's not just talking about it, he's actually doing it!
http://www.chipshelton.com
Release Notes: "Have Flute Will Travel, Stop 2, Cape May Jazz Festival Live!"
By Chip Shelton –

This is the second release in the "Have Flute Will Travel" series. This 2-Disc set titled "Stop2- Cape May, was preceded by the fun-filled first release "Stop 1-Berlin", which is on Summit Records.
Sharing the bill with Hubert Laws, Fathead Newman, Dave Valentine, Bobbie Watson, and many others, while honoring the music of Herbie Mann at Cape May was a fantastic experience. Upon receiving the invitation, everything fell into place as though it was meant to be. Perhaps the moments producer Kenny M and I once spent with Herbie Mann in his dressing room at the Blue Note, carried more metaphysical weight than Kenny or I could have imagined.
Guitarist Lou Volpe, drummer Sipho Kunene, and I were already musically, and personally, fairly tight. However, I met Doug Carn only recently. Our first collaboration had Doug traveling from his native Florida to perform with me in Washington, DC at Blues Alley. Hanging with Doug has been an adventure, an education, and an honor.
For this occasion, I reactivated my soprano sax and vocal chops, both dormant and unused for the entirety of my 10 year recording career. An uncanny series of events told me that "now" is the right time for adding sax and vocal to my performances. (As an aside, there are other instruments in my per-formance past, however, only time will tell if reactivating them feels right.) Before adding anything else I will be wise to consult with Doug Carn; on one of his recordings Doug sings, plays winds, brass, keys, steel pans, and more. Stay tuned.
Please enjoy the music. And thank you Denise Spaulding and all the folks at the Cape May Festival for your loving support.
NEW RELEASE: Chip Shelton – "Peacetime"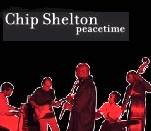 Dwayne Cook Broadnax on "Imprints"
It's a refreshingly brisk jazz waltz. The pocket grooves, with rhythms and textures woven within.
Everald Brown on "Nukes May They Rust In Peace"
I said "this is a hit", when we completed the first, and only, take on this rhythmically authentic reggae/jazz
tune. Chip sang the uplifting message with so much con-fidence that I was transported back to Ocho Rios, the place of my birth. Obviously, Chip had been there also.
Jann Parker on "Peace"
A timeless composition that speaks to the past as well as today. It was truly a pleasure having the opportunity to interpret and combine both sets of lyrics, Horace Silver's and Doug Carn's.
Roy Meriwether on "Man in the Green Shirt"
It takes you a lot of places. The song was challenging, while managing to be both intense and pretty at the same time
Daoud David Williams on "I've Known Rivers"
Historic footnote with rhythmic connection to Langston Hughes' classic poem. Chip captured the essence of the poem's meaning, and gave us an opportunity to interpret Gary Bartz's music using a driving Kenny M arrangement.
Jim Klein on "Cobi's Place"
The composition is a fun musical adventure. The rhythm keeps you on your toes. The tune dances.
Marcus Mclaurine on "Quiet Storm"
Our version retains the tune's inherent jazz sensibility, while maintaining the essence of Smokey's original.
Lou Volpe on "Woodine"
The beauty of Woodine is in the contrast of the rich melody and harmony of the first (batucada) sections, counterbalanced with the simpler 3 chord vamp during the solo (montuno) sections.
Kenny M on "Down Home NY"
From the opening notes Chip plays, using his unique 5-foot long contrabass flute, Archie Shepp's funk/jazz jam allows Chip the opportunity to tell his musical biography, and have fun!
Kenny M on " Peace Reprise"
The beautiful melody and theme are revisited, allowing the two vocalists to close the recording in a unified, harmonious fashion.
Thanks to Jeanne Lovetri, Mark Murphy, and Joe Lee Wilson for dyno vocal coaching. If you think my singing needs work, agreed. You should've checked it out before these vocal masters pulled my coat to a few things. Oh well, back to the woodshed, but not without thanking you faithful and knowing listeners who inspire us all to work so hard, hopefully bringing you some new-thought, inspiration, and pleasure.
Love and Peace,
Click here to enter your suggestions