Classic Soul – Ashford & Simpson- The Warner Bros. Years. Hits, Remixes and Rarities

Classic Soul – Ashford & Simpson- The Warner Bros. Years. Hits, Remixes and Rarities

Concert Review: Album Review – Ashford & Simpson- The Warner Bros. Years. Hits, Remixes and Rarities
(Warner Bros/RHINO R2 347964)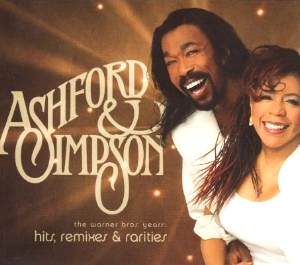 WELL NOW~~!!!
This is SPECIAL. This is a 2-CD Dance themed overview of the CLASSIC Warner Bros output of NICHOLAS ASHFORD and VALERIE SIMPSON.
Disc One is fairly straight. In the early "disco" days there were special mixes of the hit songs that only the radio guys and the disc jockeys got. Disc One has all of those rare versions that were hard to get THEN, and impossible to get (unless you want to get in a bidding war with some UK or Japanese cat for 3-500 dollars for "One More Try" as one example) now. All of those great tracks are on Disc One. If that excites you, realize they went one step MORE. They got some back-in-the-day remixers. The GOOD ones. The names you remember from your 12-inch vinyl collection: Tom Moulton. Paul Simpson. John Morales. Tommy Musto.
And then, they brought some of the best of the new guys: Joe Claussell. Joey Negro. Dimitri From Paris. And they turned them loose on some of the same tracks on disc one to redo them on Disc Two.
STOP…..STOP right there.
Too many of you just threw up your hands and screamed "Leave Well Enough Alone". That's only because you don't realize that version of "Bad Luck" or "I'll Always Love My Mama" that you used to jam to WAS REMIXED…back THEN. Did I hit the mental RESET BUTTON HARD enough? Good.
I listened to Tom Moulton DESTROY "Found a Cure." He F'N KILLED it. In the way that he killed that version of Love Is The Message we all LOVED…until we heard that REMIX…..Remember that extra keyboard solo on "Love is the message"? The one you still dance to every time you hear it 30 years later? Tom pulls THAT trick out of his slick bag with almost an entire VERSE of new vocals from Nick and Val. Only they were recorded 30 years ago…just left on the reels. Never to be heard. UNTIL NOW.
Paul Simpson and John Morales PUT IT DOWN. Their reinterpretation of OVER and OVER is absolutely Bananas. I'm delirious just from listening to this.
Backing up a bit, I overlooked "It Seems To Hang On," the Tommy Musto re-touch. Only because it and the following track "One More Try" are (measuring on a 1-10 scale), only 10's in a project filled with 11's and 12's. Oh yeah, one of those 12's is the Joe Claussell "Bourgie, Bourgie." When this tune was written the lyrics had not been completed. The original album deadline was coming, and Nick and Val let it go as an instrumental. They went back, completed the lyrics and produced the now finished song for Gladys Knight and The Pips. Legend and rumors had it that the guide vocal that Valerie cut for Gladys to follow was going to be used in this NEW mix. Sadly the guide vocal (as well as the multitrack tapes for "One More Try") could not be found. That would have made an already transcendent mix downright UNREAL. The slight latin lilt of the original track is explored and developed into something downright impossible to describe in its beautiful intensity. I had tears in my eyes at some points.
All parties involved should be proud. My wish is that this sells such a tremendous amount that WB/Rhino will be moved to do MORE. Some recent Rhino disco-era projects have NOT come out in America-only the UK. This is a worldwide release. This redeems Rhino, and listening to these glorious songs and these stellar remixes in your CD player…it will redeem YOU too.
Wanna give it "One More Try" ?
You'll be listening to this "Over and Over."
Tracklisting
D1
1. Over And Over (12″ disco mix)
2. Have You Ever Tried It
3. Everybody's Got To Give It Up
4. One More Try (12″ disco mix)
5. Tried Tested And Found True (12″ disco mix)
6. Send It
7. Top Of The Stairs
8. Don't Cost You Nothing (12″ disco mix)
9. It Seems To Hang On (12″ disco mix)
10. Found A Cure (12″ disco mix)
11. Nobody Knows (12″ disco mix)
12. Love Don't Make It Right (12″ disco mix)
13. Stay Free
14. Bourgie Bourgie
D2
1. Found A Cure (Tom Moulton mix)
2. It Seems To Hang On (Tommy Musto retouch)
3. One More Try (Dimitri re-edit)
4. Bourgie Bourgie (Joe Claussell classic mix)
5. Over And Over (Simphouse/M&M mix)
6. Stay Free (Dim's the missing mix)
7. Love Don't Make It Right (Joey Negro mix)
8. Tried Tested And Found True (Simphouse/M&M soulful mix)
9. Stay Free (Dim's club mix)
–DONALD CLEVELAND


Click here to enter your suggestions and feedback