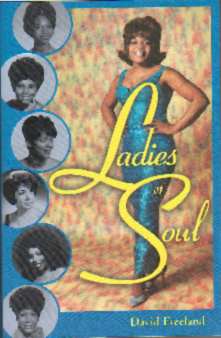 By: Ralph McKnight,
How many times have I gone to a club and watched incredible singers give astounding performances and ended up asking myself, "why isn't she/he a star?" Many of these entertainers are professionals, but for some reason, have not achieved the heights that many other, equally talented people have.
My record collection is filled with such artists: Howard Tate, Loleatta Holloway, Syl Johnson, Vanetta Fields, Otis Clay, Anna King, Shirley Brown, Johnny Bristol, Peggy Scott-Adams and many others.
Author, David Freeland, obviously felt the same way, as he set out to showcase seven unheralded female soul singers from '60s, by giving them some overdue recognition in his new book, "Ladies of Soul" (University Press of Mississippi) . Among them are some of my personal favorites, starting with the incomparable, Bettye LaVette ("Let Me Down Easy", "He Made A Woman Out of Me"), who knocked me out when I first heard her demanding voice on the radio singing "You Killed the Love". I had no idea that this singer was only 16 years old, for she emoted like an experienced woman of 40. That voice was coarse, even nasty at times, pleading and fraught with the harsh experiences of life, affects of cigarettes, booze and too many men. Many feel she has a "churchy" sound, but LaVette swears that she is a child of the blues. Wherever it came from, that voice affected me deeply. Since, I have seen her bear witness, "live" in performance, giving 110% of herself and working harder than Tina Turner during her torrid times with Ike. Bettye hits the stage with a vengeance so strong that it make one wonder "what's behind the real woman, off-stage". Tina, by the way, covered Bettye's first hit record, "My Man (He's a Lovin' Man)".
Maxine Brown is gifted singer who has had many hits and deserves the spotlight in this book. Her immense talent has grown with experience and she is one of the best soul singers around. One of her big hits, "Oh No Not My Baby" was later recorded by Aretha Franklin. Today, she sounds better than she did when she was on Scepter with label-mates, Chuck Jackson and Dionne Warwick. Maxine is also famous for "Funny" and "It's All in My Mind".
The misunderstood, Timi Yuro, who's career and voice puzzled many (some thought she was a man, others were convinced she was African-American). She's Italian and has a soul as deep as the rivers. As a young girl, not only did she sing opera to appease her father, she sang in black churches (thanks to a religious black nanny) and toured later, as a professional, with the icons of soul like Little Richard and Etta James on the chitlin' circuit. On the recently released CD, "Timi Yuro 'Live' @ PJ's", Timi sounds more like Mavis Staples than Mavis Staples! Miss Yuro was asked by Frank Sinatra to tour Australia with him in the late 60s and her records were produced by such giants as Quincy Jones and Clyde Otis. Timi's first hit, "Hurt", was covered by Elvis Presley. Timi's other hits include, "What's the Matter, Baby?" and "Smile" which are especially effective.
David Freeland has done a remarkable job with his hands on research and wasted not a second, quoting what others had written on this subject. He traveled the USA and found these women and interviewed them, in person, in depth. It seems that he quickly became the vehicle they could utilize to voice their anger, frustration, exhilaration and hope.
Also fascinating, were Freeland's conversations with Ahmet Ertegun, founder of Atlantic Records, whose candid insights into achieving success in the record business (then and now) and the unpredictable tastes of the record buying public were truly telling. Frank perceptions into the lives of many soul performers were punctuated by Juggy Murray, founder of Sue Records.
David interviewed DJ's, engineers…numerous people who make their living in the recording industry. This gives his book its distinctive authenticity.
I was not familiar with the personal life of Denise LaSalle ("Trapped, By this Thing Called Love"), before reading this book. Over the years I have purchased her albums and enjoyed her brassy brand of r & b. After reading her story, I conclude that she is substantive, opinionated and also a savvy, smart business woman. Carla Thomas ("Gee Whiz") turns out to be an interesting character. Her career sizzled just below the boiling point and she never achieved the stardom she deserved. It was also interesting to read about Barbara Mason ("Yes, I'm Ready"), whose records I've enjoyed over the years, and to get to know the one singer I wasn't familiar with, Ruby Johnson.
The book is not just "I made this record and sang with this person", it covers the morose as well, not only in the music industry, but societal injustice, as well. Travels through the south, having to deal with the America's ugliest demon, racism, brushes with the Ku Klux Klan, all are undeniably apart of these scenarios.
Very revealing are the observations by Bettye LaVette regarding the city of Detroit, during the heyday of Motown. Hers is a much darker portrayal of the same occurrences that were described in other books like Mary Wilson's, the Temptations' or Martha Reeves' biographies.
The important accomplishment here, is that this book stimulates one's appetite to hear these grand ladies sing! Enter their names on any Internet search engine and you'll find more information on each of them. Thankfully, they have CDs in the large record stores or can be ordered online
–Ralph McKnight – New York City